Elevate Your Delivery Business in UAE: How Carrefour Clone to be a Saviour?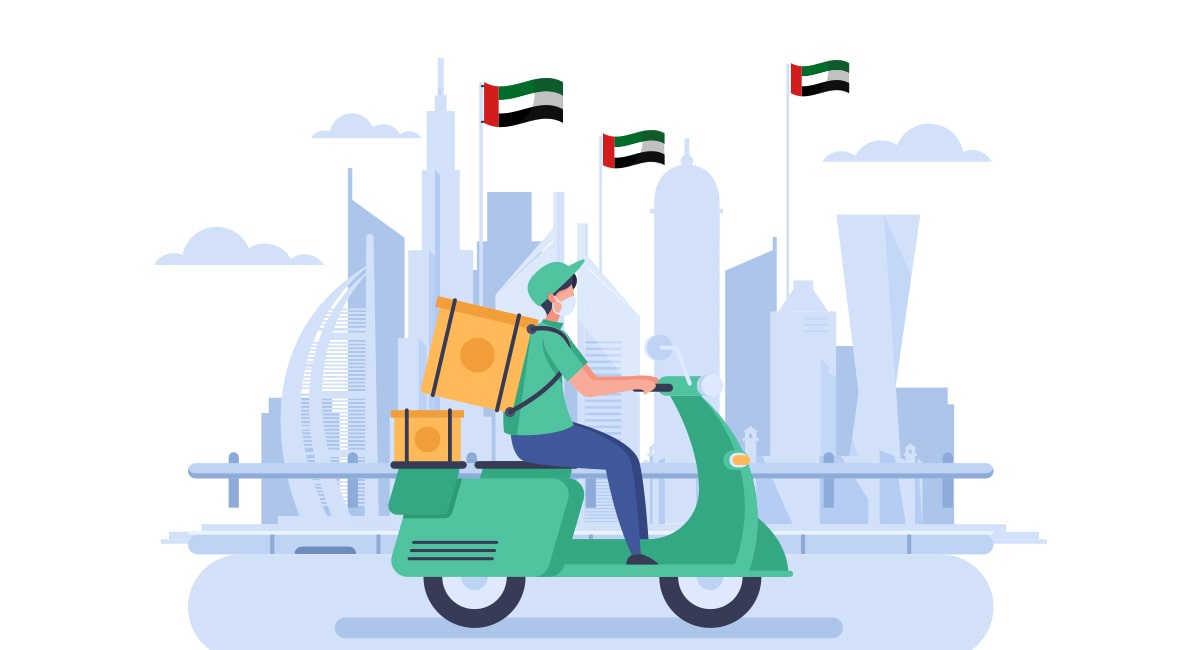 The same-day delivery option is loved by most people these days, including the audience of UAE. The market size of online delivery has jumped and was valued at around USD 4.6 billion in 2019. The number is estimated to jump higher and grow at a CAGR of 20.3% between 2020 to 2027. The market is undoubtedly increased by increasing urbanization, changing customer expectations, and rapid e-commerce adoption. People view the delivery services are changing with each passing day; they are considering using a modern solution like Carrefour. Check how Carrefour clone works, its business model, and revenue insight to elevate your UAE delivery business.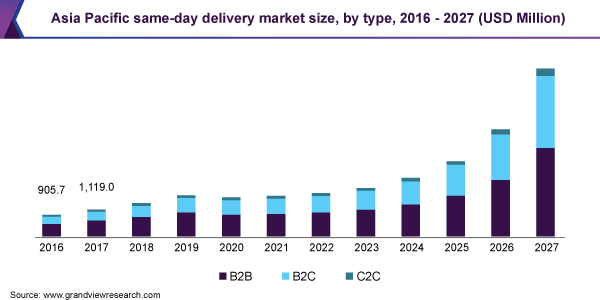 However, the ongoing substitution of retail sales through e-commerce platforms has a significant increase in B2C shipments. Hence, the market will experience substantial growth over the estimated time due to increased shipments, helping businesses cater to consumers' faster-growing demand accurately.
NPD Group research shows that the restaurant's digital orders have increased to a great extent. It has increased by 23% and is estimated to grow triple in the upcoming years. However, 60% of digital orders are placed through mobile apps.
A delivery app or website represents around 70% of digital orders, while it is estimated that the remaining orders come through third-party apps or any other types of platforms. Hence if you want to boost your delivery business, then it will be advisable to build an app similar to Carrefour, get Elluminati Inc Support to get it prepared in a couple of weeks or two.
Carrefour clone – Jumpstart Your Online Delivery Business Quickly In UAE
Carrefour clone is the finest multi-vertical delivery platform that helps enterprises establish and start a delivery business without spending too much time and money. Its ultra-modern modules enable business owners to kickstart the delivery business in a handful of days. Advanced features and customization options help businesses to earn multiple incomes with lucrative outputs.
Success Story of Carrefour to Dive into Before Your Grocery Delivery Business Launch
Carrefour is a multi-format, omnichannel, and the hyperlocal retail group that employs about 38,000 people worldwide in more than 12,300 stores. Recently the all in one delivery platform generated a sale of €88.4 billion and successfully catered to customers' needs globally. The delivery giant recently headways to expand its business to Taiwan and other countries.
Carrefour operates hypermarkets across North Africa and the Middle East region. The shop space varies from 2,400 to 23,000 sq.m. per store. The delivery platform has a wide range of 20,000 to 80,000 products for customers to choose from to get it delivered right at their place.
Carrefour Hypermarket's committees to deliver a wide variety of products to satisfy every shopper's needs. The hypermarket store adopts a marketplace style format to offer fresh and best quality products to customers, including bakeries, fish, and organic meat delivery right at their place hassle-free with a few clicks on their smartphone.
In 1960, Carrefour opened its first shop within the suburban Annecy, near a crossroads. The group was created by Denis Defforey, Jacques Defforey, and Marcel Fournier. The Carrefour group was the first to open its hypermarket in Europe; it has a department store and supermarket store operating under the same roof. On 15 June 1963, the company opened its first hypermarket in Sainte-Geneviève-des-Bois, near Paris.
In 2011, Carrefour studied its business situation under conditions of stagnant growth. Later the company planned to enhance its competitiveness in France from rivals along with Casino Guichard-Perrachon SA. The delivery firm later decided to invest €1.5 billion to launch the supermarket concept in Western Europe.
Statista report shows that Carrefours' edible grocery sales in the United Arab Emirates from 2011 to 2015 has increased dramatically. In 2015, Carrefours' edible grocery sales were estimated to reach around 1.02 billion U.S. dollars in the UAE.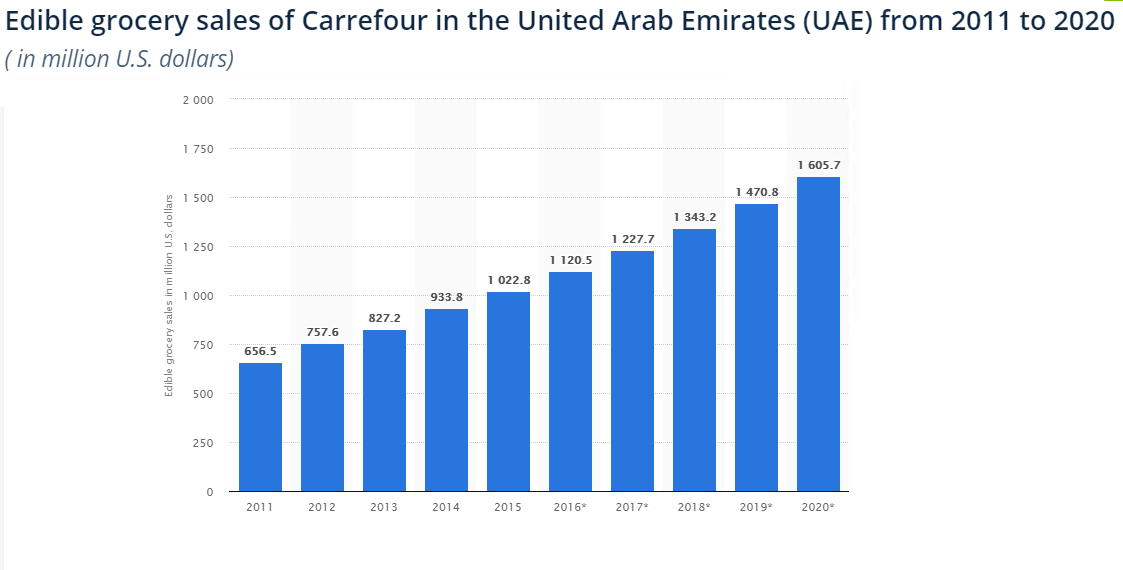 Carrefour started working with a small French start-up in 2017, Expliceat, on a trial basis. Expliceat successfully developed a commercial mill that is intended to crumb down leftover bread. It lends the mill to commercial bakeries allowing to bake muffins, pancakes, and cookies.
In 2018, Alexandre announced a strategic plan for companies' growth and development, entitled "Carrefour 2022". The goal was to make Carrefour the "leader of the delivery transition for all time." The plan includes measures for outstanding package delivery sustainability, limiting food waste, expanding e-commerce partnerships, organic products, and two billion euros in annual investments.
During the COVID 19 outbreak, Carrefour was the first retailer to join C'est qui le Patron? Ambition to share its additional incomes related to the COVID-19 pandemic to support people. The company has decided to divide the proposed revenue by 50%; it is now €0.23 per share. The savings will be financed by solidarity actions for the employees, both abroad and Finance. The company has decided to waive 25% of the fixed salary for the time.
How Carrefour Works to Offer Amazing Delivery Offering?
Carrefour is a center point that connects customers with local stores making it easier for them to get everything delivered right at their place. The delivery platform brings massive revenue to their table by offering a fantastic delivery experience to customers right away. Carrefour has an engaging platform that ensures to bridge the gap between customers and local providers.
Carrefour is an all-in-one delivery solution that customers can use to order anything from local providers. They can explore the list before purchasing the platform.
Once they add required items to the cart, they can proceed further with the check-out process and pay for orders they placed using multiple payment options.
Once the order is confirmed, stores receive the notification, they prepare the package and hand it over to the delivery provider.
Customers and system admin are allowed to track the current location of providers right through the platform.
The delivery provider reaches customers' locations through the nearest route, delivers the ordered items at the customer's location, and asks for feedback.
You can invest in an app similar to Carrefour. Our e-delivery solution works similarly, ensuring to offer a fantastic experience to customers on demand. Check complete flow right here to know how the tech stack works, guaranteeing successful business operation, ensuring your business success and growth.
Carrefour Business Model: How the Delivery Giant Ensures Delivering Captivating Experiences
Carrefour stands out as the most successful and faster hypermarket chain. The platform provides customers with a great variety of high-quality products, food brands, household goods, and much more. Eventually, the hypermarket attracts modern day's customers with the help of attractive offers and products. It only promotes the things which customers are interested in.
A case study shows that Carrefour in the United Arab Emirates (UAE) serves about 200,000 customers a day and operates in more than 28 hypermarkets and 43 supermarkets. The platform provides all the essentials for the cultivation of effective supply management, supply chain, customer service, logistics, demand management, sourcing, inventory & transportation management, distribution, and other aspects. Check how Carrefour works to provide a fantastic experience to customers on their demand, have a look at Carrefour's business model right away.
Customer Segments
The delivery platform works on a multi-sided business model, with three interdependent customer segments essential for successful operation.
Consumers
Individuals who are seeking doorstep service
Customers who have a busy day to day schedule
Customers who are unable to visit the stores physically.
Delivery Providers
Those who want to earn extra money
The freelancer who is looking for part-time job opportunities
Stores who want to be able for their customers outside the usual channels.
Local Stores
Local stores aim to maximize their customer base.
Delivery stores that desire to generate more revenue and profit
Carrefour Revenue Model: Learn to Know How it Generates Money?
Carrefour has given inspiration to the budding owners and has undoubtedly led to many on-demand start-ups in the delivery vertical. Carrefour's revenue model helps the giant to generate huge profits and attack newbies towards its business. It offers incredible service to customers whenever they demand to have it right at their fingertips.
Standard Delivery Fees/ Convenience Fees
Carrefour charges a delivery fee from their customers; the costs are irrespective of their order value. The charges vary depending on the market they are operating in. The charges also vary based on customers' location from the store they have ordered.
Recurring Revenue Share from Stores
You can charge a cut of 15% to 30% on each order, which the stores complete using your delivery p[latfrom. The charges can be decided on the maturity and age of the market operated.
Marketing & Advertising Fee
You can charge some amount to help businesses to attract more customers. Allow them to advertise on your platform in exchange for some penny ensuring to expand their customer base. Offer them customer-facing brand campaigns, email marketing, relatable social posts, and other marketing sources in exchange for capital.
How Much Does it Cost to Create a Carrefour Clone App?
Having a market share in the UAE is not an easy task. And if you want to win the billion-dollar war, it becomes essential for you to invest in Carrefour clone app. If you invest in the right manner, then it will be a time investment that will help you to boost your business globally in no time.
The cost to make a Carrefour clone depends on several factors. You need to build an MVP for an on-demand platform; it also involves developing web and mobile interfaces for adequate business supply. It also depends on the platform, features, and many other selection decisions. Get in touch to know what factors affect the development cost and how we ensure to build an effective solution at a pocket-friendly price.
Benefits of Investing in Carrefour Clone Script
There are numerous benefits that you can leverage while considering investing in a Carrefour clone script. This benefit includes the following:
Enhance your business reach
Maximize customer base and business profit
Effective business management
Increase ROI
Besides this, there are many more which you can leverage by considering building an carrefour clone app. Opt for a delivery solution that helps you to manage and every single activity accurately. Our e-delivery solution ensures a fantastic experience and enables you to address your customers' requirements accurately.
All in One Delivery Provider Carrefour Have Long Way to Go: Explore How?
Carrefour's solution undoubtedly has made its name in UAE by delivering smooth experiences and similar captivating, both offline and online. The online delivery platform resorts to numerous value-driven channels and features such as push notification, email, in-app chat, and many more to manage the performance of their online store and physical outlets. It has improved its business strategy helping the retail giant pave the way to get more return visits and customer loyalty.