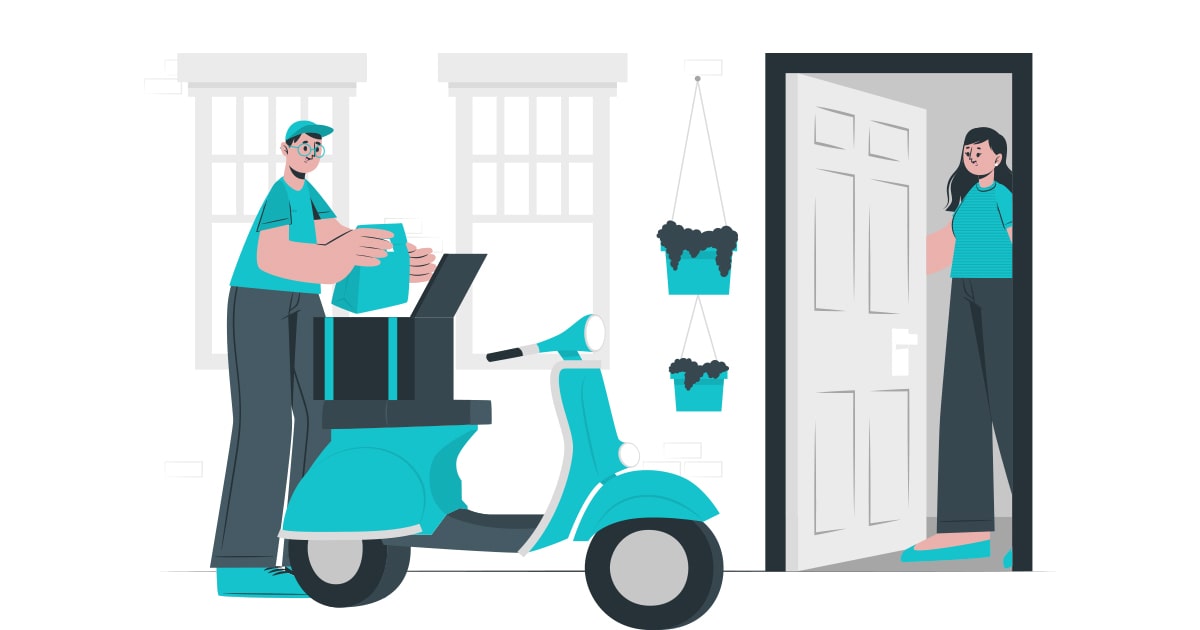 In the on-demand food delivery market, the concept of enjoying the favorite food has changed from dining out to in option. It has provided customers with great convenience, enabling them to enjoy their favorite food right at their doorsteps. Learn how food delivery apps in Canada and the USA have supported click and delivered option that encourages people to enjoy their favorite meals at their doorsteps.
Technological advancement and app development have increased in the food delivery market. In 2018, the online food delivery market in the United States was worth US$ 17.5 Billion. It is estimated that online food delivery sales will reach US$ 32.7 Billion and a CAGR of 11% during 2019 and 2024.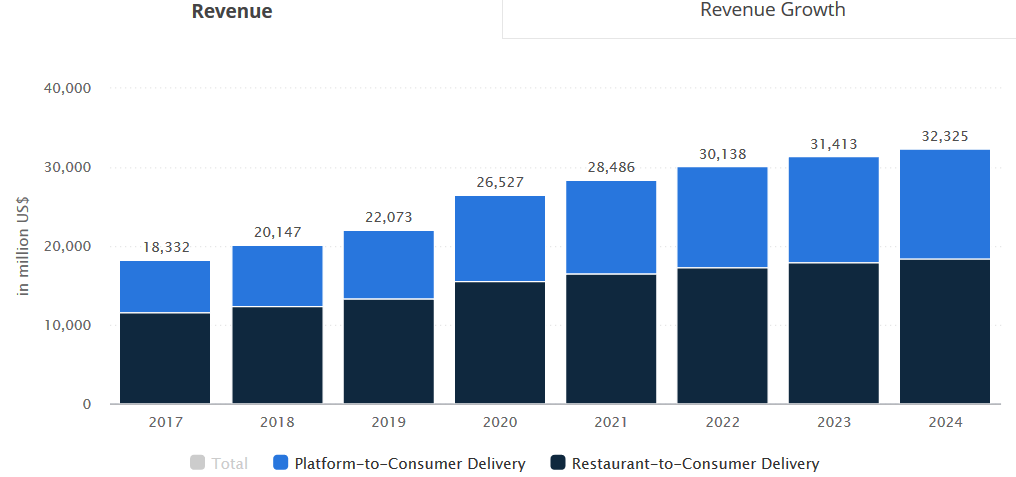 The online food delivery segment is forecasted to reach US$26,527m in 2020, the revenue and annual growth rate will increase by 5.1% during 2020 and 2024, the projected market volume will reach around US$32,325m by 2024. The restaurant to consumer delivery market segment with market volume in 2020 is projected to reach US$15,631m. Source :Statista
People embrace the food ordering and delivery app, in the same manner, businesses are also leveraging outstanding market opportunities offered by tech stack. Business entrepreneurs are investing in advanced solutions to cater to the changing demand of their targeted customers.
Learn to Know How Top Food Delivery Giants Ensure Their Apps Success in the USA and Canada
Foodservice sales in Canada are expected to grow and reach $3.3 billion in 2019. The number represents 5.8% of the $57 billion in total sales in Canada. From the total spending of customers, $3.3 billion was spent on delivery, while $1.9 billion on digital delivery and rest $1.4 billion on telephone delivery orders. If we look at digital delivery, we can see delivery orders generated around $714, compared to that around $1.1 billion is through third-party aggregators.

The above data also represent that delivery sales in the United States are estimated to reach $10 billion. Compared to that, the Canadian market is around 10% of the size in the American market. The digital delivery remains small compared to the market; the delivery sales are increasing by 52% every year. Foodservice industry covers around 4.7% of the total delivery market; hence developing a food delivery and ordering platform can prove to be a beneficial option for your business. Check the list of top food delivery and ordering apps that have achieved success in the USA and Canada market shortly.
1. SkipTheDishes
Founded in 2012 by Josh and Chris Simair, SkipTheDishes Restaurant Services Inc. is an online food ordering and delivery company located in Winnipeg, Manitoba. SkipTheDishes is a subsidiary of Just Eat Takeaway. At the initial level, two brothers launched the platform at the home city of Saskatoon, Saskatchewan, and later expanded eventually to Winnipeg, Manitoba.
The company is presently operating at Red Deer, Burnaby, East Vancouver, Regina, Calgary, Edmonton, Prince Albert, Grande Prairie, Winnipeg, Mississauga, Ottawa, Etobicoke, Saskatoon, Kitchener/Waterloo, and many USA cities, including Cincinnati, Columbus, Cleveland, St. Louis, Buffalo, Omaha, and many more.
In 2016, JustEat acquired SkipTheDishes for $200M; it remained a subsidiary for the delivery giant with its Canadian headquarters staying in Winnipeg. Just Eat Canada successfully redirected to SkipTheDishes in September 2018; recently, the company committed A total of $15 million to help Canadians during the COVID 19 outbreak.
2. GrubHub
Grubhub Inc. was founded by Matt Maloney, Mike Evans, and Roman Gaskill in 2004. Chicago based online food ordering and delivery platform connects diners with their favorite restaurants without any hassle. Founders launched the GrubHub to introduce an alternative for the paper menu in the on-demand industry.
As of 2019, GrubHub had more than 19.9 million users and has also partnered with 115,000 associated restaurants across 3,200 cities and 50 states in the U.S. alone. JustEat Takeaway.com combines with GrubHub to create a leading food delivery player globally; the company announced its gobbling with GrubHub, it confirms to buy Grubhub for $7.3 billion in a deal.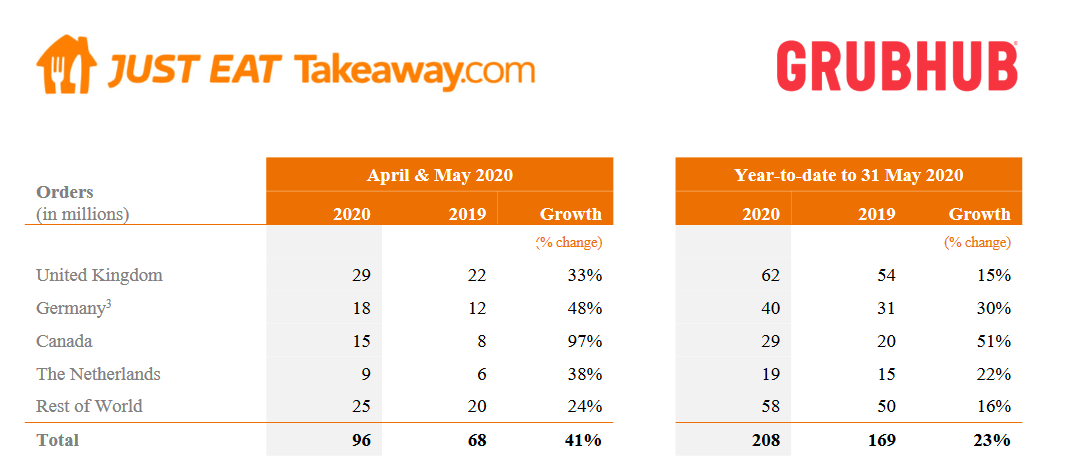 When it comes to most installed food delivery apps in the USA, then GrubHub ranks 5th. It allows users to search and order cuisines from their favorite restaurant in no time. The app also allows users to place their orders before four days in advance, the basic features and functionality of apps like search, ratings, etc. The platform is free for customers to download and delivers an order to customers in their place.
3. Tim Hortons
Tim Hortons Inc. was founded in Hamilton, Ontario, in 1964 by Tim Horton and Jim Charade, after an initial venture in hamburger restaurants. Toronto based Tim Hortons is a Canadian multinational food restaurant chain that serves doughnuts, coffee, and many other fast food items. As of 2018, the company is considered Canada's quick-service restaurant chain, partnered with more than 4,846 restaurants in 14 different countries.
In August 2014, Burger King purchased Tim Hortons for US$11.4 billion; since then, the food chain business became a subsidiary of Restaurant Brands International, which is owned by Brazilian investment company 3G Capital. The company recorded around $1.48 billion in sales in 2005. The company in 2019 announced its expansion on both sides of the Canada and USA border; it launched more than 600 new stores in Canada.
4. Postmates
Founded by Sean Plaice, Bastian Lehmann, and Sam Street in 2011, Postmates is located in San Francisco, California. The company enables its users with local delivery service of restaurant meals and other goods. The service mainly relies on an advanced app and Global Positioning System and operates in more than 2,940 USA cities. Company's co-founder, Bastian Lehmann, calls the firm an "anti-Amazon" at the initial level, Postmates offers food delivery service to the customer. Still, later it started offering grocery and other items delivery service to customers on demand.
In July 2020, Uber agreed that it acquired Postmates for a $2.65 billion all-stock deal. In 2015, the company announced that it has completed more than 2.5 million deliveries in more than 28 markets and has expanded its fleet to 13,000 couriers. Later in 2015, Postmates updated its platform and added the tracking delivery service to provide seamless delivery service to customers. The company has recently launched its service in Mexico City, outside the United States.
5. Little Caesars
Little Caesar Enterprises Inc. was founded by Mike and his wife, Marian Ilitch, in May 1959. The company's first location was in a strip mall in Garden City, Michigan, named "Little Caesar's Pizza Treat." After the Pizza giant Domino's Pizza and Pizza Hut, Little Caesars is the third-largest pizza chain in the United States.
Little Caesars operates in the United States and has expanded its business internationally in Canada, Asia, Latin America, the Caribbean, the Middle East, and Australia. Little Caesars is headquartered in Downtown Detroit and is operated by the subsidiary of Ilitch Holdings, Inc.
The company enables its platform users with Pizza deliveries, chicken, hot dogs, fish, and shrimp; Little Caesars has 13,386 pizzas ordered from the V.F. Corporation of Greensboro in 1998. The company has become one of the famous pizza places ever in the United States after its launch. The company recently launched stuffed crazy bread and a $3.99 pizza deal to enable its users with new tastes, which they love to enjoy.
6. DoorDash
Founded by Stanford students Andy Fang, Evan Moore, Tony Xu, and Stanley Tang in 2013, DoorDash offers on-demand prepared food delivery service to customers. The company has expanded its food delivery service in more than 4,000 cities. It has partnered with 340,000 stores across Canada, Australia, and the USA; currently, the company's worth is around $13 billion and is considered as one of the most extensive delivery services in the USA in 2019.
As of 2019, DoorDash announced it would be partnering with Mercato to expand its business reach as independent grocers. The partnership proved beneficial for the company as it helped them provide same-day delivery to customers, servicing 750 independent grocers in 22 states. The company has also launched a grocery delivery service to meet customers' growing demand amid COVID 19 outbreak.
7. Foodora
Founded in 2014 under the name Volo GmbH, Foodora is an online food ordering company. The company offers excellent delivery service from more than 9,000 selected restaurants in regions of the Nordic. Customers can browse for local restaurants and place an order through the app; they can also track their orders in real-time from the movement restaurant.
In 2015, Foodora acquired Hurrier food delivery services in Canada; later, the German-based food delivery service also took over Suppertime and Heimschmecker in Austria, helping the food delivery giant expand its food delivery service market. In 2015, Delivery Hero acquired Foodora from Rocket Internet; then, the company was merged with the food delivery giant, Urban Taste, under the banner of Foodora. Delivery Hero continues to offer its service under the Foodora brand in the market across the region.
Tips to Follow to Build User-Friendly Solution Stack Ensuring Delivery Business Success in 2020.
On-demand food ordering-delivery platforms address the growing demand for food lovers worldwide and earn enormous profits for themselves. The explosive growth of the food ordering and delivery platform has made it essential for entrepreneurs to notice and invest in a delivery app like foodora, helping them build a brand name. They need to follow the following tips to craft a user-friendly solution for the delivery business, ensuring their success in 2020.
Add Innovative and Engaging Features
Ask developers to build advanced content filters enabling customers to search and order their favorite food accurately without any hassle. Think about how you can automate the full food ordering process, check on how your customers will search the order, restaurants will be informed about new orders and order cancellation, etc. You can consider including some of the advances features ensuring your business success; these features include:
Advanced search option
Powerful CMS
Rating system
User-friendly checkout process
SMS gateway
Live chat integration
Identify Needs and Challenges
Choose the best technology for platform development, but before stepping to the development process analysis, your business needs, and market competition. Check on what challenges you can face in the market during business launch, how you will address all the problems efficiently, what problems your customers will solve by the platform, etc. Once after analyzing everything, you can step ahead to build a user-friendly platform with app development services support.
Target the Right Market
Target the right market to achieve success and growth for your business in a short time. Know the current market scenario and build your development strategies accordingly. Check different business models of:
Alcohol Delivery Platform
Grocery Delivery Platform
Food & Beverages Delivery Platform
Weed Delivery Platform
Great UI/UX Design
A great UI/UX design requires a lot of time and effort; the multiple stages are often divided into various stages enabling you to offer an effortless user experience. Create a user-friendly website and app that works in the best manner of helping you to meet the customer's demand effectively.
Pay Attention to the Mobile Version
Everyone has a smartphone these days; hence you need to pay attention to your delivery platform's mobile version. Optimize your website and app with a responsive design, ensuring to increase your customer base.
Concluding Note
The on-demand food ordering and delivery platform are undoubtedly here to stay for a longer time. People these days love to order food online instead of going to restaurants, apps have gained massive popularity among the customers. If you doubt how much it costs to build a food delivery app, you can get in touch with us to get app development at a pocket-friendly price.