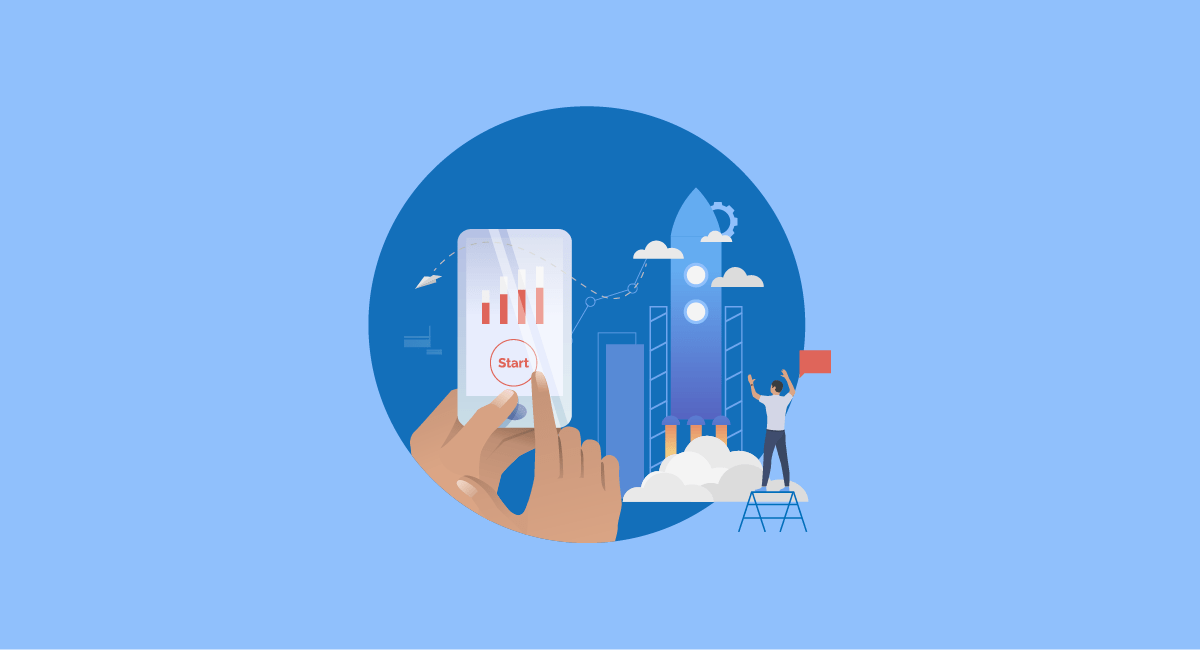 Having million-dollar mobile app development ideas for startups is a hot topic nowadays. Leveraging the advancement of technologies through app development is the next best thing in the market to elevate businesses.
No surprise, keeping up with market demand necessitates the development of mobile apps. Everything is at your fingertips, from shopping to organizing a doctor's appointment, taking academic courses, purchasing groceries, and reserving a restaurant table.
By 2023, mobile app revenues are expected to generate $935 billion, according to pre-pandemic predictions. This process is being sped up by the pandemic, improving financial results. When the most important things are nearby and accessible at any time, people tend to transfer all of their affairs (from jobs to domestic duties) into their pockets. The Internet, 5G technology, and data transfer speed are all developing quickly. The world is getting more and more online.
The mobile app market is sweeping the globe and creating opportunities for all entrepreneurs and businesses to seize lucrative business prospects by merely joining this growing sector. So, if you're prepared to launch a business and looking forward to developing an excellent mobile app that may help you set a benchmark, you need to be aware of current trends and future app requirements.
The good news is that this site has discussed a number of innovative mobile app development ideas for startups that will enable you to generate income in 2023. Following extensive market research and analysis, we have compiled a list of the top mobile app development ideas that have the potential for great success.
Top App Development Ideas for Startups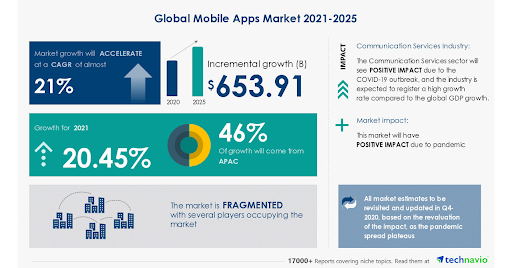 Source: PR Newswire
The user base has increased by an astounding amount in just three years, demonstrating how quickly the mobile app business has evolved. If you have an app idea, don't wait to talk to a mobile app development company and turn it into a workable strategy.
Finding a solution-centered notion is more important than coming up with a broad concept. A problem-solving app concept will always find a distinctive approach to distinguish it from the competition.
In the world of mobile applications,
Convenience
Speed
And ease of access
These are the three pillars of success. However, discovering it and making it understandable to the public is happiness. Let's put the record right and discover which of the most popular business mobile app ideas spurred millions of others to create their own. As a result, you can gain more advantages by creating a mobile app for your company, including the ability to grow globally, attract more clients, boost your brand's value, produce money, and more.
Here we have curated a list of the best mobile app ideas for startups who want to conquer the app world in the coming years.
eCommerce Applications
The global eCommerce market is forecasted to reach 16,215.6 billion by 2027 at a CAGR of 22.9% between 2020-2027. Online apps and websites where users can buy anything and everything are known as eCommerce apps. In other terms, we can describe companies like Amazon, eBay, etc., that operate online. Users are quite delighted with the offers and convenience of online buying.
So creating an online store is a great method to make money. There is a sizable market for things like lifestyle, home care, child care, clothing, electronics, jewelry, etc. The biggest benefit of starting an online store is that you can always expand your customer base and set yourself apart from your rivals by providing something unique.
Hyper-local or On-demand Delivery Business
A hyperlocal marketplace or on-demand business model guarantees that the clients will receive their ordered goods or services in a remarkably short period of time.
The end-users can more easily delegate their daily tasks thanks to the hyperlocal delivery model. In addition, small-scale businesses and merchants have new opportunities thanks to on-demand delivery. Leading online delivery apps, including InstaCart, Yelp, DoorDash, Rappi, UberEats, and many others, have developed recently and now control a significant portion of the industry.
Demand for on-demand apps is enormous, so if you can match end users' expectations by offering prompt and reliable services, the market will undoubtedly be open to you.
Online Education Apps
Only games and business are more popular categories than education on the App Store, and the eLearning market takes second place on Google Play. Long before the pandemic, education was changing quickly, but 2020 is the year for the eLearning sector to start functioning at its peak, and it's time to seize the chances presented by the booming market for educational apps.
No of their age or level of experience, more people are adopting Uber for Tutor like apps. It means that you may give special value to customers and businesses by developing an educational app, which will lead to a well-liked and lucrative product.
AI and ML Based Apps
Predicting the future has long fascinated mankind, from prehistoric times to the modern era. Today, a lot of technologically knowledgeable people use mobile applications to forecast the future; thus, it makes sense to include AI and ML in the app creation process.
We all know how the eCommerce market is growing by leaps and bounds; online entrepreneurs can leverage these technologies to collect valuable data and provide more accurate predictions to users. Amazon, Netflix, etc., are the best examples.
Smart Parking Apps
Anyone who has ever tried to get a parking spot in a busy city knows how difficult it can be. According to an IBM survey, drivers search for a suitable parking space in major cities for about 20 minutes on average. But there is an app for parking, just like there is for most common tasks.
A smart parking system has advantages beyond time savings, including reduced stress levels and increased foot traffic for businesses on congested streets. By 2023, the market for smart parking apps is expected to reach $3.8 billion, providing significant potential for business owners who want to create one.
NFT and Metaverse Apps
The metaverse is a brand-new network of virtual worlds connected by blockchain. In this virtual world, there are many chances for both artists and customers.
Metaverses like Somnium Space and Crypto Voxels allow users to create virtual assets and earn money from them. Creators can use their artistic talents on everything from virtual apparel to games and events. In addition, users' virtual assets as creators of metaverse assets are available for purchase and exchange.
The popularity and societal acceptance of the metaverse will drive the market for virtual assets higher. Many people go to the metaverse to consume content and communicate with others. The idea is comparable to hanging out with coworkers in a supermarket.
Entertainment Apps
The global video streaming market is anticipated to reach around 1721.4 billion by 2030. This is a huge market. OTT platforms or entertainment apps are in tremendous demand right now. This platform has assisted in keeping people occupied and amused due to the dire circumstances that caused many to stay indoors.
The introduction of smartphones has also altered how mobile phones are utilized. OTT platforms like Netflix, Hulu, Disney+, Amazon Prime, and Twitch are some of the best examples.
Choose the Promising Apps Idea for an Attractive Yield
Finally, we hope you have a list of the top app development ideas that will assist businesses, especially startups and SMEs, to dominate their respective industries in 2023. The market is crowded, so to succeed as a business and stand out from the crowd, you must go above and beyond these tried-and-true app concepts.
For this, businesses must consult an experienced and professional technology partner with us, a well-known IT and consulting services company for myriad requirements of the business. So hurry up and leverage our expertise and knowledge that allows you to make higher profits even in the initial days.