The proliferation of the internet has transported every service and expanded your business reach to a great extent. In modern times, the abundance of mobile apps is available on app stores, making life much more comfortable than ever. The rampant Asian economy is the leading cause of a reevaluation of the regular habits of the people. Now, most people don't have enough time to cook food due to their busy schedules. Hence they go for food delivery apps, helping them get their favorite food delivered at their doorstep.
Undoubtedly the growing demand for food delivery has raised the convenient delivery services that feature a variety of cuisines. The global on-demand food delivery services market is forecasted to grow from $107.44 billion in 2019 to $111.32 billion by the end of 2020, and the growth rate is estimated to grow by 3.61% in the same year. The growth has slowed down due to COVID 19 spread. But the market experienced enormous growth and is expected to reach around $154.34 billion by 2023 and a CAGR of 11.51%.
Check Complete List of Food Dealers App That Ruling Southeast Asia Market
Food delivery apps are not new, but smartphones and internet connection has expanded the reach of delivery services in recent time. Online food delivery timeline that the global food delivery market will reach US$35 billion annually and will grow and reach US$365 billion by 2030. The top benefit of online food ordering service is the convenience which it offers to customers; it enables them with a variety of choices, which allows them to try something new in the Southeast Asia region.
Online food delivery is projected to grow dramatically and reach around 20 billion by the end of 2025. The online food delivery service in Singapore alone is 5 to 10 times higher compared to delivery markets in Vietnam and Indonesia. The cost will reach US$2, for individuals, a limited budget makes the delivery a costly ordeal.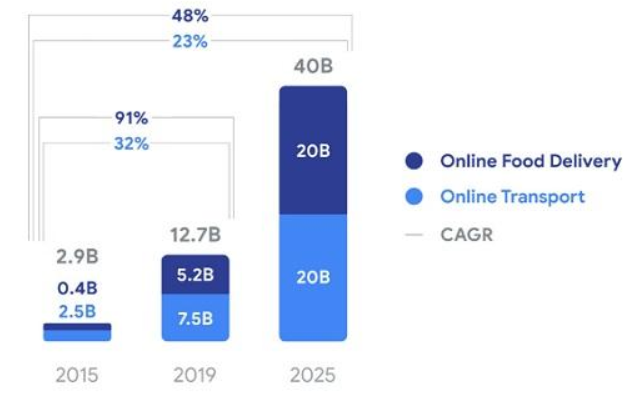 The food delivery sector is growing dramatically, and the Asia Pacific dominates an on-demand app that delivers the order right at the consumer's door. On-demand apps like GoJek, GrabFood, FoodPanda, and Deliveroo are market leaders helping businesses achieve success and have stable financial backing. Even smaller local startups are making noticeable waves helping to gain a solid reputation in the food delivery market. It also helps them to enhance their customer base right under your competitors' nose. Explore the top players of the Southeast Asia food delivery market, check to know how they achieved success in the market.
1. Deliveroo
Deliveroo was founded by Greg Orlowski and Will Shu in 2013, the company headquarter is located in London. The company generates revenue by charging commissions from restaurants and order fees from customers. It operates successfully in different locations across Ireland, the United Kingdom, Australia, the Netherlands, France, Belgium, Spain, Italy, the United Arab Emirates, New Zealand, Singapore, Kuwait, Puerto Rico, Hong Kong, and many more.
The London-based delivery platform is successfully making its way to Asia. It has launched its delivery service in Singapore, Hong Kong, and recently in Taiwan. Food delivery upstart Deliveroo recently added $98M to its latest round from Series F, now totaling $480M.
The financial backing of the company is valued at around USD 2 billion. Deliveroo introduced a subscription-based "Plus" delivery service in Singapore; the company adopts dynamic pricing costs $10.90 SGD per month in exchange for delivery. The platform significantly cut down on their delivery times with the real-time dispatch algorithm called Frank.
2. Dahmakan
Dahmakan was founded in 2019, and the headquarters is located in Malaysia and Kuala Lumpur. A food delivery startup has established its presence in Thailand, Malaysia, and will establish its presence in Indonesia and Singapore shortly. The company is offering ready-to-eat meals at scale deliveries. The company expands distribution to retailers and marketplaces; it serves in a faster and cost-effective way, helping customers to satisfy their hunger as soon as possible.
The company digitizes food delivery services at workplaces in Klang Valley. It entered into the agreement with the telco, Digi Telecommunications, to start a digital canteen for its employees and provide them with healthy meals.
Dahmakan raises $18 million from Series B, and the investors are JAFCO Asia, GEC-KIP Fund, Rakuten Capital, White Star Capital, and the South Korean food delivery app popularly known as Woowa Brothers, and returning investors Y Combinator and Partech Partners.
3. LINE Man
Located in Bangkok, Thailand, Line Man is an online delivery app launched in 2016. It offers almost all the time from food to book the ride to leverage parcel delivery service. Thailand's line secured 110 million from BRV Capital; it also announced the merger with the Thai restaurant and discovery platform Wongnai Media Co Ltd. The platform is undoubtedly bridging the gap to connecting users with restaurants of their choice locally.
4. Kim's Kitchen
Founded in 2000, Kim's Kitchen, with its Tingkat, offers meal delivery service to customers on their demand. The brand has established its presence in Singapore and has achieved success due to its affordable, simple, and home-cooked meals. It also offers healthy meals, buffet catering, bento, and much more to its customers. Kim's Kitchen is considered as the number one Tingkat delivery platform in Singapore and other industry-leading recognition in SMEs.
5. Zomato
The food delivery platform was founded as Foodiebay in 2008 and later was named as Zomato in 2010. It is an Indian food delivery startup and restaurant aggregator founded by Pankaj Chaddah and Deepinder Goyal. The platform provides information, user reviews, menus, and much more to customers about the restaurants. It gives food delivery options from different restaurants in various cities where the company establishes its branches. As of 2019, Zomato offers services in more than 24 countries and 10,000 cities.
https://en.wikipedia.org/wiki/Zomato
Zomato raised US$70 million in funding from Temasek in Singapore to expand its food delivery service. The company has also launched loyalty programs, Zomato Golds and Zomato Treats. The latest venture is Zomato Kitchens. As a reliable partner to restaurants and a unique business model, it gives Zomato advantages to operate cloud kitchens and a storefront.
6. FoodPanda
Founded by Rico Wyder and Lukas Nagel in 2012 in different areas of South-East Asia, Singapore, Thailand, Malaysia, Indonesia, and the Philippines. Foodpanda is a food delivery marketplace owned by Delivery Hero SE and operates in more than 50 countries. It has launched its service in Romania, Asia Pacific, Bulgaria, and many more countries. The company has partnered with 115,000 restaurants in 246 different cities; it works efficiently with 80,000 delivery riders.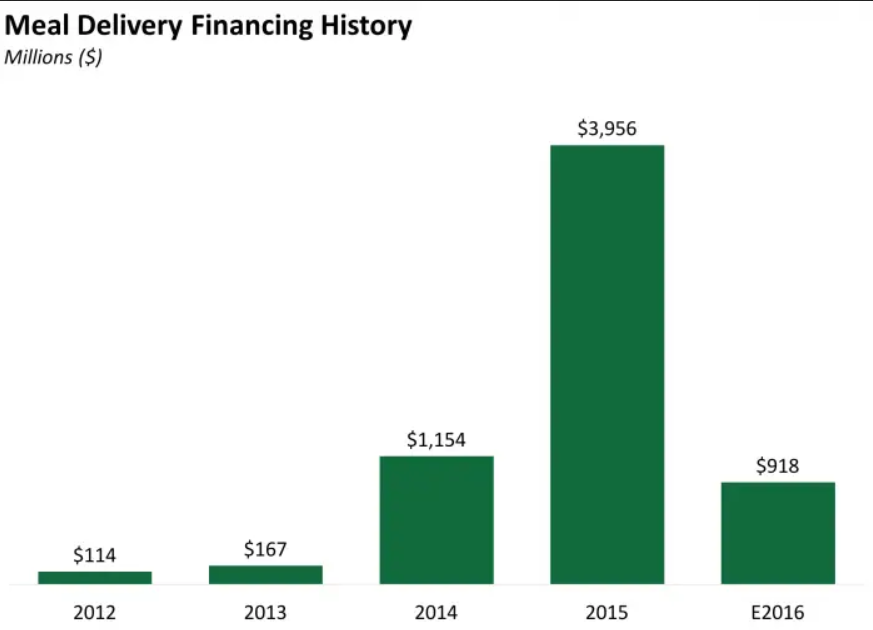 FoodPanda dominates the Thailand market and has successfully maintained a popular foothold in the Philippines, Singapore, Hong Kong, Malaysia, and many more. To compete with the growing delivery market in Southeast Asia, the company has made its way; recently, it launched Street Panda to offer street food on-demand to customers. It also tried another tactic in Singapore by introducing the dine-in concept with "favorites by Foodpanda".
7. GoJek
GoJek is a digital payment technology group and on-demand multi-service platform. The company was first launched in Indonesia in 2009; later, it launched its app in 2015 with four different services. These services include:
1. GoRide,
2. GoSend,
3. GoShop,
4. GoFood.
GoJek will be valued at 10 billion very soon due to its increasing popularity among users and investors. It is providing more than 20 services to customers on demand. The company has raised 1.5 billion in the ride-hailing market. GoJek's food delivery service, GoFood was launched in 2015 and recently expanded to Vietnam under its Go-Viet arm.
8. GrabFood
Grab is a multinational company based in Singapore. The company offers services to customers, including food delivery, transportation, and financial assistance from a single platform. GrabFood provides its service in Southeast Asian countries of Indonesia, Singapore, Myanmar, Cambodia, Thailand, Vietnam, Malaysia, Philippines, and many other countries. It is the first "decacorn" with a valuation of $14 billion till 2019.
9. Delivery Guy
The family business was launched in June last year by a local Filipino couple Finina Castillo and Neil. The primary competitors of Delivery Guy include Grab, FoodPanda, Honestbee, and many more. The couple planned to create restaurant app and website to offer excellent delivery service to customers on their demand. Besides this, the company also provides a person to person communication service to customers. They serve customers with 35 restaurant brands within a 3-kilometer radius of Metro Manila with a delivery time within 60 minutes along with delivery tracking features.
10. SmartBite
The Kuala Lumpur-based food tech startup was launched in 2017. It began its website and service to provide an on-demand food delivery service to the customer. Gabriele Fadda founded SmartBite. They aim to satisfy the customer's hunger by delivering the best quality food to customers at an affordable cost. It offers a variety of options to customers; the company's main target is the lunchtime crowd. The company has partnered with the end number around the city. It makes more than 500 deliveries per day with peaks and around 1,500 deliveries.
Concluding It Up
Tech food evolution is blurring lines between integrating vertically, different models, and in various aspects. Each food delivery model with the end goal to become a fully-integrated platform. Crucial stakeholders of food delivery include delivery drivers, restaurants, and customers, ensuring sustainable growth.
Food delivery is becoming the frontier in Southeast Asia, with numerous players helping you raise significant capital into the sector. The Southeast Asia food delivery market is estimated to increase growth; it plays a crucial role in today's growing economy. Restaurant operations continue to evolve; hence it will be beneficial for you to develop an advanced platform for your business. Contact us today to know how much it costs to develop a delivery platform, what features and modules it has, and much more.