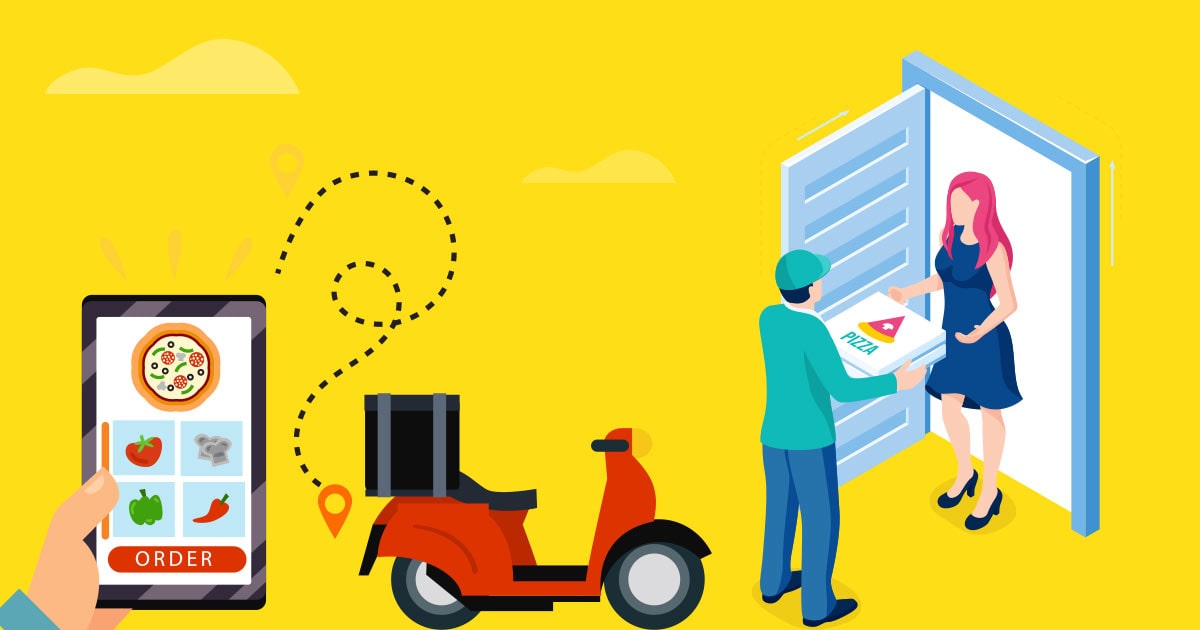 The rapid growth is measured in the food ordering and delivery sector over the past years. Mobility solution has made it relatively easier for the food ordering and delivery segment to supply essential services to customers.
Google mobility report shows that Brazilians have visited pharmacies and grocery shops 35% to 34% less, while they even avoid going to food stores. Instead, they love to order their favorite food online using advanced mobility solutions. Check the list of top food delivery apps in Brazil to order swiftly and deliver your favorite meal to your place.
With around 22 crores (estimated in 2021) of the population of Brazil, food delivery is widely adopted. By the end of 2023, Brazil's online food delivery market is projected to reach US $16.10bn. This is noticed with the annual growth rate (CAGR 2023-2027) of 11.29% resulting in a projected market volume of US$24.70bn by 2027.
Get Inspiration to Start a Business with a Solution Similar to the Food Delivery App in Brazil
In 2019, 65% of the Brazilian population preferred to use a smartphone, and it was forecast that it would increase to 75% by 2025. The number of smart device users will increase from 136.5 million to 157.9 million during the same time interval.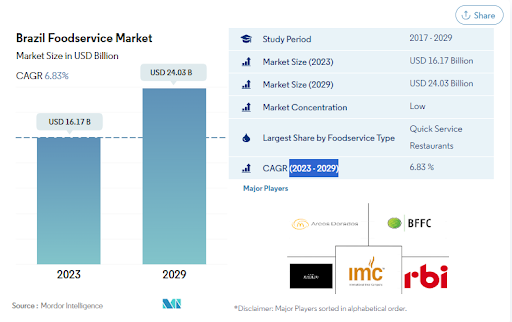 Brazil is experiencing fast growth as regards technology penetration. With an increase in the smartphone adoption rate, food ordering and the Brazilian delivery market got the spotlight. Food and grocery is the largest group with the highest share of the total Brazilian retail market and sales. The food ordering and delivery market is experiencing the most extensive sales value terms during the forecasted period; it is growing at a 6.8% CAGR(2023 – 2029).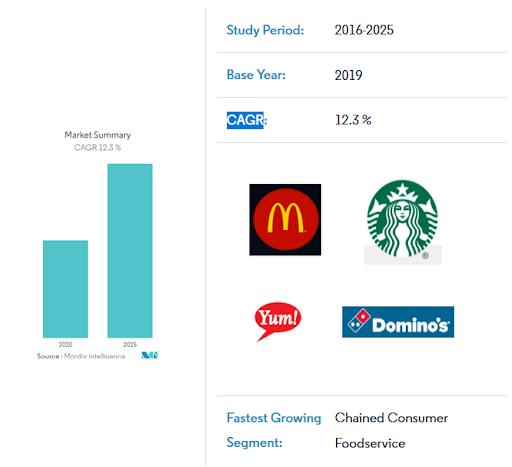 If you are unaware of top meal suppliers in the Brazilian market, explore the article to know everything. Check the details about their business lunch, operational strategy, and much more. Also, explore how the top food dealers satisfy the needs of end-users efficiently.
1. iFood
iFood is a Brazilian on-demand food ordering and delivery platform founded in 2011. It's undoubtedly a market leader in Latin America's food delivery market and has successfully developed its presence in Mexico, Colombia, and Argentina. The startup has managed to get funding 7 rounds in 2 Early-Stage and 5 Late-Stage, collecting $592M total equity funding from 9 investors.
iFood is popular among 20 Brazilian cities; the on-demand app solution is designed to cater to Brazil's growing demand. The company has come as a respite for the order to be taken, and food served and waiting long hours to get a seat during rush hours.
2. HelloFood
Hellofood was founded in 2012 as a food delivery service that has a vast audience base in more than 15 Brazilian cities. The platform enables food lovers to order their favorite food online. The company was founded as an affiliate of Just Eat Holding Limited. The company promises to offer fantastic service to customers on-demand; they can explore a list of local restaurants and order their food to get it delivered to their place.
3.James Delivery
James Delivery is one of the best food delivery apps in Brazil that focuses on best quality cuisines covering top-rated restaurants nationwide. It was launched in 2016 in Curitiba, Parana, Brazil. It has a collection of the best restaurants around the city. They have the motive to make everything good, including the small things for their customers. James Delivery is a delivery app that offers delivery service, going far beyond food in an average of 35 minutes.
4. 99Food
99Food, a food ordering and delivery platform, successfully launched its service in Curitiba as part of the business expansion across Brazil. 99Food is the primary part of start-up 99, which was later acquired by the Chinese business Didi. The company has steadily expanded its business operations and services across Latin America to compete with its American giant, Uber. 99Food is offering services in numerous Brazilian cities. The company provides a seamless service experience to customers whenever they demand, even during the tough times of COVID-19 spread.
5. Delivery Much
Delivery Much offers online logistics and on-demand ordering service. It enables users to access the site and view menus of restaurants & delivery values before placing the order. Besides this, they can choose to pay through multiple payment methods; they can use cash or credit cards to get their food products delivered to their doorsteps. The company was launched in 2011 and is located in Santa Catarina, Brazil.
6. Quero Delivery
Quero Delivery, an online restaurant search platform, makes it easier for users to order their favorite meal. The company included advanced features by integrating food ordering and delivery services in the top cities of Brazil. The advanced mobility platform enables users to cater to their taste buds with delicious and tasty food anytime, anywhere, along with an end number of payment options. Users can make payments through credit, debit, and online wallets for the food they order online.
7. Rappi
In 2015, Rappi was founded by Simón Borrero, Felipe Villamarin, and Sebastián Mejía. The company's initial investment was about US $200 M; the platform makes it easier for customers to order almost everything they want to get delivered to their doorsteps in 30 minutes in exchange for some bucks.
Latin American multi-vertical company is presently operating in 9 different countries like Colombia, Mexico, Peru, Costa Rica, Argentina, Uruguay, Ecuador, Chile, Brazil, and other 200 cities and states. Rappi has been defined as the fastest-growing company in the region.
Rappi's latest funding round was a Convertible Note for $0.1M on February 27, 20221. Rappi just doesn't have the technology that has made them come so far. It also has data-driven insights, a robust business model, and revenue channels, targeting the right people at the right time.
8. Aiqfome
Aiqfome is an on-demand food delivery application serving customers with daily or periodic food requirements, including food for thier pets. The business was launched on Nov 1, 2008, and is headquartered in Parana, Brazil. Currently, Aiqfome has 5M+ downloads in the Play Store, one of the widely adopted food delivery apps in Brazil.
It is operating in more than 700 cities in Brazil with a network of many restaurants of local and continental food. It was acquired by Magazine Luiza, after which it has managed to triple the sales volume.
9.Menulog
Dutch parent company Just Eat Takeaway owns Menulog. Sydney-based Menulog was launched by Kevin Sherman, Leon Kamenev, and Dan Katz in 2016. The food and beverage ordering and delivery platform has over 15,000 restaurant partners in Australia. Since the company was launched, it has completed more than 22 million meal orders. In 2009 the company launched iOS and Android apps to make the ordering processes easier and faster for users worldwide. Menulog and EatNow announced their merger news in 2015.
In the same year, JustEat acquired the company with an 855 million Australian dollar deal. After achieving ten million annual order milestones, the company rebranded with a new logo and got the Alistair Venn appointment. JustEat, Menulog's British parent company, agreed to merge with its competitor Takeaway in 2019 by entering an £8.2 billion deal. Now Menulog is a subsidiary of Just Eat Takeaway, ensuring to offer contactless and seamless delivery service to customers.
10. Sampa Food Dublin
Sampa Food Dublin promises to satisfy the Brazilian people's demand accurately by offering them excellent service on demand. The company has partnered with many partners and local food service providers to build strong relationships with restaurants. They ensure to provide 24*7 service to customers right at their place. The platform offers search options to help customers browse and order their favorite food from their favorite restaurant. They are also allowed to filter working hours, coupons, discounts, feedback, etc., before placing the order.
Ending Note
The online food ordering and delivery trend is never-ending in Brazil and worldwide. We know why. So if you are intrigued by the list of the mentioned food delivery apps in Brazil and want to build such a business, you got it way too good. We have a readymade food ordering and delivery script at a pocket-friendly price. It is scalable and helps you perform business in Brazil or anywhere in the world with a seamless workflow and a user-friendly interface.