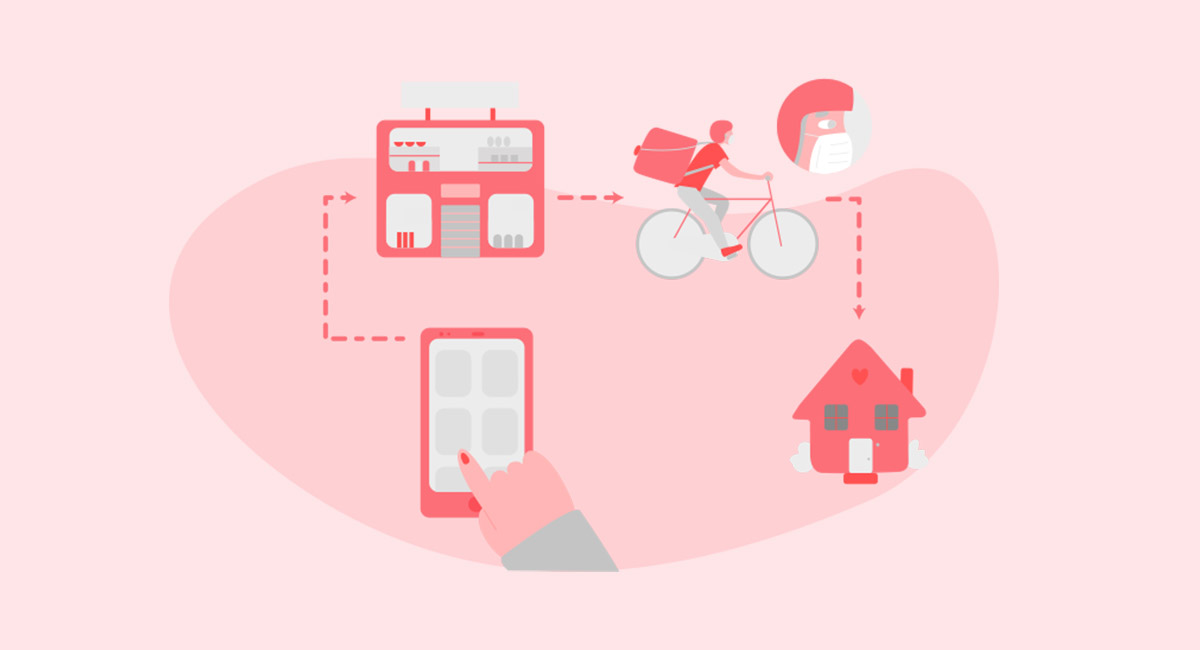 The eCommerce sector experienced massive growth; indeed, it's still booming, but the doorstep delivery sector is ready to enter the billion-dollar club. The online delivery services behemoth is performing well as it connects customers with nearby stores. The doorstep delivery market is increasing surprisingly, and Latin America is all set to make highlights. When we talk about LATAM's delivery sector, the first name that comes into mind is Rappi. Rappi fulfills customers' regular or periodic requirements online, and its sudden success compels many entrepreneurs to develop an app like Rappi for their conventional business. Now you must be wondering what Rappi is, how it get succeed in short time and what is special about Rappi business model? Keep reading on this blog and get all the answers right here. Let's talk in detail.
Food service is being disrupted not in the kitchen but on the street in Latin America. The region has become the second-fastest-growing region in the world after the Asia Pacific, with home delivery sales quadrupling in the last five years.
Coronavirus pandemic raises some uncertainty. Quarantines, social isolation measures, and an increase in customers are driving up the demand for services, but the overall number of transactions has declined due to many restaurants ceasing operations last quarter.
In Latin America, the food delivery industry is one of the most competitive on the planet. There are numerous food delivery apps in Brazil, but Rappi, a Colombian delivery company, recently raised $200M at a $1B valuation. Let's take a look at how Latin America's super app, Rappi, became so competitive and captured a huge market share.
What is Rappi?
Latin America's leading delivery company, Rappi, founded in 2015, allows customers to order food, groceries, and other essentials and even send money via their smartphones from any place within the city.
Initially, Rappi started food delivery services and saw steep growth in orders and customers. That's when they thought to expand further and now offer many other services to satisfy customers' daily needs.
Enlighten the Facts and Statistics of Rappi
Legal Name: Rappi, Inc.
Industry: Transportation, On-demand delivery
Headquarter: Bogota, Colombia
Founded in: 2015
Founders:Felipe Villamarin, Sebastian Mejia, Simon Borrero
Area Served: Colombia, Argentina, Brazil, Chile, Peru, Mexico, Costa Rica, Uruguay, Ecuador
Number of Employees: 1500
Last funding type: Series F
Firm valuation: €4.7b
Apps: Install from App Store and Play Store
Here we can see how Rappi keeps expanding its operations to other countries and allowing customers to order everything online. Well, this concept and success have attracted many investors. Now you must want to know the investors and funding amount. Don't worry; our next section is all about that.
Rappi Funding Details
| Date | Investor | Amount | Round |
| --- | --- | --- | --- |
| Jan 2015 | Investo | $120K | Seed |
| Mar 2016 | Y Combinator, E-merge | $120K | Seed |
| May 2016 | Redpoint, StartCaps, Palm Drive Capital, BoomStartup, Urizen Ventures I | N/A | Seed |
| Nov 2016 | Sequoia Capital, DST Global, Floodgate, Chris Burch, Fabrice Grinda, Monashees | $9M | Series A |
| Dec 2016 | Redpoint, Endeavor Catalyst, Monashees, Investo, Andreessen Horowitz | $52.8M | Series B |
| Jan 2018 | Delivery Hero, Redpoint, Sequoia Capital, FJ Labs, ONEVC | $130M | Series C |
| Aug 2018 | Andreessen Horowitz, Sequoia Capital DST Global | $200M | Series D |
| May 2019 | SoftBank | $1.0b | Series E |
| Sep 2020 | Delivery Hero, Andreessen Horowitz, Sequoia Capital, DST Global, Y Combinator SoftBank, T. Rowe Price | $156M | Late VC |
| Jul 2021 | Baillie Gifford, GIC, Third Point Ventures Softbank Capital, T. Rowe Price Octahedron Capital | $500M | Series F |
Rappi, which serves customers across nine countries of Latin America, is currently valued at around $3.5 billion. Latin America has certainly been taken by storm by Rappi. It is common to spot their delivery providers over an area, delivering almost everything at customers' doorstep.
Y Combinator's seed accelerator program was attracted to the Colombian startup with its $1 delivery model, regardless of the product or distance. The Rappi unicorn became Colombia's second in 2018. With fresh food, groceries, medicines, and booking concert tickets, this is the online store that has it all for Latin America.
How Does Rappi Work? Allow Customers to Order Anything
The Rappi app is quite easy to use. Rappi's user-friendly interface allows customers to get things done with real-time tracking features, whether customers want to order food, medicines, chargers, or even send money. Here's explaining it in five simple steps with which you will come to know how Rappi makes it super convenient for customers to order online products.
Using Rappi's app or website, customers can explore various stores, restaurants, go through menus and place the order for their choice
Once the order gets placed, the store accepts the order request, and customers are given an estimated time for delivery
Delivery provider collects the package, using GPS and smart route navigation system, delivery providers arrive at customer's location
Customers collect the package, pay for the order if they opted for the cash option, and leave reviews and ratings based on the overall experience
This is how Rappi makes it easy for customers to order anything.
Rappi Business Model – Know The Operations of Super App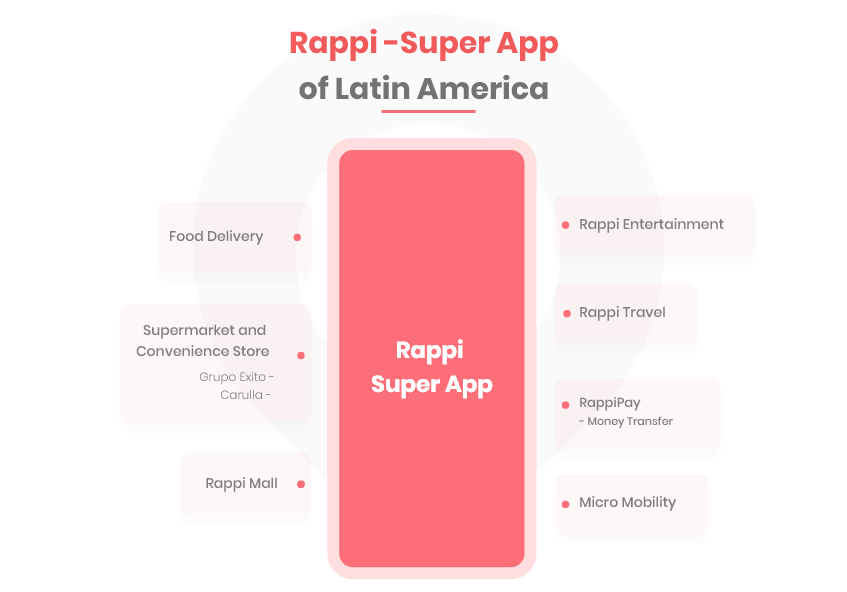 The Rappi business model creates a strong connection between all three segments. Customers, stores, and delivery providers. By tracking drivers' locations and predicting delivery times, it empowers drivers to connect with stores and customers.
With an objective to make ordering and delivery a seamless experience, Rappi connects local stores, restaurants in the city with the customers. Rappi, therefore, serves two segments:
Value Proposition of Rappi
Truly, Rappi is really a great three-sided network that brings value for all of them. I.e. customers, stores, and delivery providers.
Customers
People who lack time because of a hectic schedul
Those who want to stay safe at home in challenging times such as the pandemic
Those who want to get products at their doorsteps
Those who want to order products by applying various discounts and deals
Stores
That is newly launched, have quality products but lack an online presence
That having no online marketing plans to expand their services
Stores or restaurants that want to increase order and customer base
Stores that lack human resources for delivering products
Delivery Providers
Those who want to earn additional income
Those who want to work in flexible hours
Have a good chance to get tips from happy customers
Rappi Business Verticals – What Makes It "Super App"
Food Delivery
Rappi started its business with food delivery service, and it is still the strongest vertical that allows customers to choose restaurants, browse the menu and make payment for the order within the app.
Supermarkets and Retail Stores
This is another strongest vertical that has experienced a huge response amid the pandemic situation, and two of the largest supermarkets of Colombia, Exito, and Carulla, are listed on the app.
Financial Services
The company launched RappiPay, which allows customers to transfer money from their accounts to other users by using their credit or debit card details.
Rappi Travel
Rappi also launched a travel vertical that allows customers to book flights and hotels at cost-effective prices in the previous year.
How Does Rappi Make Money? Insights into its Revenue Streams
If you are an entrepreneur who wants to enter into the online delivery business, understanding the revenue model of Rappi is very important. Rappi gets revenue from the following primary sources.
Delivery fees: This fee is charged from customers for the ordered service, but its major portion goes to delivery providers for their services
Commission fees: This is the primary source of income for Rappi as it charges some amount from stores or restaurants for connecting them with the customers
Partnership with CPG companies: Rappi charges some amount of fees from these companies and advertises their products for a certain period of time.
Last Words
To recap, Rappi offers an amazing order and delivery experience to its customers. Rappi's business and revenue model is efficient and works exceptionally well for the brand. If you want to tread into the delivery business, explore how the E-Delivery platform helps you reap all the profits in the digital ecosystem.