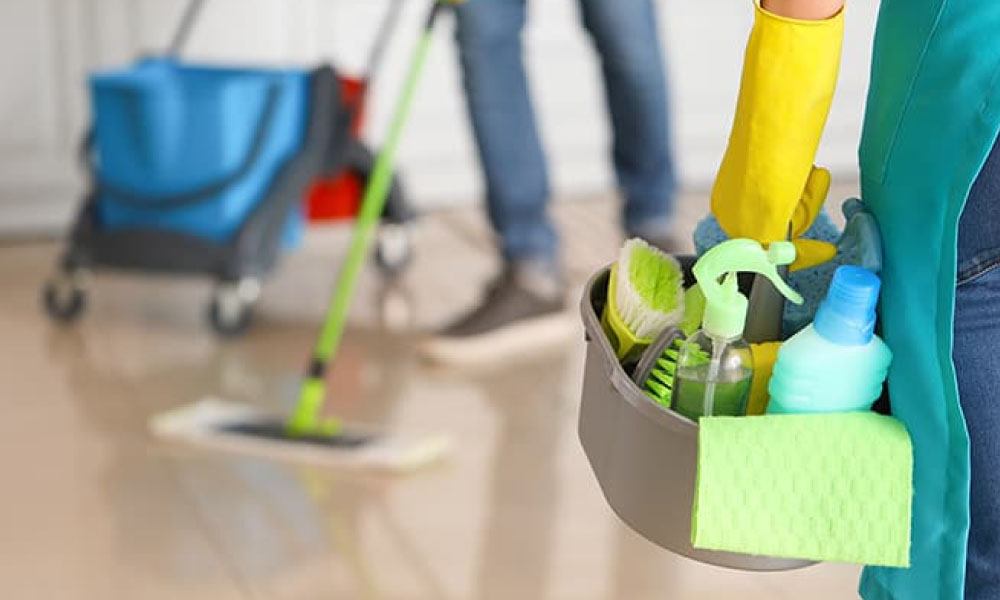 Today's consumer mindset has completely changed. Along with the quality, they focus on the ease of buying and faster services as well. These days, consumers have become a digital nomad. Their dependence on online solutions is increasing from accomplishing their daily tasks to get a cab at their doorstep. A company like Airtasker comes with the same solutions and makes regular tasks easy. In this blog post, we are going to explain the nitty-gritty of the business side of Airtasker, more and more entrepreneurs adopting Airtasker clone as it lets them to control and monitor their service business from their fingertips.
In the same way, companies who want to achieve success in this new world, have to remember that folks will redirect to other companies if they don't find your solutions and services online.
Airtasker, the Sydney-based startup overcoming this situation and have presented a robust solution that lets users hire local service providers online for a particular task. Almost all the services right from food, grocery, and other home services can make customers using a dedicated mobile app.
What is an Airtasker Clone
Airtasker clone is an online script that can upscale your local service business to connect with millions of taskers and users globally. Taskers can register themselves, customers can browse multiple home services and get things done at their fingertips from verified taskers.
What is Airtasker – The Pitch and Idea Behind Successful Story
Airtasker was founded in 2012 by Jonathan Lui and Tim Fung in Sydney, Australia. Airtasker also consists of five full-time staff members who keep eyes on business activities out of the Sydney Headquarters.
Airtasker is a vibrant online service marketplace that connects people with trusted and reliable people who can fulfill daily tasks. They are also known as "runners." Users can choose service providers based on reviews and ratings. On the other hand, service providers can list themselves on this platform to earn some extra bucks.
Do you want someone to fix your furniture?
Do you want someone to clean your apartment?
Do you want someone to fix the leakage issue?
This is where Airtasker comes with a handy solution, by offering an online as well as a mobile app that connects users to trusted people willing to offer their services. Today, mobile applications play important role in the growth of any business and this is why Airtasker like app development companies growing in the market as it connects consumers and business owners digitally.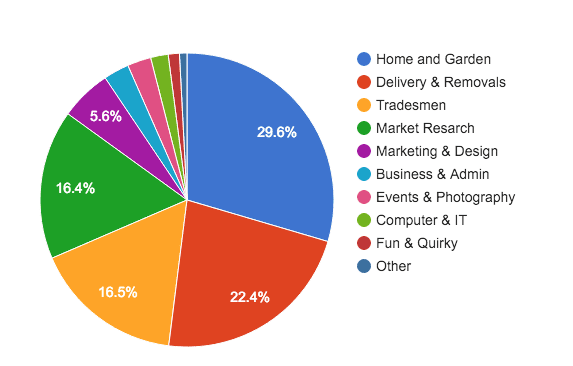 The above chart reflects that over the years, the number of users is increasing; in less than seven months of its inception, Airtasker has brought together a community of more than 35000 service providers ready to offer their services, including cleaning, food deliveries, handyman services and IT help. Users grew slowly; in 2015, Airtasker was having 300,000 active users. Source :(Airtasker)
Facts About Airtasker's User Community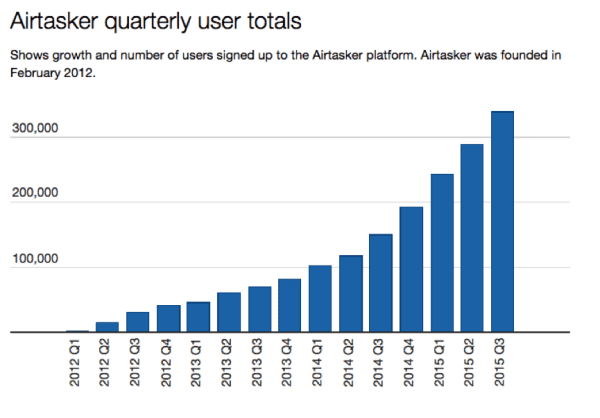 As we have said earlier, Airtasker's user base is growing slowly, but there are some interesting facts that will help you understand better. Here we go.
The majority of Aistasker members aged between 25-45.
There are more active female members than male members.
Sydney, Melbourne, Perth, and Brisbane have the most Airtaskers in terms of app install and usage.
The above pie chart shows that the company receives (more than 30%) home improvements and garden work-related requests from the above-said cities.
Airtasker Funding and Investments Facts
Fung and Lui launched Airtasker in 2012 in Sydney as a pioneer in the Australian online service marketplace.

In February 2013, Airtasker owned close competitor TaskBox.

In July 2014, Airtasker acquired Melbourne based company Butler.

In March 2015, Airtasker got funded from Shanghai-based Morning Crest Capital around $6.5 million and claimed to have a strong user base of 250000 and finished tasks worth $15 million.

After this, in 2018, there were more than 2,00,000 active users.
Fung added, " They want to start their services in the UK as research indicates that UK people are having the same mindset as Australian when it comes to preferring online services and choosing digital solutions to get things done."
Thus, Airtasker has launched its services in the UK in March 2020 after raising the fund of AU$33m from investors. Currently. Airtasker employs more than 110 people and received AU$63 million funds received from Skyfieled Capital. They also alliance with Ikea and Coles.
Airtasker Business Model- Accumulating Job Posters and Taskers
Airtasker is an Australian based platform which provides an online service marketplace allowing users to outsource daily tasks. This includes everything from app designing to finding a maid for your home or collecting a package from logistic companies.
Value Proposition
The Australian local service market was quite fragmented before Airtasker was launched in 2012. This results:
Users were unable to find a perfect and skilled service provider for particular tasks.
Moreover, service providers could not utilize their services and expertise up to the mark.
People believed that there was no online solution to get things done effectively.
Despite having skills and education, service providers were unable to earn a decent income.
In addition, service providers had no easy way to find work in their community to generate extra income. Prior to Airtasker, it was challenging to find babysitters, dog-walkers, and electricians.
Similarly, local service business owners had no option to expand their business to attract new customers. Perhaps this is the reason why many business owners opt for the Airtasker clone application to build a strong digital identity.
Besides, customers also no longer rely on a single service provider as now they have an extensive range of providers with the same skills. This flexibility makes Airtasker more popular in their area. Airtasker's main aim is to build and launch a digital infrastructure that accomplishes people's tasks using their smartphones and creating employment opportunities in the Australian Economy.
How An App Like Airtasker Works- Tech That Get Done Your Tasks
There are mainly two roles performed, a buyer of services (Job Poster) and seller of service(Tasker) in App like tasker.
Job Poster and Tasker Role (Need Image If Possible)
Post a Task: The Job Poster can submit requests with all the details, including the time, address, budget, and other necessary details related to the task.
Task Assign: The Job Poster can review offers submitted by taskers and select a service provider based on skills, ratings, and reviews.
Accept Request: The Tasker receives the request and clarifies the requirements of a task, such as if there is a need for any special equipment or not.
Make an Offer: After analysis of the request submitted by Job Poster, Taskers makes an offer with all the details (including basic and taxes).
Request Payment: After completing the task, Taskers send a request to Job Poster to release payment and provide reviews.
Payment and Review: After successfully completing the task, Job Posters need to make a payment from the given options and share reviews based on the service.
Airtasker is earning revenue by charging a commission fee from Taskers when each task gets completed. They charge on an average 15% commission on each task.
Airtasker's Achievements
Right now, Airtasker is having 120 full-time employees with diverse skills. Their journey is all about mixed emotions, where they have faced many challenges in their path.
Later the Fung said he is thankful to work with a dedicated team that is constantly making Airtasker a better and more empowering online service marketplace. Moreover,
They have developed Airtakser's reputation passport service to build trust within the community.

They also have started a payments service and partnered with IIKEA, eBay, and others.

They took the initiative to improve the working environment by an alliance with Roobyx's Protection Insurance.
Future Plans
After the successful launch in the UK market, they have raised another $33 million and focusing on:
Enhancing customer service

Update their technology stack (website and app) to grow business

They are also working with eBay, Coles, and IKEA to boost online sales and their presence.
Why Startups Should Invest in Airtasker Clone Script?
Modern technology solutions leave no stone untouched when it comes to upscaling conventional business. Earlier, people were used to roaming around the streets if they needed any domestic help but now an app like Airtasker has changed this scenario.
On the other hand, professional service providers also can expand their service base using digital solutions. If you are engaged with a local service business and want to accelerate your business with solid solutions, investing in Airtasker clone script can give you an edge over the competition.
Why Startups Should Invest In Airtasker Clone App
Heading towards digitization, the online services business has been widespread over the last couple of years. These apps are transforming the way consumers are availing services at their doorsteps. However, to launch your own online service business, one has to develop an Airtasker clone but the first thing that usually comes to mind is how much exactly does it cost to build an Airtasker clone app.
Well, to answer this question, you have to consider multiple factors such as:
App Functionality
App Design
App Development Platform
And other features that you want to add to meet user's expectations.
Besides, if you want to survive in this competitive world, it is inevitable to adopt changes because consumers are switching their focus towards online solutions and they are unlikely to return back to older ways.
If you are one of the business owners who want to combine technology and vision, there is a big market waiting for you. Furthermore, if you are looking for a cost-effective solution, you should opt for readymade solutions.
Whereas the budget is not a constraint and wants to add more securities and functionalities, it would be good enough if you go with a customized Airtasker clone app solution. Not only from the revenue point of view, but it will come with enticing features that streamline your business operations and yield you maximum ROI.
If you are a business person who is into a local service business and searching for a reputed app development company, contact us and get free consultation advice from our expert team.