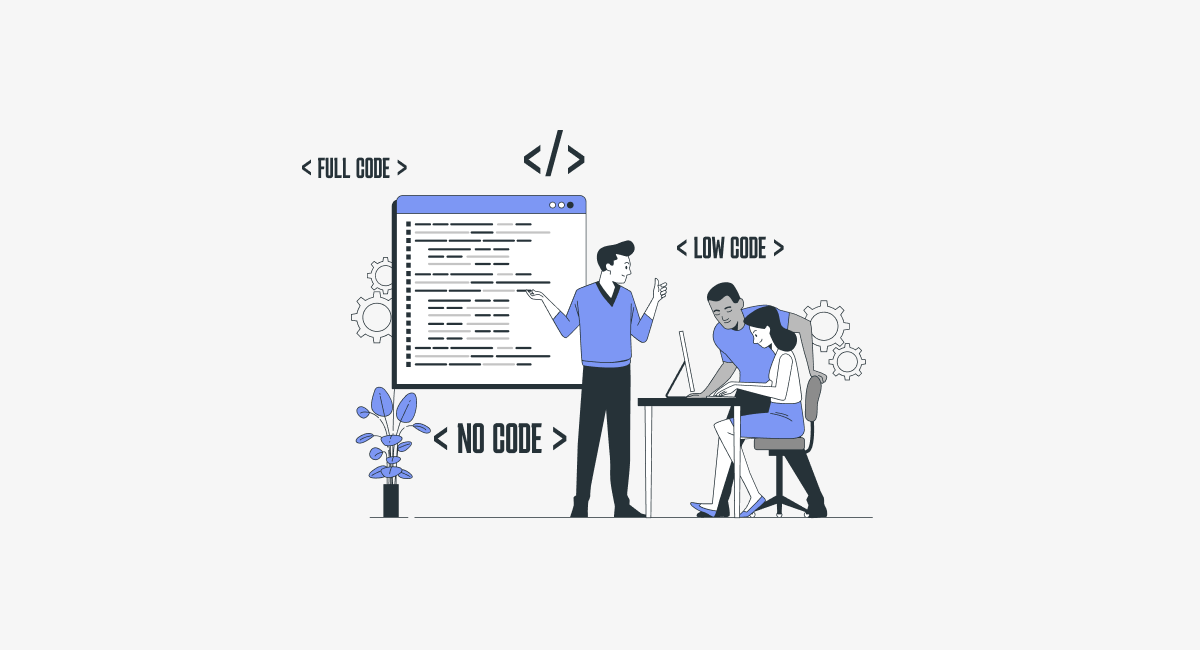 Being an entrepreneur, bringing out-of-the-box app development ideas to life is quite a brainstorm. Earlier there, for digital products, there was just one idea, code and build the products from scratch. However, now we have many options – low code vs. no code vs. full code. In this blog, we will explore all three types of processes to build an online solution- whether a mobile app, web app, website, single page application, etc.
As human nature is constantly looking to improvise and innovate in lifestyles, we also see huge evolution around us in the tech world. One of the most accustomed resources in the tech world of softwares and/or applications. It also includes a traditional mobile app development process making it more leisurely and more accessible with less or no coding.
Individuals with least or no background in IT has no least obstacles to overcome to beget online products. There are various no-code or low-code development platforms that reduce or eliminate the technical aspects of coding. They are
What is Full Code?
Full code is more like a traditional development process that follows a rigorous strategy to build software involving the pro developers who, from scratch, write numerous lines of code to construct a solution. It is an old and well-known process where app development platforms, technologies, and tools are utilized to devise online solutions.
This assembly model is immaculate for applications where the code should be associated with the experience itself. It is a code-driven practice for programmers. Content and data can be organized and revamped from remote systems on demand, but programmers manipulate the authentic experience and user interface.
Benefits of Full Code Development
Writing the entire code, programmers can offer personalization to devise the apps and websites of web apps.
It also offers maximum customization possibilities to the developers as and when required.
Gives entire control to the owner of the solution to manage it without reliance on any tools.
Drawbacks of Full Code
It is a time-consuming methodology to compose the code, manage and update it whenever mandated.
Highly skilled programmers, designers, and testers are directed to construct the solution
The overall cost is too high to assemble the application in comparison to low code and no code methods.
What is Low Code Development?
Low-code development is the method build solutions with fewer coding requirements using APIs, drag-and-drop abilities, code templates, procedure flows, and more. This procedure permits programmers to access a potent library of readymade functionalities and templates possessing generic business logic and systems. The overall process becomes effortless and swifter, and so it benefits a business to devise and launch the solution.
There are various low code development platforms like Mendix, OutSystems, Appian, Kissflow, etc., having high ratings amongst various software development circles. Low-code platforms clearly hold to be a profitable investment for many businesses. And there is that report from GlobeNewswire that has forecasted that the global low-code market, in 2030, will grow with a CAGR of 27.8% with an envisioned value of USD 148.5 billion.
Benefits of Low Code
It is partially customizable, more than the no code process.
The quicker procedure to construct a digital solution
Managing it is easiest with as to look for smaller source code.
Drawbacks of Low Code
Yet coding skills are required in the low code development
Admin does not have governance over the readymade templates and characteristics
Over cost is yet not lesser than no code method.
What is No Code Development?
No code is an entire code-less development procedure to create a digital solution like an app, web app, and website. It aims to assemble more business customization and tech development procedures thoroughly obtainable to non-coders. Anyone with least or no coding skills can build superficial solutions with utmost ease and quickly. In 2020 the global no-code market was worth $12.7 billion and is expected to reach $45.5 billion by 2027.
From launching websites, assembling workflow automation, and devising apps, no-code platforms can assist startups or businesses in quickly building and launching. Some of the no-code development platforms are Zapier, Webflow, Bravo, Mailchimp, Parabola, Airtable, etc., which entrust non-programmers to assemble applications.
Benefits of No Code
It is a more leisurely and prompter technique to devise a digital solution with readymade templates and functionalities.
It is also the most cost-effective solution of all the options.
Accessible maintenance of the solutions.
Drawbacks of No Code
Least customizable than the other two options
Admin has the least access to the solution
Dependency on the tools that offer no code development
Comparing Low Code vs. No Code vs. Full Code
| | | | | |
| --- | --- | --- | --- | --- |
| Sr. No. | Factors | Full Code | Low Code | No Code |
| 1 | Development | Developing solutions writing huge source code | Requires coding and low-code development platforms | Only no coding platform requires for the development process |
| 2 | Cost | Highest costs to build, maintain, and customize. | Lesser cost than full code platform | Least cost out of all options |
| 3 | Customizable | Gives maximum customizing opportunities | Partially customizable | Can't customize no-code solutions |
| 4 | Timeline | Takes the highest amount of time to build solutions. | Takes lesser time than full code | Causes the least time to build apps with no code. |
| 5 | Security | Adopts security norms in the development process. | Depending on the platform, get the security norms of an established service. | Can devise their own security norms depending on the necessities and needs, but it can be convoluted. |
| 6 | App complexity | Highest app complexity | Lower app complexity | Least app complexity |
| 7 | Learning Curve | Months or years also require updates coming to the process with time. | Requires weeks for learning | It can be learned in a few days |
| 8 | Users | Trained and skilled developers | Anyone from a tech background | Anyone with a tech or non-tech background. |
| 9 | Scalability | Any range of scalability | Enterprise-grade | Limited to departmental users |
| 10 | Tools | Any app and web development platforms | Mendix, OutSystems, Appian, Kissflow, etc | Zapier, Webflow, Bravo, Mailchimp, etc |
When to Pick Which One?
As we see, each of these methods has its own perks and pitfalls; which method benefits the most and under which circumstances is important to know. Choosing between Low Code vs. No Code vs. Full Code relies on the priority of the business.
Cost
When cost is the factor, as in there is a limitation in the investment, no code development and low code development could be a choice. There could be lower costs in development, maintenance, and customization.
Time Spans
Low code and no code methods take a lesser time span to build solutions. However, the designing and planning take the same time as in the full code.
Customization
If a business is aiming to launch the app and customize it in the future to scale its business, full code development is the best option. There is no barrier to customizing the code anytime and anywhere, as per the requirements.
Product Quality
The quality of the solution required the least watch in no code method or no code method. In full code development, software quality improvements require quite an effort, even from the start.
Besides, there are many more characteristics each of these methods does have to choose it over the other. As a business, it depends on precedence that is chosen over others to get the most effective solution and seek maximum profits on investments.
Concluding the Comparision
So, to sum it all up there – all three, low code vs. no code vs. full code, has their own opportunities and obstacles. Moreover, it also clearly differentiated when differed based on the use cases of each. Here in the blog, we made a handy comparison between all three to easily pick one understanding the significance separately and make a shrewd judgment to cherry-pick the best for your business.
Also, check out Elluminati's full code development services utilizing diverse tech stacks and has a team with industry-level expertise from over a decade of working in the same industry.