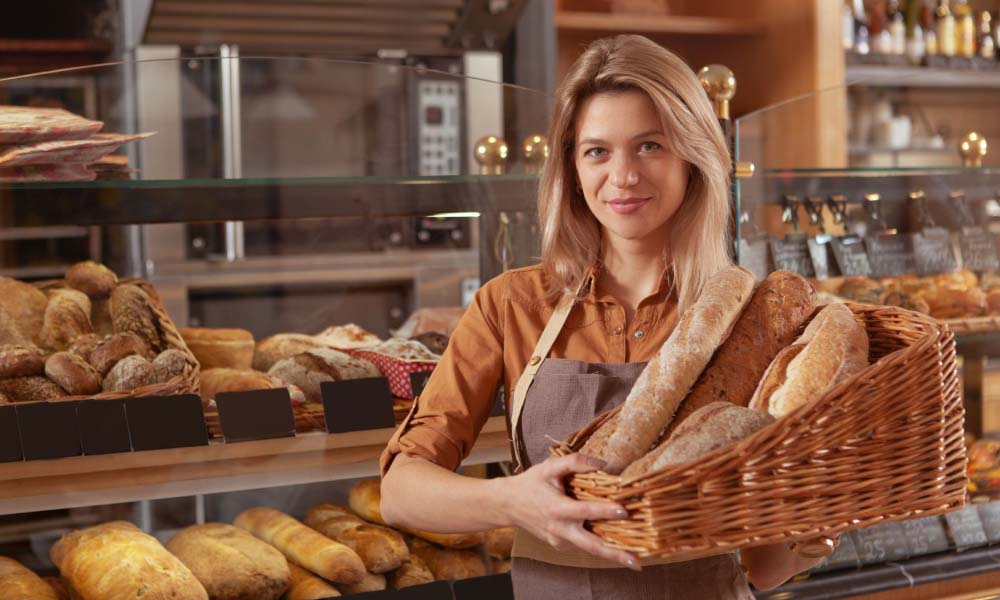 The global baked goods market is driven by the inflating disposable incomes of the customers, with the high standards of living and shifting lifestyles owing to rising emerging markets and cultural changes.The bakery industry denotes 10% of the beverage and food market, mainly driven by the increasing demand of Tier 1 centers where shoppers are inclined to acquire western cuisines, including baked goods. It has resulted in accelerating the bakery products market growth to a great extent. If you want to become part of the growing market, in that case, it becomes essential for you to learn how to start a online bakery delivery service with a customized platform.
Image:
The bakery industry is aided by product launches helping the sector cater to customer's growing demand efficiently. The shift taking place towards convenient beverages & food products, and the mounting consumption of processed products allows market growth.
The rising demand for baked goods due to prolonged and convenient shelf-life boosts the market for bakery products. Most people prefer to experiment with new products, flavors, and tastes to satisfy their taste buds propelling market growth further. And to health concerns, people are more likely to buy low-calorie bakery products, which are giving rise in demand.
Rapid urbanization and hectic lifestyles have made buyers lookout for comfort. The ready-to-eat products, make the baked goods market prosperous. And looking to the growth, many of the bakery businesses are thinking of boosting their business online. They invest their penny on beverage delivery app development to give a digital touch to their business, ensuring to increase their business growth and success in no time.
Online Bakery Delivery Service: What it is?
Baking is a method of preparing items that use dry heat, typically the oven, but can also be prepared on hot ashes or stones. The baked goods include mouth-watering desserts, cakes, cookies, and bread. Nowadays, we can access the end number of baking tricks and tips around the world.
Part-time enthusiasts and passionate bakers share their talent with others using various social media platforms such as Facebook, Youtube, etc. Many of them are opting for an all-in-one delivery solution to start their own business online without investing in a physical store. They can start the online business from their kitchens' comfort and acquire more customers through online delivery business.
Interesting Facts About the Bakery Delivery Business to Dive into!
The global bakery product market was valued at USD 495 billion in 2019. The bakery industry is expected to grow at a 2.7% CAGR between 2020 and 2025. The value is expected to reach around USD 580.8 billion by 2025.
When it comes to bakery products, Brazil and China are drastically growing markets. It has a 10% growth rate during the past few years. Presently Europe has the largest bakery product market, while the U.S. is a significant region that accounts for about 20% of the global bakery market share. The U.S is followed by China, as it holds around 7% of the worldwide bakery market share.
Grandview Research shows that the global cake market size was valued at USD 42.94 billion in 2019. It's anticipated to grow at a CAGR of 3.3% between 2020 and 2027. The high popularity of commemorating multiple types of success and special occasions through cake cutting is expected to remain a key driving force over the past few years. However, the rising demand for cakes and other desserts post meals during weekend parties and dine-out among Generation Z and millennials buyers across the globe is predicted to increase the industry size.
In today's trend, people love to celebrate various occasions such as birthdays, festivals, valentine's day, marriage anniversary, Christmas parties, etc., which have increased significantly. All these celebrations are just not completed with sweet dishes and cake. Consumers' spending is growing on baked goods, resulting in expanding market scope.
Looking at the growing trend, many businesses are thinking of taking their business online. But they need to understand that developing and boosting online business presence is not a cup of cake; there are numerous things that they need to consider. Explore step by step guide to know how to start a bakery delivery business online.
Step by Step Guide: Learn to Launch Your Bakery Delivery Business Online
The bakery goods have an extensive portfolio, including cakes, bread, biscuits, cookies, cupcakes, rolls, sweet rolls, tarts, pies, doughnuts, and refrigerated bakery products. Baking methods have encountered an extensive transformation due to the advent of technology; modern techniques are taking over the traditional methods. If you want to take your business online, there are numerous things that you need to take into consideration, explore to launch your business amazingly in today's competitive market.
Plan to Launch Your Business Online
Undoubtedly you might be having a great passion for preparing baked goods, but what next? Are you willing to start your bakery business without investing a vast penny in physical stores? It's the right time to begin developing an online presence to bring your bakery products to hungry customers. You can start by creating a user-centric platform for your bakery industry; you can get in touch with us to enjoy the service of your choice at a pocket-friendly price.
The online platform is one of the best ways to reach your customers. It provides you with full control over every business activity, helping you satisfy all your customers' demands accurately. The online bakery delivery platform's unique features make it easier for you to manage every order and complete their time, ensuring to drive more loyal customers for your business.
Logistics Required
Now it's time to know how to prepare your baked goods to satisfy customers' hunger accurately. Get an answer to some of the products such as:
Find out whether you have each baking piece of equipment?

How long will it take to bake and finish certain products?

How much does it cost to buy all the essential equipment?
If you want to start the home kitchen, it's hard to satisfy all the couple of orders every day and maintain fresh quality. If you don't own a couple of equipment, you can't fulfill more than a couple of orders. Start planning to shop all the ingredients; make sure that you buy some of the products in bulk when the demand increases. And as you are preparing perishable goods, it becomes vital for you to know where you will store all your finished items. Adapt the schedule to fall and rise in the sales level.
Keep the list of high and low supply ingredients, find which stored items can be affected. You can consider using frozen baked items rather than fresh vegetables and fruits. If you are starting with some home equipment, you need to have convection ovens, mixers, storage units, large table space, etc. Later depending on your project and business growth, you can invest in commercial equipment for large-scale productions.
Find & Create Reliable Recipes
However, it might seem easier to collect recipes from other cookbooks and bakers, but this can hinder your business position. If you want to build a unique position in the market, then it becomes vital for you to start using some fantastic recipes. You can experiment and come up with some signature recipes to use the selling and positioning point in the future.
Identify Your Ideal Customers and Brand Name
Not choosing a great brand name can break the further growth of your business. Hence be extra careful while choosing your brand name. It would be best if you had a brand name that's expandable, memorable, and brandable. Additionally, it also becomes essential for you to finalize the potential customers you are going to target. You can answer a few of the questions right below to choose an ideal customers base:
With whom would you like to work?

How your work will support your ideal customers

What vibes and themes do you need to focus on?

Why must your ideal clients choose your brand?
Answer all the questions to formulate the marketing wording for your brand advertising. As you have a clear map of your ideal customers and how you can help them, you can quickly provide them with what they are looking for.
Top Tips to Consider to Boost Your Online Bakery Delivery Business & Keep it Moving
The snacking trend is rising, and bakeries are set to play a tremendous role. The report shows that more than 28% of pie and cake buyers are interested in buying bakery products of different sizes, while 20% agree that they love to eat bite-sized versions. However, it wouldn't be wrong to say that customers love to order individual portion sizes.
However, when it comes to starting a bakery business online, you need to know your customers. Similarly, there are many more tips that you need to consider to understand how to achieve success in today's competitive market. Have a look at some points listed below to ensure boosting your bakery delivery business and keep it moving.
Offer nutrition information to customers.

Provide healthier options

Feature different portion sizes

Provide high-protein baked goods

Focus on locally sourced ingredients

Provide allergen-free products

Pay attention to the product packaging
Customers want to know who you're, what you sell, and why people should buy from you. And it's the time to improve your bakery delivery business online to drive great web engagement and traffic. Digital marketing is a powerful tool to interact with a broad audience.
With the advent of social accounts, shoppers have taken to online platforms to shop, discuss, and review. Therefore, it makes sense to take the next steps to set up social media accounts, each for a unique purpose. Other digital marketing tools include Link Building, SEO keywords, and many more.
Why Customization Online Bakery Delivery Platform is a Beneficial Option in 2023
If you want to turn your baking talent into a business or want to earn income through your baking hobby, you need an advanced and digital platform that helps you represent your talent. The online journey differs for everyone. Remember that every business tactic does not work similarly for every individual; hence you need to find the one that helps you achieve your bakery delivery business's desired goals in no time.