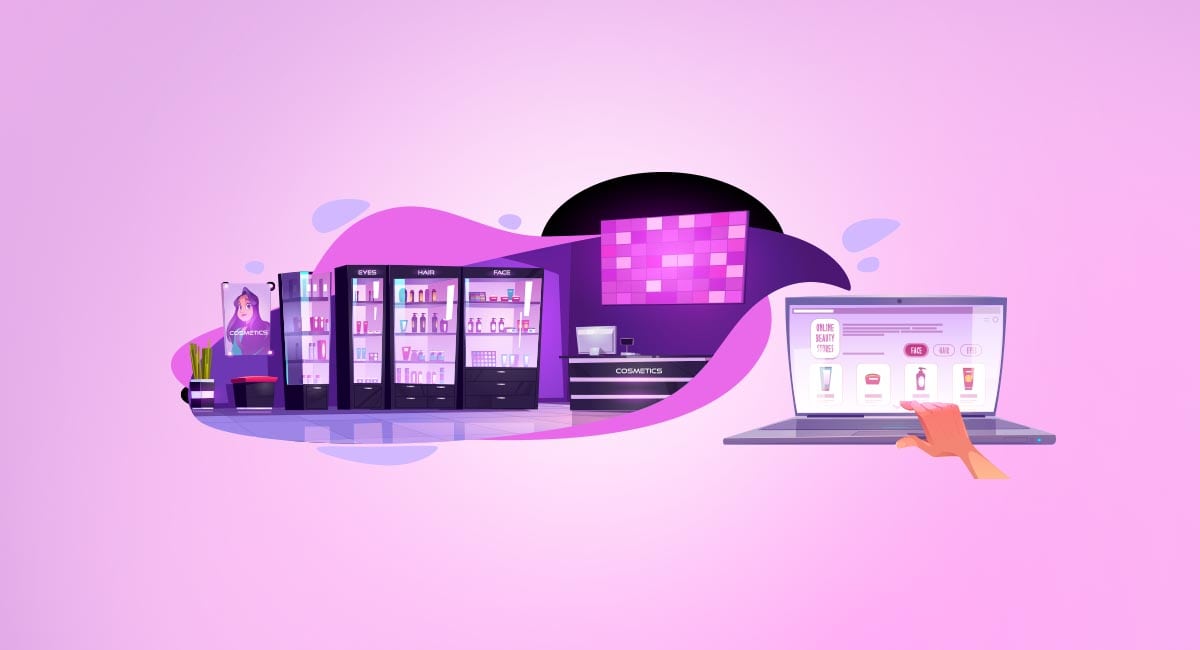 Undoubtedly a premier online wellness and beauty destination has gained immense popularity these days, including Nykaa. The beauty brand offers a comprehensive selection of skincare, makeup, bath & body, haircare, fragrances, and luxury products for men as well as women at best and affordable prices. Check how Nykaa works to know how it satisfies beauty lovers' growing needs, learn everything about Nykaa business model and revenue insights.
All Nykaa products are 100% sourced directly from the authorized distributors and brands; the beauty platform offers authentic products to beauty lovers. With about 350 brands and 30,000 products beauty lovers get a wide variety to choose from, Nykaa is a one-stop online destination for an individual to relax, sit back, shop at their convenience with free beauty assistance, and advice through their smart device from beauty experts. They can have quick access to the latest beauty trends, tutorials, product reviews, and Beauty Book Blog to know the proper and effective use of Makeover tools.
Nykaa had around a 78% growth rate in the fiscal year 2019, comparatively high from the previous year. It is found that the online BPC retailer's growth rate has decreased over the past few years. The company has successfully raised around 14 million U.S. dollars in funding in April 2019. 360 degree coordinated content and marketing strategy helped Nykaa achieve the position of leading omnichannel beauty player in the country.
For Nykaa, customer experience is the primary component of helping the brand to build its name in the market. The robust customer retention strategy helped beauty brands to leverage competitive edges. Content almost contributes 2.5% to the GMV of Nykaa, while the average order value of content consumers was around 15% higher compared to non-consumers.
Nykaa 101: Know the Establishment Facts of Giant Empire
Nykaa is a preferred destination and a market leader for online wellness and beauty products in India. With nearly 400 curated, well priced and more than 100% genuine brands along with 35,000 products, Nykaa prides itself on providing a comprehensive selection of skincare, cosmetics, fragrances, haircare, luxury, wellness products, bath and body for both men as well as women.
Falguni Nayar founded Nykaa in 2012. The brand was launched as an eCommerce portal curating a wide range of wellness and beauty products. Since its business launch, Nykaa has never looked backed and has become a famous brand in the Retail and eCommerce sector. The company expanded to an omnichannel model from an online-only approach in 2015 and started selling most fashion products.
Funding History of Nykaa to Dive into!
Nykaa reported an increase in revenue in recent years; it has reached around 157 million U.S. dollars. The revenue increased by almost 80% compared to the previous fiscal year. Nykaa is a multi-brand personal care and beauty product retailer. In 2015 the company opened its physical store at the Delhi airport. If you want to boost your beauty business online, then Elluminati Inc is here to provide you with complete support.
Nykaa raised capital from multiple rounds of funding from the family of Zia Mody, Harsh Mariwala, TVS Shriram Growth Fund, Sunil Munjal, Max Group, and TPG Capital. In 2018 the online beauty retailer raised around 75 crores in its latest round of funding, the valuation of the beauty company at the time was Rs 3,000 crore. The fund-raising was the primary part of a 170 crore investment round that was the combo of primary and secondary transactions that brought around 95 crores to some existing shareholders.
In 2020, the company raised around 100 crores from Steadview Capital. The online beauty retailer has grown its strength over the years; it has focused on customers' needs and worked closely with the brands to accomplish the desired results. After March 2020, funding the valuation of Nykaa pegged at $1.2 billion.
Last year in March, the online beauty retailer raised around 100 crores from a private equity investment firm, known as TPG Growth, which is all set on track to join the Unicorn club of private companies valued at above $1 billion. Later in the same year, Nykaa also raised an extra $30 million from Steadview Capital through a secondary share sale.
Success TimeLine of Nykaa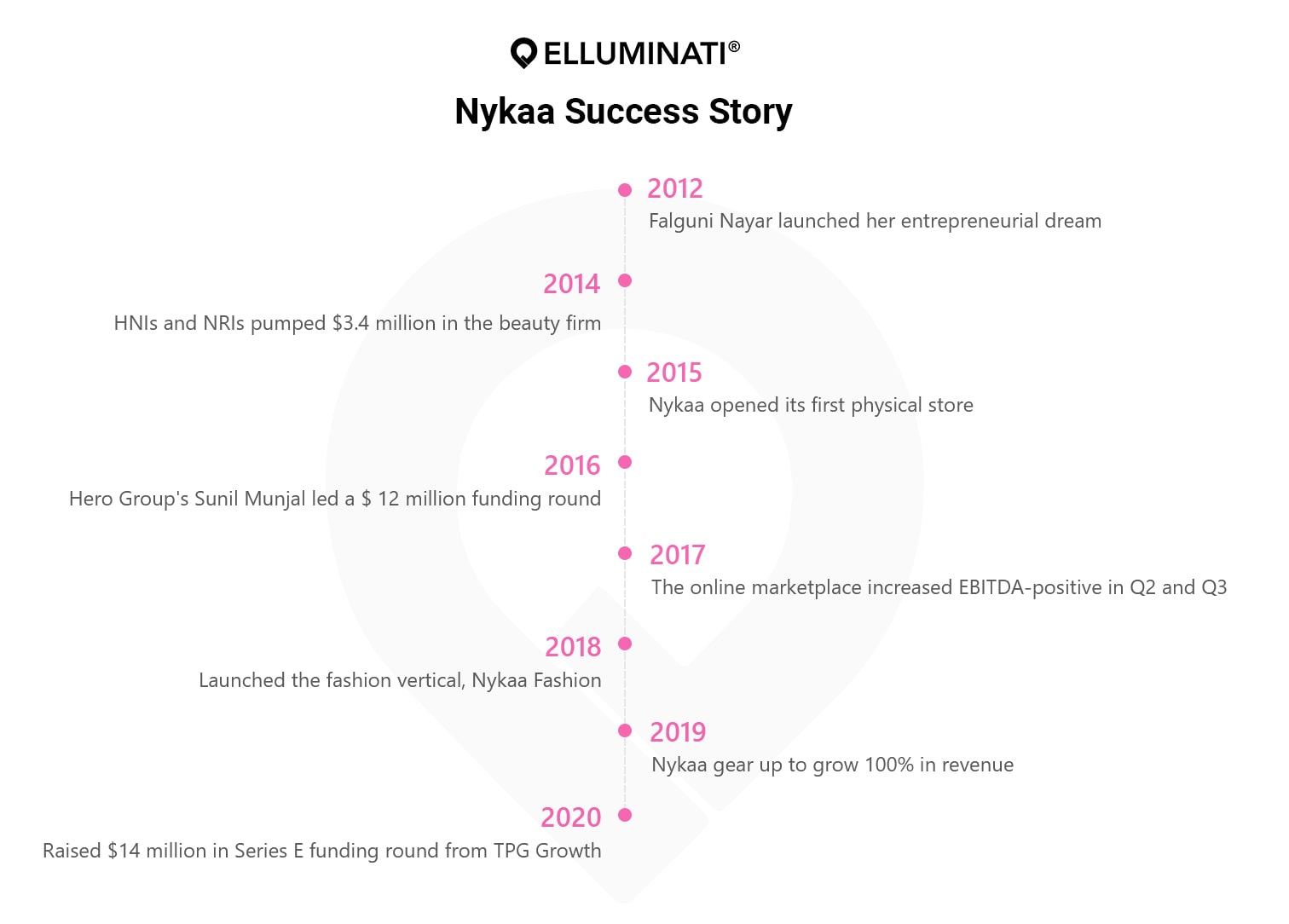 How Nykaa Works: Have Deep Insight into Lead Aspects of the Brand
The eCommerce beauty brand Nykaa follows an inventory business model helping the brand to offer the best quality products. Check how Nykaa's inventory business model:
The online beauty retailer purchases products directly from stores and manufacturers.
After purchasing the best quality products, it stores it in their warehouses in Bangalore, New Delhi, and Mumbai.
Most of Nykaa's products are sold on its website.
Customers can even purchase the offline product store, including Nykaa On Trend, Nykaa Kiosks, and Nykaa Luxe.
The inventory business model of Nykaa enables the beauty brand with tremendous profit margins with the ability of product damages lying; businesses can ensure product authenticity and follow the same working flow to win the market and competitive pricing using the inventory model. Craft, an advanced beauty service platform, helps your customers to get the best of your beauty services and products right from the platform.
Nykaa Business Model: Explore How it Gained its Name in the Fashion and Cosmetics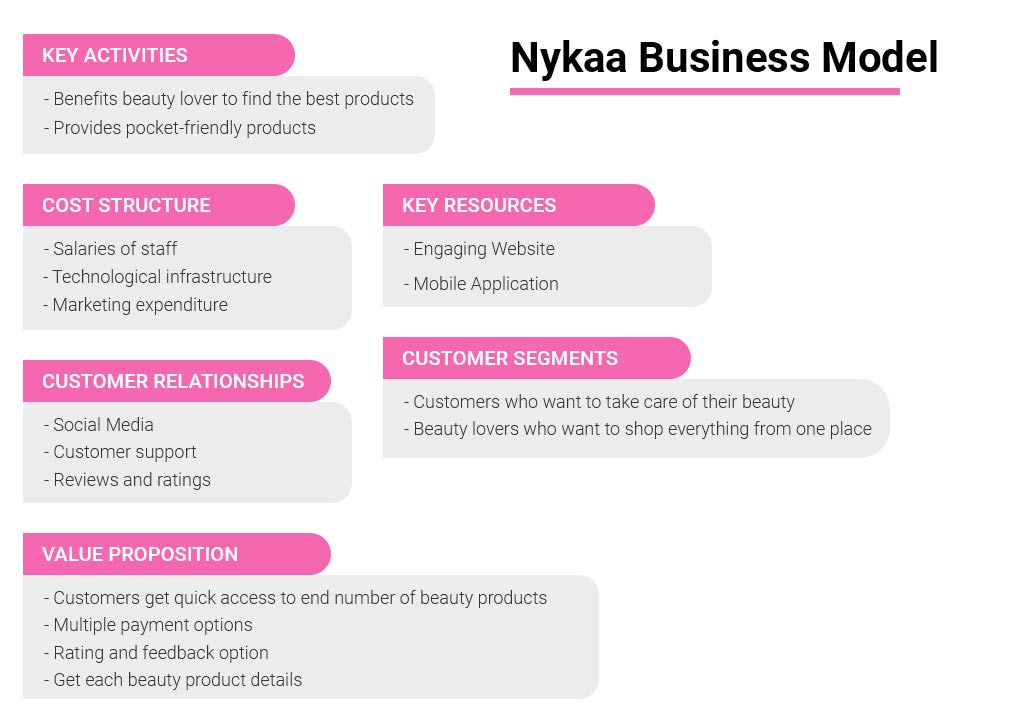 The online beauty retailer follows an inventory-based model. It has warehouses in Bangalore, Mumbai, and New Delhi; additionally, it's a primary eCommerce business having an offline presence via 68 brick-and-mortar stores globally. The company claims to have around 3 lakh products and over 1,500 brands. The brand mainly has three offline stores:
Nykaa Luxe
Nykaa On Trend
Nykaa Kiosks
Nykaa's Luxe format mainly features international and Indian luxury beauty brands along with its in-house collection of beauty products. Besides this, the structure features mostly products curated by their popularity and category basis. Nykaa launched its in-house beauty product collection in 2015 later; in 2016, the beauty brand introduced private labeled products for the bath and body care category.
Nykaa stores the stock of goods directly from the manufactures; the products are stored in Nykaa's warehouse from where the brand directly sold the products to customers who want it. Nykaa's business and operational model helps the company to bring huge capital to its table. The beauty brand also has more than 35 offline stores.
Explore How Nykaa Benefits its Customers
Customers who care about their beauty
Beauty lovers who avoid going to shop
Customers looking for a one-stop solution
Explore How Nykaa Benefits Beauty Products Manufactures
Beauty product manufacturers can sell their products to Nykaa
Beauty product suppliers can generate colossal revenue
Have a Quick Look into Nykaa Revenue Insight to Know How it Earns Money!
As of 2020, Nykaa is worth $1.2 billion, making the beauty brand the most successful startup in the country. All thanks to its inventory-model, Nykaa successfully broke-even in 2017, just five years after the online beauty retailer started operations. While the original cost of acquiring a customer was about INR 1000, it was decreased to 200-250.
The beauty brand generated revenue of 1,159.32 crores in 2019, up from 108% from the previous fiscal year. The company turned a massive profit in 2019 with a yield of 2.51 crores. The company raised 214 crores in 2017 and has crossed 600 crores. It merely indicated that the company is growing speedily. The company is based in Maharashtra and raised around $107.9 Million in funding. Source : Crunchbase
Why Customers Must Choose Nykaa as Their Beauty Brand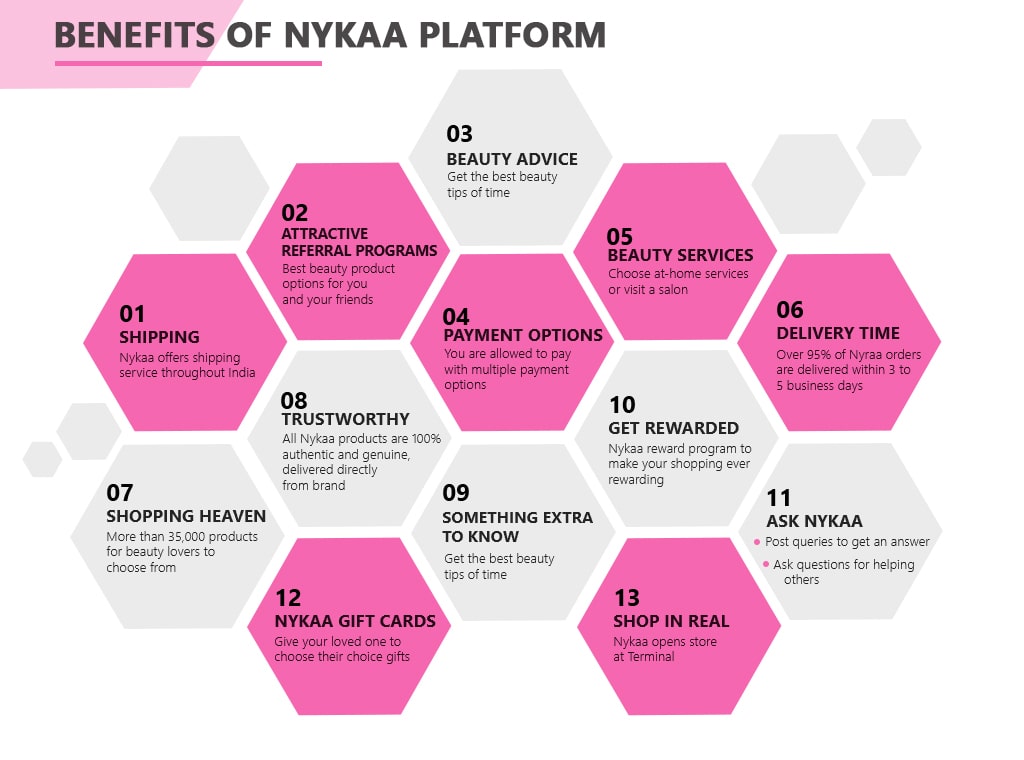 Nykaa Marketing Strategy: Check to Know How It Gets Popularity
Nykaa uses an online advertising approach to promote their business products and services. Nykaa partnered with Femina to host the 'Nykaa Femina Beauty Awards' in 2016 and 2015, respectively. The Nykaa award function was organized to highlight its beauty products and services in various categories in the Indian markets.
Online beauty retailers provide an easy shopping experience for customers. Beauty lovers are also offered with virtual makeover tools, tutorials, beauty advice, celebrity looks, and much more; they used digital marketing as a means to market its website.
Nykaa's website's monthly traffic is about 17 million. Around 50% of consumers are routine customers. The rest of Nykaa's traffic is attracted through social media marketing and online advertising. Janvi Kapoor became the very first ambassador of the Nykaa business under the brand's cosmetics. The marketing strategy helps them to attract a young audience towards their beauty products and services.
Nykaa Have Long Going Ahead: Check How?
Nykaa depends on the content and other marketing strategies. Nykaa provides high-quality content to showcase global trends, having proven winning formulas. Nykaa uses high-quality content to generate traffic; it uses social media marketing and email marketing for remarketing. It is thinking of establishing its brand worldwide. You can also launch a platform similar with the Nykaa clone app to achieve success for your business. Get in touch to build your dream project; ask us how you can create your brand presence online.