How Instashop Works? What Perks Instashop Clone Offers? Know More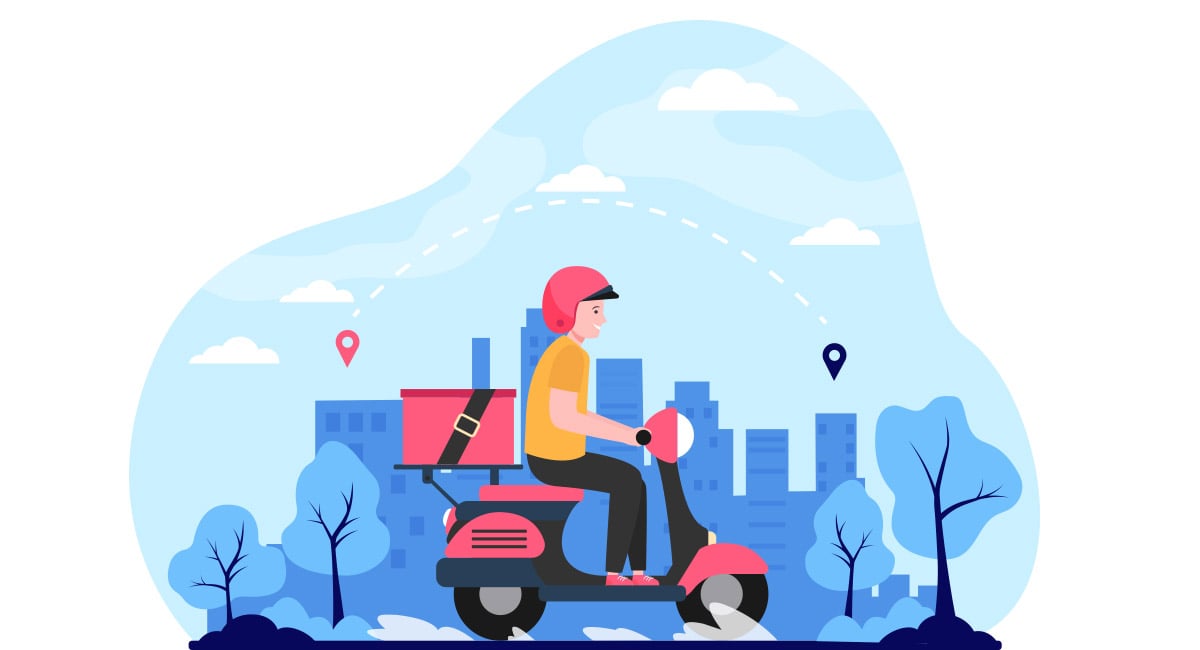 New methods of shoppings are transferred to mobile apps and websites instead of physical shops. Entrepreneurs had entirely changed the business strategies to meet the current customer's demands. People search for all their goods and services through applications and websites. The reason behind the growth in online shopping is the convenience of buyers, offers and gifts, or lack of time. The number of online digital buyers worldwide is expected to reach a 2.14 billion count in 2021. For the past few decades, people have started groceries online and apps like Instacart, Peapod, Shipt, Instashop, etc. have become household names. Among them, here we will demonstrate why retailers are investing in Instahop clone but before that let's check how Instashop works, what business model it follows and how does it make money. Hold on, and let's let start.
Further, the customer's experience is evolving and driving the future e-commerce markets. In UAE also the online markets are grabbing a significant part of the revenue shares. In 2020, according to Network International, UAE buyers spent about 40% higher than the traditional shopping methods. Online retail comprises mainly grocery products to meet daily needs. In a pandemic, the grocery market is the biggest beneficiary and grew by around three times. Even after the situation was relaxed, customers stuck to electronic grocery shopping.
There are various grocery businesses present on the virtual platforms. Among them, there is vicious competition viewed around the world. Though the pandemic was the key driver for the increase in demand of online business stores, it is also the UAE's choice to comfort and follow the trends. Many grocery stores manage to stay and grow in the electronic commerce market; Instashop has been shining out the UAE's online market. Further in the blog, we will look over the business model of Instashop.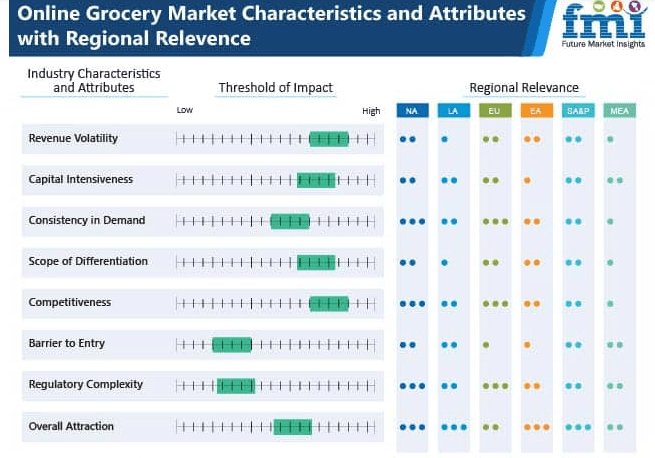 Source : Future Market Insights
What is an Instashop Clone?
Instashop clone is an advanced system that enables launching an online grocery delivery business in a jiffy. Customers can use an app like Instashop to place online grocery orders and get them delivered at their doorsteps. This kind of solution also ensures business resiliency in this highly competitive market.
Literal Facts and Figures of Instashop
Instashop is an adjoining grocery purchasing at-home delivery application that combines an on-demand supermarket market, pharma, restaurants, and other categories. Instashop allows a vast menu of their items and a three-click selection of what that customers require. It gives a versatile app that maintains everything within it simply with few taps on the handphone. Additionally, the source has a driver person application, shopping app, store or shop website, and an admin panel.
Starting Year: 2015
Founders of Instashop: John Tsioris and Ioanna Angelidaki
Acquired By: Delivery Hero in 2020
Based: Jumeirah Lakes Towers, UAE
Sector: Online grocery delivery
Staff: 200
Funding: Undisclosed, but investors include the Jabbar Internet Group and Venture Friends
It is a UAE-based company that is a part of Jabbar Internet Group. The online shop was formed in 2015 by entrepreneur Ioanna Angelidaki, and its co-founder and Chief Executive Officer, John Tsioris. Soon after its formation, it has been commanding the online general store. It had earned over 3.5 lakhs per month of active users. Delivery Hero is now acquiring Instashop for a tremendous $360 million. Who will not love to get their needs at doorsteps, whenever they want. Amid the corona outbreak, the shoppers were thrilled to get out. Markets have shown a steep fall in UAE revenues; Instashop was significantly after the situation and grew with that situation.
Instashop's Simple Workflow
Instashop has been growing since 2015, with the ease in its use and compatible integrated system. After being acquired by the Delivery Hero, Instashop has got several opportunities to thrive in the online market. It renders easy-to-use systems for its users and ensures an average time of 45 minutes for the delivery. The Instashop provides elementary working that follows:
Download and Register: Users can download the app on their mobile phones or can use the panel to register. Then add the location to get nearby stores to get instant services.
Place the order: Either from the app or panel, select your shop or category to order from, and then choose the required list.
The store approves and prepares: Store will accept or reject an order depending on its convenience. After accepting, it starts preparing for the order, notifying the users of that thing. When the order is ready, it will request the delivery man to get the parcel from the shop and deliver it to the buyer's location.
The provider will Deliver: The provider can approve the service request, pick the order from the store, trace the user's location, and hand over the order. Customers can pay either through online gateways or by cash to the provider after getting the parcel.
Customers, delivery men, and Stores will be pop-ups of the stages of the shopping process. Buyers can trace the parcel from the app while the delivery man is carrying the parcel. Also, the buyers can schedule the order from the app or panel at their convenience. It also includes the applications for android and iOS to provide versatility to the customers.
What Benefits UAE Users Find Using the Instashop?
Instashop allows a strong customer base for their stores. The options for review and ratings are attracting the customers for its transparency in the apps and panel. With that, the stores can get the data to improve and upgrade based on the user's suggestions given in the app. It creates a stronger relationship between them and creates a premier bond with the shoppers.
Although the shops or supermarkets need to create a physical room to keep the record of items and products, there is no need to create a shop for the customers, saving their months of rent and incentives. All these are resulting in a larger online grocery market acquired by the online platforms. CNBC has estimated that overall sales will surge to around 20% of the grocery market by 2025.
Brief on Business Model And Extend Value Orientation of Instashop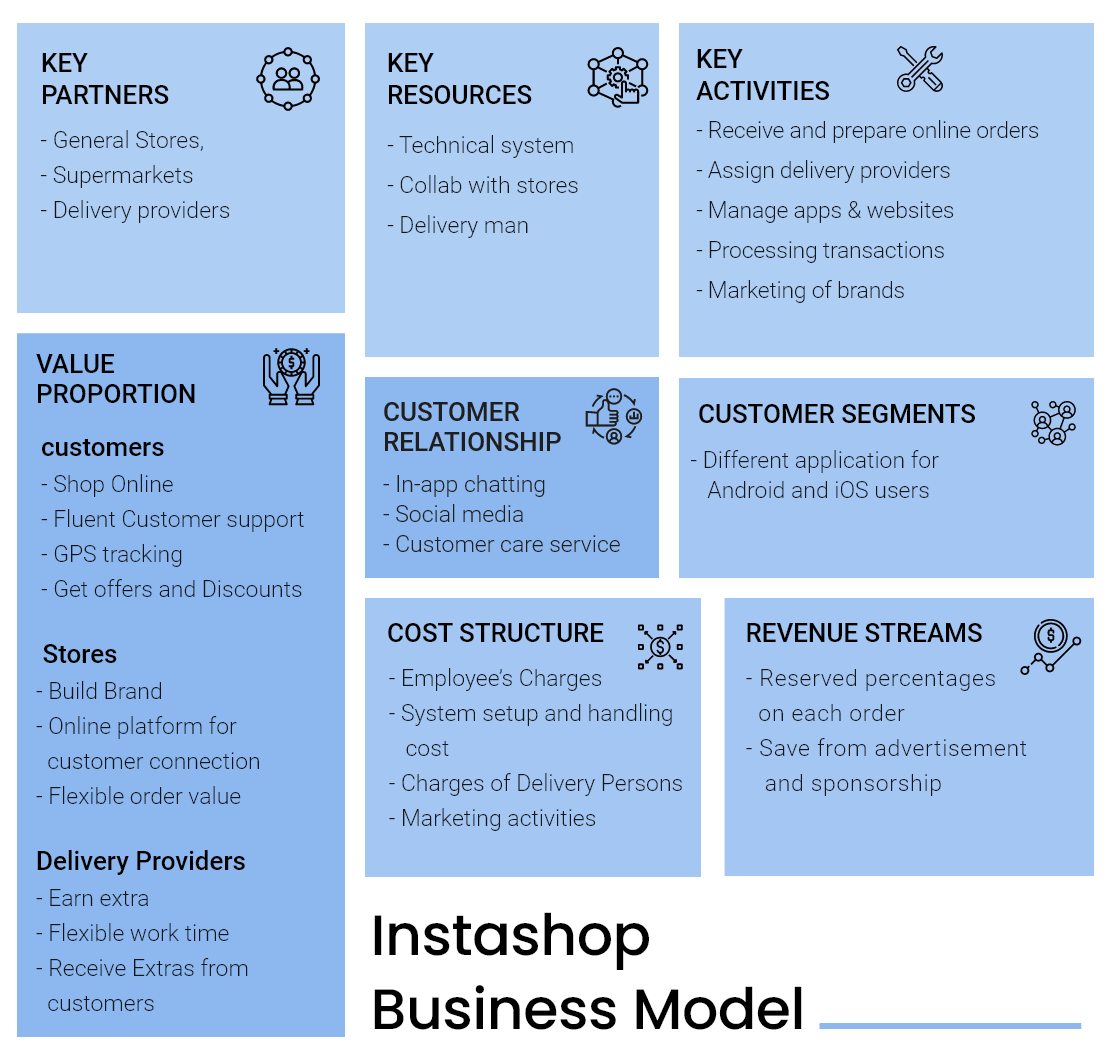 Instashop focuses on a business model with a two-sided marketplace for the buyers and retailers both. Working as a liberated brand under the Delivery Hero's leadership, it is being dedicated to growing the sectors that are built on that sector. Also, Delivery Hero is concentrating on expanding globally. The retailers who don't have their delivery services can collaborate with Instashop and extend their business reach and can acquire a larger audience. In all, there are four outlooks of the business:
Customers
Store or Supermarket
Delivery Service Provider
Admin
Instashop ensures the best possible services for all its users. It provides trusted relations among the store and buyers. There won't be any waiting lines in the shop to get the orders. Moreover, it saves time for buyers and store owners.
Value Orientations of Instashop
Instashops provide benefits to all its buyers. Though it has some fixed expenses to be paid like salaries to the employers, advertisements, marketing, and maintenance costs., it still has room for its users to earn and get profitable revenues.
Customers
Can order from an expansive menu, saves time of physical presence, and orders multiple times.
Get safer payment gateways, cashback, savings, and discounts.
Stores
Can thrive the order via an online platform, extensive customer base, provide instant services Reduces the labor of physical work like attending customers, keeping records of revenues, etc.
Delivery Man
Can get extra earnings while working as a delivery provider with Instashop. It provides flexibility in working hours. Also, for good service, get extra tips from the customers.
Admin
Can run the business through an intuitive website with ease and earn a commission from the service provider man, store, and customers for handling the complex process.
Explore Instashop's Revenue Stream
Instashop is a well-known ]grocery shopping app for UAE people. It is working for its customers, still managing multiple channels for its income. There are various sources through which Instashop generates its revenues:
Delivery Service Charge
Instashop gives delivery at home services for the shoppers. It charges for delivery service to them. A tiny portion goes to the provider person and other incentives, saving most of it as revenue for it.
Commission on Overall Order
Instashop also saves a portion from the stores or supermarkets' earnings to boost their business. The major earning source is a commission from all the orders.
Additional Income
It can earn from advertisements on apps and websites. Advertising increases the number of orders from the store. Also, sponsorships from various sponsors are a part of their revenue.
It has been thriving in many boundaries, which is earning a profitable amount every year. In 2020, more than five lakhs of active users were counted, spread in five countries currently. The instant growing strategies are laying them more profits and marketing.
How Does an App Like Instashop Ascertain Your Business's Profitability
The doorstep delivery business has been growing at an exponential rate because people are no longer willing to stand in long queues at the checkout counter. Their inclination towards online ordering has been increasing and this trend won't be fed soon. On the other hand, retailers are looking for different ways that ensure increased profitability and expansion.
The usage of smartphones is not limited to calling and texting, it can do much more even in anyone's imagination. From ordering food to groceries to pharmacies to meat, user's reliance on delivery apps is increasing. And using an app like Instashop can streamline your operations in many ways.
Here are some of the reasons that help you explain why investing in an app similar to Instashop can empower your business,
Build a loyal customer base
Customer's needs can be satisfied
Boost revenue and sales
Offers omnichannel experience to customers
One step ahead in the competitive curve
If you really want to take your business further and want to deliver multiple products to customers without any hassle, get in touch with an on-demand app development company right away.
Explore the Cost to Establish Instashop Clone App
Instashop is a well-built app that provides hassle-free services. To establish your business with an on-demand app development, you can either go for a custom-based instashop like mobile app solution or a white label instashop clone app solution. The solution should have all the trendy features and streamlined layouts to shine out in the competitive market. There are some of the fixed charges that it urges to take for the solution. The overall should include:
App interface
App design
App's advanced functions
App size
All other functionalities are required for the app
As the features to be integrated increase, the cost will also increase for the Instashop Clone app. The overall budget also depends on the source developers you choose to get a clone or custom app for your business, whether you choose a reputed company for trusted service or freelancers to save the investing budget.
Inspire to Set Up a Virtual Platform with Instashop Clone Script
The online business methods can help extend the business revenues to the peak. In UAE, the physical business shifts to digital business ways to meet the people's expectations to drift their business. Instashop shaking its hands with the Delivery Hero is happy to extend its business in any geographical area. The trends of online shopping are being estimated to last longer and even thrive over the years. If you want to join the worthwhile transformation of the business, you also need to have an advanced Instashop clone script as it will contribute a larger portion to your overall growth. If you are still in dilemma and finding yourself confused about finding the best technology partner, contact us, and get complete help to set up your grocery store on the virtual process.