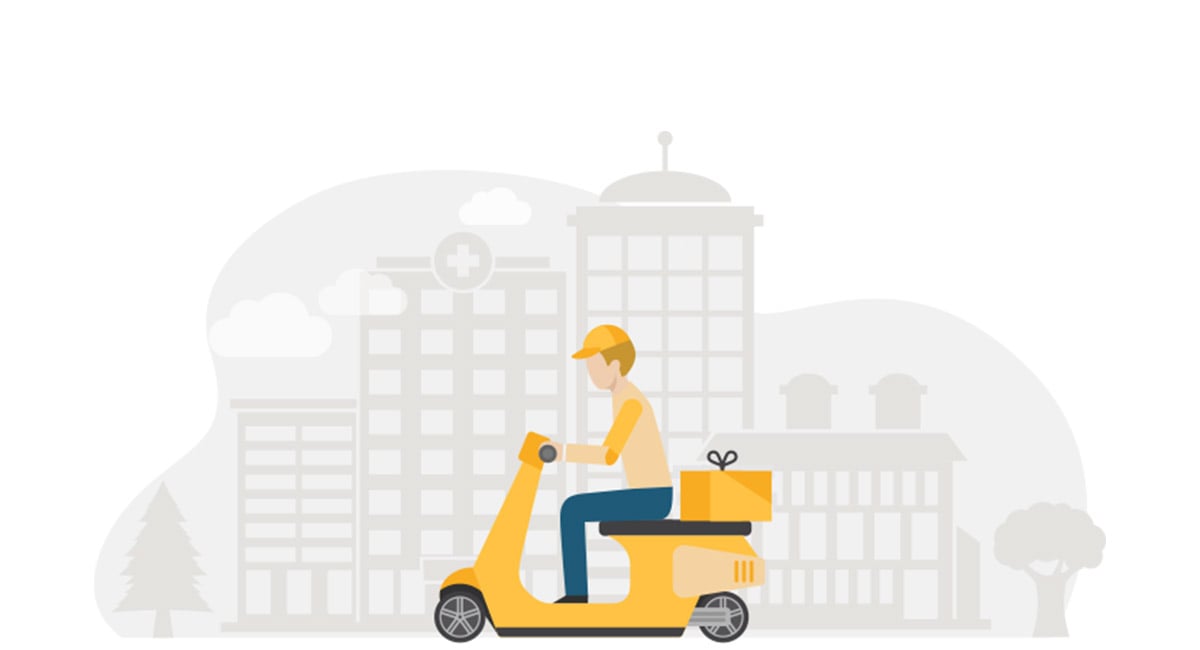 Over the past few years, online delivery companies have exploded in popularity, and their fame increased even more with the social distancing norms. And why not, customers' preferences have been changing; they want to get essential products such as food, groceries, medicines, and much more at their doorsteps within minutes. The online delivery market has grown manifold over the last couple of months, and the Eastern European market is no exception. With the number of delivery players increasing, Spain-based company, Glovo has been dominating the market since its launch and stimulating many entrepreneurs to develop an app like Glovo to satisfy modern customers' needs. This blog post will examine its business model and how a food delivery startup has grown to enormous popularity in a couple of years.
Increasing smartphone penetration and wide access to the Internet have made it possible to order anything online, and business startups are taking advantage of this mindset. Brick-and-mortar enterprises modify their business models, whereas new startups are coming up with exciting ideas that fulfill customers' needs at their fingertips. And online delivery services are one of them.
During the past few years, online delivery services have enabled customers to access products and services within their palms. Be it ordering food, groceries, flowers, or other essentials, delivery apps are the answer, and Glovo is one of them that enables customers to order everything online. Let's analyze how Glovo has become an ace in the European delivery market and its business model.
What is Glovo?
Glovo is an online quick-commerce startup that allows customers to order various products from an extensive range of categories, including groceries, food, alcohol, pharmacies, and much more. Established in 2015 and has become a strong player in the European online delivery market, Glovo consists of more than 3.5 million users and serves 20 countries globally.
A strong customer base and innovative business model is the chief reason that makes Glovo a major hit in the online delivery market. Glovo also offers some additional benefits to its loyal customers that include discounted delivery and much more. With Glovo, you can access the service online or through its mobile app, which is available on both iOS and Android devices.
Glovo – A Brief Introduction and Quick Facts
Legal Name: Glaufraf 23
Industry: Delivery services
Headquarter: Barcelona, Spain
Founded in: 2015
Founders : Gerard Olive, Miguel Vicente, Oscar Pierre, Sacha Michaud
Area Served: 23 countries globally
Number of Employees: 2.3K
Last funding type: Series F
Active customers: 3.5 million
Number of stores and local restaurants available: 79K
Number of active courier partners: 57K
The online delivery market is rising, and certainly, Glovo has been instrumental in this rapid growth. Despite being situated in Europe, Glovo has expanded its services to other countries and become one of the popular food delivery apps in South Africa; the success of this delivery platform indeed inspires millions of entrepreneurs to upscale their business game.
Glovo Funding Rounds and Investors
| Date | Investor | Amount | Fund Type |
| --- | --- | --- | --- |
| 2016 | Entree Capital, Caixa Capital Risc, Seaya Ventures, Bonsai Venture Capital SCR, Antai Venture Builder, Javier Sanchez-Marco | $5.6m | Series A |
| 2017 | Rakuten, Entree Capital, Caixa Capital Risc, Seaya Ventures, Cathay Innovation, Bonsai Venture Capital SCR | $35.3m | Series B |
| 2018 | Rakuten, Seaya, Cathay, AmRest | $134m | Series C |
| 2019 | Lakestar, Idinvest Partners, Dharmash Mistry, Korelya Capital, The Drake Group | $169m | Series D |
| 2019 | Lakestar, Idinvest, Mubadala, Drake Enterprises | $166.9m | Series E |
| 2021 | Luxor Capital Group, Delivery Hero, GP BullHound, Drake Enterprises, Lugard Road Capital | $528.7m | Series F |
In January, the startup declared that it had struck a deal with Swiss real-estate firm Stoneweg for a joint venture to develop a series of "dark stores" in zones where Glovo already operates to improve distribution networks and speed up delivery times.
This was the brief introduction of the brand, now let's see how Glovo works and enable customers to get products at their doorsteps in less than 29 minutes.
How Does Glovo Work? Get Products at Doorsteps in 29 Minutes
Glovo is one of the best platforms that deliver more than food. It means Glovo allows customers to order anything and its courier partners deliver products to customers, and they are known as "Glovers." So, let's understand in detail how Glovo works.
Customers need to sign-up to access products and services; they also need to enter an address, location, and payment details.
After the sign-up process, Glovo enables customers to browse menus of different stores and restaurants; then, they can add products to the cart.
Stores or restaurants receive the order details, fulfill them, and courier partners collect the products from the particular stores.
They arrive at the customer's location and deliver products to consumers. However, customers can track this entire process in real-time, and they are free to leave reviews and ratings based on the service provided.
This is how Glovo makes it possible for customers to order anything and get them delivered at the doorsteps in the minimum time.
Glovo Business Model – Know the Secret of Success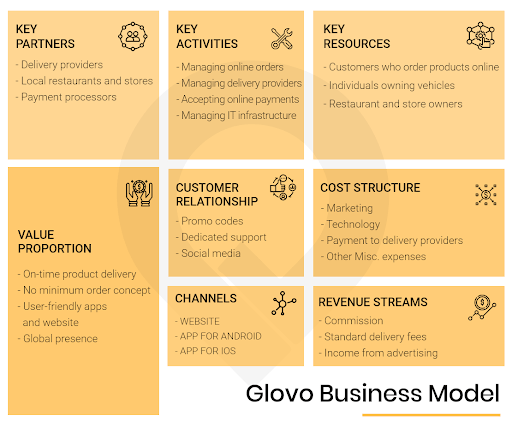 Glovo's business model is easy to understand and works on the "order anything" formula that allows customers to get products at their location in the least possible time. Glovo has more than one customer segment and works on a partnership model. So without any ado, let's discuss Glovo's 3-tiered customer segment to better understand its business model.
3-tiered Segments of Glovo Business Model
Customers
Customers are individuals who order products from Glovo and request delivery services. Customers also need to pay some delivery fees to partners to get products at their doorsteps.
Glovo enables customers to order anything from browsing products listed on the platform

The company assures delivery in less than 29 minutes

Customers can place an order round the clock as the platform operates 24*7

This effective platform facilitates customers to get anything at their location without standing in a queue
Stores / Restaurants
Glovo allows stores and restaurants to register themselves on this platform to increase order volume and customer base.
Store owners can use this platform to promote their products and services.

They can get items delivered to customers without thinking about delivery providers as Glovo offers skilled providers for order fulfillment.

Store owners now have the opportunity to serve their customers better as they can expand their delivery services without any location issues.
Delivery Service Providers
Glovo uses independent courier contractors for order delivery. The platform also allows delivery providers to work as freelancers and earn a decent income.
Allows flexible working hours as delivery providers can go anytime offline

They receive a significant portion of the revenue generated by their delivery services and are also entitled to get a tip from happy customers

Delivery providers can use their preferred mode of transportation to fulfill the order.
This is how Glovo works with three segments and ensures on-time order delivery to keep customers engaged with the platform.
Source of Revenue: How Does Glovo Make Money?
Here is the complete detail for anyone looking forward to understanding the Glovo revenue model or how Glovo makes money.
Commission
A significant portion of Glovo's revenue comes from the commission that the stores pay in exchange for the orders they get from the platform. The platform decides a particular percentage in advance, and stores or restaurants need to pay those amounts on each order they receive.
Glovo Delivery Fees
Customers need to pay a stipulated amount of charges to get products at their doorsteps. Many happy customers also pay a tip to customers, but this amount goes to the delivery provider's accounts.
Advertisements
Glovo enjoys a solid customer base, so restaurants and stores take advantage of this platform to promote their products and services. Glovo charges a certain amount for promotion.
Glovo has Become a Multi-Category Delivery Platform
Glovo's growth story is awe-inspiring. Walking on the same footprints, many entrepreneurs adopt digital solutions to position themselves strong in the overcrowded delivery market and if you are under the same hood, implementing an E-Delivery platform opens the door to new revenue channels, acquiring customers, and keeping your business going.