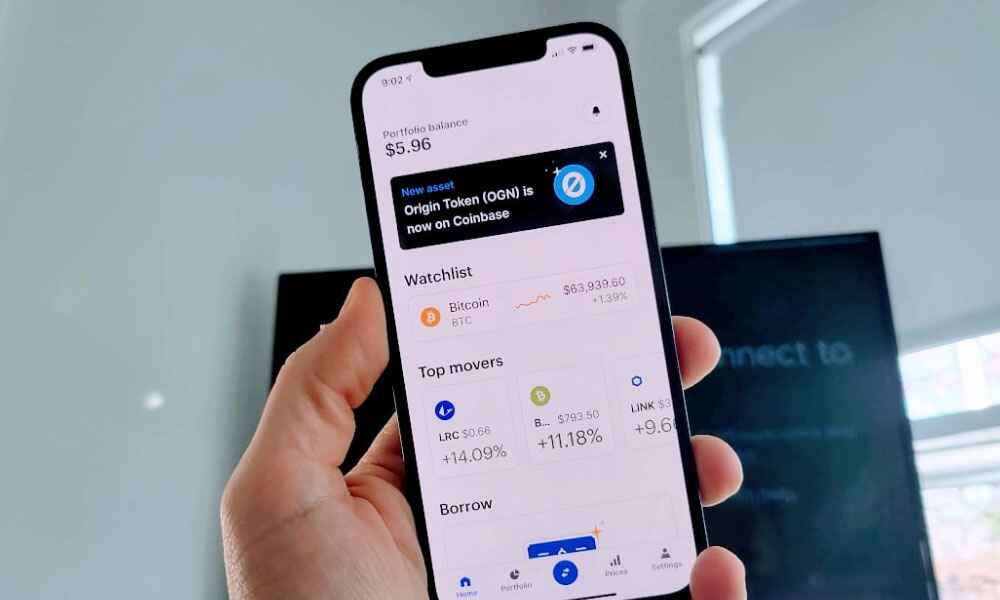 One of the modest alternative investment to one with a market value of hundreds of billions of dollars is where cryptocurrency comes into the picture. You've probably heard of Coinbase if you want to invest in cryptocurrencies or use them as a payment method. It is, after all, one of the most widely used bitcoin exchanges online, with millions of users. Additionally, it is among the simplest methods for purchasing cryptocurrencies, which has contributed to its meteoric rise to fame. And now, we will examine how does Coinbase works for users, Coinbase's business model, and revenue streams. After all, Coinbase has received much media attention due to its profitable business model and high transaction costs.
Despite recent setbacks, cryptocurrency has continued to be a hugely well-liked new asset class for investors. Bitcoin beat other topped searches such as "restaurants near me," TikTok, Apple, and the NFL in the top Google searches for 2022. It shocked everyone. But it's true.
As a broker, exchanges, and asset custodians, cryptocurrency exchange platforms often play a wider range of roles than traditional exchanges (like Nasdaq or CME Group). Coinbase is no exception, as the company performs a variety of tasks in the course of its business operations and has continued to broaden the range of its capabilities through acquisitions and internal investment.
There are some ways to buy and sell coins on your own now that cryptocurrencies are becoming more widely accepted, such as using Venmo, Cash Software, or a trading app like Robinhood. However, Coinbase is a well-liked alternative, boasting 73 million verified users. In addition, many viewed the company's public launch in April 2021 as a sign of confidence in digital currencies in general.
Now you must be eager to know about the business model and how Coinbase makes money. Don't worry; here we will discuss everything about it, from its inception to its business model to revenue sources and much more. So, let's get started without any ado.
What is Coinbase? Explained Here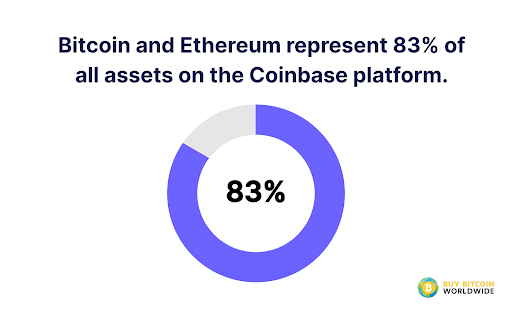 Source: Buy Bitcoin Worldwide
The largest licensed cryptocurrency exchange in the world, Coinbase, enables trades of over $300 billion every quarter across more than 35 nations.
Former Airbnb engineer Brian Armstrong launched CoinBase in 2012 after receiving a $150,000 investment from Y-Combinator. Fred Ersham, a Goldman Sachs executive, later joined the company.
Crypto.com, Binance, FTX, Gemini, and other cryptocurrency exchange platforms are some of Coinbase's rivals.
The platform is really simple to use. Users can view their balance and a watchlist, similar to many trading apps, allowing them to keep tabs on the prices of other cryptocurrencies. Additionally, traders can look at which cryptocurrencies are moving the most.
Coinbase Card, a Visa debit card that users may use to receive rewards for spending the assets in their portfolio, is another product the business is launching.
A new direct deposit option that will let users have their salaries immediately sent to Coinbase and have a portion of their income automatically converted to Bitcoin or another cryptocurrency was unveiled by Coinbase in September.
Here's an overview of the fastest-growing company.
| | |
| --- | --- |
| Total Users | 73 million |
| 2021 profit | $2.36 billion |
| 2021 Valuation | $65 billion |
| 2021 Revenue | $4.03 billion |
| Monthly Users | 8.8 million |
| Employees | 2100 |
Although Coinbase is the biggest cryptocurrency exchange in the US, numerous other exchanges there provide a comparable trading experience for retail buyers and sellers. In addition, because of the magnitude of the market, Coinbase provides more liquidity to traders and investors. However, for the majority of retail buyers of Bitcoin and other cryptocurrencies, the experience is largely the same across different trading platforms.
What Digital Currencies Does Coinbase Support?
While Coinbase supports not all cryptocurrencies, the majority of the most widely used coins are. Therefore, most users who purchase and sell on Coinbase won't encounter any problems. But more experienced traders could discover they need to open an account elsewhere.
On Coinbase, there are more than 120 different coins. Although we won't mention everyone, here are some of the most well-liked ones that Coinbase gives users access to
Bitcoin
Cardano
Solana
Dogecoin
Chainlink
Litecoin
Bitcoin Cash
Coinbase Business Model. Have a Detailed Look
Today, Coinbase is regarded as the biggest and most effective platform for cryptocurrency-related business worldwide. The business claims to have over 600 employees and 35 million users.
Since its inception, Coinbase business model has undergone significant change. The business initially solely generated revenue through trade fees, but it has now expanded to generate revenue from a wide range of products. Before revenue channels, let's take a look at customer segmentation and value proposition.
Coinbase's Customer Segments
The consumer segments of Coinbase are as follows:
Over 6000 institutions use Coinbase, which has more than 5 million monthly trading users
Partners in the ecosystem: Coinbase has more than 100,000 partners, including developers, asset issuers, retailers, etc.
The Value Propositions of Coinbase
The following are the Coinbase value propositions:
Using digital currency to establish a free financial system
Become the marketplace of choice for digital currency transactions
Develop the sector by creating apps for customers and businesses.
Coinbase's Customer Relationships
Following are the customer relationships with Coinbase:
Dedicated customer support
Email and social media support
Self-service platform
Forum Community
The transaction fees customers must pay for services like purchasing or selling on the site are the fundamental component of the Coinbase business model. The bitcoin exchange market has been a huge success for Coinbase, a relatively new business. Now, let's analyze Coinbase's major revenue sources.
How Coinbase Makes Money? Major Revenue Sources
Coinbase generates revenue via staking, transaction fees on the Coinbase debit card, spread when converting cryptocurrency to fiat currency, and spread on cryptocurrency trades conducted on its platform. In contrast to unregulated cryptocurrency exchanges like Kraken or Binance, the exchange is one of the few regulated options and reports transactions to the IRS.
Fees on Transactions
The majority of Coinbase's income still comes from the commissions the company charges users who buy and sell cryptocurrency. Because of its tiered commission system, Coinbase charges different amounts depending on the location and volume of transactions.
Credit Transactions
Additionally, Coinbase itself or its affiliates provide USD loans. In exchange, Coinbase receives fees and liquidates bitcoins that were pledged as security for the loan. Users are assessed a fixed fee of 2% of the transaction value by the business.
Interest from Personal Loans
Their financial lending services is another source of income for Coinbase. By taking out a loan against the Bitcoin they have in their Coinbase portfolio, users can borrow up to $100,000 from Coinbase at an 8% APR.
Coinbase Prime and Pro
Specifically designed for experienced traders who work with cryptocurrencies daily, Coinbase Pro and Prime. As a result, the goods provide a huge number of extra features, such as
To access real-time market data and develop trading algorithms, there are sophisticated filtering options and a full trade history API.
Protection of digital assets with insurance (up to $250,000) in the event of a hacker attack
A dedicated Coinbase team will assist customers in installing the app for Prime members.
Although the tools are free, users must pay a fee when purchasing and selling different currencies. Coinbase employs a technique known as the maker-taker fee model to calculate its trading costs.
Other Revenue
The company's main funding source is selling cryptocurrency assets, corporate interest, and other income. In 2021, Coinbase reported revenue from these sources of almost $484.6 million, an increase from just over $136.3 million in 2020.
When all sources of how Coinbase makes money were combined, Coinbase reported approximately $7.8 billion in revenue for 2021, a huge increase from the $1.3 billion figure from the previous year.
Future of Coinbase for 2022 and Beyond
For individuals who are new to cryptocurrencies, using Coinbase is a simple platform to get started. Thanks to its simple interface, users can purchase and trade cryptocurrency with just a few clicks. Although not all cryptocurrency types are supported, several of the most well-known coins are.
Coinbase's business model is so flexible that it allows any range of scaling. In 2022, Coinbase's future still needs to be determined. The general cryptocurrency market, which is still in a bear market, and Coinbase are closely related. Although the price of Bitcoin has, for the time being, stabilized around the $40,000 mark, the possibility of additional decline still exists.
To position itself for future growth, Coinbase is acting in the best interests of the company looking to expand its services and revenue sources. The own non-fungible token (NFT) marketplace, Coinbase NFT, will shortly go live. Additionally, it has joined forces with Mastercard Inc. (NYSE: MA) to make it easier to buy and sell NFTs.
If you are an aspiring entrepreneur who found the crypto market lucrative and wants to develop a Coinbase clone app, Elluminati Inc has a prebuilt script that helps you easily launch and then upscale in this volatile market and giving your business a bigger prospectus.