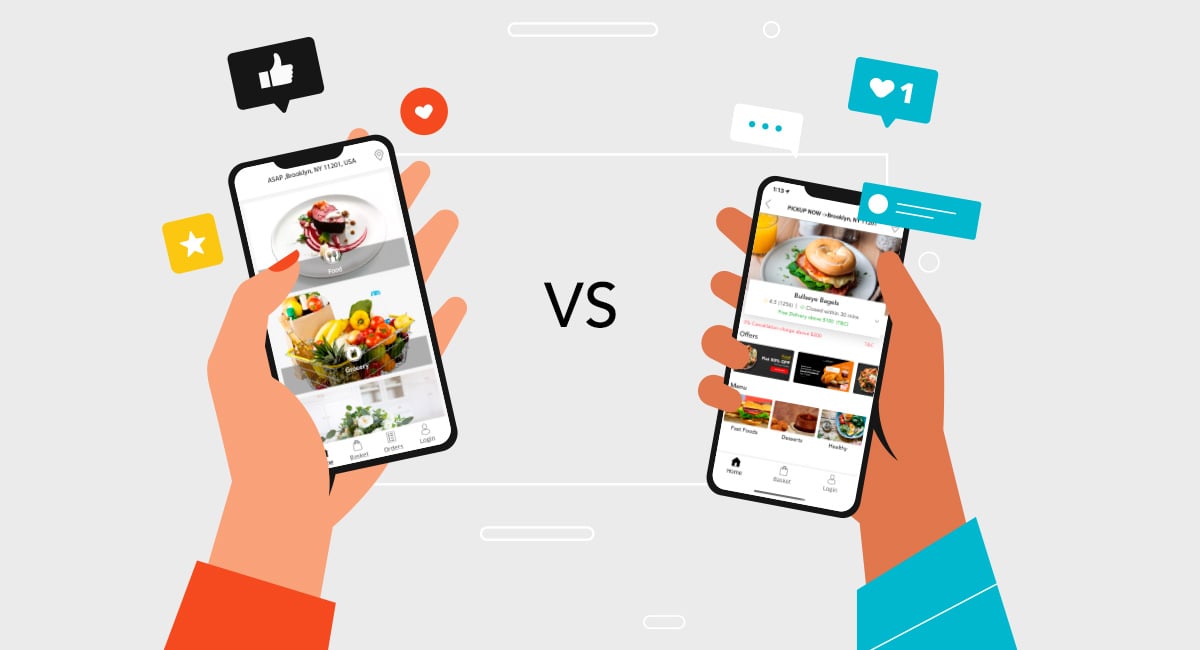 With the world treading forward in significant motion, online delivery platforms get highlighted. However, it becomes vital for you to discover the best way to win customers' trust with reliable deliveries ensuring to enhance your business reach. Seek the support of our E-Delivery or Sphere that makes order processing and deliveries more comfortable than ever.
Investing in an E-Delivery empowers your business to deliver excellent services to users. So keep on reading to know what E-Delivery and Sphere is? And how do both platforms differ from each other?
What is E-Delivery?
E-Delivery is an all-in-one delivery app solution crafted for SMEs, entrepreneurs, and business vendors who want to launch their business similar to aggregators such as UberEats, Instacart, DoorDash, or Postmates.
The tech stack consists of all modules and essential features that support you in managing your multi-vendor purchase & delivery experience efficiently. It helps you provide a fabulous user experience to your customers and guarantee business growth and success.
What is the Sphere?
A Sphere is an amazing platform that helps you to sell your business products digitally. Elluminati offers a Sphere to business vendors who want to "level up" their business with small subscription fees.
A feature-rich platform makes it easier for your customers to search for your business online, view your menu, purchase products/ items, and make payments for the same online. It's the best option, especially for those who don't have a huge development budget and want to give a digital touch to their small or medium-sized business in exchange for minimal bucks.
E-Delivery Vs Sphere

E-Delivery

Sphere

Segmentation

The best option for multi-vendors and marketplace businesses

The best option for single vendors having a low budget

Enterprises who want to launch their business similar to Instacart, Ubereats, or any other other

Business vendors those who want to go digital to "level up" their business

Pricing

One-time purchase

Monthly or annual subscription

Enterprises get support for 1 to 3 months based on their purchased package

Business entrepreneurs are provided support throughout their subscription plan

Platform Flexibility

Businesses are provided with a customizable platform along with source code

No source code or customization facility is provided to single business vendors

Stripe is a default payment gateway in E-delivery, and businesses need to pay to add more as per their business requirement

Paypal, Braintree, and Stripe are used as default payment gateways in a Sphere; no customization is allowed
The above table clearly shows the difference between E-Delivery and a Sphere. Understanding the difference between the two might help you to make a smart decision for your business. Choose the best tech stack to give a digital touch to your business.
E-Delivery or Sphere: Make Decision According to Business Needs
No matter which size and type of establishment you own, you can choose between the two according to your business need.
If you have a well-developed business and want to expand it using an online platform, then the E-Delivery platform is the best option to invest in. Whereas if you have a small business and a small budget, you don't have to worry about the same, you can choose to subscribe to Sphere monthly or annual package to give your business a digital touch.