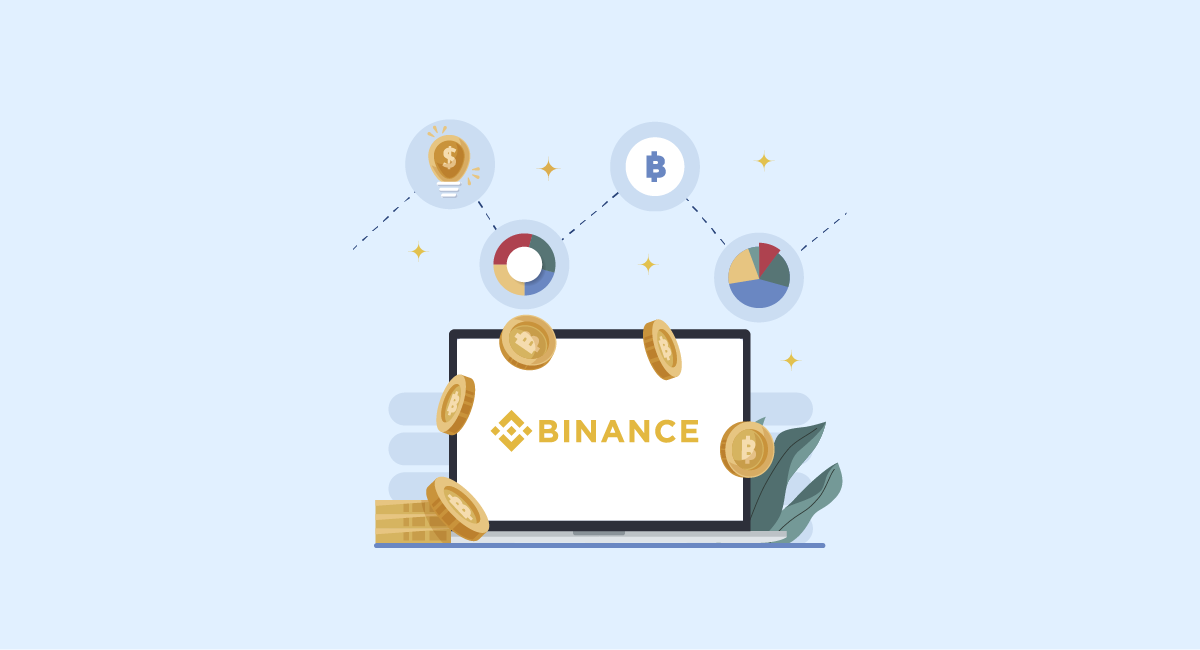 Both new and experienced cryptocurrency users may find it difficult to choose the best crypto exchange or trading platform at the moment due to the abundance of options in the digital currency exchange market. Although there are several cryptocurrency trading and exchange platforms, Binance has carved out a special place for itself in the industry. So what do you believe may cause Binance's rapid expansion? It's a business model, correct? In this blog post, let's discuss the Binance business model and its other building blocks.
The well-known cryptocurrency exchange Binance was founded in China but later relocated its headquarters to the E.U. 's crypto-friendly Island of Malta. One of the biggest cryptocurrency exchanges in the world, Binance handled $7.7 trillion in cryptocurrency trades in 2021. Changpeng Zhao, who formerly served as the CTO of OKCoin and Blockchain.info, launched it in 2017.
It is the oldest and most reliable trading platform in use today. They offer a wide variety of payment choices and all trading options. They permit trading in all major world currencies, including USD, GBP, and others. To aid users in trading properly and without being discouraged, they include all the big cryptocurrencies with the recently emerged ones.
This cryptocurrency platform has developed from a very small cryptocurrency exchange into a titan in the industry. Binance quickly eclipsed early leaders in the cryptocurrency trading sector like Coinbase, Kraken, and others due to the diversity of its offerings. As a result, it currently holds the top rank among cryptocurrency exchanges regarding users, trading volume, and the variety of trading pairs available.
This article explains everything you need to know about binance business model and revenue stream in case you've ever wondered if all the excitement around it is justified. If you want to know everything about it, have a look at its business model and other operations.
What is Binance?
Through an initial coin offering of the platform's native cryptocurrency, the Binance coin, Changpeng Zhao created Binance in 2017. (BNB). His public auction was an immediate success, helping him to raise more than $15 million. Such a large initial investment for a new cryptocurrency exchange!
The startup launched the Binance – cryptocurrency trading platform quite quickly. With the highest trading volumes, Binance became the biggest cryptocurrency exchange in the world in less than a year. Moreover, with a vast selection of well-liked cryptocurrency trading pairs and extremely low trading fees, it was utterly dominating the competition.
You can utilize Trust Wallet, a third-party "wallet," to store your digital currency.
Visit the Binance Academy, a knowledge base covering trade, blockchain technology, fusion systems, and the advantages and disadvantages of competing cryptocurrencies.
Binance, a non-profit organization called Charity, enables traders to contribute to a variety of charities and causes.
Like an encyclopedia, Binance Info expands on the information.
Binance levies trading commissions, just like every other exchange. Fee reductions may be available to traders who work more frequently.
Binance Overview
| | |
| --- | --- |
| Launch Date | September 2017 |
| Headquarters | Cayman Islands |
| People | Changpeng Zhao (CEO, founder) |
| Business Type | Private |
| Industry | Cryptocurrency |
That's Binance in a nutshell. People actively taking a keen interest in the cryptocurrency market might have heard the term Binance. U.S. What is it? Let's understand the term in our next section.
What is Binance.US?
If you live in the USA, the Binance trading platform is not accessible to you. U.S. citizens must switch to a different platform, binance.us, in order to abide by legislation. It is believed that this trading platform, which debuted in 2019 to serve U.S. nationals, is a scaled-down counterpart of the main Binance cryptocurrency exchange.
On Binance.US, there are fewer coins accessible than on the original exchange. However, the most well-known ones, such as Bitcoin, Ethereum, Bitcoin Cash, and Dogecoin, among dozens of others, are still available.
Even worse, not all U.S. citizens are eligible to open a Binance account. U.S. account. The exchanges' services are not available to users in
Connecticut,
Hawaii,
Idaho,
Louisiana,
New York,
Texas, or Vermont.
Therefore, Binance might not be your best option for cryptocurrency trading if you reside in the USA.
History of the Popular Crypto Platform, Binance
Changpeng Zhao and Yi He established Binance in 2017, which has its headquarters in Valletta, Malta. C.Z. serves as the company's CEO.
When Zhao first encountered Bitcoin in 2013, he played poker and ran into a venture capitalist. Even for a seasoned engineer like Zhao, joining Blockchain.info as the third-ever member of their Wallet team was a hazardous move.
After working for Blockchain.info for eight months, C.Z. accepted a position as a chief technical officer at OKCoin, an exchange for spot transactions involving fiat money and digital assets. However, Zhao's obsession with cryptocurrencies led him to sell his Shanghai residence for $1 million in 2014 and put every penny of the proceeds into Bitcoin (at a price of $600 per coin).
The ICO for Binance was a complete success. The C.Z. team created a white paper in just 16 days, and on July 1st, 2017, they launched their initial coin offering. The outcome was raising $15 million equivalent in cryptocurrencies, 20,000 user signups, and a tonne of P.R.
Binance was immediately off to the races after that. After just a little over six months in operation, Binance has accumulated over six million users, making it the largest cryptocurrency exchange in the world at the beginning of 2018.
Binance announced opening its $1 billion venture fund in June 2018, following a steady price increase for its BNB token. The fund will promote blockchain and cryptocurrency entrepreneurs. Allotted startups would get the money through its BNB token.
But the introduction of fiat currency conversions and the following addition of other payment alternatives was what really helped Binance soar to new heights (such as debit or credit card).
Additionally, Binance has a reputation for quickly adding new cryptocurrency projects to its exchange.
Even though Bitcoin lost 70% of its value in 2018 (and exchange activity positively correlates with trading volumes), Binance still made $446 million in earnings year despite having just been founded 18 months earlier!
In addition, Binance debuted loans (in August), futures trading (in June), and margin trading that year (September). Certainly, 2020 wasn't any less prosperous.
As a result of the coronavirus pandemic's stay-at-home directives, an increasing number of people rushed to online trading and bitcoins in particular. Utilizing that upswing, Binance made its largest-ever acquisition. The largest global collection of exchange volume and cryptocurrency pricing data, CoinMarketCap, cost $400 million.
Today, Binance employs over 1,500 employees and has offices worldwide. According to Alexa, it is now among the 500 most popular websites worldwide. Every month, more than 15 million people use the platform.
Binance Funding and Valuation
Crunchbase reports that Binance has raised $25 million in total through eight rounds of venture capital funding and initial coin launches (ICO).
Sequoia Capital, Vertex Ventures, Black Hole Capital, Funcity Capital, and numerous other notable investors are just a few.
Binance is not required to make revenue or valuation information available to the general public as a privately held business.
How Users can Access the Binance Exchange Platform?
Utilizing Binance is simple and operates similarly to other crypto exchange platforms in that you open an account, fund it with fiat cash, and then trade the exchange's listed cryptocurrencies.
To sign up for a Binance account:
Sign up for an account using the Binance app or the website.
the identity verification process is finished.
Select a payment option to add money to your account and transfer fiat currency (such as AUD, EUR, or USD).
After you have funded your account and made it active, you can browse and purchase any cryptocurrency listed on Binance. Any cryptocurrency you acquire is kept in your Binance account, which doubles as a wallet.
Your Binance account allows you to sell any cryptocurrency you own for fiat money or to trade it for another cryptocurrency at any moment. Additionally, you can move cryptocurrencies that you have stored in various wallets to your Binance account and the other way around.
Binance Business Model – Know How Exactly Its Work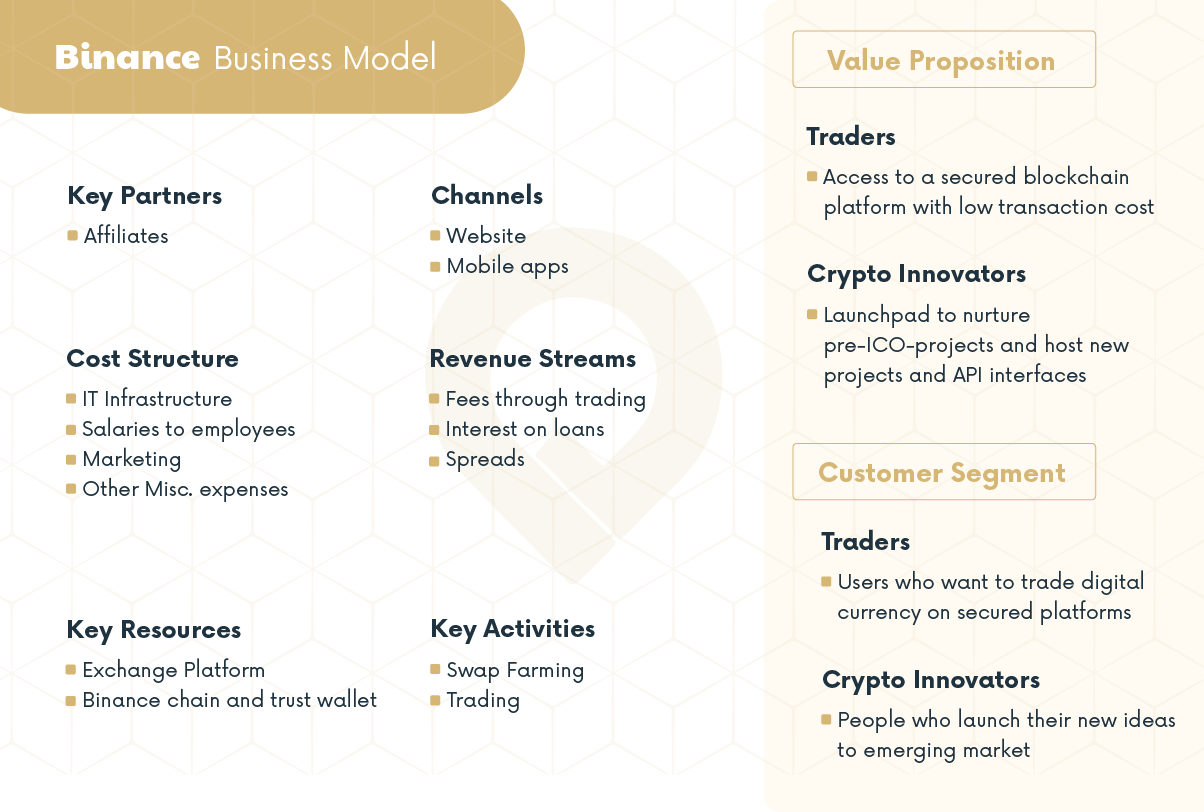 Business model makes Binance a highly profitable corporation since it is the largest and most famous cryptocurrency exchange. Have a look at what value proposition Binance offers to its customers.
Customer Segmentation
Binance is divided into two types of customers,
Traders who want to exchange or trade digital assets on a secured and swift platform
And Crypto innovators are always keen to publish their ideas in the market.
Value Proposition
The value propositions of Binance include
Traders: accessibility to a safe cryptocurrency trading platform with great liquidity and minimal transaction costs;
Crypto Innovators: Binance Labs, a technological incubator, and LaunchPad, a hosting platform for new projects and API interfaces, respectively, are available to nurture promising pre-ICO initiatives.
Binance Channels
Being a reputed crypto platform, Binance has a website and apps for Android and iOS platforms.
Key Operations
Users more often ask and search on the Internet about Binance's key operations and activities. Well, it includes
Trading
Software-as-a-service (SaaS)
Swap farming
Cost Structure of Binance
No doubt, Binance earns revenue in multiple forms, but its cost structure includes,
Salaries
I.T. operations,
Marketing (online/offline),
Maintenance of its website and apps
Binance's Customer Relationships
Along with its operations, Binance is also popular for the customer service it provides through different channels, such as
Social media platforms
Email
Telephones
Binance community and academy
How Does Binance Make Money? Dig into Its Revenue Streams
Binance stands apart from its rivals because of the diverse and distinctive streams of revenue it creates. The various revenue streams for the business include:
Trading Fees
Binance charges a commission for bitcoin trading. Binance levies a 0.1 percent fee for each cryptocurrency transaction a user makes or sells. However, the fee can vary depending on the type of transaction and the currency.
Withdrawal Fees
The cost of moving cryptocurrency out of a Binance account is also levied on the user. The blockchain network decides the withdrawal costs, which might change depending on things like network congestion. For instance, Bitcoin can be withdrawn from many networks, each with its own withdrawal fee and restriction.
Mining Pool
Additionally, Binance introduced two "mining pools" in 2020 for mining Bitcoin and Ethereum. With the Smart Pool service, which dynamically switches the hash rate to mine various currencies using the same algorithm, miners can increase their profits.
The SHA256 algorithm, which is frequently used for this purpose, is used to verify blockchain transactions. Users of Ether and Bitcoin will pay pool fees of 0.5 percent and 2.5 percent, respectively, to the Binance mining pool. The fee is subtracted from the cryptocurrency mined by the Bitcoin mining pool.
Spreads
As of April 2021, Binance users can purchase stock tokens. Similar to genuine stock, the price of the underlying shares determines the value of stock tokens. However, even though there is no fee associated with purchasing and selling tokens, Binance makes money by spreading the difference between the prices.
Binance Labs
With the launch of Binance Labs in 2018, Binance diversified its enterprise into the venture capital market.
A $500 million investment fund called Binance Labs supports blockchain companies and entrepreneurs by funding business ventures that advance the decentralized web and the blockchain ecosystem. Which, as of the time this was written, has 64 investments.
Fiat Exchange Partners
To provide fiat-to-crypto platforms similar to Binance, Binance has partnered with regional organizations. For example, WazirX in India, Binance Lite in Australia, and the U.S. | Buy & Sell Crypto.
Binance Cloud
The technology required to build regional trading platforms, including http://Binance.KR and http://Binance.TR, is provided by Binance.
Summing Up
Hopefully, you gained an abstract knowledge of how Binance generates income from a variety of sources and Binance business model.
Entrepreneurs only consider cryptocurrencies' business prospects when everyone else considers the cryptocurrency's ups and downs. If you also want to enter the crypto market, contact Elluminati Inc, as we helps enterprises to develop and design a Binance clone script that is fully featured and allow them to make the most out of the digital finance market.