What is Enterprise Application: How It Serves Your Business Better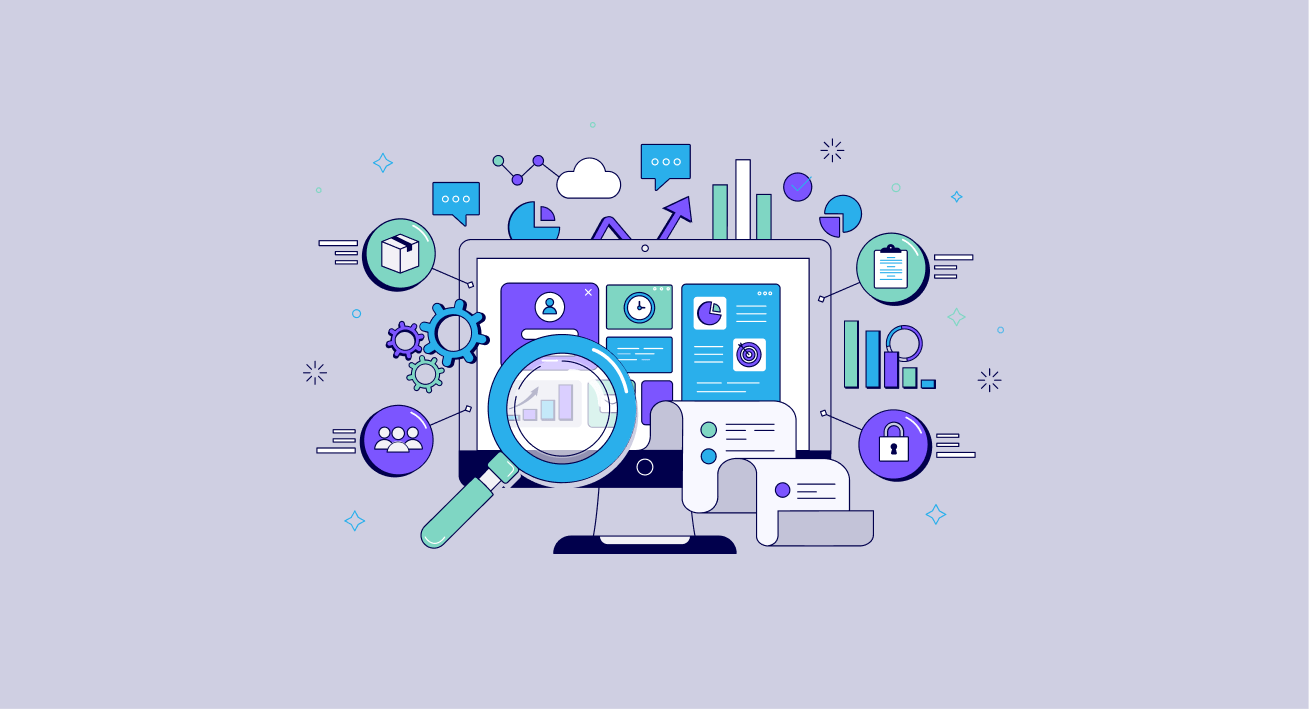 These days, enterprise software includes mobile apps on a regular basis. What does business application software accomplish? They are utilized by internal teams, personnel that interacts with customers, product management, and more. There is an app that can maximize any necessity your business may have.
Organizations are moving into the connected customer era in today's digital world. For an organization to derive significant value from real-time data streams, communication with its customers and workers is essential. By the end of 2022, IT will reportedly spend $672 billion on developing enterprise applications, according to Statista. The enterprise application market is thought to be the segment of the ambient IT business that is developing at a rate that exceeds 10% annually.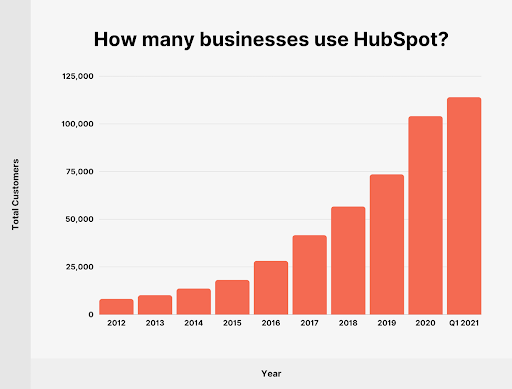 Source: Global Market Insights
The management of your firm may become too difficult and time-consuming to maintain manually once it reaches a certain point. However, practically anything can now be automated, thanks to the digital era. If your company uses a variety of enterprise software to handle your firm, managing your enterprise might be quite simple.
Many significant organizations, ranging from Fortune 500 firms to sizable NGOs, could benefit from using enterprise application software to address their business difficulties. Many more qualities set them apart from other B2C apps, in addition to their distinctive scalability and appealing design.
So let's start with the fundamentals before moving on to the well-known examples of enterprise applications.
What is an Enterprise Application?
In order to provide coordination and cooperation of work across the organization, enterprise applications are developed to integrate computer systems that operate all of the operational phases of an enterprise.
Business essentials, including accounting, finance, sales, inventory, human resources, online ordering, payment, and services, are integrated via enterprise applications.
The optimum client/server software architecture allows the enterprise application system to monitor and manage every process in real-time. By connecting them with business partners, suppliers, and customers, enterprise applications can assist organizations in increasing their sphere of influence.
How Enterprise Mobile Applications Accelerate Business Growth?
According to Allied Market Research's analysis, the worldwide enterprise application market had a value of $238.36 billion in 2020 and is projected to increase to $527.40 billion by 2030. This statistic highlights the importance of mobile enterprise apps.
The use of mobile enterprise mobile apps is dramatically increasing for a number of reasons. For all contemporary businesses and senior executives who want to gain from the digital revolution, it is increasingly necessary. Below we have mentioned different benefits of enterprise application development that help you accelerate business growth.
Increase employee productivity
Updated records
Increased profitability
Easy task management
Automation in workflow
Boost productivity
Improve customer satisfaction
As more companies and organizations become aware of the power of modern technology, it is anticipated that the popularity and usefulness of mobile enterprise apps will continue to expand.
The above statistics demonstrate that integrating enterprise solutions into large businesses is growing in popularity each year. Now you are aware of the meaning and significance of enterprise applications. But here we are trying to smooth your way towards mobile application development and, underneath real-world examples of enterprise apps, help you understand the concept more clearly.
WeChat
Super applications act as a form of marketplace, bringing together both internal and external services and products. WeChat, Alibaba, and Alipay are three of the most well-known instances of these apps; they were all primarily developed for Chinese markets.
Take the example of WeChat.
WeChat made the decision to become a super app for everything in life rather than one of the other chat apps.
WeChat users may pay bills, send money, buy tickets, order food, register businesses, and more, all from the comfort of a single platform.
Therefore, it should come as no surprise that the government firmly supports the app used by more than two-thirds of the Chinese population and encourages it to grow by adding new features and services.
In addition to that, entrepreneurs today look for super app development company after witnessing the major success of Alibaba, WeChat, Rappi, etc., in their respective regions.
Zoom
For a variety of reasons, Zoom is one of our favorite business communications tools. One of them is that the software is free and allows users to interact with one another anywhere in the world at any time as long as they have the app downloaded and active on their smartphone, laptop, or desktop computer.
Many of the world's most prosperous companies have adopted Zoom for a variety of communications needs, including:
Meetings
Video webinar
Conference rooms
Phone system
Business IM platform
Zoom is by far our most chosen and trusted program when it comes to answering the question of what kinds of apps are useful for huge enterprises from all the instances of communication enterprise software now offered on the market.
Microsoft Office 365 Enterprise
Microsoft is renowned for its large organization-focused solutions. Such is the case with Microsoft 365 Apps for business.
It is a collection of collaboration and productivity programs that you are already familiar with, including Word, Outlook, Teams, and Excel. It also consists of applications for management and security compliance functions, though. Additionally, it supports an infinite number of users and offers real-time collaboration, content creation, deployment, and management controls.
MailChimp
MailChimp is another piece of enterprise-level customer service software that we highly recommend for a variety of factors. It primarily serves as a free platform for expanding businesses to email all customers with invitations and reminders. Effective digital marketing initiatives are also possible with MailChimp.
Customize email campaigns to determine which are effective and which are not for a particular audience.
Maintains a running list of every customer who has subscribed to your company.
Keeps track of all activity and records it as statistics and data that may be examined.
Enables connection with a number of widely used programs, including Google Drive, DropBox, Wix, and Bluehost.
Adobe Creative Cloud
Professionals in the fields of creative, design, and marketing utilize Adobe Creative Cloud, frequently abbreviated as Adobe CC, a collection of software tools for Mac OS and Windows computers to produce material for print, video, and online dissemination.
A few Creative Cloud apps are also accessible on iOS and Android phones and tablets. The tools offered by Creative Cloud can be applied to a wide range of graphic and creative tasks, including the creation of flyers, brochures, full-motion films, websites, presentations, and more. Numerous Creative Cloud programs can be purchased separately or as a part of a full package.
HubSpot
HubSpot is one of the first tools you'll hear about if you're starting to scale your business and considering digital marketing platforms or CRMs, and for good reason. To manage your marketing, sales, service, site content, and even operations, HubSpot offers a potent, all-in-one solution.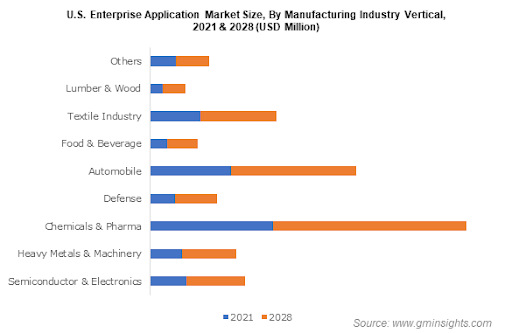 Source: Backlinko
HubSpot had 113,925 paying clients as of March 2021, up from 103,994 at the end of 2020. Over the past year alone, the company has added 40,442 new unique subscriptions.
HubSpot is an inbound marketing and sales tool that aids businesses in bringing in customers, converting leads, and attracting visitors. Because it is a cloud-based platform, updates are instant and automatic, and all of your data is synced across teams and devices.
From the first time a potential customer views one of your social media posts or blogs, to the emails you send them, to handing them off to your sales team for their first purchase, to the customer service they get, all the way to them recommending your business to their friends, HubSpot exists to help your entire business run more smoothly.
Summing Up
Enterprise application development has many commercial advantages. They benefit both customers and the business by saving time and money.
They also enable companies to boost productivity, foster a positive workplace, and offer better customer service. Businesses can provide their clients with a more effective way to communicate with the firm, increasing income, by designing applications. Companies can also gain financially from enterprise application development since it helps them better control their costs while generating efficiency and income.
As an entrepreneur, if you wish to build an enterprise application, hire developers from Elluminati Inc., as they can take your business processes to the next level and also come up with a user-centric digital product.