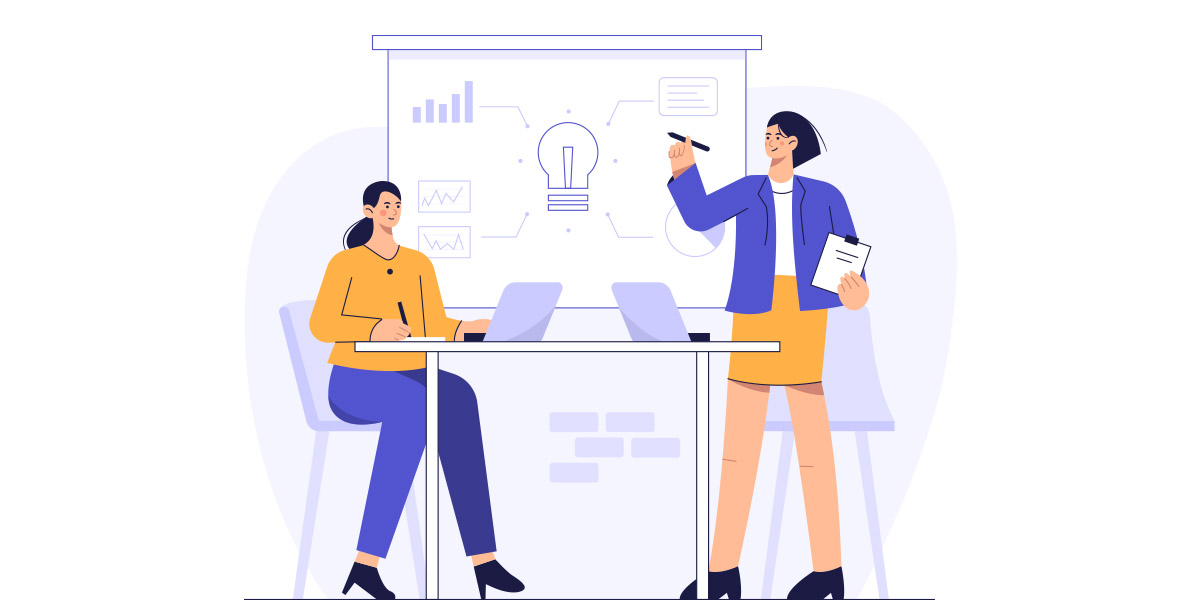 On-demand business startups have earned millions of dollars by providing different on-demand services such as food delivery, home cleaning, taxi services, and many more. The demand for on-demand services is rising with time and investing in the UberRush Business model will give you the chance to earn enormous profit along the way.
Are you thinking of building any on-demand services to link yourself with customers? Then we are here to help you to convert your idea into reality, so let's get started.
What Is UberRush
UberRUsh is Uber's form of courier service, where Uber drivers accept your requests for parcel deliveries, come to your doorsteps and deliver the package with advanced real-time tracking features. Both customers and companies use it.
UberRush is one type of hyper-local delivery market and on-demand delivery network where you can track the delivery from your phone when it is dispatched.
By accessing UberRush, business owners can make quick and cost-effective deliveries; customers can see the whole drop off process with attractive features. It has gained huge popularity across the United States, and currently, it is available in selected cities.
How UberRush Business Model Works?
UberRush is one type of e-delivery service that allows individuals and enterprises to send parcels from location A to location B. If you are a small enterprise and have limited manpower, you can rely on UberRush for deliveries.
Many app development companies assist you in building a fully-extensive and advanced on-demand application for your next venture.
So let's discuss in detail what features have made UberRush such a successful business revenue model.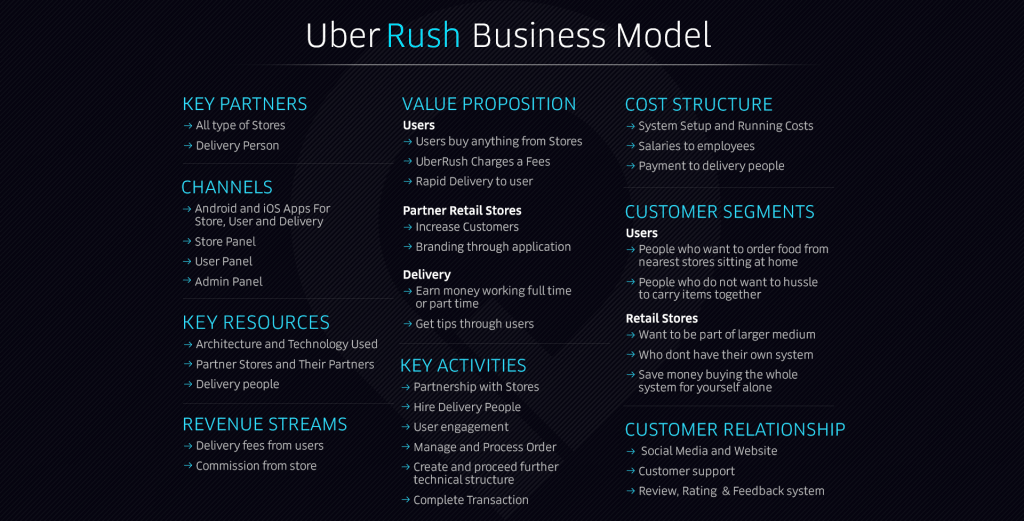 Key Partners
Multiple store owners and delivery persons can shake hands with your on-demand business model. Key partners for this business model are:
Store owners and individual users can send a delivery request for packages within the application.

The service provider will use the same app to manage all the delivery requests.

It also allows live-tracking the order throughout the time until it reaches the destination and is received by the customer.

Your digital partner will provide you admin and dashboard panel for smooth management.

For financial assistance and decision making, investors are your real resource.
Key Channels
Get a separate Web, Android, and iOS application

The turnkey seller app allows managing delivery in advance

The fully- functional user app will enable them to choose a service provider and can chat with drivers to know about delivery status.

All-in-one powerful administration panel to manage and schedule all the deliveries, you can control and manage orders, services, invoices, and much more.
Key Resources
Resources keep your business alive, and key resources of your on-demand UberRush business model are:
Web and dynamic applications that make your delivery more accurate.

Store owners and individuals with the latest smartphones and technology.

Single interface admin panel to manage dispatch and tracking systems.
Revenue Streams
Revenue is the ultimate aim for any business, and UberRush gets most of its revenue from delivering packages and parcels at the door. Its major revenue streams are:
Delivery booking platform through web and website

Extra charge levy if parcel's weight exceeds the limit based on its price structure

Enhance fleet capacity during peak hours

Commission on each delivery for your business revenue.
Value Proposition
Users and online stores of your eService are stakeholders of your business model, and they can earn from multiple ways such as:
The store owner arranges drivers for your goods to get delivered.

If a user wants instant delivery, an extra amount to be charged as per the price chart.

The commission is paid if you increase the customer base.

The more you recommend the app, the more you will get.

Delivery men can either work full time or part-time as per their convenience.

The delivery person can get tips from users.
Key Activities
Key activities contain the development of web and app portals through which users or enterprises can send delivery requests. Along with this, other key activities are:
Convince maximum stores for the partnership

Hire part-time or full-time delivery persons for the fulfillment of your deliveries.

Increase user engagement ratio through social media channels to expand your business

Manage and schedule orders with the help of web portals and apps.

Support different payment gateways system

Send email or SMS once the transaction gets completed.
Cost Structure
For the successful business model development, you need to allocate cost into three major parts:
Calculate the running cost and development cost in advance

Employees salary

Payment to delivery persons based on their total monthly deliveries
Customer Segment
How Is It Useful For Users?
End users are the real stakeholders of your on-demand business model, and they will get benefit in terms of:
Order anything from the nearest store without stepping out

Convenient delivery of your multiple goods
What Do Retail Stores Achieve From It?
After users, retail stores are the important stakeholders of this business model, and they will have multiple benefits:
They can be a large part of the community and expand their business.

It would be perfect for those stores that don't have enough manpower.

It is a cost-effective way to manage deliveries as you don't need multiple systems to run your business.
Customer Relationship
Customer satisfaction is the key when it comes to building brand image, and this business model allows you:
Website and social media promotion

Round the clock customer support

Manage ratings and reviews with ease in a non-intrusive way.
Signing Off:
After discussing the above features, now you must be cleared with the on-demand app and how it works. On-demand business models increase profitability by providing outclass services to customers. You can customize the application as per your preferences thus we can sum up that UberRush clone is the ultimate revenue generation model.
Are you dreaming of starting an on-demand parcel delivery business? Before you get confused by multiple options, do research, and expand your business by implementing innovative solutions.