Uber App Clone Product Available in All Country Currencies & Languages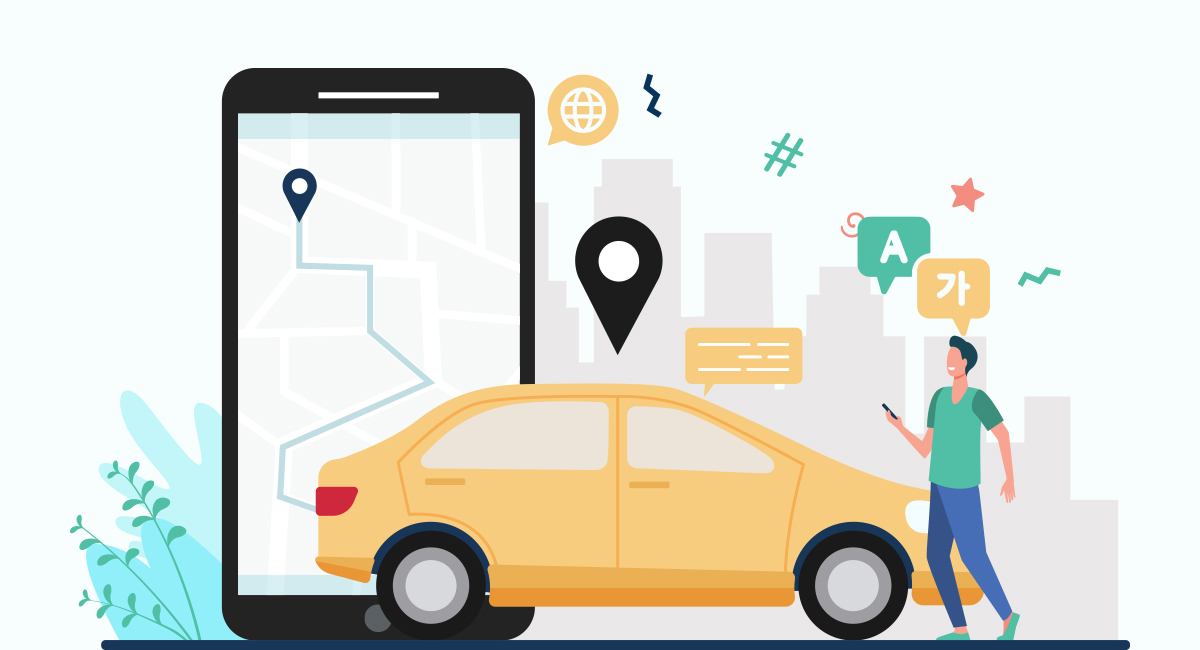 Reap the benefits of on-demand economy by choosing the technical prowess with our completely customizable app solution stacks.
Your business is Settled in Brazil, so it's necessary to create the app in Portuguese language and Brazilian real currency right. Here is a good news for you, Elluminati Inc. guides you with uber app clone for your chosen country language and currency modification. Our all uber app clone products, food, courier, and other on-demand delivery app comes with English as the primary language, but along with them, we add one more language and currency conversion facility as per your needs for your business.
EBER
Our Trade-Mark Taxi Booking and Ride-Sharing App.
TAXI App
White Label Taxi Booking App Solution
UBER For Everything
On-demand Delivery Services App for any Business, Uber for everything Clone
Food Delivery App
Similar UberEATs,Similar Zomato, SimilarPostmates
Courier App
Courier, Parcel and Goods Delivery App
Ride-Sharing App
Similar Uber Taxi, White LabelRide-Sharing App
Car Cleaner App
Uber Like App For Car wash, Car Cleaner Business
Similar Instacart
Groceries Delivery App, Similar Walmart and Instacart App
Marijuana Delivery App
Similar Eaze, GreenRush, Medical MarijuanaDelivery
Babysitters App
Similar to Uber but for babysitting service business
Car Rental App
Limo Hire Clone, Uber-Like Best Car Rental App
Booze Delivery App
Similar to Drizly, Saucy, Minibar
Flower Delivery App
Uber For Florist or Uber For Flower Delivery App
Home Service App
Uber Like App For Home Services, Similar to HouesCall
Dog Walker Application
Uber For Dog Walking or Uber For Pets Application
Handyman Application
Similar to Uber but For Handyman, Home Service App
Test a Piece of Pie of on-demand economy business. And Zipping your business online with your country language and currency detail. Studies say that user was more Reliable with using Site & App that has build in his local Language & Currency Options.
Contact Us For More Detail
| Country | Currency | App Language | ISO-4217 codes |
| --- | --- | --- | --- |
| Albania | Albanian Lek | Albanian (Në shqip) | ALL |
| Afghanistan | Afghan Afghani | Pashto, Dari (په پښتو کې) | AFN |
| Algeria | Aalgerian Dollar | Arabic (بالعربية) | DZD |
| Andorra | European Euro | Catalan (En català) | EUR |
| Angola | Angolan Kwanza | Portuguese (em português) | AOA |
| Antigua and Barbuda | East Caribbean Dollor | English | XCD |
| Argentina | Argentine Peso | Spanish (en español) | ARS |
| Armenia | Armenia Dram | Armenian (Հայերեն լեզվով) | AMD |
| Australia | Australian Dollor | Australian English | AUD |
| Austria | European Euro | Austrian German (in österreichischem Deutsch) | EUR |
| Azerbaijan | Azerbaijani Manat | Azerbaijani (azərbaycanca) | AZN |
| Bahamas | Bahamian Dollor | English | BSD |
| Bahrain | Bahraini Dinar | Arabic (في العربية) | BHD |
| Bangladesh | Bangladeshi Taka | Bengali (বাংলা) | BDT |
| Barbados | Barbadian Dollor | English | BBD |
| Belarus | Belarusian Ruble | Beloussian | BYN |
| Belgium | European Euro | Dutch, French (en français) | EUR |
| Belize | Belize Dollar | English | BZD |
| Benin | West Africa CFA Franc | French (en français) | XOF |
| Bhutan | Bhutanese Ngultrum | Dzongkha | BTN |
| Bolivia | Bolivian Boliviano | Spanish (en español) | BOB |
| Bosnia and Herzegovina | Bosnia and Herzegovina Convertible Mark | Bosnian, Croatian (Na hrvatskom jeziku) | BAM |
| Botswana | Pula | Setswana | BWP |
| Brazil | Brazilian Real | Portugues (em português) | BRL |
| Brunei Darussalam | Brunei dollar | Malay (Di malay) | BND |
| Bulgaria | Bulgarian Lev | Bulgarian (на български) | BGN |
| Burkina Faso | West African CFA franc | French (en français) | XOF |
| Burundi | Burundian franc | Kirundi | BIF |
| Cambodia | Combodian Riel | Khmer (ជាភាសាខ្មែរ) | KHR |
| Cameroon | Central African CFA franc | French(en français) | XAF |
| Canada | Canadian Dollar | English | CAD |
| Cape Verde | Cape Verdean escudo | Portugues(em português) | CVE |
| Central African Republic | Central African CFA franc | French (en français) | XAF |
| Chad | Central African CFA franc | French, Arabic(en français) | XAF |
| Chile | Chilean Peso | Spanish (en español) | CLP |
| China | Chinese Yuan Renminbi | Standard Chinese (用中文(表达) | CNY |
| Colombia | Colombian Peso | Spanish (en español) | COP |
| Comoros | Comorian franc | Arabic French (en français) | KMF |
| Congo Brazzaville | Central African CFA franc | French (en français) | XAF |
| Congo Kinshasa | Congolese Franc | French (en français) | CDF |
| Costa Rica | Costa Rican colon | Spanish (en español) | CRC |
| Cote d'Ivoire | West African CFA franc | French(en français) | XOF |
| Croatia | Croatian Kuna | Croatian (Na hrvatskom jeziku) | HRK |
| Cuba | Cuban Peso | Spanish (en español) | CUP |
| Cyprus | European Euro | Greek, Turkish (στα ελληνικα) | EUR |
| Czech Republic | Czech Koruna | Czech (v češtině) | CZK |
| Denmark | Danish Krone | Danish (på dansk) | DKK |
| Djibouti | Djiboutian franc | French(en français) | DJF |
| Dominica | East Caribbean Dollar | English | XCD |
| Dominican Republic | Dominican Peso | Spanish (en español) | DOP |
| Ecuador | United States Dollar | Spanish (en español) | USD |
| Egypt | Egyptian Pound | Arabic(في العربية) | EGP |
| El Salvador | United States Dollor | Spanish, Nahua (en español) | USD |
| Equatorial Guinea | Central African CFA franc | Spanish (en español) | XAF |
| Eritrea | Eritrean Euro | Afar, Arabic(في العربية) | ERN |
| Estonia | European Euro | Estonian, Russian (на русском) | EUR |
| Ethiopia | Ethiopian Birr | Amharic, Tigirign (አማርኛ) | ETB |
| Faroe Islands | Faroese Krone | Faroese, Danish (På dansk) | none |
| Fiji | Fijian Dollar | Fijian , English | FJD |
| Finland | European Euro | Finnish, Swedish (Suomen kielellä) | EUR |
| France | European Euro | French(en français) | EUR |
| Gabon | Central African CFA franc | French(en français) | XAF |
| Gambia | Gambian Dalasi | English | GMD |
| Georgia | Georgian Lari | Georgian (ქართულში) | GEL |
| Germany | European Euro | German (auf Deutsch) | EUR |
| Ghana | Ghanaian Cedi | English | GHS |
| Greece | European Euro | Greek (στα ελληνικα) | EUR |
| Grenada | East Caribbean Dollor | English | XCD |
| Guatemala | Guatenalan Quetzal | Spanish(en español) | GTQ |
| Guinea | Guinean Franc | French(en français) | GNF |
| Guinea-Bissau | West African CFA Franc | Portugues(em português) | XOF |
| Guyana | Guyana Dollar | English | GYD |
| Haiti | Haitian Gourde | Creole | HTG |
| Honduras | Honduran Lempira | Spanish(en español) | HNL |
| Hong Kong (China) | Hong Kong Dollar | Chinese (用中文(表達) | HKD |
| Hungary | Hungarian Forint | Magyar | HUF |
| Iceland | Icelandic Krona | Icelandic (Á íslensku) | ISK |
| India | Indian Rupee | English, हिंदी, ગુજરાતી | INR |
| Indonesia | Indonesian Rupiah | Bahasa Indonesia (Dalam bahasa indonesia) | IDR |
| Iran | Iranian Rial | Persian (در فارسی) | IRR |
| Iraq | Iraqi Dinar | Arabic (بالعربية) | IQD |
| Ireland | European Euro | English, Irish (i nGaeilge) | EUR |
| Israel | Israeli New Shekel | Hebrew (בעברית) | ILS |
| Italy | European Euro | Italian (in italiano) | EUR |
| Jamaica | Jamaican Dollar | English, Jamacian | JMD |
| Japan | Japanese yen | Japanese (日本語で) | JPY |
| Jordan | Jordanian Dinar | Arabic(بالعربية) | JOD |
| Kazakhstan | Kazakhstani Tenge | Kazak (Қазақ тілінде) | KZT |
| Kenya | Kenyan Shilling | English | KES |
| Kiribati | Australian Dollar | L-Kiribati | AUD |
| Korea North | North Korean won | Korean (한국어로) | NKW |
| Korea South | South Korean Won | Korean (한국어로) | SKW |
| Kuwait | Kuwaiti Dinar | Arabic(بالعربية) | KWD |
| Kyrgyzstan | Kyrgyzstani Som | Kyrgyz (кыргыз) | KGS |
| Laos | Lao Kip | Lao (ໃນລາວ) | LAK |
| Latvia | European Euro | Latvian (Latviešu valodā) | EUR |
| Lebanon | Lebanese Pound | Arabic(بالعربية) | LBP |
| Lesotho | Lesotho Loti | Ka Sesotho | LSL |
| Liberia | Liberian Dollar | English | LRD |
| Libya | Libyan Dinar | Arabic, Italian(بالعربية) | LYD |
| Liechtenstein | Swiss franc | German(auf Deutsch) | CHF |
| Lithuania | European Euro | Lithuanian (Lietuvių kalba) | EUR |
| Luxembourg | European Euro | Luxermbourgish (op Lëtzebuergesch) | EUR |
| Macau | Macanese Pataca | Chinese(用中文(表達) | MOP |
| Macedonia | Macedonian Denar | Macedonian (На луксембуршки) | MKD |
| Madagascar | Malagasy Ariary | Malagasy | MGA |
| Malawi | Malawian Kwacha | Chichewa, Ku Chinyanja | MWK |
| Malaysia | Malaysian Rufiyaa | Bahasa Melayu | MYR |
| Mauritius | Mauritanian Ouguiya | Hassaniy | MRO |
| Mexico | Mexican Peso | Spanish(en español) | MXN |
| Micronesia | United States Dollar | English | USD |
| Moldova | Moldovan Leu | Moldovan | MDL |
| Monaco | European Euro | French(en français) | EUR |
| Mongolia | Mongolian Tugrik | Mongolian (Монгол хэл дээр) | MNT |
| Montenegro | European Euro | Serbian (На српском) | EUR |
| Morocco | Moroccan Dirham | Arabic(بالعربية) | MAD |
| Mozambique | Mozambican Metical | Emakhuw, Xichangan | MZN |
| Namibia | Namibian Dollar | English | NAD |
| Nauru | Australian Dollar | Nauruan | AUD |
| Nepal | Nepalese Rupee | Nepali | NPR |
| Netherland | European Euro | Dutch, Frisian | EUR |
| New Zealand | New Zealand Dollar | English, Maori (I roto i te Maori) | NZD |
| Nicaragua | Nicaraguan córdoba | Spanish(en español) | NIO |
| Niger | West Adrican CFA franc | French (en français) | XOF |
| Nigeria | Nigerian Naira | English | NGN |
| Norway | Norwegian Krone | Bokmal Norwegian | NOK |
| Oman | Omani Rial | Arabic(بالعربية) | OMR |
| Pakistan | Pakistani Rupee | Urdu, Punjabi (اردو میں) | PKR |
| Palau | United States Dollar | Palauan | USD |
| Panama | United States Dollar | Spanish(en español) | USD |
| Papua New Guinea | Papua New Guinean Kina | Tok Pisin | PGK |
| Peru | Peruvian Sol | Spanish, Quechua(en español) | PEN |
| Philippines | Philippine Peso | Sa Filipino | PHP |
| Poland | Polish Zloty | Polish (Po polsku) | PLN |
| Portugal | European Euro | Portugues(em português) | EUR |
| Puerto Rico | United States Dollar | Spanish(en español) | USD |
| Qatar | Qatari Riyal | Arabic(بالعربية) | QAR |
| Romania | Romanian Leu | Romanian(In limba romana) | RON |
| Russia | Russian Ruble | Russian (На русском) | RUB |
| Rwanda | Rwabdan Franc | Kinyarwanda | RWF |
| Saint Kitts and Nevis | East Caribbean Dollar | English | XCD |
| Saint Lucia | East Caribbean Dollar | English | XCD |
| Saint Vincent and the Grenadines | East Caribbean Dollar | English | XCD |
| Samoa | Samoan Tala | Samoan (i le gagana Samoa) | WST |
| San Marino | European Euro | Italian(in italiano) | EUR |
| Sao Tome and Principe | Sao Tome and Principe Dobra | Portuguese(em português) | STD |
| Saudi Arabia | Saudi Arabian Riyal | Arabic(بالعربية) | SAR |
| Senegal | West Arabian CFA franc | French (en français) | XOF |
| Serbia | Serbian Dinar | Serbian (На српском) | RSD |
| Seychelles | Seychellois Rupee | Seselwa, Creole | SCR |
| Sierra Leone | Sierra Leonean Leone | English | SLL |
| Singapore | Dollar | Mandarin | SGD |
| Slovakia | European Euro | Slovak (V slovenčine) | EUR |
| Slovenia | European Euro | Slovenian (V slovenščini) | EUR |
| Solomon Islands | Solomon Islands Dollar | English | EUR |
| Somalia | Somali Shilling | Somali | SOS |
| South Africa | South African Rand | Lsizulu, LsiXhosa, Afrikaans | ZAR |
| Spain | European Euro | Spanish(en español) | EUR |
| Sri Lanka | Sri Lankan Ruppe | Singala, Tamil (தமிழ் மொழியில்) | LKR |
| Sudan | Sudanese Pound | Arabic(بالعربية) | SDG |
| Suriname | Surinamese Dollar | Dutch | SRD |
| Swaziland | Swazi Lilangeni | SiSwati | SZL |
| Sweden | Swedish Krona | Swedish(På svenska) | SEK |
| Switzerland | Swiss franc | German(auf Deutsch) | CHF |
| Syria | Syrian Pound | Arabic(بالعربية) | SYP |
| Taiwan | New Taiwan Dollar | Chinese(用中文(表達) | TWD |
| Tajikistan | Tajikistani Somoni | Tajik (Дар тоҷик) | TJS |
| Tanzania | Tanzanian Shilling | Swahili (Kwa Kiswahili) | TZS |
| Thailand | Thai Baht | Thai (เป็นภาษาไทย) | THB |
| Timor Leste | United States Dollar | Tetun | USD |
| Togo | West African CFA franc | French(en français) | XOF |
| Tongo | Tongan pa'anga | Tongan | TOP |
| Trinidad and Toboago | Trinidad and Toboago Dollar | English | TTD |
| Tunisia | TunisianDinar | Arabic(بالعربية) | TND |
| Turkey | Turkish Lira | Turkish (Türkçe olarak) | TRY |
| Turkmenistan | Turkmen Manat | Turkmen | TMT |
| Tuvalu | Australian Dollar | Tuvaluan, Samoan (i le gagana Samoa) | AUD |
| Uganda | Ugandan Shilling | English | UGX |
| Ukraine | Ukrainian Hryvnia | Ukranian (Українською мовою) | UAH |
| United Arab Emirates | UAE Dirham | Arabic, Persian (در فارسی) | AED |
| United Kingdom | Pound Sterling | English, Welsh (mewn Cymraeg) | GBP |
| United States of America | United States Dollar | English | USD |
| Urugyay | Uruguayan Peso | Spanish(en español) | UYU |
| Uzbekistan | Uzbekistani Som | Uzbek (O'zbek tilida) | UZS |
| Vanuatu | Vatu | Bislama | VUV |
| Vatican City | European Euro | Italian, Latin (Et Latine) | EUR |
| Venezuela | Venezuelan Bolivar | Spanish(en español) | VEF |
| Vietnam | Vietnamese Dong | Vietname (Bằng tiếng Việt) | VND |
| Yemen | Yemeni Rial | Arabic(در فارسی) | YER |
| Zambia | Zambian Kwacha | English | ZMW |
| Zimbabwe | United States Dollar | English, | USD |