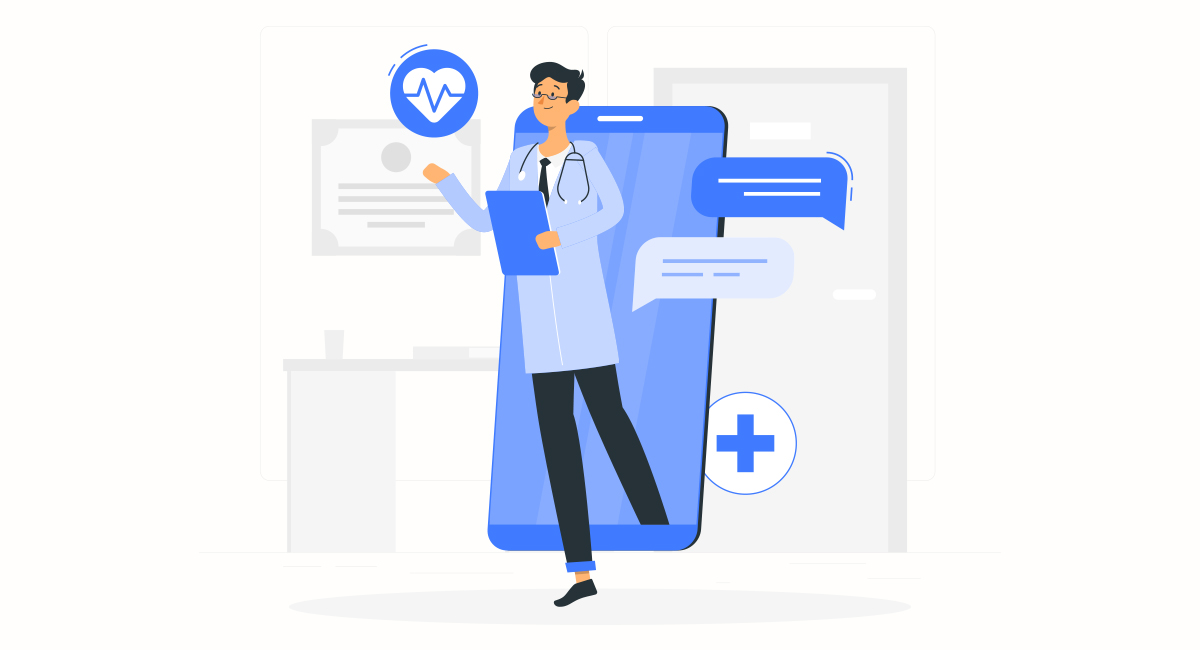 Day-by-day advancements in technology encompass different uses and thus playing an important part in our life. This is why there are already many mobile applications available on the Internet that make one's life easy and saves time. In the last couple of years, the healthcare sector has transformed as people are installing telemedicine apps on their phones to improve patient health while reducing costs.
With the scarcity of time among people, telemedicine apps have come a long way. Telemedicine apps offer several benefits, along with solutions to all your critical health issues without leaving your home. Thus, we can say that telemedicine's future is bright like the sun and more demanding in the upcoming years.
According to a recent study, the global telemedicine market is expected to hit $185.66 billion by 2026, and the key drivers of the market include growing demand for self-care. With the help of an app solution, healthcare is accessible round the clock and making consultation easy through video and chat options.
It means telemedicine has revolutionized the healthcare industry. Here we have put down a list of top 10 telemedicine apps that makes remote healthcare services easy and fast.
Exhibiting Global Telemedicine App Market
Before jumping to the top 10 telemedicine apps, we should go through its market size and how it's gaining popularity across the globe. Below mentioned figures and facts will help you understand the telemedicine market in a better way.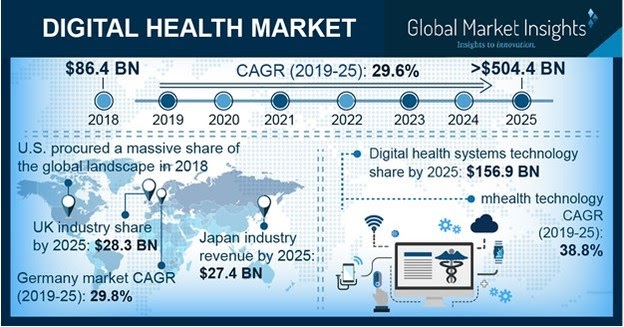 According to PR Newswire, the global digital health market is expected to reach $504.5 billion by 2025 because of the tremendous penetration of smartphones, tablets, and the Internet among patients allowing them to get world-class treatment without leaving their homes.
Furthermore, Statista predicts that the telemedicine app market size will grow and reach to $412.2 billion by 2021, as these apps are getting massive attention among patients, doctors, and medical professionals.
From 2016-2023 the digital healthcare market is projected to rise at a CAGR of 16.8 %, and more than 75% of patients are comfortable using it as it saves their time and enables them to get the best treatment at their home.
Best Telemedicine Apps In The Palm Of Your Hands Connects You With Best Doctors
Consulting with a doctor online is becoming a popular trend. More and more patients are looking for online solutions because it allows they to get world-class healthcare services with ease. On the other side, doctors also use these apps to interact with patients through means for medical purposes as it allows patients to stay connected with doctors.
Moreover, at the time of emergency, patients now no longer need to wait for hours, telemedicine apps making it accessible to get healthcare treatment round the clock. Here we have presented the best telemedicine apps, so let's get over to that.
Doctor on Demand
This US-based technology startup is constantly working towards transforming the healthcare industry. Recently, they have received an investment of $74 million. Patients can get face-to-face consultation with a doctor, psychiatrist, or psychologist at very affordable rates. All the doctors listed in the app are licensed, and they can solve hundreds of critical health issues through video calling.
Amwell
Amwell is another best telemedicine app that should be on your phone for better healthcare assistance. Amwell comes with an impressive UI and an easy navigation system, so even older people can easily access it. Patients can easily connect with any doctor in a couple of minutes. Moreover, they have certified medical members who can instantly guide you no matter your suffering.
Once you download the app, search your medical provider, and choose the type of service. This service is available round the clock, so there is always someone to help you. Their extensive range of skilled doctors includes therapists, psychiatry, dermatologist, etc.
Teladoc
Teladoc lets you consult with a huge range of medical specialists virtually, faster, and for free. No matter what kind of medical issue the patient is facing, you only need to request a doctor, talk to them over video or audio call. Doctors will provide you a detailed prescription or give you medical advice that resolves your issue in no time.
Teladoc is a global player in virtual healthcare facilities, as it has been garnering lots of positive reviews from its patients.
Maple
Maple is a Canadian on-demand telemedicine app that has received a significant benchmark in a short time. Their main goal is to reduce waiting time and provide the best healthcare facility round the clock. Patients can request medical service by paying basic subscription fees (starts from $50).

Along with consultation, they also offer doorstep delivery of medicines and family healthcare plans.
LiveHealth
LiveHealth has an extensive range of qualified doctors to offer you; no matter if you are suffering from flu, fever, or any infections, this app lets you connect with the doctor for a better solution. liveHealth brings experienced doctors to you whenever you need them. All you need to sign up and choose the right doctor for your needs.

Lemonaid
Lemonaid is one of the popular telemedicine apps that offers a simple way to get diagnosis and treatment online. They charge $25 consultation fees; all you need to answer basic health questions. Once you are done with these, you will get a doctor within an hour through instant video consultation.

It provides healthcare assistance related to birth control, cholesterol, acid reflux, and many more. Patients can schedule an online doctor visit as per their convenience.
Babylon Health
Babylon is gaining popularity in the UK and the USA as it is an AI doctor. It provides medical consultation through AI and a deep learning system that guides patients to healthcare services. Moreover, they also provide face to face appointments and personalized healthcare guidance 24/7.

Babylon health is unique as its AI bot helps users respond to messages to figure out their medical condition and offer suggestions on what should be done. Babylon is a collection of scientists, doctors, and medical professionals who guide AI and medical services.
TalkSpace
TalkSpace makes online consultation easy and smooth. They offer online therapy and counseling with more than 1000+ licensed therapists on board. TalkSpace is a simple and cost-effective way to work towards improving your mental health. If patients go with a subscription plan, they can send unlimited texts, audio, picture, and video calls at any time to their therapist.

Furthermore, flexibility in the pricing structure and top-notch encryption keeps the conversation and other patient's data safe and secure.
PlushCare
PlushCare telemedicine covers a wide spectrum of patient problems such as routine skincare problems, throat issues, sinus infections, diabetes, thyroid, etc. Patients only need to pay fees per visit; they don't charge any hidden cost related to subscription or any other expenses.

Users have to pay $99 per visit without insurance coverage. If doctors want to sell their services, they have to follow the simple process of applying online.
Pager
Pager is a NewYork based telemedicine app that is simplifying healthcare for all. Using the Pager app, one can get instant advice from doctors and nurses. It also connects doctors and patients in their vicinity. Their ML and AI-based messaging platforms help in delivering effective and accurate advice by analyzing huge volumes of data.
How Much Does It Cost To Build On-demand Telemedicine App
Undoubtedly, we are living in a digital society, and telemedicine apps have huge potential. A telemedicine app is a cost-effective solution for doctors because rather than investing huge capital in building a clinic, you could develop an on-demand telemedicine app that would be used to reach out to a number of patients at a lower cost.
A good telemedicine app comprises lots of modern features and functionalities. Also, the cost of creating a telemedicine app depends on the features you want to integrate and the functionalities you choose in your app.
If you want to know the exact cost of developing a telemedicine app, you should hire a trusted on-demand application development firm that will guide what should opt for and what will be good for your medical business.
Avail Instant Medical Treatment With Telemedicine Apps
Telemedicine apps are gaining immense popularity and becoming an alternative to in-person doctor visits. The technology provides the best way to improve access to healthcare issues and deliver an instant solution without stepping out of their homes. Telemedicine apps are filling the gap between doctors and patients as it addresses all types of issues digitally.
As we discussed a lot about telemedicine apps and their benefits. If you want to develop an on-demand telemedicine app, contact us right now! You will get instant support from our team of experts.