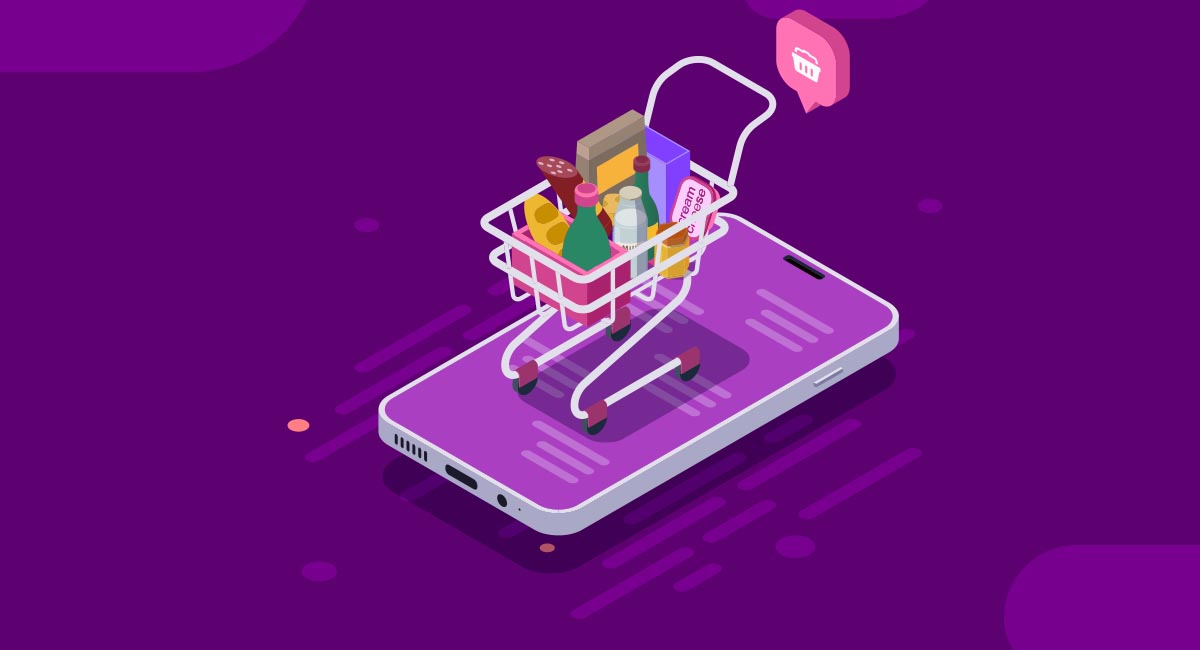 Due to the expansiveness of traveling cost and landscape, online delivery is a way to go. Now customers prefer to get everything delivered at their home with a few clicks on their smartphone, including grocery delivery. Presently they don't have to make time-consuming trips to the supermarket; all they need is access to a grocery delivery app like Ocado. Check how Ocado helps customers to get their to-do list completed efficiently, also explore the reasons that justify why the Ocado clone is a perfect match for your grocery delivery business.
The COVID 19 pandemic is undoubtedly thrusting the online grocery into the spotlight in the U.S. alone. Some of the key players have emerged at the peak of the delivery market. Grocery delivery business that successfully kept those shoppers for the foreseeable future. It's found that more than 75% of online grocery buyers shopped with their online provider. Hence it wouldn't be wrong if it's said that the grocers that meet the customers' needs will likely lead the industry even after its subsidies.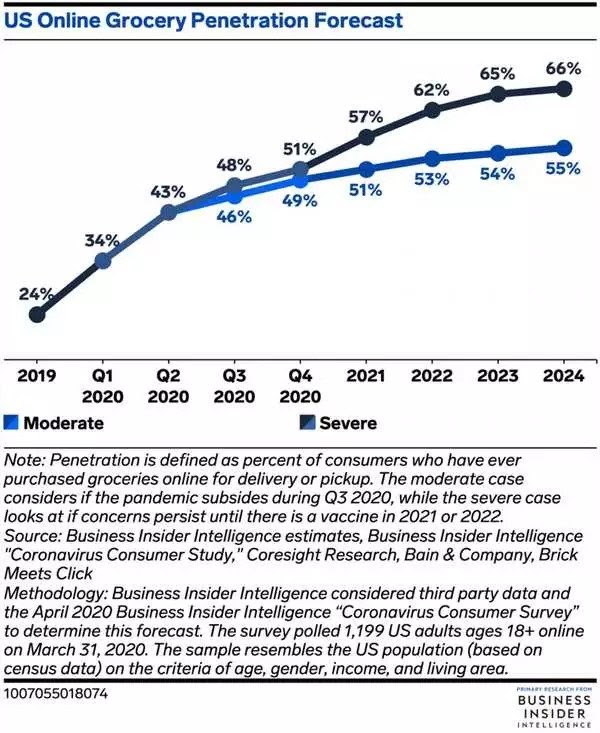 Image: Business Insider
Food eCommerce revenue increased and reached 15 billion U.S. dollars in 2020. The number is forecasted to surpass the 20 billion thresholds by the end of 2023. As of 2019, more than 52% of grocery stores in the U.S. stores were offering home deliveries along with grocery delivery pickup services.
Additionally, around 25% of businesses are thinking of integrating online grocery services in their offerings in the upcoming year. Hence if you plan to launch an advanced delivery solution, Elluminati Inc is here to help you out with the complete development process. Excellently crafted solutions will help you cater to all the customers' needs accurately; it also allows you to manage and control each activity accurately.
What is Ocado Clone?
Ocado clone is a perfect mobility solution that allows conventional grocery business owners to automate their operations in no time. From managing customers to stores to delivery providers, it is one of the advanced platforms that offer comfort and flexibility to your users along with the digital menu, multiple payment options, and real-time tracking features.
Success Story of Ocado to Have a Look into!
Ocado is a British supermarket that describes itself as the largest dedicated grocery retailer. Compared to its competitors, it has no chain of stores available to complete home deliveries from the warehouses efficiently. The online delivery platform was floated on the London Stock Exchange in 2010 and has secured its top place as a member of the FTSE 100 Index.
Founded in April 2000 by Jason Gissing, Tim Steiner, and Jonathan Faiman, Ocado is a popular L.M. Solutions. Ocado later partnered with Waitrose; later in 2001, the company upgraded its name to Ocado Limited. Later in 2002, it started its commercial service. In 2010, the John Lewis Partnership entered into a ten-year branding and supply agreement with the top grocery delivery company. And in February, the John Lewis pension fund sold off its entire Ocado shareholding.
In 2009, Ocado launched its app for iPhone users; the mobile app was known as 'Ocado on the Go,' which allowed the users to shop the groceries without the need for desktops. Later in 2010, Ocado extended the app for the Android device users, and during 2015, the company launched its first app for Apple Watch.
Ocado started the Ocado Smart Platform in 2015, its software for operating retail stores online. In 2017, Ocado launched an Alexa app for grocery shopping that allows shoppers to add products to the basket or existing Ocado order through voice command.
In 2018, Ocado sealed a new international tie-up with Canadian supermarket chain Sobeys. In 2018, the grocery delivery giant dealt with Kroger, the U.S. retail company, to make up 20+ Customer Fulfillment Centres (CFCs) with Ocado's automated technologies.
In 2019, Ocado and Marks and Spencer (M&S) announced a Joint Venture; the company agreed to a 750 million deal and acquired around 50% share in Ocado's U.K. retail business. In June 2019, the company intended to use robotic packers to handle its stock, using technology developed in partnership with SOMA, the Soft Manipulation consortium.
Ocado warned of delays in march 2020 as customers were purchasing large orders amid reports of panic-purchase across the U.K. The company announced that it suspended its service on 18 March, citing higher demand for grocery deliveries than it could meet. On 29 March, Ocado announced that they spent £1.5 million on ordering 100,000 COVID-19 testing kits for the staff, aiming to keep its business offering flowing.
Ocado Business Model: How it Ensures to Deliver Your To-Do List Perfectly?
Ocado follows an OSP modular that includes delivery solutions and automated online retail fulfillment. Staying modular, the company is highly scalable and poses the capability of staying flexible to each need. The company is always trying to develop its current and future solution to ensure fantastic customer service offering to end-users.
OSPmodule enables a company with a vast opportunity to proceed to disrupt retail markets globally while satisfying the changing needs of consumers efficiently. The company mainly believes in leading end-to-end eCommerce solutions globally for consumer experience and operational economics. OSP helps the company to leverage sustained and real competitive advantages at the same time. If you want to start your grocery delivery business, then explore a complete guide to create a grocery delivery business online without any hassle.
The business model helps the company to complete the grocery orders efficiently in your pajamas! It allows you to offer convenience to your customers, helping them access the market's colossal junk in no time. In the U.K. alone, it's no longer a rarity to Ocado's grocery delivery service. The itinerant advert for the oranges, apples, raspberries, and other items promises to deliver straight away to their doorsteps.
Ocado Revenue Model: Know How Grocery Delivery Giant Makes Money?
Ocado predicted that the shift to online grocery delivery would continue to increase during the COVID 19 outbreak. The company has 1 million people on a waiting list for U.K. grocery delivery services. The company follows a unique revenue generation approach to make money. If you invest in an e-delivery solution, then you can consider different revenue approach to generate revenue; this includes:
Subscription Fees
Advertising Charges
Delivery Fees
Commission
There are many ways to generate money from the delivery solution. However, it becomes essential for you to generate money by implementing the right revenue generation approach for your delivery business.
How Much it Cost to Build an Ocado Clone App?
Significant features play a vital role when it comes to investing in the Ocado clone app. The factors which may affect the development cost includes:
App size
Platform selection
Basic features
App developers
App design
Payment gateway selection
Advanced features
If you are looking to develop an Ocado clone app, contact our team to get all your answers. Leverage outstanding development supports that also at a pocket-friendly price right away. We include all essential modules and features required for your delivery business in the tech stack. Check the complete list of features right away to know how it helps meet the growing market demand.
Why is the Ocado Clone Script Perfect Match for Your Grocery Delivery Business?
The report shows that the United States (U.S.) ranks third in the most extensive online grocery markets globally. It stands on the top with $23.9 billion in 2018, behind Japan and China. The number is estimated to grow at a CAGR of 20.0% to $59.5 billion by the end of 2023.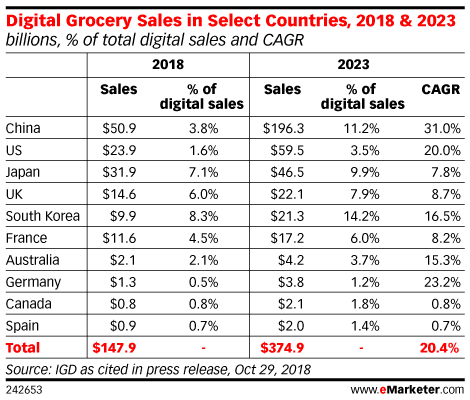 Image: E Marketer
Channel share will increase from 1.6% to 3.5% in the same timeframe, which is still comparatively moderate compared to Asia markets. The growth is driven by a rise in grocery delivery correlated omnichannel offerings, such as pickup points in-store, kiosks, drive-thrus, and the rise of third-party delivery and meal kits services like Shipt, Instacart, or any other. Likewise, any size of the grocery mart can start with a grocery delivery app expanding business to with multiple channels.
There are numerous benefits that you can leverage by considering to build an app like Ocado; these advantages include:
24*7 Availability
Order tracking
Attractive discounts and offers
Know customer reviews
Secure payment options
Efficient
Ocado Delivery Business Have Long Way to Go: Explore How?
A platform such as Ocado is a smart choice for operating a business online. Ocado's software and hardware ensure your grocery delivery business expansion in today's market. It's a side-step from being a global technology provider that has planted analysts' predictions of a £100 share price by the end of 2030. Ocado has attracted many investors, including the supermarket chains:
Group Casino (France);
Morrisons (U.K.);
Kroger (USA),
Bon Preu (Spain),
ICA (Sweden);
Sobeys (Canada).
The grocery industry's future is flourishing, and it's the right time to step ahead and build an advanced platform that helps you achieve success in a short time. Plan to invest in an app like Ocado as it allows you to scale up your business in no time. Make sure that your advanced solution follows adequate flow helping the customers to leverage superb experience throughout. Check the e-delivery app graphical visual to offer your customers a fantastic experience.
Online grocery shopping app helps the customers to purchase most conveniently with the help of their smartphone. The platform has solved all the issues related to grocery purchases by simplifying the process for the users. Hence if you want to stay on the top, then build the best solution that guarantees your business success in no time.