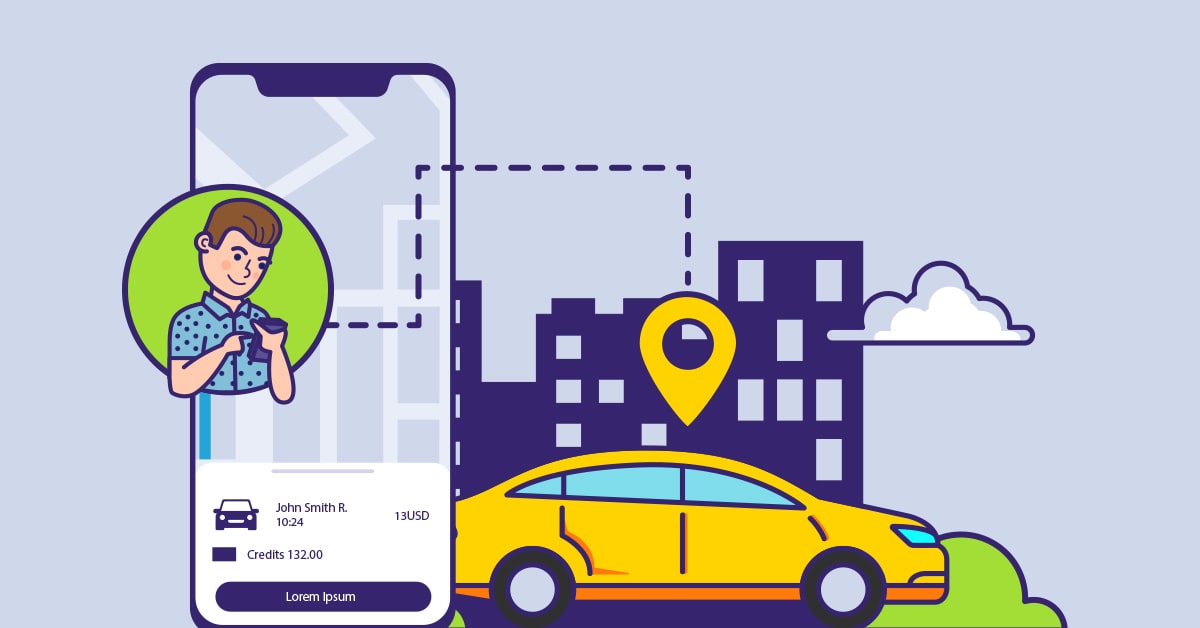 Today, the on-demand taxi business is mushrooming and many investors are willing to invest their funds in this business.
On-demand ride-hailing apps
are just a screen touch away. If you want to establish your next successful online fleet business, then explore this blog about the taxi and ground transportation hailing app in southeast asia.Whether you book a Lyft in Los Angeles, Ola In India, or Grab in Singapore, online taxi booking apps have changed the transportation landscape across the world. Uber has disrupted the transport market as it operates in 65 countries and more than 700 countries worldwide.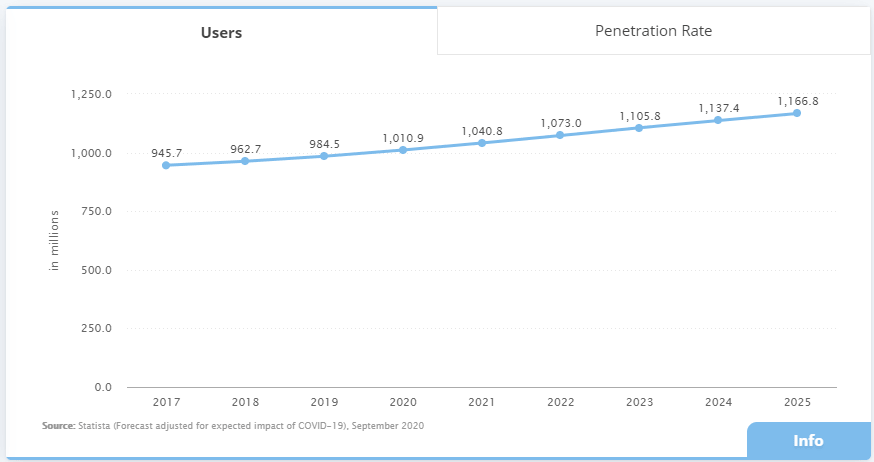 Asia If we focus on Southeast Asia, these cab booking apps are still a niche experience for urban citizens, but these apps give a glimpse into the future. For their regular commuting, more and more people are using online taxi apps and their penetration is 23.1% in 2020, it is estimated to reach 25.8% by 2025.
(Source)
Rise Of Taxi and Ground Transportation Booking App In Southeast Asia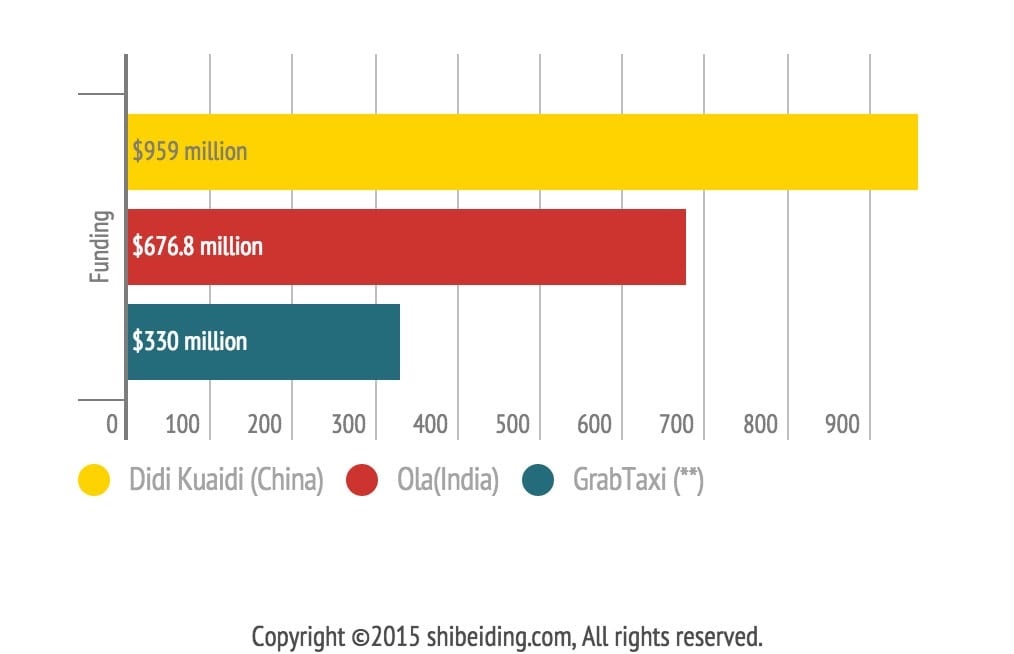 The above image clearly shows how different apps are popular in their local area. Almost every city has its own taxi booking app. Furthermore, the global market for online taxi applications is increasing as technology evolves.
The taxi booking app is the newest wave in the transportation market. These apps are shaking up cities, countries, and entire fleet culture. It's not just Uber that is popular- there are lots of other apps similar to Uber that facilitate customers to book rides without any hassle. After getting inspired by the major success of Uber and other similar apps, many entrepreneurs are stepping into online business. If you are one of those same and feeling intimidated, watch the demo of Eber and you will be amazed how other relevant steps fall in place quickly. The ride-sharing market is growing rapidly in Asia at a CAGR of 19.87% to reach a market size of $217 billion by 2025. The major drivers behind the success of on-demand taxi apps include the growing need for personal mobility especially during the pandemic and growing internet and smartphone penetration to perform regular activities.In Asia, Uber and DiDi are dominant players in the online cab booking market. Both companies have a strong user base and are always trying to achieve the top positions in the ride-sharing market. Here we have compiled the top ten ride-hailing apps in Southeast Asia with some facts and figures. Let's have a look.
Uber
Uber is considered as one of the first ride-sharing apps across the globe. Even many transportation companies are copying the Uber business model in order to upscale their local fleet business. Uber has a monthly 55 million active users and more than 5 million drivers are associated with it.For global expansion, Uber sought to exploit its app in Southeast Asia. Due to intense competition in the Asia Pacific region, the company has decided to hand over its major stack to Grab. Today, 8 countries such as Cambodia, Indonesia, Myanmar, Singapore, Thailand, Vietnam, and the Philippines operated by Grab.
Grab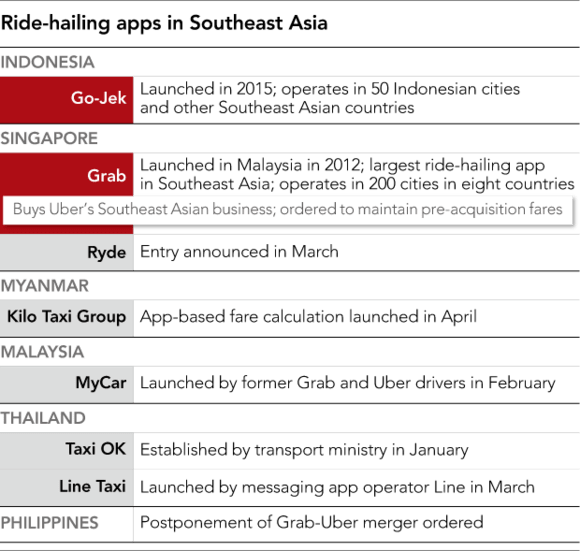 Grab was established as an online cab booking app in Malaysia in 2012, now serving in nearly 200 cities in eight Southeast Asian countries. Uber and Grab entered into the same market and both services have gained immense popularity in the market.Moreover, in 2016, Grab launched the GrabPay payment service so that users can make payments to other merchants easily. As per the report released by Google, the ride-hailing sector will hit the mark of $30 billion by 2025 and service will be expanded to more than 500 cities of Southeast Asia.Grab is Vietnam's most installed online taxi booking app since January 2020 and it is a dominant player after integrating Uber's operations. Grab has also increased driver's pay by 15-20% recently.
Oway Ride
Oway Ride was launched in 2016, in Myanmar. It is one of the best rides-sharing apps that is accelerating its growth and offering real-time transport solutions to commuters of the Yangona and Burma regions.Oway Ride comes with an Android and iOS app and has 80,000 active users on its platform. Customers can easily book or schedule a ride at their fingertips and the taxi within the area reaches in a few minutes.
Lyft
The USA based startup-Lyft has made its way in Southeast Asia. Lyft has 30 million riders and more than 2 million drivers across the USA and Canada. Lyft operates in more than 300 cities and also offers scooter and bike rental options.Lyft has also partnered with Ola and GrabTaxi. It means users of the Ola and GrabTaxi will have access to Lyft when visiting the USA or Canada and can access the app in their native language and pay with their local currencies. This will definitely build brand awareness in the Asian market without investing a hefty cost.
Didi Dache
Didi Dache is China's most successful ridesharing app with English and Mandarin language. Along with China, Didi services six cities in Australia.Later to make it more successful, Didi Dache is integrated into the popular messaging app WeChat so that WeChat users can find a taxi within cities, book it and even pay via WeChat payments. Today, the app is being used to book five million rides per day and comes with Android and iOS applications.
Easy Taxi
Easy Taxi is a Brazil-based ridesharing application available in 30 countries and more than 420 cities. It has more than 17 million active users that connect taxi drivers and customers to experience a fast, smooth and safe ride using few clicks.
Interested in Automatize Your Business at Scale?
Let us Take an In-charge, See How
Go-Jek
Go-Jek specializes in on-demand taxi booking services. Go-Jek operates in five countries including Singapore, Vietnam, Thailand, and Cambodia. Indonesia's unicorn startup focuses on taxis and other services. Along with online taxi booking, Go-Jek also offers services like food and grocery ordering, beauty and salon services, and many more.It was started up by Indonesian developers and now has 250000 taxi drivers. Users can easily book a ride as per their requirements. Go-Jek is available for both platforms Android and iOS.
Blue Bird
Blue Bird is a popular Indonesian startup that has gained status as the most reliable taxi app in Indonesia. Users can book the taxi from the Blue Bird app they provide that comes with extraordinary features such as multiple payment systems, real-time tracking, and many more.Blue Bird is new to the market but making some ground with its app that lets riders book a car and track its arrival in real-time.
Ola
Ola is one of the popular ride-sharing apps in India. Its service includes all the major cities of India including Mumbai, Hyderabad, Banglore, Delhi, and many more. Ola operates in more than 100 cities with 9000 registered vehicles in its network.From premium Limos to the sedan, Ola allows customers to book a ride from an extensive range of vehicles. Ola provides a simple way to book a cab right from your smartphone. It is one of the biggest taxi companies and purchased TaxiForSure, other popular ride-hailing services in India.
Line Taxi
Line Taxi was launched in Japan and now serves more than 90 cities across Southeast Asia. Lime Taxi offers metered cabs and was launched at the start of 2015. This app comes in the Japanese language, not English. Hence, it is popular in Japan and a few other countries in Southeast Asia.
The Future Of Ground Transportation and Taxi Booking App Industry in Southeast Asia
All the above taxi booking and ground transportation apps come with unique and exciting features. All these apps are popular in Southeast Asia's countries where they serve their best services. Hence, more and more business owners are revamping their existing fleet business and thinking to develop an app like Uber to meet the demand of consumers.Every region has its ride-hailing apps, if you want to expand your transportation business beyond your country and want to build an app for business, contact us to get a consultation from our experts and make a name in the ridesharing industry.