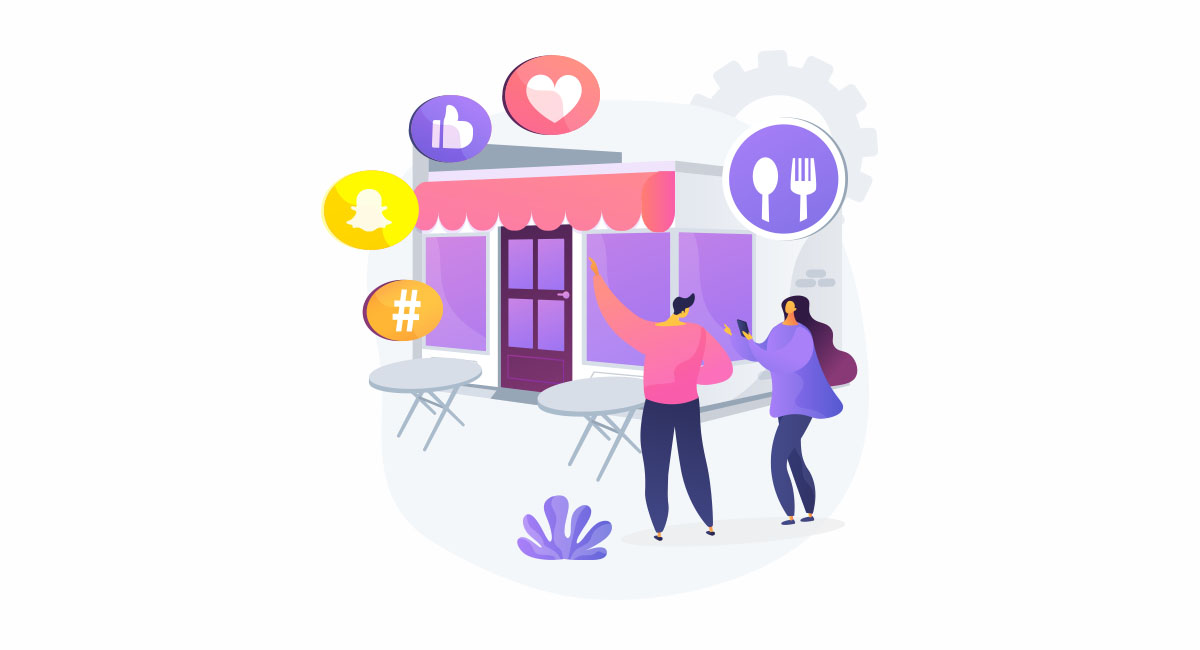 Seeking ways for your restaurant to attract more diners, increase sales, and loyalty? Consider Snapchat marketing for restaurant in your social media BUCKET. Facebook, Instagram, Twitter, all are powerful social media networks that have captured the entrepreneur's attention to promote their products and services. Well, the restaurant industry is no exception; they are also trying all the modern techniques to promote and expand their business.
No doubt, Facebook and Instagram may grab a large portion of the restaurant promotion marketing, but for those who have not considered the Snapchat app, this is the right time to do so since Snapchat now has more than 300 million active users monthly and one of the favorites among young diners. Moreover, restaurant owners can drive more traffic to their webpage, and it builds a strong brand personality.
Especially if you are new to the restaurant industry and want to take your social media strategy to the next level, consider Snapchat as it is a dream tool to reach a larger audience. Snapchat is a new marketing tool for marketers and businesses but has the potential to engage and attract new guests regularly.
In this guide, you will be fully equipped with all the information related to Snapchat marketing for restaurants, and you will be able to create the best social media marketing strategy for your restaurant business.
Let's get started.
Reasons Why You Should Consider Snapchat Marketing for Restaurant
There are numerous reasons why your restaurant business should invest in Snapchat for promotion purposes. Snapchat app is getting popular, and it has shown how Snapchat helps business owners to reach a larger audience.
What is Something different about Snapchat
Snapchat is a mobile-first app that has more than 185 million daily active users, many foodies using it to receive notifications from their favorite restaurants. Now you must be wondering what makes it different from Facebook and Instagram is the nature of its content- delicious snaps of dishes and behind the stories of chefs preparing ingredients for special events, Snapchat will surely help you drive walking traffic to your restaurant.
Want Proof?
The first snap Taco Bell uploaded on Snapchat was of Beefy Crunch Burrito, and it received 224 million views, and it happened on the same day of its launch.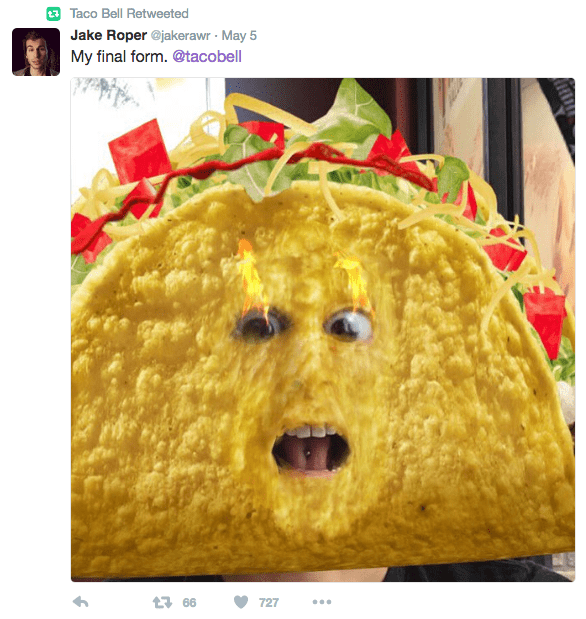 This figure helps you imagine how important Snapchat marketing is for your restaurant business. Source : Wallaoomedia.com
Here are some reasons mentioned below that help you understand why Snapchat is an essential platform for your restaurant business.
Less competitive
It's fun and engaging
It's a free marketing tool
Build brand authenticity
Reaching a new audience
Snapchat Marketing- Stats and Insights
Snapchat is one of the most-used social media platforms across the globe, and the majority of users are teens and millennials. It reaches over 90% of 15-24-year-olds and 75% of all 13-35 year olds in the United States and the UK.
It's a fun and interesting way to interact with customers, followers, and other community people. All you need to create exciting content and boost sales with a Snapchat marketing strategy.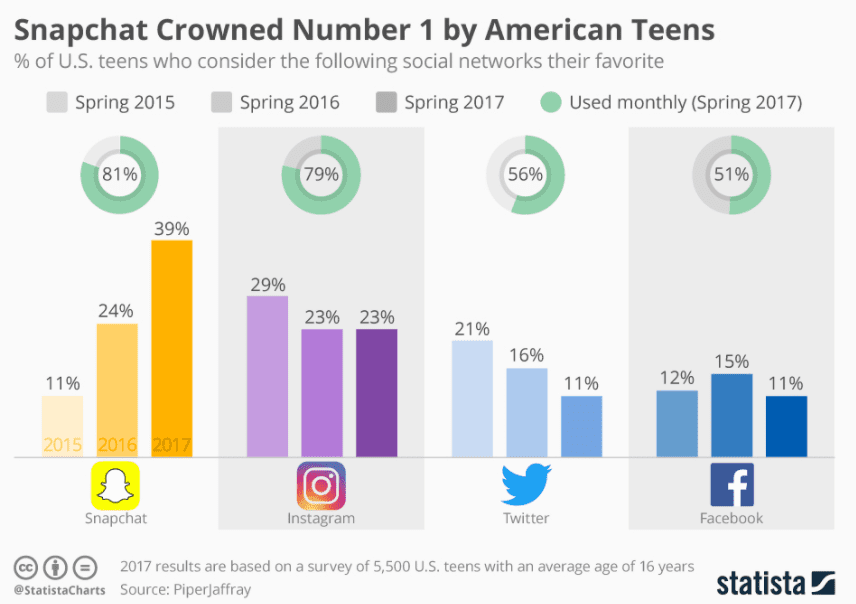 Here are some enticing stats and insights you need to know about Snapchat before you craft a Snapchat marketing strategy for your restaurant business. (source)
Monthly active users: 350 million+
Daily active users: 250 million
Most active regions: USA and Canada with 100 million daily users
Number of Daily Video views: over 18 billion
18% of all US social media users interact with Snapchat
Snapchat has more users than Twitter and LinkedIn
In 2018, over 28% of marketers used Snapchat for marketing purposes, and more than 65% of marketers have a Snapchat account. The above stats and figures will surely help you understand why Snapchat is important for your restaurant business and how the majority of marketers are taking advantage of it to grow their business.
How to Get Started With Snapchat Marketing
If your restaurant's target audience is teens and young adults, then Snapchat marketing might be the best way to go, simply because these generations are more active on Snapchat and there is no harm to try it for marketing purposes. Above, we have explained some of the important reasons why Snapchat marketing can be a critical tactic for your restaurant's growth; now it's time to understand how to promote the restaurant business on Snapchat.
Set up a Snapchat Business Account
Just dive in! You will need to download Snapchat from Play Store or App Store for your business. You are using this account for business promotion so you will need to create a Snapchat business account. Irrespective of the size and business type, you are advised to use Snapchat Business Account as it offers several more modern features than a regular account.
Once you create a Snapchat business account, you will have a URL; you can share this URL anywhere you are online, whether on social media, website, app, your email signature, etc.
As we have said earlier, Snapchat Business Account offers some important features such as:
Leveraging paid advertising through its Ads manager
Craft advertising based on age and other important demographics
You can also create location-based advertising to reach an audience in a specific region.
You are also advised to fill out the necessary restaurant's information such as name, contact details, country name, etc.
Create a Geofilters
Once you have created a Snapchat Business Account, the second step is to create a geofilter for your restaurant. A geofilter is a graphic overlay that users can add to their posts to display the restaurant location they are visiting.
Geofilters are unique lenses or banners that can be used by users in specific locations. For instance, you are running a fast-food restaurant; you could design a specific geofilter that customers can use on their Snapchat posts when they visit your restaurant.
By creating custom geofilters for your restaurant, you will get great exposure and delight your customers. Moreover, you can also edit this filter with a logo and other unique elements.
Create Snapchat Stories
Snapchat story features let you create funny and engaging stories or conversation that will remain active for 24 hours and then disappear. This is the best feature, and this could be the reason behind its success. Through the Snapchat Story feature, you can create sharable content for your audience.
You can also create a campaign where you tag your regular customers. For instance, you can decide one day when you only post pictures of your regular customers who have ordered a meal through an online ordering and delivery system and gave positive reviews and ratings. This will build trust and encourage other diners to order the same dish. Eventually, it will boost sales and foster customer loyalty.
Patrons will appreciate the highlighted dish; you can also ask users to share their experiences and what makes them tempted to order that particular dish again and again.
Feature Your Followers
The more fan following you have, the more exposure you will get. Let's understand it with an example.
We all know that social media is all about engaging customers and promoting your business without any geolocation barrier.A popular online food delivery app named GrubHub launched its first Snapchat campaign in the year 2013. They feature their own content, stories collected from users, and promotions.
As a result, GrubHub's fan following increased after the first launch of its giveaway.
Moral of the Story: Your Snapchat feed should not be too self-serving. Make your feed engaging with your followers, offer them value, and connect with them in a personalized way.
Coupon and Promotion
Some restaurants launch coupons and contests through their Snapchat accounts. This is the best way to attract current and potential customers as they will get excited about the brand and share their own stories.
You can leverage this feature to encourage your customers to snap a picture of themselves at your restaurant or post a picture of your popular dish, later offer them a discount coupon they are able to use for the next visit. It is the best social sharing method to increase customer retention ratio while letting them broadcast about your restaurant.
If you want to attract more eyeballs and stimulate curiosity, you can also post a snap using the "limited edition", "hurry up", etc. kind of promotion. It will keep users connected with the restaurant account, and you will gain more customers.
Supercharge Your Restaurant's Social Media Marketing Strategy With Snapchat
You have now enough understanding of the best practices for Snapchat marketing for the restaurant and why it is so critical for your business. In a nutshell, Snapchat marketing strategies mostly depends on:
The business needs
Types of conversion and engagement you seek
And your target audience ( as we have said teens and young adults mostly use Snapchat)
As you can see, Snapchat marketing allows your restaurant's brand to shine with amazing pictures, short videos, and a showcase of the people behind your kitchen.
So, 250 million daily users of Snapchat are thinking and waiting to be offered a mouth-watering deal from your restaurant. Don't check their passions and hurry up with Snapchat marketing practices.