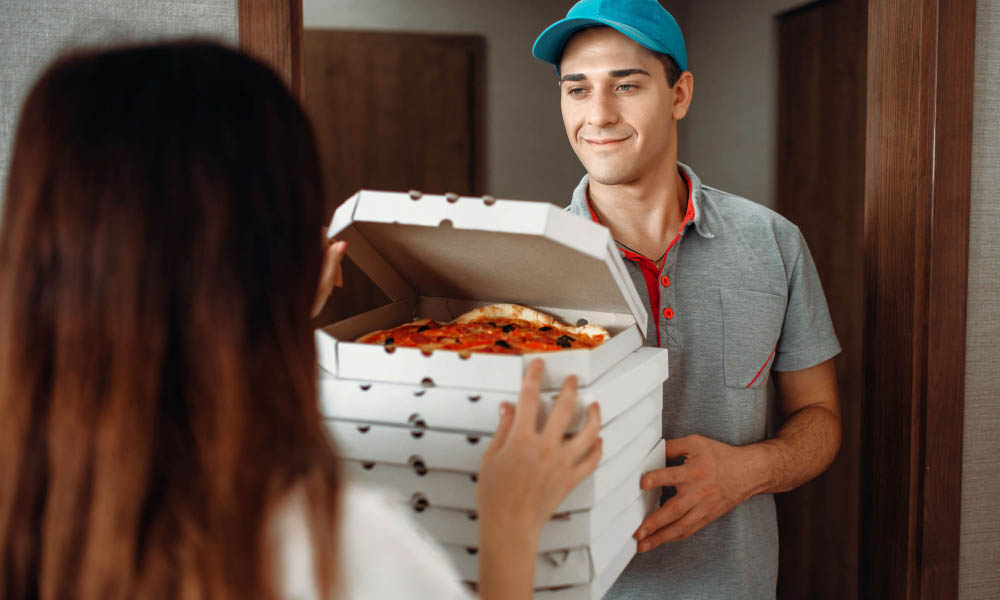 The on-demand delivery business is booming exponentially during the Covid-19 outbreak. Most people avoid going out of their homes these days; they love to stay at home and enjoy their favorite pizza with a single tap on their smartphone. It has given an increase in online food ordering and delivery business. Hence, many companies are investing their money on Pizza.de clone as it helps them to cater to all the requirements of food and pizza lovers accurately. Explore the article to know everything about Pizza.de, its business, and revenue model right away.
The food delivery industry is an ever-evolving business that remains. Customers spend a vast amount in the quick-service restaurant pizza category; the spending increased by 37.8 billion U.S. dollars in 2019. The sales in the carryout segment are estimated to reach around 51%. Consumer spending in the meal delivery segment is increasing during the last few years. In contrast, drive-through, dine-in, and others accounted for about 17% at the same time.
People are always looking for food delivery and ordering apps to order mouth-watering dishes. Hence, starting a meal delivery business with a perfect delivery business model can prove as a beneficial option. You can consider delivering mouth-watering pizza to customers to generate more revenue.
Statista's report shows that the consumer spending on pizza delivery in the U.S. alone is estimated to reach around 11 billion U.S. dollars in 2019, the highest figure was measured during 2007. The Pizza delivery business is reported its most enormous year-on-year growth, increasing by 1.2 billion U.S. dollars during 2018 and 2019.
What is Pizza.de? Facts You Should Know About
Pizza.de is the latest mobility solution that enables food lovers to order their favorite from more than 11,000 restaurants online. Platform users can enter their zip code and select any delivery services from the list of available ones. With a few clicks of the button, customers can easily view different restaurants' menus directly and have their entire order completed instantly.
At the end of the customer can either choose to pay online using various payment methods such as credit card, Google pay, PayPal, or prefer to pay the order amount through cash payment. The customers can order pizza while they are on the way home and get it picked by Themselves to enjoy it at their home's comfort with a pick-up order option.
How Lieferando.de is Going Beyond the Italian Pizza in Berlin
Pizza.de is one of the most favorite food ordering and delivery service apps in Berlin. The platform offers food lovers a wide variety of filters; they can search for their favorite restaurant as per ratings, costs, etc. Like other delivery apps, you can pay the order amount through cash or online payment option, including credit card, PayPal, etc.; Pizza.de is one of the oldest players in the online meal delivery and ordering business market.
Takeaway acquired Lieferand and raised €73 million from Prime Ventures, including Macquarie Capital and the originators of Lieferando. The combo of Lieferservice.de and Lieferando.de provides quick access to the largest restaurant chain with over 10,000 delivery restaurants.
The company completes around 600,000 meal orders per month by combining the entity, making the platform one of the Germanys' leading platforms. The combo will process nearby 1.7 million orders every month for roughly 27,000 delivery restaurants.
With the acquisition, Takeaway.com became the largest food delivery website in Europe continental. More than 95% of the platform's orders are processed in 4 major markets, including Germany, Austria, Belgium, Holland, etc.
The acquisition of Lieferando includes Pyszne.pl, Lieferando's Polish subsidiary, benefiting both the platforms to a great extent. You can also enjoy outstanding benefits for your delivery business by investing in an all-in-one delivery business solution that helps you cater to every market demand accurately.
Pizza.de and Foodora Germany Migrated to Lieferando.de: Explore Everything Right Away!
Pizza.de and Foodora Germany transferred to Lieferando.de after the Takeaway acquisition. The company is the leading meal delivery platform in Europe continental. The company completed the migration of Pizza.de and Foodora to Lieferando.de on April 1, 2019, leading to an enhanced proposition for partner restaurants and consumers in Germany.
Following the migration, Lieferando.de combined various restaurants to the online delivery platform in Germany, ensuring to expand the variety of dishes and cuisines available to consumers through developing geographical spread and choice. The website has successfully migrated to Lieferando.de; as a result of the acquisition, the company is offering its delivery services in more than 39 German cities.
Pizza.de Business Model: Check to Know How the Platform Works?
There is no surprise that there are numerous pizza delivery options in Berlin, an exciting and vibrant city in Europe. Pizza lovers can find different pizzas; they can enjoy different styles and toppings as per their taste from various options available. Whether a Pizza lover is looking for classic, crispy, or thin style Italian pizza, they can enjoy it right away.
Additionally, they will love to try some less traditional but delicious pieces. Undoubtedly you will have a fantastic experience when you order pizza in Berlin. Pizza.de has improved the customer's experience to a great extent by enabling them to order mouth-watering and different pizza styles right away with a few clicks.
No matter which style of pizza you love to enjoy, you can order it through Pizza.de by downloading the app from the Apple app store or Google Play store. You can even browse for various options on its website; you need to follow a few simple streaming hot pizza or any other dishes right away at your home. These steps include:
Enter your address.
Choose the desired restaurant.
Choose side dishes and favorite pizza of your choice.
Select the payment option to make payment.
Get your food delivered at your doorsteps.
You can choose to pay in cash or any other convenient online option such as a credit card or PayPal account. Platform similar to Pizza.de also offers a live tracking option that enables you to check where your order has been reached and how long it will take to get to your doorsteps.
If you want to build a Pizza.de clone, it becomes vital for you to understand the tech stack's complete flow to create an effective one for your business. Check the e-delivery app graphical visuals' flow to know how the app works to offer you an excellent ordering and delivery experience.
Pizza.de Revenue Model: Learn to Generate High Revenue
Are you wondering about how Pizza.de brings massive revenue from its business operations? Then here is your answer. Pizza.de follows a great strategy to generate revenue. Some fundamental ways are using which Pizza.de is making money; explore the below list to know which are those:
Advertising

Subscription

Event Organization

Delivery Charges

Commission
If you want to achieve growth and success, just like the delivery giant, you can build an app similar to Pizza.de. Consider following the same revenue-generating strategy for your delivery business as it ensures to drive more money for your business, ensuring its expansion and success in a short time.
How Much it Cost to Build a Lieferando.de / Pizza.de Clone Script?
Multiple components can be incorporated to get an estimation of development costs for the Pizza.de clone. Usually, the cost of creating apps like Pizza.de depends on the functionalities and features included within it. You can come to Elluminati inc with all your business requirements to get the app crafted at a pocket-friendly price.
Your platform choice also affects the development cost to a great extent. Hence, make a smart decision between iOS and Android platforms, and consider the cost for app testing and launch cost. Thus choose the company that offers you continuous support for app development and successfully helps you launch it in the market.
Why Focus on Developing Pizza.de Clone App?
The future scope of online pizza ordering and delivery systems is food delivery trends that made a few minor appearances during the present day. But it's forecasted that it will be modified and experience a drastic increase in the upcoming year. Numerous reasons justify why you need to invest in the Pizza.de clone. However, develop a pizza delivery platform that could resemble your business dimension and has growing channels. Know reasons to initiate an online pizza delivery business:
Provide customers with a visible and easily accessible menu

Offer options for delivery and takeaway to customers

Enables customers with real-time tracking facility

The user-centric solution helps you to offer a fantastic customer experience on-demand

Enhance customer base
There are many more reasons that show the benefit of crafting an app similar to Pizza.de for your delivery business. Get in touch to build an advanced delivery business solution and leverage the end number of advantages for your business right after. The tech stack will help you manage all business activities efficiently and cater to all customer requirements efficiently.
Growth Strategy of Pizza.de: Check How Delivery Giant Ensure Bright Future?
The meal delivery industry has emerged over the years, and so the Pizza.de platform. The platform has become more customer-oriented in recent years. Pizza.de focuses on more convenience and choices for the platform users to engage more of them and generate more money in no time. It enables customers to order their favorite and mouth-watering dish with a few simple taps. The requested item is delivered to the customer's location within a specific time, making it easier for customers to enjoy hot dishes hassle-free.