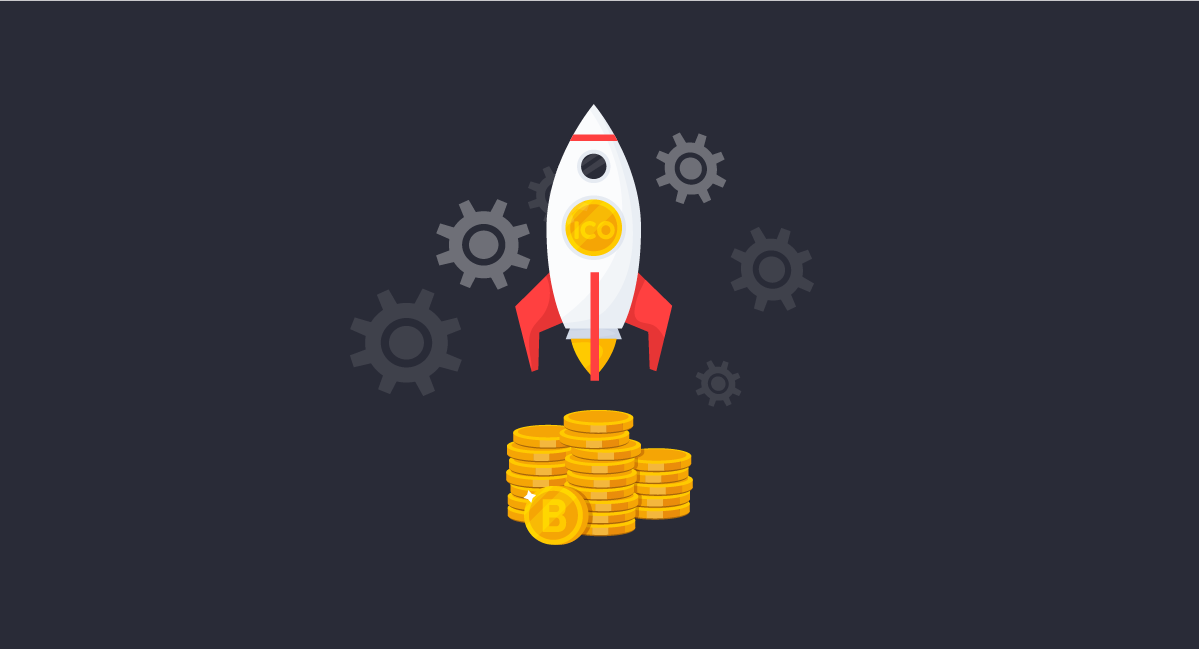 The world has been swept up in the cryptocurrency boom, just like other manic riches rushes in the past. A majority of business owners are keen to participate in the growing number of use-case scenarios for cryptocurrencies and blockchain technology. ICOs have increased as a result of the bitcoin industry's explosive expansion. Over 2.2 billion dollars were raised through ICOs in 2017 alone (up from USD 62.6 million in 2016). However, it's crucial to master certain fundamentals that will enable you to sail your boat before you hastily launch your ICO.
You need a lot of capital to succeed in business, whether it's new or established. Beyond getting this money from traditional lenders is difficult, especially for companies with nothing to show but a focused operating plan. You might use an Initial Coin Offering to obtain the projected amounts more quickly than using banks (ICO).
A new company called Banchor raised $153 in under three hours in June 2017.
EOS raised $4 billion in an additional ICO that has been dubbed the largest Initial Coin Offering between June 2017 and June 2018.
While there are many successful ICOs, many firms struggle to raise money because they need help knowing where to begin. This article provides a comprehensive how-to to launch an ICO and raise the money necessary for your firm to expand.
What Is an ICO? Take a Quick Look Here
One of the most well-liked ways to introduce a cryptocurrency project is through an Initial Coin Offering (ICO). A project can raise money from investors through an ICO by selling a percentage of its coins. Then, after the project debuts, investors can either cash out on their investment or wait on their coins until they generate an even greater return.
A limited number of tokens, which are distinctive digital assets that prove the buyer's ownership of a coin or their right to purchase the company's services, are sold to investors as part of ICOs to entice them to contribute money to the project.
The most recent data indicates that ICOs operate in more than 25 different businesses. The majority of interest is in the technology sector, but ICOs are also interested in industries like health, tourism, and energy. Shocked to know that? Have a look at the below image from Statista.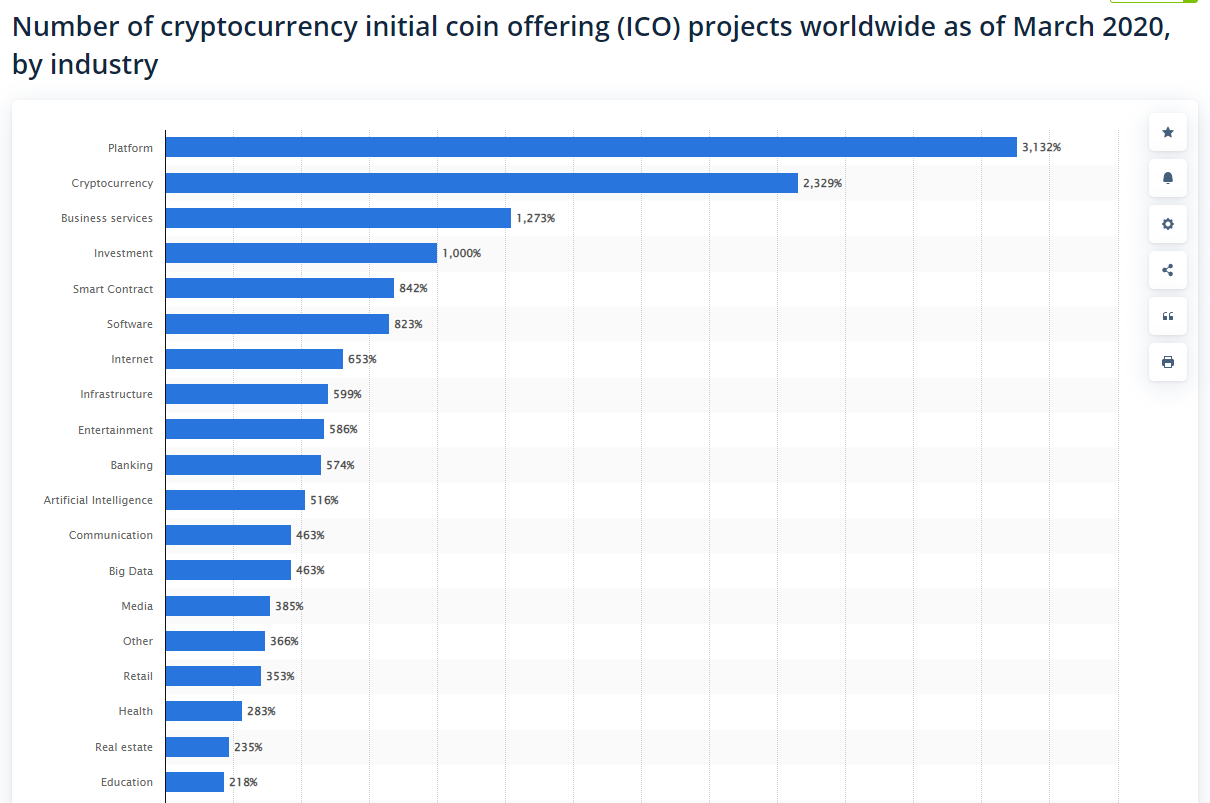 Source: Statista
A firm produces tokens or cryptocurrency and sells some of them to early backers in exchange for fiat money or other coins during an ICO. The early investors purchase the coins hoping their value will increase and provide a return on their investment (ROI). The following are some of the primary benefits of ICOs:
ICOs give startups a chance to raise money more quickly.
The money is raised without following the strict guidelines needed to obtain capital from traditional institutions.
Tokens can be bought on the open market by investors, who can then sell them when the coins are released and the price rises.
A Couple of Types of Initial Public Offerings (ICO)
While IPOs are by their nature public affairs, the same cannot be said of ICOs.
Some initiatives begin with a private ICO or pre-sale. A fraction of the coins is sold during these invite-only early fundraising rounds to fund the entire ICO. These resources could aid in the project's development and publicity. Additionally, certain coins might be reserved for post-ICO advertising activities.
Once you've decided to invest in a new ICO, you must know the many kinds of these offerings. There are currently two choices.
Here we are going to discuss them in detail.
Private ICO
Only a select group of investors may participate in private initial coin offerings. Private ICOs often limit participation to approved investors (financial institutions and high-net-worth people), while a business may impose a minimum investment threshold.
Public ICO
Initial coin offerings (ICOs) that are open to the public are a type of crowdfunding. Due to the fact that practically anyone can invest, the public offering has democratized investing. However, private ICOs are starting to look more appealing compared to public offers because of regulatory worries.
For instance, in 2017, Binance developed and launched the Binance Coin (BNB) through an ICO. However, only half of the 200 million coins that Binance produced overall were sold in a public ICO. At first, buyers could buy the coins using Ether or Bitcoin for roughly 11 cents apiece; as of late January 2022, it was trading for more than $400. After that, Angel investors and founders received the remaining coins.
Now you must have all the information about ICO and its various types. But how to launch an ICO successfully? Let's discuss this in our next section.
How to Create a Successful ICO? Follow These Primary Steps
A successful ICO launch involves a lot of moving elements, which is why many companies employ the aid of a marketing team. Launching a project is difficult, and there is stiff competition. However, since there aren't any strict guidelines to adhere to, everything is acceptable. Still, here we will mention some of the primary steps you need to follow for a smooth launch.
Market Research and Planning
Before commencing an ICO development, you must carefully assess market demand and create your company plan. It's also critical to think about how well your proposal will fit into the crypto ecosystem.
ICO development firm professionals are investigating the project's technological capabilities and possible benefits to investors and the general public. Therefore, presenting your concept on various platforms is a terrific idea if you are confident it will garner particular feedback and attract investors.
Drafting Whitepaper
Any ICO now must have a white paper because it gives potential investors confidence and a sense of credibility. See what you can do better by watching a crypto expert dissect a white paper.
Before contacting the crypto community, the first step is to display a white paper on your website prominently. Serious investors immediately look for a white paper with information on a product roadmap, the industry, competitive landscape, tokenomics, etc., as soon as they arrive on an ICO campaign website.
You must at least leave room in your white paper for the following information:
Problem and its solution
Market analysis
Detailed of your token economy
Team Overview
It typically requires 25 to 35 pages. Creating your whitepaper is ideal for striking a balance between technical and non-technical language.
Focus on Legal Work
Be prepared to deal with some legal issues as you get ready to begin your crowd sale. Blockchain and the cryptocurrency market are uncharted territories for modern lawyers; as a result, they need to be properly regulated and may face unforeseen difficulties. In addition, the terms blockchain, cryptocurrencies, initial coin offerings, tokens, etc., need to be clearly defined by modern legislation. Even though a few lawyers specialize in the blockchain sector, finding one will be very tough and expensive because there are so few of them.
We advise you to seek out a knowledgeable and inquiring attorney with experience in the following practice areas if you want to resolve legal matters:
Corporate information
Know your customers (KYC)
Anti-money laundering (AML)
Other laws and securities
Take Care of the Token Security
Put a lot of emphasis on security if you have studied crypto exchange architecture or tokens. To make it more difficult for hackers to access your tokens, ensure the blockchain hosting them supports encryption.
In order to make sure that everything runs smoothly, it is also essential to have a knowledgeable workforce that strictly adheres to the token. The team ought to be able to fix any anomalies that are found quickly.
Launch the Website and Market It
The importance of a website or homepage is equal to that of a whitepaper. An appealing and user-friendly website with informational content about the effort will make it possible to target the right clientele and open the door for demand development. An essential component of a thorough website is its interface's usability.
Building a strong network is crucial since it will allow your ICO to be seen by more people. Here are a few tried-and-true methods for promoting your initial coin offering. Look at these:
Well-known social media platforms such as Facebook, Twitter, and other
Use connected tools such as Telegram and WhatsApp
You can also spread the word on Reddit and Bitcoin community tools for better engagement
Examples of Successful Coin Offerings
At this time, cryptocurrencies cannot be avoided. Everyone is discussing various digital currencies, whether it is on social media, in business periodicals, or among that hipster at your neighborhood coffee shop.
Now that you have a clear idea of what an ICO is and how it operates, let's look at some of the most successful (and occasionally astounding) ICO outcomes from the last few years.
One of the original pioneers was Ethereum's ICO, which launched in 2014 with a price of roughly $0.31 and raised close to USD 18 million in just 42 days.
Bancor
A blockchain-based prediction market is called Bancor. With this project's help, cryptocurrency owners can create liquid tokens that can be converted into other tokens and gauge their own prices.
IOTA
A highly impressive sum at the time, IOTA's initial coin offering in late 2015 raised over USD 400,000 by selling a billion IOTA tokens.
The Final Take
By selling coins to the general public, ICOs enable the founders and teams of cryptocurrency projects to raise funds for their ventures. Investors receive coins in return, with the potential for significant value growth if the project is successful. You can raise money for your firm by following mentioned above processes to start an ICO.
For your ICO-related services contact us to hire ICO developers, as we have expert team that will provide optimized and scalable solutions per your business requirements.