What is Hugo? How Does Hugo App Clone Pave the Path to Business Success in Central America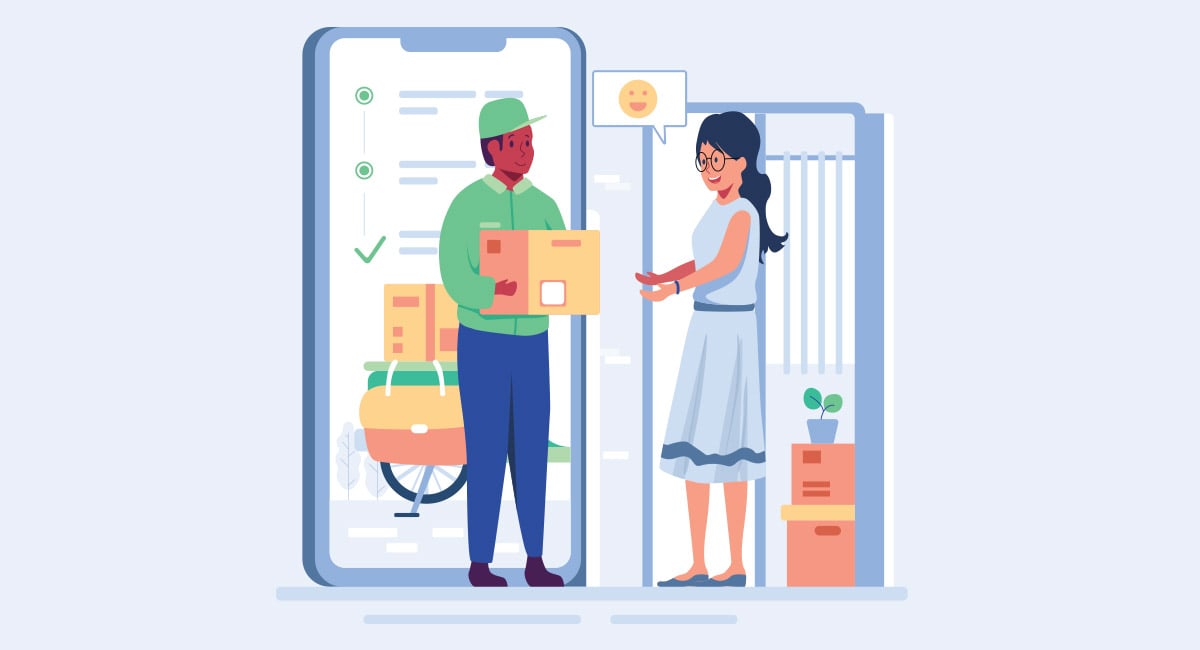 People these days have become digital nomads; whether they want to book a ride, order food, make payment online, or shop, their reliance on applications is increasing day by day. And why not? After all, it offers comfort, safety and saves money. Further, they don't want to surf multiple apps to get all things done; here, a technology trend has been brought- Super apps. Yes, there is a constant rise in the super apps as they improve user experience and enable people to perform multiple tasks within the same app. There are so many apps, but here we are going to discuss the Hugo App, which originated in Central America. Now you must be wondering how Hugo App got such a big success in much less time? Let's have a look at the business model of Huge, how the Hugo app works and makes profits.
Be it Asia, America, or European countries, people prefer to access multi-facility apps because from entertainment to doorstep delivery to riding to making online payments, they have all. Hence, the single platform app model makes sense and becomes an essential part of people where you can perform multiple tasks using a couple of clicks.
Entrepreneurs who earlier were skeptical about these kinds of apps are now taking an active interest in developing an app like Hugo as it offers an all-in-one experience to users saving phone space and time. On-demand startups are sprouting up in Latin and Central America to tap into this gig economy as people who need to access multiple services primarily rely on multi=facility apps.
So without further ado, let's discuss how Hugo makes a huge name in Latin and Central America, why the Hugo app clone platform encourages business owners to earn a double-digit profit, and how much it costs to develop an app similar to Hugo to provide the best possible user experience.
What is Hugo Clone? Cost-effective Option to Hit the Market
Hugo clone app is the digital platform allowing businesses to perform their delivery business online, developed with modern technology. The solution enhances the business revenues and allows it to grab a remarkable position in the on-demand market. Allow customers to browse menus, make payments, and track their orders in real-time as an app like Hugo is your road to success in the thriving delivery sector.
About Hugo, Facts and Establishment Details
Hugo is one kind of app platform that incorporates many features and functionalities, from ordering food to shopping to taxi booking to medicine ordering to grocery and financial services. Hugo offers a bunch of services where people can avail attractive deals, rewards and get things done in no time.
Brand Name: Hugo Technologies
Founder: Alejandro Argumedo
Founded in: October 2016
Headquarter: Central America, Latin America
Company status: Active
Industries: eCommerce and Delivery
Last Funding Type: Series A
Number of Employees: 251-500
Area Served: El Salvador, Honduras, Guatemala, Nicaragua, Jamaica, and the Dominican Republic
Website: https://www.hugoapp.com/
Revenue: $50 million for the year 2021 (according to Statista)
As mentioned earlier, the last-mile delivery market is booming across Latin and Central America, and Hugo holds on an average 90% of the market share in any country it has entered.
The company received initial funding for its series. A round was a whopping amount of $13.6 million.
Currently, the company has 3500 "Hugos"; you can call them delivery providers and more than 4500 vendors registered on the app.
There are numerous online grocery delivery apps operating in Latin America but the above facts and figures clearly say that Hugo has already made its name across America and is all set to disrupt the delivery apps market in El Salvador and different parts of Central America.
Hugo Services- Range of Services Delivers Amazing Customer Experience
Hugo Delivery
Customers can place orders from the best restaurants, stores, supermarkets, and pharmacies and get products delivered at their doorsteps in no time.
Hugo Shop
Order clothes, accessories, cosmetic products, electronic items, and much more with the Hugo shop app.
Hugo Pay
Pay digitally for your purchases and earn cashback on each transaction.
Hugo Auto
Make travel easy with Hugo Auto as it enables the customer to book a ride using a couple of clicks on their smartphones.
Real-time Tracking
Track your order and delivery providers in real-time and enjoy your doorstep delivery.
How Does Hugo Work?
Hugo app comes with multiple services on a single platform. Some of them include food delivery, grocery delivery, taxi bookings, and other on-demand services. Hugo app works differently for customers, vendors, and delivery providers, but here we are going to examine its workflow from customers' point of view.
Here's a step-by-step guide to understanding how Hugo works and how it makes it easy for customers to get various services.
Step 1: Search the services
Using the dedicated app and website, customers can browse multiple services and choose based on their requirements.
Step 2: Book the Service
There are multiple services such as house cleaning, food ordering, online payment, grocery ordering, and much more. Customers can select what they want and book the service based on their needs.
Step 3: Making Payment
Once the customer is ready to checkout, consumers are provided multiple secured and swift payment options to pay for the booked services.
Step 4: Tracking in Real-time
Whether a customer has ordered food, grocery or calls a handyman, he/she can check all the updates in real-time and track the delivery provider's status.
Step 5: Rating and Feedback
Based on the quality of the service, customers can rate the service and submit feedback that helps business owners to improve their services.
Hugo Business Model: Why It has Garnered Significant Interest in Investors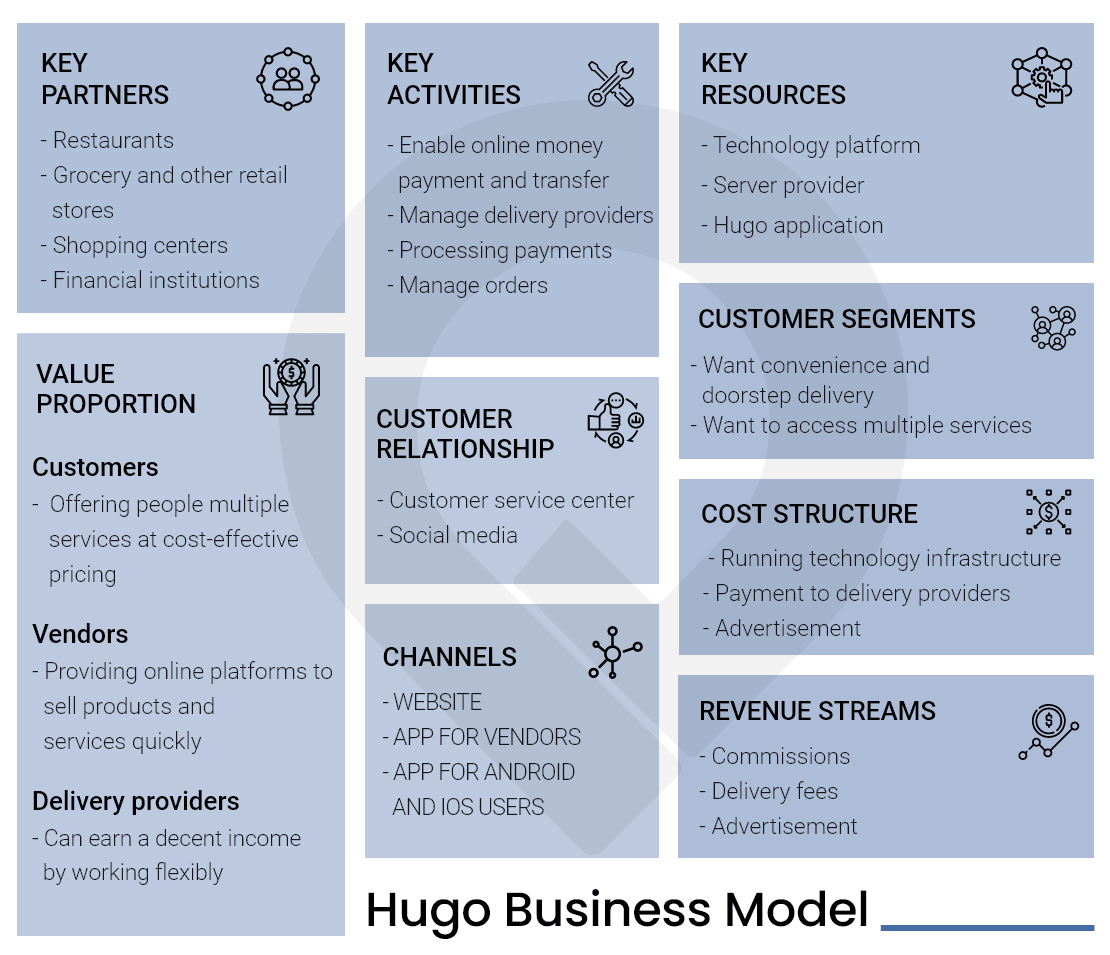 Hugo has remained at the forefront of innovation and offering amazing services to its customers across Central and Latin America. Well, the business model of Hugo is quite simple; as we know, Hugo is a multi-service platform, so it has different segments to cater to, i.e., customers, vendors or merchants, and delivery providers.
So let's understand in detail how Hugo works for different segments.
For Customers
People who are looking for different services under a single platform
People who want to enjoy services at discounted prices
People who want doorstep delivery of food, groceries, and medicines, and much more
People want an extensive range of choices
For Merchants
Merchants can take advantage of Hugo's popularity and sell their services online
It provides a strong user base
It adds value to your traditional business and boosts profitability
Ideal option for vendors who lack delivery providers and their own fleets
For Delivery Providers (Hugos)
Any individual can work flexibly and earn decent revenue
There are no rigid rules, Hugos can work as per their preferences
They can also earn money from delighted customers in the form of a tip
This is how various components of Hugo work together and keep operations smooth and hassle-free.
Revenue Model – How Does it Make money?
The revenue model of Hugo is quite impressive as it does not rely on single revenue sources. It earns huge revenue through its different activities that include,
Commission from Merchants
Several businesses sign up with Hugo to increase their customer base and order volume. In turn, Hugo charges a specific percentage of commission on each order and service that happens through an app.
Delivery Charges
If the customer's location is far from a specific area, the company charges additional delivery fees. Delivery charges also depend on high demand or unusual weather conditions.
Advertising
The company allows stores, restaurants, and merchants to show their listing above in exchange for some little charges. It works like a sponsored listing that popular directory websites do.
Get Continual Success in Gig Economy With Hugo Like Application
As digital tools gain momentum with 90% of enterprises adhering to them, the market is experiencing a new trend, called multi-facility apps. And this is the reason why an app like Hugo got popular in less time because it allows people to access multiple services under a single roof.
On the other hand, after witnessing the massive success of PayTM, WeChat, and other multi-facility apps, business owners are digging deeper to find ways to improve their business operations and are willing to have an advanced Hugo app clone as it attracts customers and allows them to get things within the single app. In short, an app similar to Hugo will rule the market in the coming decades.
But have you thought about why an app like Hugo has become so demanding and its popularity extends in all western and Asian countries? Check out the following reasons; you will come to know why the popularity of an app similar to Hugo increasing day by day,
Multiple services on a single platform
Cost-effective
Attractive offers
Multiple payment options
Saves phone space
And the list goes on. This is why entrepreneurs want to invest in apps like Hugo, as they provide benefits to business owners and customers while spending less.
So if you feel like an app like Hugo is something that you need to escalate your business, contact a reputed on-demand technology partner that can turn your creative ideas into reality.
What is the Exact Cost To Develop Hugo Clone App
In this digital world, mobilization is not an afterthought for any scale of businesses. Hence, business owners are implementing every technique to stay in the market and outdo the cut-throat competition. Making an app like Hugo is a time-consuming process; however, there are so many factors that need to be considered while calculating the basic Hugo clone app development cost, such as
App size
App design
Features and functions
App platform
Development team location
Technology stack
An app like Hugo has undoubtedly made people's lives comfortable as it was never before; this is why business owners are thinking of developing a Hugo clone app that fulfills the rising needs of modern customers. If you are new to the on-demand business sector but have a brilliant idea, contact us, we will help you launch your business hassle-free.
Craft Digital Experience for Your Customers with Hugo Clone Script Solution
Don't you agree with the fact that emerging technology businesses have begun to surpass conventional businesses? People also have started to alter their preferences, the world is going mobile, and people are finding convenient solutions to get things done. So it is the right time to have a Hugo clone app as it will offer a return beyond your imagination.