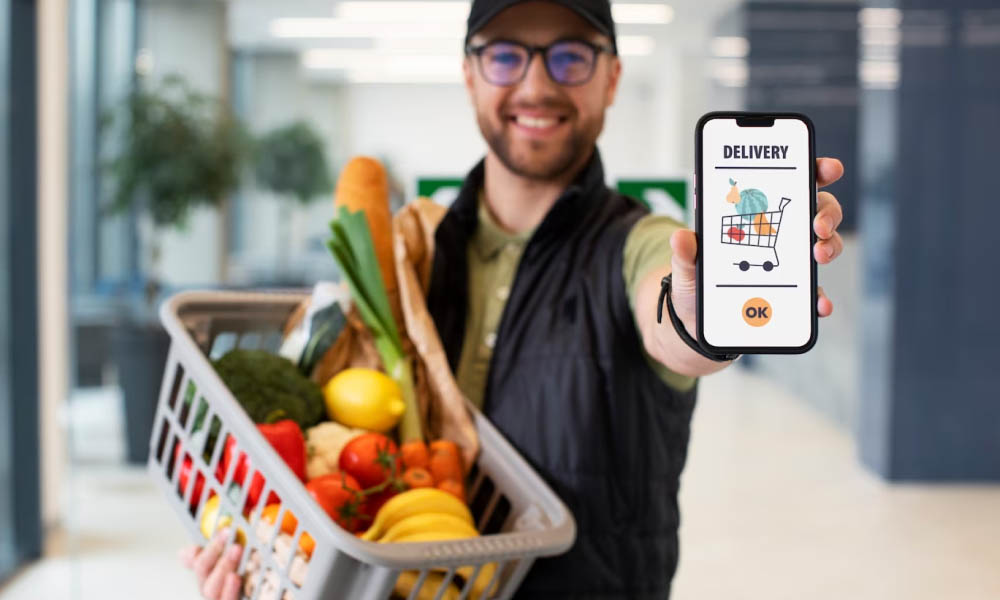 Latin America is no longer a turbulent market; the spread of COVID-19 has made the people experience things that they haven't experienced before. Moreover, e-commerce and retail are forced to reflect the changing landscape. The report shows that the COVID-19 outbreak has impacted consumer spending across e-commerce and total retail in Latin America to a great extent. It shows the breakouts and recovery scenarios for Mexico, Argentina, and Brazil. Learn to have deep insight into Latin American grocery stores, check how it meets the growing demand of customers even during the tough time of COVID-19 outspread.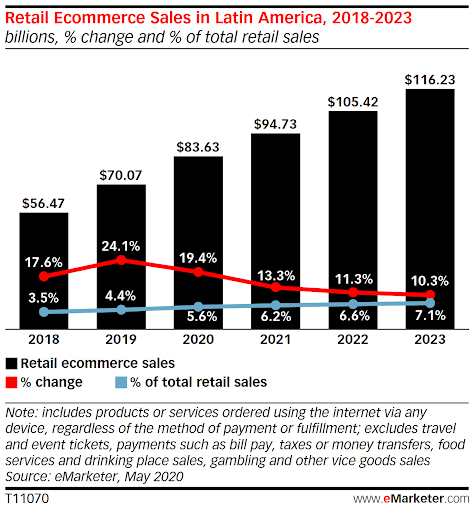 The above graph clearly shows that the retail e-commerce sales in Latin America are estimated to grow by 19.4% by the end of 2020, propelling massive growth in online shopping, especially during government-mandated lockdowns in various areas to prevent the spread of the virus.
Most customers shop online essential things like milk, vegetables, and other stuff through on-demand grocery solutions helping them to get delivered everything at their doorsteps that also without leaving their homes and coming in contact with any person. This is the best time to make your own website since it's easier for your target customer to reach your services.
Check the List of Top Online Groceries Store in Latin America
As immigrant enclaves evolve during the last few decades and so as the grocery stores and way of buying groceries. Most businesses are Latin American grocery stores looking forward to giving a digital touch to their business.
Even customers these days prefer to go for a digital way of shopping, including customers from Latin America. As of 2018, Mercado Libre was a top online retailer in Latin America; the website got 56.3 million unique visitor's registration. Amazon is in the second position, with 22.4 million visitors. B2W Companhia Digital, a Rio de Janeiro-based online retailer, ranked third with over 16 million visitors accessing its websites.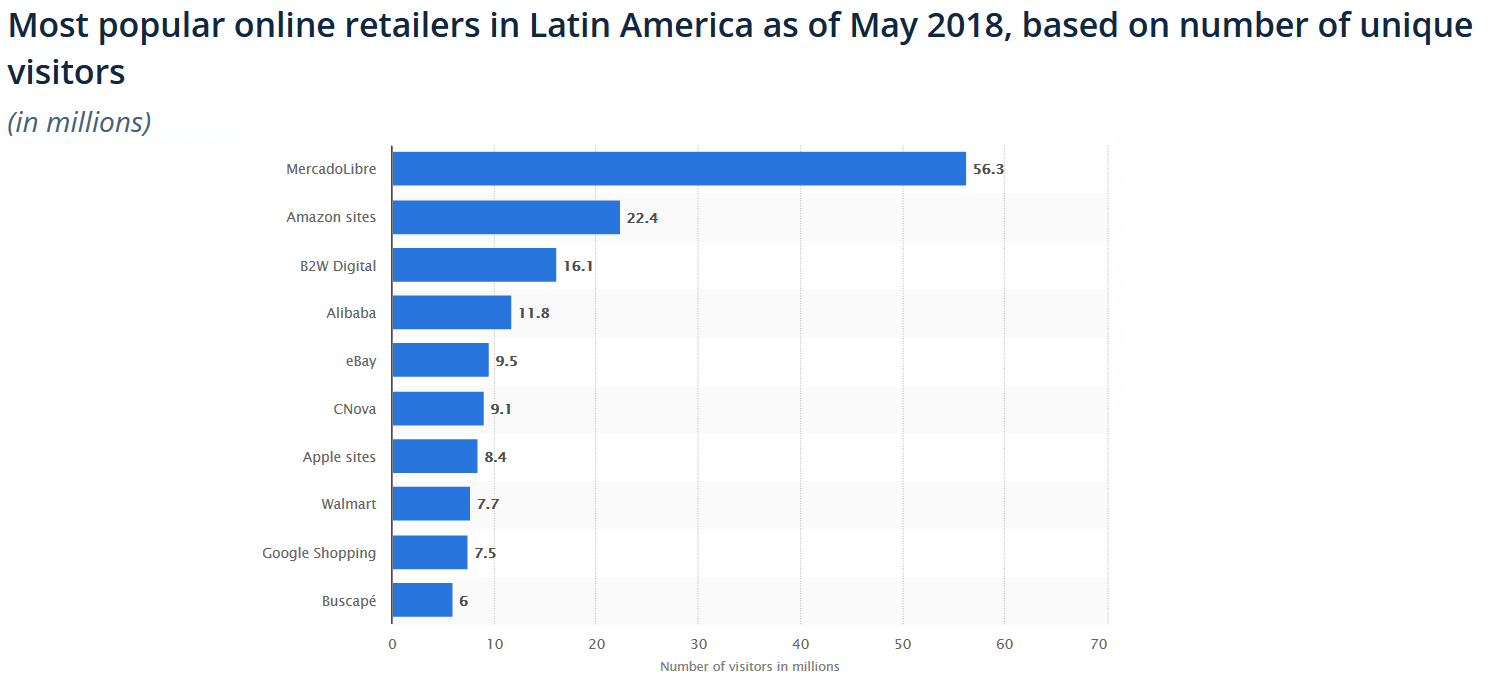 1. Uber
Uber Technologies Inc recently launched a grocery delivery service in different Latin American and Canadian regions, which will be followed by the United States very soon. The company's latest foray into the grocery delivery space is in partnership with Cornershop, an online grocery provider.
Since October last year, Uber held the majority of the share of the partners. Most customers in Canada's Toronto and Montreal, eleven Brazilian cities, including Sao Paulo, Rio de Janeiro, four Chilean cities, Peru's Lima, and Colombia's Bogota, are allowed to order groceries from local stores as per their need.
2. Walmart Grocery
Walmart is one of the biggest American retailers; it has invested a considerable amount in online marketplaces and retail. You might have heard about Walmart Grocery service before; it has recently launched a membership option "Delivery Unlimited" for its users. Walmart grocery delivery service provides service to customers to get pre-packed foods and other products, starting from frozen meals to their favorite fruits delivered at their place.
Walmart is the largest grocery delivery retailer in Latin America, with 18% of grocery sales in the region during 2017. It successfully operates a wide variety of banners in Latin America, including supermarkets, hypermarkets, discounters, and its internet retailing operations and warehouse clubs.
3. Mercadoni
Founded by Pedro Freire, Antonio Nunes, Nicolas Fernández Talice, and Margarida Freitas in October 2015. It has around one million downloads till now and 500,000 active users across Colombia. In Mexico City, it has approximately 80,000 users and counting. In 2018, Mercadoni received a 124 million USD investment from Brazil's Movile, which shows that investors are looking forward to establishing their business presence in Latin America. The company has raised more than $17.2 million to date.
The platform offers hyper-local deliveries to the customers in less than one-hour in Latin American countries, including Colombia, Mexico, Argentina, and many more. A grocery delivery app Mercadoni raised around $6.2 million in Series A funding, one of the largest Series A rounds in the region. The platform users are allowed to order groceries from supermarkets; it promises to deliver the item at doors in an hour. It has satisfied the needs of more than 250,000 users, ensuring its profit in the market.
The company relies on 3,000 personal shoppers to deliver the requested products to customers doorstep within 1 hour; the Mercadoni ́platform is integrated with more than 100 grocery retail partners, including some top retailers in regions like Walmart, Cencosud, Makro and many others. The platform allows customers to order various items like pet shops, liquor stores, drugstores, and others for delivery straight to their doorstep.
4. Mercado Fresh
Mercado Fresh is an online app that allows users to buy goods from their favorite stores. Mercado Fresh enables users to shop from organic shops, supermarkets, butchers, liquor stores, grocers, and more. Users can order anything from the app and can get it delivered right at their doorsteps. The headquarters of Mercado Fresh is located in São Paulo, Brazil.
5. Cornershop
Cornershop was founded in 2015 is just operating as Instacart and has gained huge popularity in different countries. The service uses freelancers and contractors to do shopping on behalf of users through the app. The delivery providers collect the order from the shop and deliver it to customers' doorstep. The delivery platform provides access to customers to order from any shops listed on the platform.
In 2015, the company launched its on-demand grocery delivery service in Chile and Mexico. The company's used their knowledge to expand their business in the Latin American market. It partnered with global retailers and supermarkets, including Petco and OfficeMax, to deliver excellent grocery delivery to customers on-demand.
Cornershop recently claimed that it had experienced massive growth in the last months. The company has successfully raised $21 million from Accel Partners, increasing its total funding as it reached around USD 31.7 million and eventual acquisition by Walmart of USD 225 million.
6. Rappi
The number of Latin American grocery store has risen drastically amid the coronavirus outbreak. A Columbia-based startup, Rappi, backed by Japan's SoftBank, has experienced a 30% increase in deliveries in 2020 compared to last year. The company is presently working with more than 200,000 delivery people in around nine Latin American countries.
Rappi had around 200,000 independent couriers actively that connect users in different areas of Latin America and worked along with more than 250,000 different businesses, including kiosks, grocery shops, office supply stores, pharmacies, and many others. Recently in June 2020, the company announced its partnership with Banorte to revolutionize digital banking services.
7. Instacart
Instacart is an on-demand delivery platform that allows users to shop the needed items from local stores and deliver it to customers' doorstep. The company hits a massive success by increasing a $3.4 billion valuation and has tackled delivery opportunities in Latin America. An app like Instacart has made grocery ordering much more comfortable and faster for customers than ever before. They can install a grocery delivery app script on their preferred device and order any item as per their need from their favorite stores and get it delivered without any hassle.
8. Glovo
Glovo is a dominant delivery provider that has established its presence in more than 61 cities in 17 countries. Founded by Oscar Pierre, Sacha Michaud, and Miguel Vicente in 2015, the company has raised 168 million to expand its on-demand services. Glovo delivers more than one million orders and has established a partnership with 5,600 partners worldwide.
Glovo launched its on-demand grocery delivery service in Santiago, in 2017, looking forward to ensuring its entrance into different regions of the Latin American market. The company successfully provides its service in Brazil, Peru, Chile, and Argentina; it shows no signs to slow down.
9. Amazon Grocery
Of course, Amazon is now offering grocery delivery services to customers in different areas. Amazon Grocery allows users to fresh products, seafood, meat, organic stuff, local goodies, and much more to customers on demand. It offers an improved grocery ordering and delivery experience to customers belonging to different regions of Latin America.
10. Amigo
Users can leverage instant grocery delivery service using the Amigo platform. They can order food, vegetables, fruits, and other products from the platform with few simple taps. American retail giant Walmart invested in Supermercados Amigo in July 2002 to expand its delivery services across various countries and cities.
Signing It Off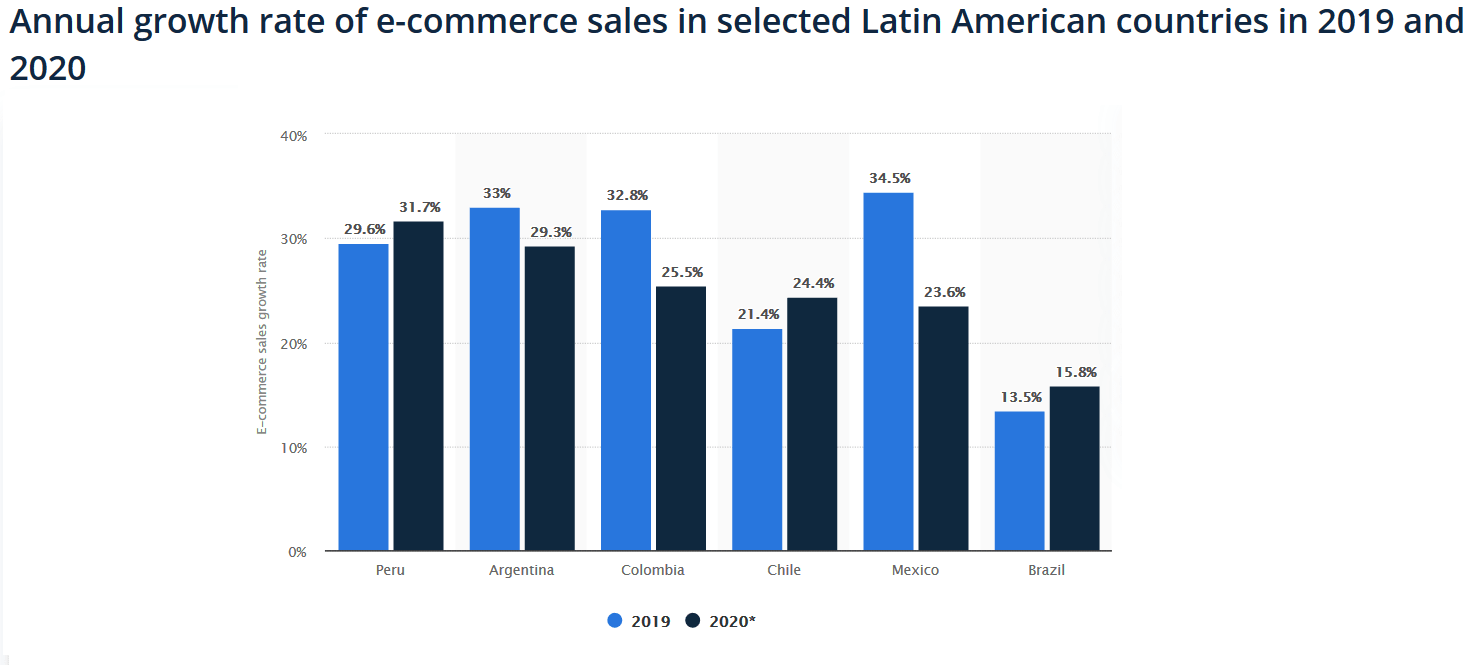 The E-commerce market is growing speedily in the whole world, including Latin America. Statista's report shows that Peruvian e-commerce grew by 29.6% in 2019 and is predicted to increase by 31.7% by the end of 2020. Meanwhile, sales generated by online shopping jumped high by 33% in Argentina and were estimated to grow by 29.3% in 2020. Grocery businesses are steeping to invest in advanced solutions to cater to increasing needs in the market.