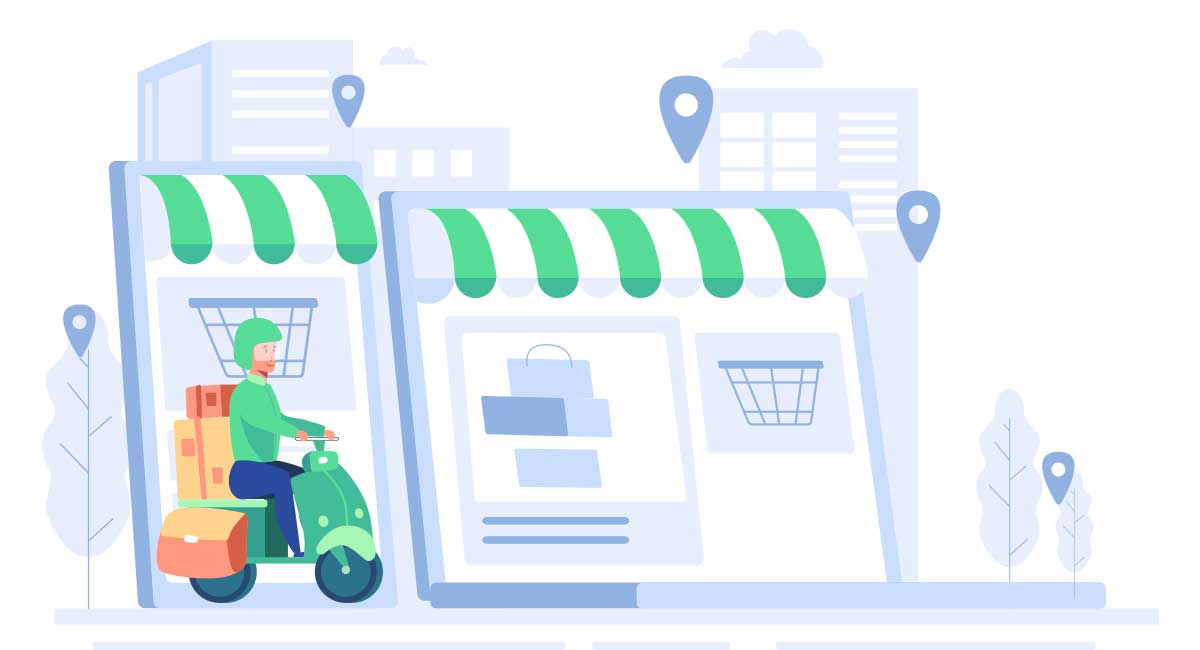 Online order and delivery have completely transformed our lifestyle, our shopping behaviors, and the way entrepreneurs operate the business. In the previous decade, we have experienced tremendous growth in the eCommerce sector, but today online food delivery business is the most sought-after market as consumers' dining preferences keep evolving with time and technological advancements. Not only several countries, but the sector is thriving across the globe, and Saudi Arabia is not left behind. KSA's online food delivery market was valued at $511.20 billion in 2020, and now restaurateurs want to enter this segment with the Wssel Clone solution as it allows them to fulfill modern consumer's needs. Now you must be excited to know what is Wsseel, how does it make money? What makes it so successful in Arabic Market? Well, this blog answers all the questions related to it. So keep reading to know more.
Earlier, restaurants only had limited sources of revenue, and that was the majority from customer dine-in, but trends of technology solutions have opened the door and allowed entrepreneurs to expand their business reach in terms of operations and revenue streams. The online food delivery market is facing fierce competition because more and more restaurants are shaking hands with online food aggregators. Besides, due to the pandemic, more people prefer the doorstep delivery of food than dine-in to stay safe.
Indeed, there are multiple food delivery business models successful in their respected region, but the Wssel business model is the one that has grabbed the most eyeballs in the Saudi Arabia market. So, without any further ado, let's dive into the Wssel business model.
What is a Wssel Clone? Embark on the Food Delivery Venture
Wssel clone consists of technically proficient features that allow business startups to launch food and grocery delivery businesses in no time. The platform is tailored to the unique needs of your customers and packed with powerful features and integration that ensure business expansion and establish a strong online presence of your food delivery business.
Wssel History, Founders, and Exciting Facts
Wsselis an online delivery company located in Riyadh, Saudi Arabia, that delivers food and groceries from nearby restaurants and retail stores to customers. Users can order food and essentials using their dedicated application or website and track the order in real-time.
Wssel is a prominent name in the Saudi food delivery market; however major credit goes to its powerful Android and iOS apps as it comes with intriguing features such as push notification, order tracking, reviews, and many more that have made Wssel the most popular delivery service in the Saudi market.
Founded Year: 2015
Headquarter: Riyadh, Saudi Arabia
Founders: Turki Alkhorayef
Company type: Private
Employees: 150
Revenue: $360K
Website: https://www.wssel.com/
Operates in: Saudi Arabia
What makes Wssel so unique is that customers no longer need to install different apps for food and grocery; they can order both within the same application.
The online delivery business in Saudi Arabia is booming by leaps and bounds; if you are an entrepreneur and want to become a part of this lucrative industry, this is high time to give a finishing touch to your goals.
How Does an App Like Wssel Work?
The working flow of Wssel is easy as consumers need to follow a couple of steps, and they are done with ordering. From browsing the menu to read reviews to order customization, Wssel lets users connect with restaurants and local grocery stores and have their ordered products delivered at their doorsteps. Wssel has an extensive network of restaurants and retail stores; you can say it covers maximum restaurants under its umbrella and makes it easy for its users to enjoy a delicious meal at their convenience.
The application is available on Android as well as on iOS. Now let's dig into detail how an app similar to Wssel makes the overall food delivery process smooth.
Users need to register themselves or sign in before accessing the application. Now they need to enter zip codes so that they can easily browse nearby restaurants, stores, and supermarkets.

From the extensive range of restaurants and stores, users can choose anyone and add items to the cart. They can also modify the quantity, toppings, and other order details as per their requirements.

Once the user confirms the order, the restaurant or stores receive an order notification and start preparing for the same.

Once the order gets ready to dispatch, restaurants or stores assign orders to nearby delivery providers.

Delivery providers reach the customer's location; consumers can make payments from the options given, either cash or online, and rate the overall service based on experience.
Wssel Business Model Canvas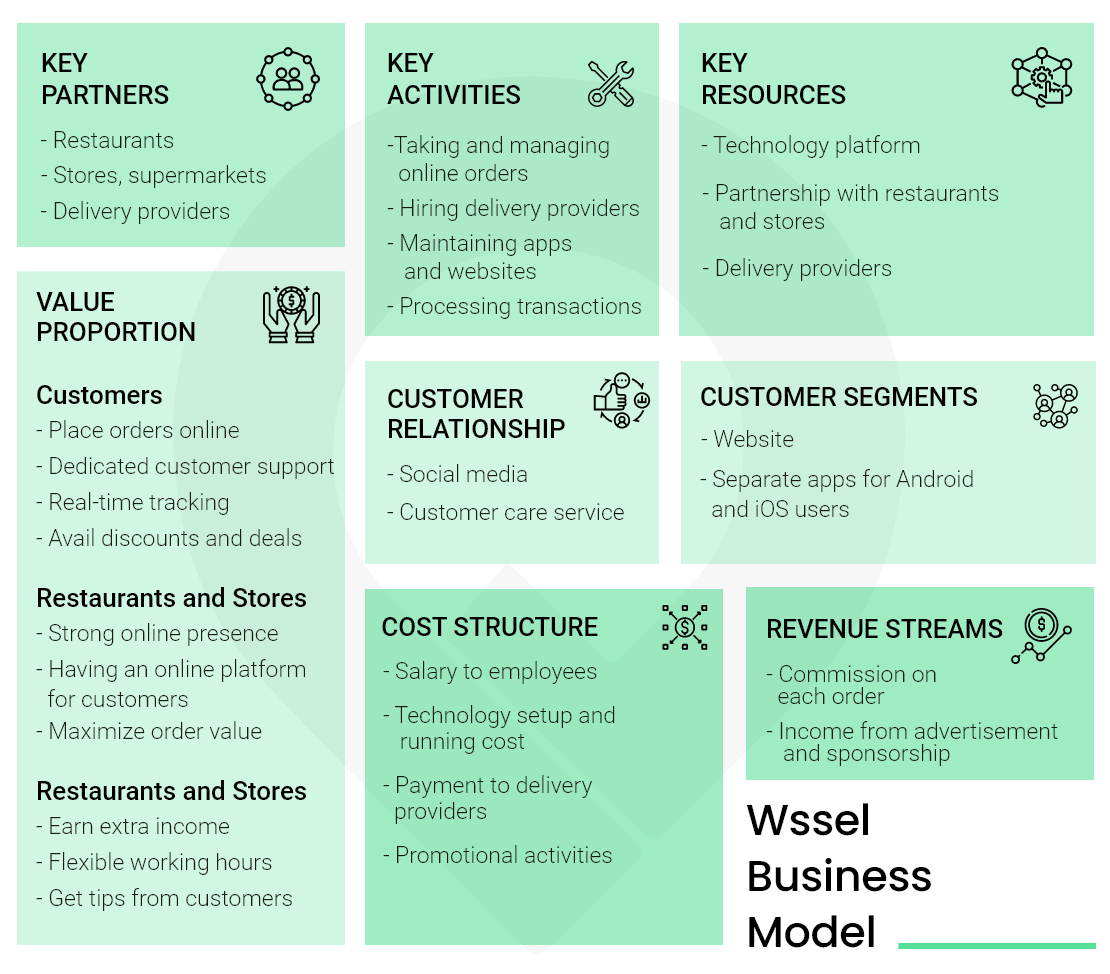 The Wssel business model serves four divisions:
Customers

Restaurants

Stores and supermarkets

Delivery providers
Wssel's online food and grocery delivery platform would be beneficial for those restaurants and stores that lack an online presence but want to get maximum online orders. Moreover, the app also has innovative features that make the overall doorstep delivery process smooth and trouble-free.
Value Propositions
We offer a great value proposition to all the associated restaurants, stores, and consumers.
For Customers:
Allow consumers to save money and time as they can order food and groceries online.

Customers can have plenty of options to choose from

Dedicated customer service

Makes the repeat ordering process easy as customers can save payment details, address and much more.
For Restaurants:
The restaurants can get online orders and make the delivery process faster with Wssel's delivery provider partners.

Restaurants that lack an online presence can find an extended customer base

Wssel offers an intuitive restaurant app and panel to manage and deliver orders online.
For Delivery Providers:
Delivery providers act as a link between restaurants and customers. On-time delivery service is one of the reasons why Wssel is popular and continues to succeed.
TPerfect for people who are looking for a part-time job in the delivery sector

Delivery providers can make some extra income through orders and tips

They can also work flexibly
Glancing at Wssel's Revenue Streams
The revenue model of Wsselholds equal importance as its business model. Wssel generates enormous amounts of revenue from different sources such as:
Delivery fee: Wssel charges a delivery fee on every food or grocery order placed using the application. Undoubtedly, they also need to pay a certain part to delivery executives, but it keeps a major portion in commission.
Commission: This is the major revenue source of income as it also charges a certain amount of fees from restaurants and stores; after all, it acts as a catalyst and allows them to boost their revenue.
Additional Income: Since Wssel enjoys a huge customer base in its region, they also earn a considerable amount of money through advertising and sponsorship.
Why Saudi Entrepreneurs Should Consider investing in Wssel Clone
Modern technology solutions and the race towards digitization have compelled entrepreneurs to revamp their business models. Besides, consumer's preferences keep changing with time; due to hectic schedules and lifestyles, they no longer intend to visit restaurants or stand in a long queue. Instead, they open an app, place orders, and get them delivered in no time.
Moreover, lockdown and social distancing have encouraged restaurant owners to move online and adopt technology solutions because it is the only effective weapon that keeps their business afloat and fulfills the rising needs of customers. Modern technology solutions have been the most useful amid this crisis. Entrepreneurs are looking to combine mobile technology with restaurants and adopt eDelivery solutions as it could be a game-changer for restaurants.
Implementing modern technology solution for your restaurant and retail business is valuable because it can do wonders for your business and offers several amazing benefits such as:
Boost revenue

Increase brand awareness

Reach out to more customers

Foster brand loyalty

Digital operations replace a manual process

Improve relationship with customers
If you want to become a valuable part of this booming industry but are clueless about technology suite and process, find an experienced on-demand app development player who can help you automate your business, leading you to success.
Accurate Cost to Develop a Wssel Clone App
Embracing the Wssel clone can streamline your business operations and give you an edge over the competition. As mentioned earlier, your app should have all the modern features that make the ordering and delivery process smooth. Moreover, apart from customers, there are many partners associated such as stores, restaurants, and delivery providers. Each of them contains a unique set of features that makes the overall process smooth. To give a rough estimate, the overall cost of developing a Wssel clone depends on different features such as:
App size

App interface

App design

Development team location

App platform

Features and functionalities
Based on your business requirement, you can either go with custom development or a solution with brand name.
Enter the Sustainable Food Delivery Space with a Wssel Clone Script
Execution of technology solutions to business offers several benefits in terms of revenue and allows entrepreneurs to keep themselves afloat in this saturated business market. Saudi Arabia's online delivery market is exploding, if you want to become a part of this lucrative industry, opting for the Wssel clone script would be ideal as it comes with robust features and helps you run the delivery business with ease.
If you also want to jump on the delivery bandwagon but are unaware of where to start, contact us, and we will help you establish strong footprints in the delivery business with our robust solutions.