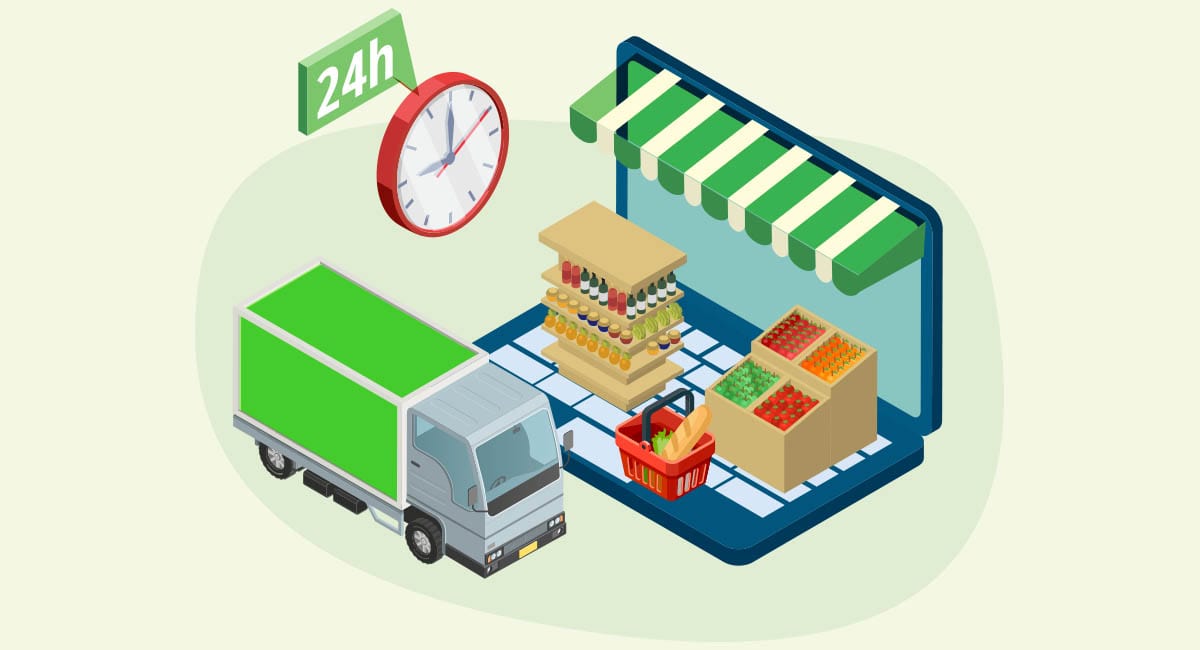 Improvements in technology have ushered in numerous consumer behaviors. Adoption of modern technology tools is on the go, delivering a hassle-free shopping experience for the online industry to thrive in Today's digital age. And ordering groceries online has become a "norm" as consumers are confined inside their homes due to lockdown and social distancing. As per the eMarketer's report, more than 37% of U.S. shoppers purchase groceries online. And this the reason why more and more retailers showing interest in the development of digital solution. Now you must be wondering about what is Shipt. Here, we are rounding up the necessary information about the well-known US-based grocery delivery provider Shipt how it works, and its business and revenue model.
The dawn of various grocery applications will soon replace the nuances of traditional grocery shopping as more and more entrepreneurs are embracing modern technology solutions to meet the rising needs of modern customers. People no longer intend to stand in a long queue as they can place orders online and get them delivered on the same day.
Indeed, the corona pandemic has been the worst for all industries, but the online grocery delivery market has experienced a huge hike in terms of revenue and user-base. It is the revolutionary period for all the brick-and-mortar grocery stores as they need to implement emerging tech tools to stay ahead in the competitive curve. In short, the online grocery delivery market is gradually spiking after being on the periphery of the online market for more than a decade.
How Shipt Works ? Facts, Funding, and Timeline
In simple words, Shipt brings stores to your doorsteps.
Shipt is an online grocery delivery platform facilitating same-day deliveries of fresh produce and groceries across major cities of the USA. The on-demand industry-driven business model of Shipt boosts delivering groceries to customers in the same day or less than one hour. Perhaps this is why it is one of the most used grocery apps across the USA, which is based on the hyper-local business model.
Shipt was established in the year 2014; being a leader in the online grocery delivery, Shipt has received commendable responses from users across the USA. Here are noticeable facts and funding details about Shipt; let's have a look.
Founded by: Bill Smith
Parent Group: Target Corporation
Commencement year: 2014
Headquarter: Alabama, United States
Total Funding Received: $65.2 million
Number of Employees: 200-500
Area served: More than 5000 US cities ( Birmingham, Alabama; San Francisco, California; Austin, Texas; Chicago, Illinois; Washington, D.C.; New York, Detroit, Michigan; Minneapolis, Minnesota; Atlanta, Georgia, and many more.)
Website: https://www.shipt.com/
Annual Revenue: Approx. $1B
At the time of the inception of Shipt, Smith only had $250,000 on hand, from which he hired engineers to develop a website and application so that people can place orders and get groceries delivered.
Till date, Shipt has received funding from various B-type investors.
Right now, Shipt offers unlimited, same-day grocery delivery service to its members only for $99 a year or $14 per month. Users only need to register on their app or website; later, they can choose the delivery option and then checkout.
Currently, Shipt operates in more than 80 U.S. cities and has a network of 40,000 personal shoppers.
5 Step Model that Depicts How Shipt Works
Shipt grocery delivery service has become popular across the USA as it follows simple steps and makes it easy for consumers to have groceries at their preferred location. Hence, Ship has encouraged many budding entrepreneurs who want to be a part of the booming online grocery delivery industry. Now let's examine five easy and smooth steps pushing customers to place orders online. Here we go.
Customers can choose the product and add them to the cart through its dedicated application or website.
Customers can make payments online or in cash.
Grocery stores receive the particular order with location and other details. They start packing ordered items.
Once the item gets ready to dispatch, the store goes to deliver the groceries to the customers.
Based on product quality, users can rate and submit feedback.
Isn't it easy? Yes, it is fast, accurate, and simple, which is one of the key elements that make Shipt successful in the grocery delivery landscape.
Shipt Business Model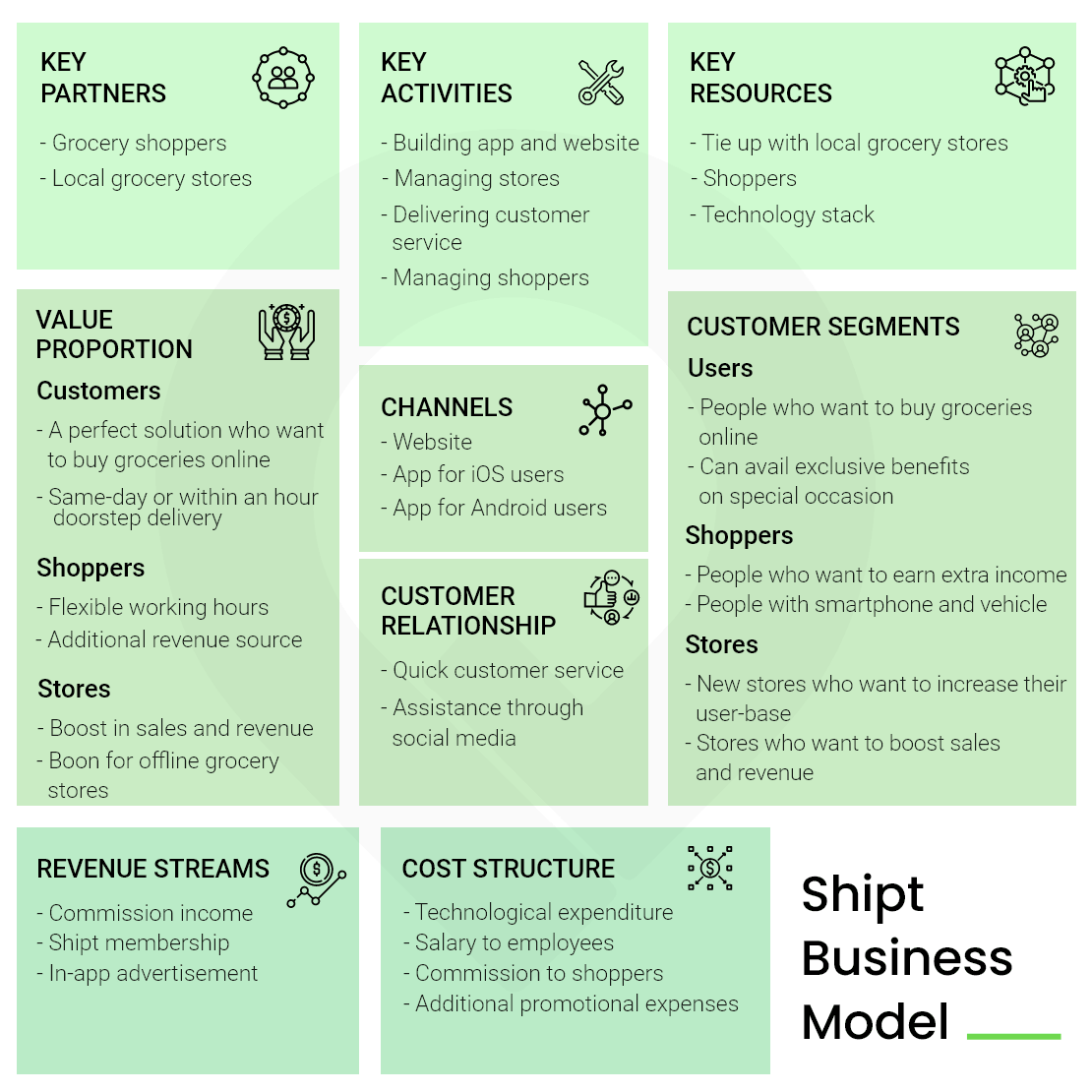 Shipt's business model walks on the on-demand and aggregator business model path where customers can place an order without any hassle. The key reason why Shipt is successful is that it does not depend on inventory management. Shipt has a direct relationship with physical stores and only concentrates on the delivery of groceries without any delay.
There are major three entities involved in the business model of Shipt, the users, the shoppers, and the stores.
Users
End users can place grocery orders through the website and application. They can choose a store and make payment for the order.
Consumers can place orders within the store vicinity.
Consumers can also choose delivery slots at their convenience.
Stores
Offline stores can tie up with Shipt and register themselves with their own name. Users are allowed to choose the store as per their wish.
They receive order requests with all details, including location and item details.
Stores are also allowed to add or remove products as per the availability.
Shoppers
Here shoppers mean delivery providers who deliver groceries when they receive new order notifications within their app.
Shoppers are paid on an hourly basis. However, they can also go offline if they are unable to fulfill deliveries.
Consumers can also pay a tip to shoppers in the form of cash.
Shipt Revenue Streams- How Does it Make Money
You might wonder that Shipt does not offer the products or hold any inventory, then how does it make money? Well, the revenue of Shipt is massive. The primary source of income is the commission earned through each order, but it also makes huge revenue from subscriptions and advertising. In general, Shipt essentially has three revenue channels, such as:
Commission: This is the major revenue source; it keeps a certain percentage of the portion from the total order value from the store. This percentage typically ranges between 5-10% of the order value.
Paid advertisement: As Shipt has huge followers and app downloads, hence it offers premium listings. If a particular store wants to get more orders, they can opt for premium advertisements. It is another large revenue-generating source of Shipt.
Subscription: As stated earlier, Shipt charges users who want to access premium level facilities that allow them to personalize orders as per their requirement.
Why Does Your Grocery Store Need App Based Solution?
Whether you are a startup or willing to step into the online grocery delivery business, this is the right time to have a powerful app that lets you automate your business and streamline other operations. In addition, people's attitude towards shopping also keeps changing with time. Today, more than 30 million adults using grocery apps means the online grocery business is one of the best sectors to invest in.
According to the study conducted by Global News Wire, the online delivery market in the U.S. alone is projected to reach $57.1 billion in 2021 and capture a 28% market share. Hence more and more willing to develop an app similar to Shipt that allows users to place orders online.
Let's drill the benefits of developing an online service platform for your conventional grocery store:
Keep your customers hooked
Allow you to understand customer's preferences
Automate your business operations
Give you an edge over rivals
Boost sales and revenue
Build brand advocacy
In order to avail above benefits, you should invest in an mobile app and consult a renowned and skilled on-demand app development company as it will become a real savior for your grocery business in this highly saturated market.
How Much Does it Cost to Develop an App Similar to Shipt?
After understanding the Shipt business and revenue model now, you must be curious to know the development cost of an app similar to Shipt. To carry out the estimation of the exact Shipt clone, there are several factors you need to consider, such as
The complexity of the app
Features you want to integrate
Development team's location
Technology stack
App design
The more features you want to integrate, development cost would go high. In addition, if you are new to the grocery delivery business and don't want to spend huge money on custom development, you can also get started with a white label solution as it comes with all modern features that run your business smoothly.
Know How To Become Paramount in the Grocery Market
The online grocery delivery business is thriving as more and more people prefer to buy groceries online. Promising same-day delivery or within one hour, Shipt has become a robust solution in the USA. Now it would not be wrong to say that the online grocery delivery market will continue to flourish over the next decade. If you are willing to build the next Shipt, get in touch with us and get your job done effortlessly within minimum time.