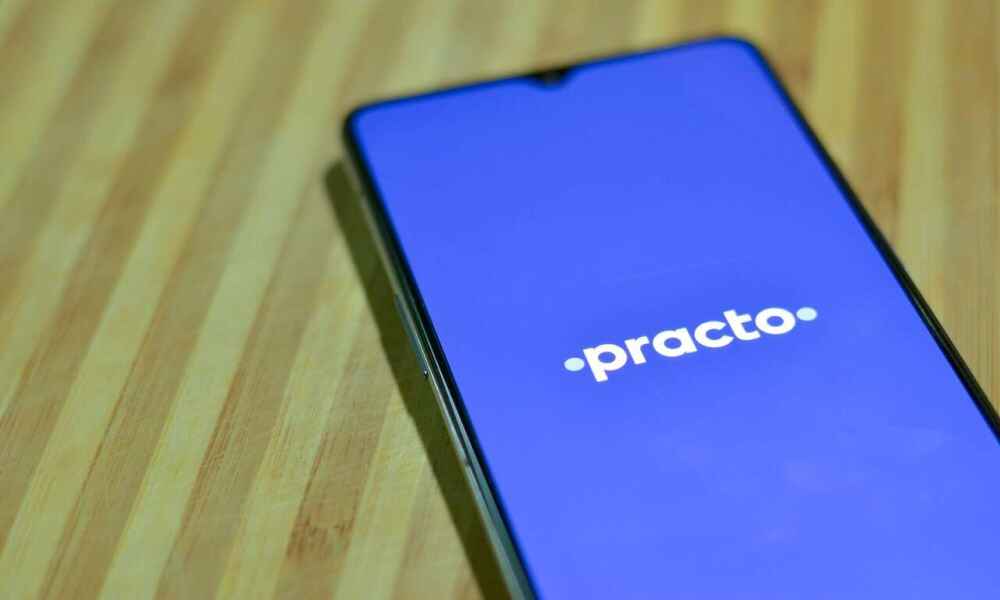 The healthcare industry has been undergoing a monumental shift, from ordering medicines to consulting a doctor to AR/VR-based operations; the healthcare industry is facing a major transformation and becoming omnipresent as it was never before. On the other hand, people's preferences also evolved amid the pandemic as they are more likely to consult doctors online to stay safe.
Many online healthcare brands came into existence, but today we will talk about Practo, which has come up with a distinct approach and breaks all the conventional norms in the Indian healthcare industry. We will explore the Practo business model, revenue resources, and how it works. Let's get started.
Technology innovation has a massive impact on the healthcare industry. IoT, Machine Learning, Artificial Intelligence, etc., have made the healthcare industry more advanced and promising. Today, over 73% of global healthcare organizations are implementing IoT to monitor and maintain their resources.
Well, this figure is enormous as more and more healthcare practitioners have realized the importance of embracing IT in their businesses as it adds value and follows a customer-centric business model. Healthcare professionals now heavily rely on IT to deliver the best outcomes to patients. And it is evident in many ways, from ordering medicines to finding new doctors to booking lab tests online or interacting with pharmacists, that technology indeed changes everything. So let's learn more about Practo and what kind of services it offers to customers.
What is Practo?
Based in India, Practo is a digital platform that is now established in more than 15 countries. Practo is an online health platform that connects patients with doctors and healthcare professionals; it also allows customers to book appointments, check-ups, consultations and order medicines by uploading prescriptions.
Within ten years of its establishment, Practo has become a one-stop solution for health-related services and hospitality.
Practo History, Funding, and Acquisition Details
Name: Practo Technologies Private Limited
Industry: Healthcare, Medical, Wellness
Founders: Abinav Lal, Shashank ND
Founding Year: 2008
Headquarters: Bangalore, Karnataka
Total funding: $228.2million
Website: https://www.practo.com/
Recently, Practo has raised around 124 million dollars, and its biggest investors are Yuri Milner, Google Capital, and Sequoia Capitals. These companies are backing Practo to expand its business reach.
Abhinav Lal said that today, more than 20 million people use Practo every month and expect to reach more than 30 cities over the next few months.
Keeping in mind the current situation, more and more business owners are taking a keen interest in the healthcare industry and intend to start a vitamin supplement business, and Practo is an online consultation platform that fills the gap between a patient who resides in a small town and a healthcare professional located in a metro city.
Now, let's have a look at Practo's major acquisition to date.
| Company Name | Overview | Acquired Date | Acquired Amount |
| --- | --- | --- | --- |
| Enlightics | Data analytic platform | Dec 2016 | undisclosed |
| Qikwell | Doctor appointment platform | Sep 2015 | $40 million |
| Insta Health Solutions | Hospital management provider | Sep 2015 | $12 million |
| Genii | Mobility Company | July 2015 | undisclosed |
| FitHo | Web-based weight program | April 2015 | undisclosed |
Practo has more than 1,20,000 doctors listed from 310 towns and cities across India with dedicated services in the metros of Banglore, Delhi, Mumbai, Hyderabad, and Chennai.
How Does Practo Work?
Using a couple of simple steps, Practo has made it easy for patients to perform multiple tasks in a hassle-free manner. From health consultations to doctors' searches to ordering medicines, the platform's work is explained below.
Health Consultation
This is quite different from normal doctor consultations. Practo asks patients various questions regarding the issue the user is facing. Patients need to answer those questions; now, by analyzing the symptoms, Practo suggests what doctors can consult.
Consultation of Doctor
One can consult a doctor; Practo suggests a list of doctors available online and suggests reputed and skilled professionals in the user's area. The user needs to select the doctor and make a payment to start the consultation.
Practo Search
This is a very useful feature as people can search for the best doctors available in their locality. For instance, if you are looking for a dermatologist in your area, the result will show the list of doctors and skin specialist clinics around your area.
Online Medicine Ordering
Patients can order medicine by uploading valid prescriptions and getting them delivered to their doorsteps in no time.
Have a Quick Overview of the Business Model of Practo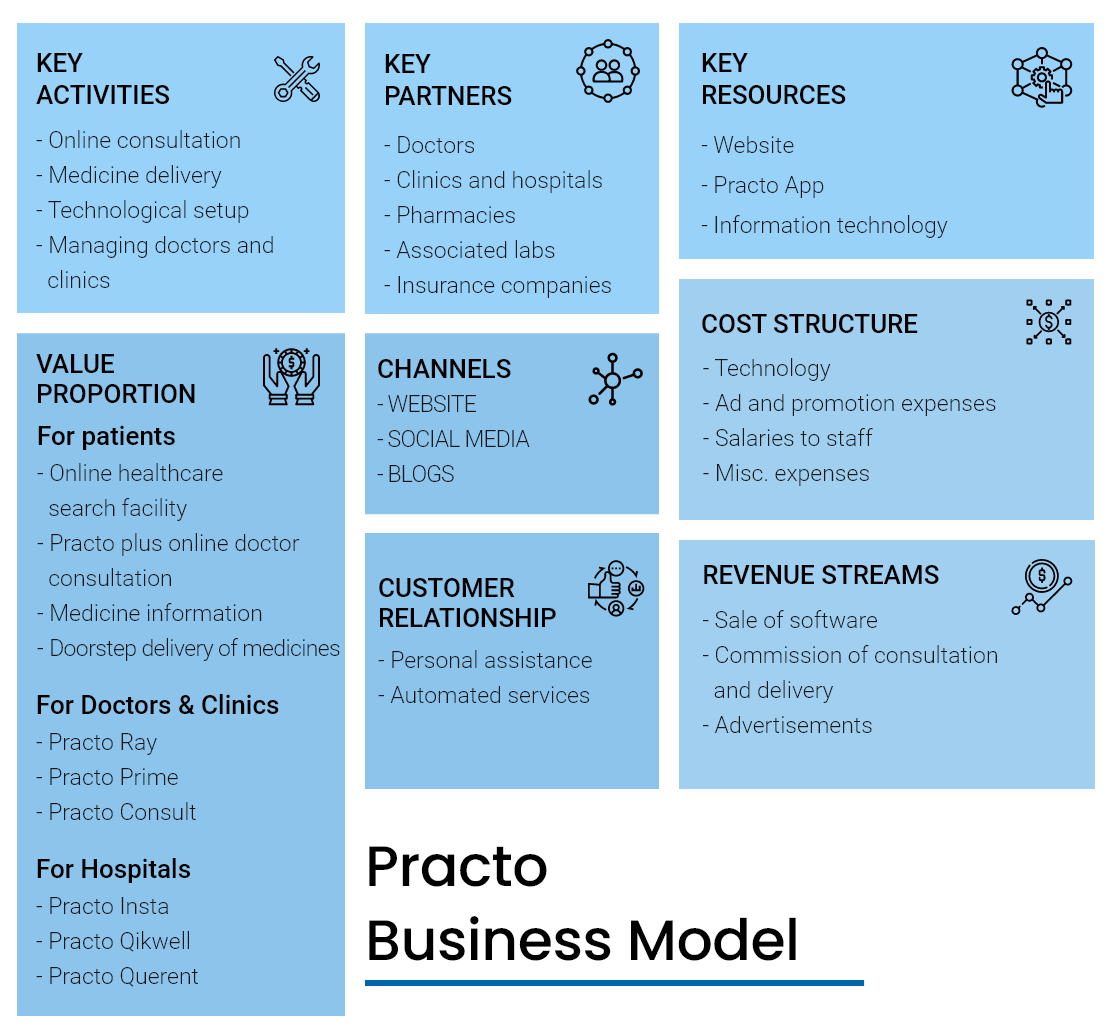 Practo has been connecting various stakeholders, including patients, doctors, clinics, and pharmacy stores. Now let's see what value proposition it offers to each of these elements.
Value Proposition for Patients
Practo facilitates people to search for doctors, clinics, lab tests, online medicine ordering, etc. online, through their website and app solutions.
Online healthcare search

Extensive range of doctors and professionals

Practo plus

Practo Drive app

Doorstep delivery of medicines
For Doctors and Clinics
Doctors and clinics can increase their business reach by registering themselves on this platform, as Practo has different products and services for doctors and clinics.
Practo Consult

Practo Health Feed

Practo Ray

Practo Reach
For Hospitals
Apart from the above services, Practo offers top-notch solutions to hospitals to manage appointments, digital payments, and financial aspects of hospitals.
Practo Insta

Practo Qikwell

Practo Querent
Practo Revenue Model – How Does It Make Money
Practo's revenue model is quite different from other online medicine delivery apps. They initially started by keeping a certain percentage of money for every service or booking by the patient. But later, they expanded and came up with more resources that offered better revenues.
Commission on Booking
For every medical service booked online, customers pay a certain extra price which goes to Practo. It is the initial source of revenue when it is launched.
Charges
Practo charges a certain amount of commission from doctors, clinics, pharmacy stores, and hospitals for getting listed on the app and website. They have now expanded their service and thinking to connect the biggest laboratories and pharmacies and charge commissions from all of these.
Practo Ray: It is the Practice Management Software for doctors, and for that, they need to pay monthly fees; this is the largest revenue source.
Practo Plus: This is a subscription-based healthcare plan for patients. Practo gets some revenue from this, too, by offering unlimited consultations to patients.
Evolution in the Medical Industry Gives a Huge Opportunity to Entrepreneurs
No doubt, the medicine delivery apps market is booking and evolving the healthcare industry from its roots. It opens doors with endless business opportunities for startups and entrepreneurs as well. So if you want to become a part of this emerging industry, investing in the app solution could be the wisest decision you can ever make.
Earlier, doctor consultation and medicine ordering technology were skeptical, but the pandemic has changed the scenario. People now rely more on apps like Practo as it keep them safe and get things done in no time.
Convenience and cost-effectiveness are two major benefits customers get from an app similar to Practo, but it also offers some valuable benefits to healthcare professionals and pharmacies, such as
A greater pool of customers

Advanced analytics

Streamlined business operations

Greater customer engagement

Ease of customer retention

Increased sales and revenue
Right now, the medicine delivery app development is a promising business choice because people's inclination towards digital tools is increasing. Services such as online medicine delivery, consultation with doctors, booking lab tests online, etc., are growing in popularity due to the ongoing epidemiological situation.
Endnote
The healthcare industry has so much to offer to entrepreneurs, leveraging huge opportunities in the industry. In case you come up with unique thoughts and take your conventional healthcare business online with the Practo clone app as it can escalate your business growth and earn great rewards in no time.