How Peapod Works: Let's Take a Deep Dive in its Business and Revenue Model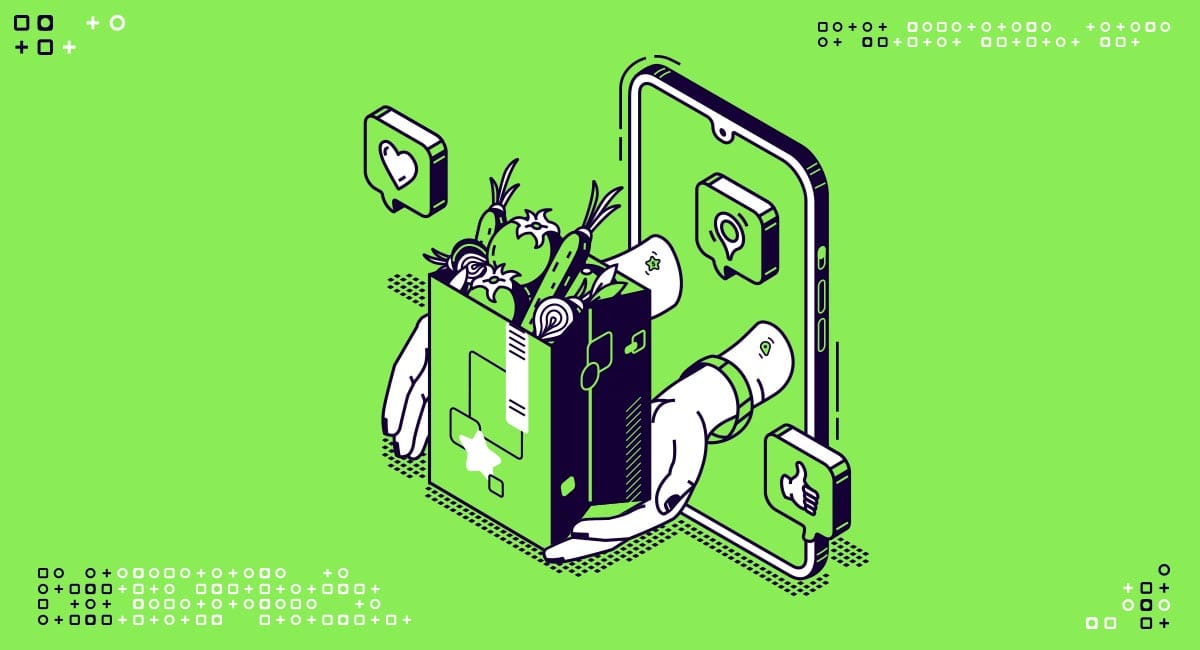 In the explosion of the eCommerce industry, the online grocery industry is the most visible trend these days and shaping how consumers purchase grocery and fresh products. Due to the pandemic, the online grocery delivery business has experienced immense growth, and researchers have predicted that it will continue to grow even after the pandemic ends. Players like Instacart, BigBasket, Grofers, Peapod, etc. making it easy for customers to order groceries and get them delivered to their homes. To meet this rising need for customers, more and more retailers now intend to implement a peapod clone app solution as it will help to increase business productivity. Let's discuss how Peapod works, the peapod business, and the revenue model.
As per the research conducted by Orian, the worldwide online grocery delivery market would soon reach $250 billion before 2025 ends. "Convenience" is king these days, and people's inclination towards smartphones is also increasing; this is why the online grocery market has skyrocketed in a short span of time.
On the other hand, entrepreneurs are also jumping on the bandwagon and leveraging digital technologies to get attractive returns on their investments and increase their customer base. Here we are going to reveal how well-known grocery app, Peapod works, its business and revenue model, and what makes it so successful in the USA grocery delivery market.
What is Peapod Clone ?
Peapod clone is a cloud-based platform that allows retail grocery owners to automate their business in no time while ensuring scalable business growth.
What is Peapod
Peapod is the largest delivery app facilitating customers to order groceries, meat, and fresh produce and get them delivered to their doorstep in no time. Peapod works across the major cities of the USA.
Whether you are searching for fruits, vegetables, fresh produce, milk, spices, meat, or any kitchen products, Peapod is the ultimate destination. Attractive deals, quality products, accurate delivery timings, and competitive prices make Peapod one of the best and popular delivery platforms across the USA.
Peapod Overview
Peapod is the largest delivery app facilitating customers to order groceries, meat, and fresh produce and get them delivered to their doorstep in no time. Peapod works across the major cities of the USA.
Whether you are searching for fruits, vegetables, fresh produce, milk, spices, meat, or any kitchen products, Peapod is the ultimate destination. Attractive deals, quality products, accurate delivery timings, and competitive prices make Peapod one of the best and popular delivery platforms across the USA.
Name: Peapod
Industry: Online Grocer
Founded In: 1989
Founders: Thomas Parkinson, Andrew Parkinson
Headquarters: Chicago, United States of America
Area Served: Metropolitan of the USA including Boston, Chicago, New York, California, Austin, Dallas, Texas, Ohio, and San Jose
Number of Employees: 4600
Stock Symbol: PPOD (NewYork Stock Exchange)
In 1996, Peapod had launched its website and became one of the earliest internet startups in the USA. It also held its first IPO on NASDAQ.
Later in 2000, a global grocery company named Royal Ahold acquired 51% of shares.
In 2019, Peapod has become the popular grocery app platform as it has captured more than 9% of the market share, followed by FreshDirect, Instacart, and Amazon Fresh.
Recently, in 2020, Peapod announced that it would be ceasing its operations in the Midwest and want to focus only on the East Coast.
Being considered as a popular name in the grocery delivery market, Peapod has received funding of around $17.3 million from angel investors to expand its reach all across the USA. Unlike Amazon, Peapod also has started a PodPass Program in which customers have to opt for membership; as a result, they get free deliveries on certain orders.
How Peapod Works
The business model of Peapod has transformed the way people buy groceries. Well, it follows a simple workflow and enables shoppers to get groceries at their doorstep in less than 2 hours. Peapod is also making it convenient for people to find nearby grocery stores, check feedback, listings, and product availability according to their preferences.
Further, the company also has a committed workforce who provide a top-notch doorstep delivery service. Let us now understand how Peapod works:
With the help of its dedicated website or application, customers need to select a grocery store and add items to the cart.
They can make payment online; once the order gets confirmed, Peapod sends a notification to the particular store with the customer's order detailers and location.
The shoppers will reach the destination mentioned by customers and will collect products as per the order detail.
After reaching the customer's location, the groceries will be delivered.
Here customers need to make the payment if they have chosen the "cash" option; later, shoppers and customers can rate the service and submit feedback.
This is what makes Peapod successful in the grocery delivery sector. It follows a simple workflow that makes grocery shopping fun rather than boring.
Peapod Business Model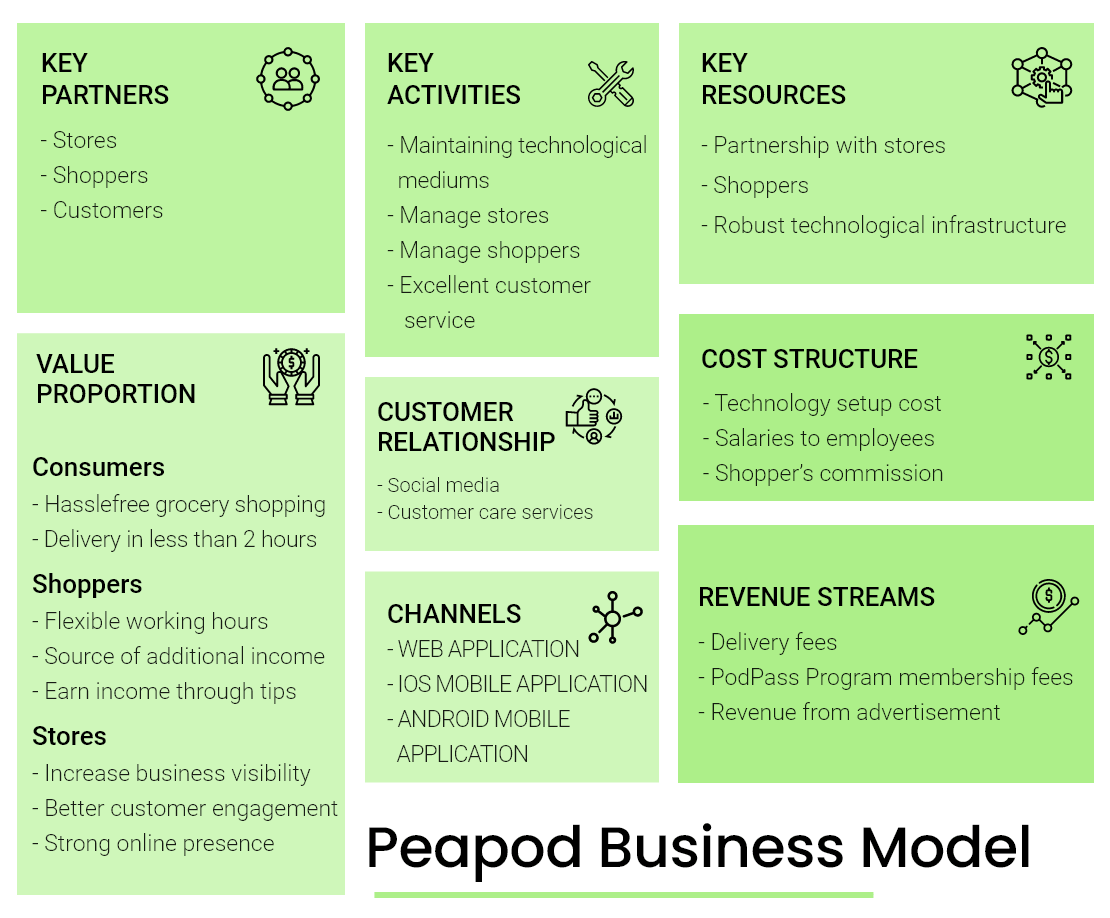 Peapod business model focus on three segments,
Customers
Shoppers
And stores
Each of these segments plays its role and gets different advantages. It is also equally important to maintain harmony between these three elements to ensure hassle-free and excellent delivery service.
Value Proposition
Customers
Peapod enables its customers to order groceries and essentials from the home or office with the help of a seamless website or app by just entering a zip code.
Customers can get fresh products to their doorstep in less than 2 hours
They can also avail attractive promo codes and deals to save some bucks on shopping
Customers can also upgrade their membership to get unlimited deliveries for free
Shoppers
Experienced and efficient shoppers make entire delivery operations smooth. Shoppers can earn money by collecting and delivering products to customer's doorstep.
Shoppes can work flexibly and earn a decent amount of income on the number of orders delivered
Shoppers either can work full-time or part-time, ad per their availability
Shoppers can also make money through the tip given by happy customers
Stores
Peapod partners up with local grocery stores and offers them a medium through which they can increase order value and customer base.
Local grocery retailers can get the advantage of Peapod's popularity
Retailers can also opt for paid advertisements to reach a wider audience and get maximum orders
Peapod Revenue Model
Peapod in itself does not manufacture or store groceries, but it fills the gap between customers and retail grocery store owners. But the revenue is massive. Let's go through how Peapod makes money and its major revenue streams.
Delivery Fees: For each order placed by the customer, Peapod charges delivery fees from users.
Grocery Partner Payments: Peapod makes money from charging fees or commission from registered retailers. The company annually or monthly changes some percentage of the revenue from retailers. This is the primary source of income.
In-app Advertising: New retailers want to increase their business visibility and reach more customers by placing ads on Peapod. This is another major revenue source of Peapod.
Improve Your Position in the Current Grocery Ecosystem with Peapod Clone App
Every industry is harnessing the power of digitization, so how can the grocery industry be an exception? Increasing penetration of the Internet and mobile phones in daily lives has changed the way people purchase groceries. Grocery delivery apps such as Grofers. have become popular in a short time as it offers an extreme level of comfort to the users. Besides, retailers also want to automate their business operations to reduce operational costs and gain an edge over rivals.
It is really fascinating how mobile apps have become such an important part of all the areas. Digital technologies leave no stone untouched and make the grocery sector more relevant and competitive as it was never before. Peapod clone app for your grocery delivery business offers some kind of advantages such as:
Increase customer engagements
Creates brand awareness
Better return on investments
Boost sales
Keeping your retail business updated with the latest trends
No wonder why retailers are thinking of having a Peapod clone solution for their business as it will not only grow the user base but all of them to fulfill the rising needs of modern customers. If constant growth and better customer experience are your business objectives, you must consult an experienced technology partner that can help you be the forerunning entrepreneur in your region.
Cost To Build a Peapod Clone Script
Online grocery delivery is one of the promising and highest-revenue generating businesses today. When we discuss the cost of the development of a Peapod clone script, we first need to make a list of the features we want to integrate into it. Moreover, you are left with two options such as custom grocery app development and branded solutions.
New grocery delivery startups usually choose readymade solutions as it is less expensive and takes less time to develop. If budget is not the major issue and you want to opt for custom app development, the cost structure relies on the below factors:
App size
App design
Platform
Number of features want to integrate
The complexity of the app
These are some of the prime cost determinants of Peapod clone app development. If your requirement is unique and wants to integrate exclusive features, the cost may go up.
Get an App like Peapod and Have a Leg Up on Your Competition
The online grocery delivery business is popular these days, and the market share of this industry is also increasing globally. If you want to get better customer engagement and increase sales opportunities for your conventional grocery business, it is high time to embrace an app like Peapod to your business. If you are in a dilemma and want to have a consultation, get in touch with us and kick-start your journey with the growing online grocery market.