OneCart Clone : Know How OneCart Works and Its Business Model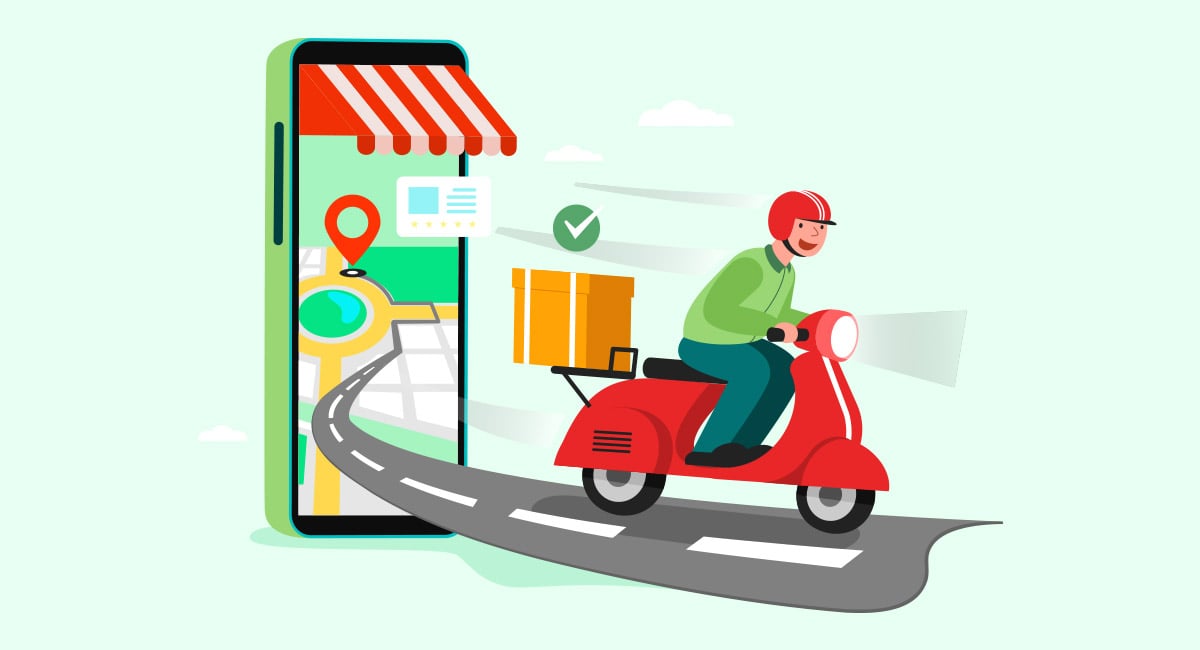 The online grocery ordering concept is no longer in its infancy. Modern tech stack and people's evolving needs have forced entrepreneurs to modify their existing business models. Moreover, the sudden outbreak of the corona pandemic has added fuel and compelled business owners to transform their business models to stay relevant. Online grocery shopping has seen immense growth in recent months. As more and more people live inside their homes to prevent themselves from viruses, demand for doorstep grocery delivery has been skyrocketing. And the story in South Africa is no different; apps like OneCart, Takealot, Planet 54, etc., have become household names. Here we are going to uncover some interesting facts about the popular app, OneCart. Yes, OneCart is popular and many business owners walking on the same path and want to have the OneCart clone app for their business. Here you will also explore what business and revenue model the company follows to entice customers.
According to one of the researches, it is estimated that OneCart and other popular grocery delivery players have experienced 200-500% growth in their daily orders since lockdown was imposed in March 2020.
Today, we live in a technology age where everything can be done online, be it food, grocery, medicine, taxi, etc. Most retail stores now want to have an app like OneCart as it streamlines business operations, saves time and money.
Local retail store owners are taking advantage of modern tech tools and revamping their business models to meet customers' evolving needs. With its unique and efficient business model, OneCart, a popular grocery delivery company, has been dominating the South African market for the last few years.
What is the OneCart clone? Enhance Grocery Business with Innovative Solution?
OneCart clone is a mobility solution for supermarket businesses for a target customer base that allows them to seamlessly order groceries and other essential products from their favorite stores nearby. An app like OneCart comes with essential modules that allow grocery stores and supermarkets to manage items, delivery providers, and customers under the same roof.
Some Interesting Facts to Share About OneCart
OneCart is a mobility platform for the super market to provide grocery delivery service located in South Africa, allowing customers to shop for groceries, fresh produce, meat, medicine, and wellness items from different stores online.
OneCart is a digital delivery service located in South Africa, allowing customers to shop for groceries, fresh products, meat, medicine, and wellness items from different stores online.
Founders: Lynton Peters and Ariel Navarro
Founded At: Sandton, Gauteng
Founded In: 2016
Ownership Status: Private
Annual Revenue: $8.5 million
Employees: 90
Website: https://www.onecart.co.za/
Funding Details
OneCart received its first funding in 2019 after its inception; a Grindstone Accelerator invested huge funds as the incubator that funds promising startups.
It had also received a fund of R10-million last year, now SA based grocery delivery company is looking for A-type investors, founder Lynton Peters stated.
Here was a brief history of OneCart; now, let's see how it works and throw some light on its business and revenue model.
How Does OneCart Work
OneCart follows a simple process just like other on-demand grocery delivery apps such as Instacart, Peapod, Shipt, etc. Without wasting time, let's go through how OneCart works and make it easy for African people to get groceries at their doorsteps.
Using a dedicated app or website, customers can choose their favourite stores and products. They can also make a list of products they purchase more often.
They can either make payment online or choose the cash option.
After placing the order, a personal shopper is assigned, who shops on behalf of the customer.
Once the shopper completes shopping, he/she sends the order to the delivery provider. A consumer can track this entire activity.
The delivery provider hands over the package to the customer, where the customer can rate the service and submit a review based on the quality of the product.
This is how OneCart has made it easy for people to groceries online; it would be beneficial for store owners also as they got an online platform to sell their groceries online.
OneCart Business Model – Know Everything Here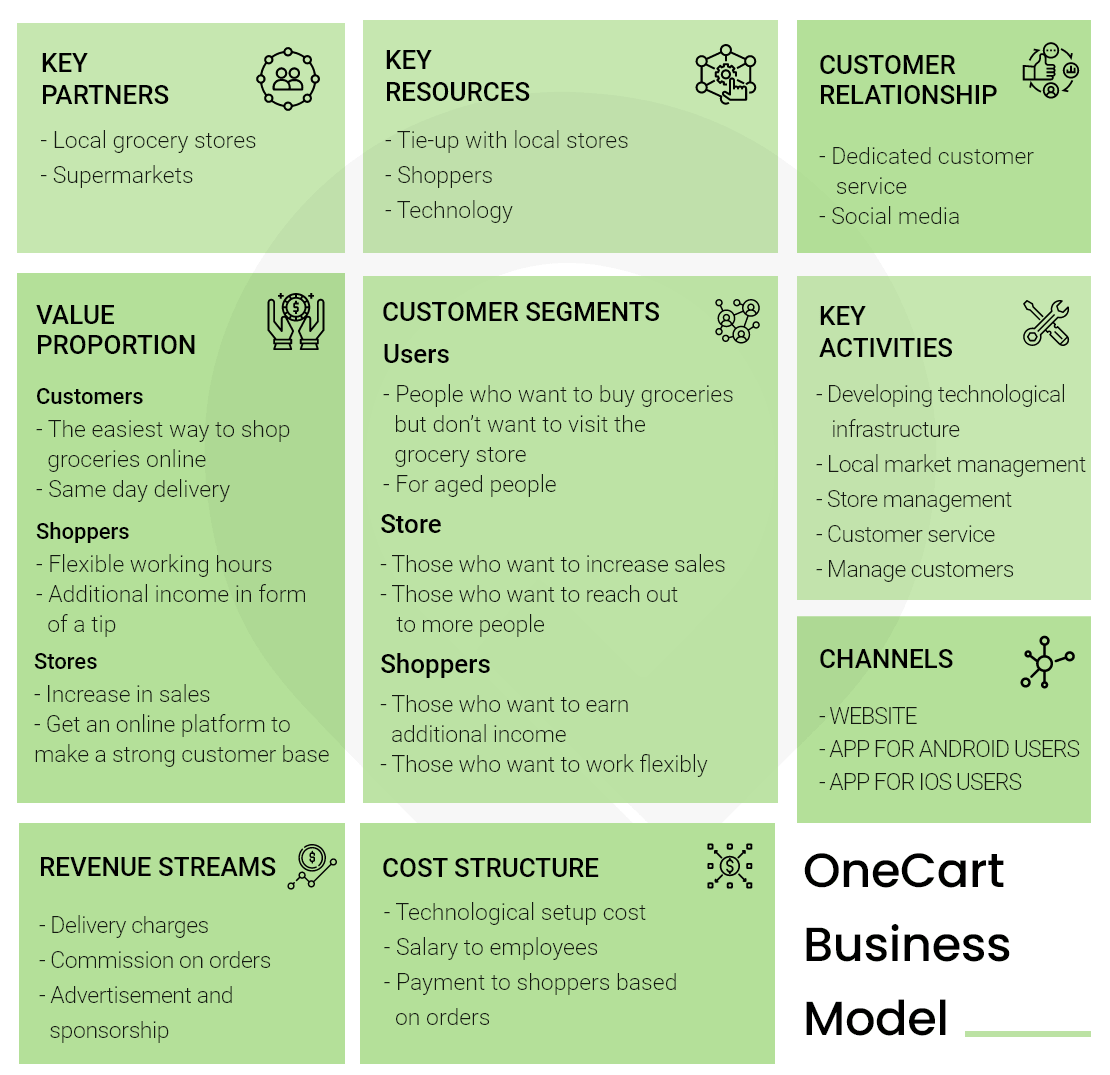 The on-demand business model has gained huge momentum in a short time, and the major reason is convenience, and OneCart is walking on the same path as it does not own any store but ensure customers same-day grocery deliveries. OneCart consists of three important elements- customers, shoppers and delivery providers.
It offers a different value proposition to each; customers can order groceries online, the same way store owners can advertise and sell their products and services. Whereas delivery providers can work flexibly and act as the backbone of the OneCart business model.
Let's have a look at these three segments of OneCart- customers, shoppers and stores.
User Segment
Users are the people who are willing to order groceries online using the website or application.
Customers are provided with an app and website from where they can choose stores and products.
Customers can make online payment as the OneCart application offers multiple payment options.
Customers can also schedule the order; they can also make purchases from different stores.
Stores Segment
Retailers or stores registered themselves to the OneCart platform so that they can receive online orders.
OneCart tie-up with different stores across the region.
Retail stores can benefit from OneCart's popularity and also get started for paid ads to increase customer base and order value.
Shopper Segment
Shoppers mean delivery providers who buy the items on behalf of the customer
They are provided with a separate app; when a user places the order, they will get an instant notification.
They picked the items from the stores mentioned in the order details and started preparing. Once the order gets ready to dispatch, they either assign a delivery provider or deliver themselves.
Apart from order commission, they also generate Revenue from happy customers in the form of a tip.
OneCart Revenue Model – How OneCart Makes Money
How does OneCart make money? Probably this is the most asked question for those who want to start an online grocery delivery business. Talking about the revenue model of OneCart, the company has multiple sources for revenue generation, out of them, below are the major source of income, including:
Delivery Fees: The app charges a flat delivery fee of R45 on each order. However, these charges are varied and based on order quantity.
Shopper Fees: On every order, OneCart charges a shopper fee, usually based on the total billed amount.
Advertisement revenue: OneCart allows retail store owners to place an ad to increase order volume. This is beneficial for new store owners and supermarkets.
How OneCart Clone App Aid in Combating Competition
Businesses today have to adapt modern tech tools for survival as people's choices keep evolving and their affinity towards online shopping and convenience is increasing. Besides, modern technology solutions encourage business owners to revamp their existing model, which is true for the online grocery delivery business.
Trends everywhere are moving towards mobile, indicating a new and popular marketing strategy for retail grocery store owners. The use of grocery apps by consumers is estimated to rise as more and more retailers have realized the benefits of having an OneCart clone app for their business. Here we have enlisted several benefits of having a custom grocery app solution for your business.
Direct marketing channel
Provides competitive advantage
Improves brand image
Build customer loyalty
Provide value to customers
Boost sales
Studies have shown that more than 96% of customers regularly use smartphones, and the online grocery ordering market is exploding as it connects stores and customers digitally. It ensures that both parties will benefit from an app similar to OneCart despite not coming in direct contact with each other.
If you are new to the online grocery delivery business, located in South Africa but having no clue regarding its workflow, checkout E-Delivery app workflow, you will come to know how the OneCart clone script can provide you ample benefits that will not only boost sales but also help you build a strong customer base.
In today's digital world, having your brick-and-mortar business at your customer's fingertips is not a luxury, but it's a necessity as a business's growth, and retention depends on that.
How Much Does it Cost to Build OneCart Clone Script
When we talk about the cost of the development of OneCart clone script, we need to first keep in mind there are three apps and one admin panel that have to be developed. Each app and panel should have modern features and functionalities that ensure hassle-free doorstep deliveries and automate operations.
The cost of developing an app like OneCart depends on various factors such as,
App features
Platform choice
App development company' location
UI/UX design
In short, in order to develop something similar to OneCart, you require huge planning, time and resources. If you lack all of these three, you can opt for readymade solutions as they can be effectively deployed, saving time and money.
If you want to develop a OneCart clone app and have done market research, now all you need to consult an on-demand app development company that can convert your rough idea into a smart solution.
Capture More Market Share with OneCart Like App Platform
Are you a retail grocery business owner who is looking to upscale business through tech solutions? Get started with the OneCart like app, as it will drastically change your existing business and allow your customers to order groceries online. Do market research, integrate modern features that enrich customer experience and streamline your business.
Want to develop a OneCart app clone for your business? Contact us, and we will come up with solutions that will open the door towards business profitability.