The delivery business is the best service business to begin for both novice entrepreneurs and experienced. Digital delivery and orders grew 300% faster than dine-in traffic since 2014. The idea is attracting large investments as it guarantees a sufficiently high profit. All in the delivery solution provides convenience to customers, and one such delivery platform is Dunzo. Check out how Dunzo works, its hyperlocal delivery business model, and also have revenue insight to know everything about the delivery platform right away.
Any individual business can set up a delivery business with minimal resources and gradually develop it later with passing-time. Moreover, the eCommerce and delivery business growth during the COVID 19 outbreak is relevant than ever before. Undoubtedly starting the delivery business is the best solution for any of the entrepreneurs.
The latest delivery statics represent that the customers now love to have fast deliveries of products and services they have requested. If, as a business entrepreneur, you fail to deliver ordered products or services on time, then you will lose a vast number of customers.
The case study shows that around 13% of consumers never prefer to place an order from retailers who deliver late. Hence it's needless to say that modern day's customers expect to have better service from any traditional store as they get from a big player like Dunzo or any other. If you want to enhance your customer base, then you can't ignore customer experience as they are the one who ensures your business success and expansion. And how can you do so? Only by developing an app similar to Dunzo, helping you offer all in one delivery solution to your customers' guarantees to cater to their demand efficiently.
Dunzo – History, Funding and Other Deteails
Dunzo is an Indian on-demand delivery company that offers services in Delhi, Bengaluru, Gurugram, Chennai, Pune, Mumbai, Hyderabad, and Jaipur. The company manages a Bike Taxi service in Gurugram. Dunzo headquartered in Bengaluru, India, founded in 2014 by Kabeer Biswas, along with Co-founders Mukund Jha, Ankur Agarwal, and Dalvir Suri. The company got funding from Google in 2017.
Before Dunzo, Kabeer launched a company known as Hoppr; Hike later acquired the company in 2014. Dunzo began out as a small WhatsApp group and later transformed into a hyperlocal, app-based service to satisfy customer's requirements. In 2017, Dunzo raised US$12 million in a fresh round from Google; the investors' name includes Aspada and Blume Ventures participating in the round.
Google's investment in the company was considered as the first investment in a startup in India. Dunzo later in 2019, raised around ₹34.56 crore funding by issuing debentures and Series C1 preference shares to existing investor Alteria Capital
Dunzo, a hyperlocal concierge app, is outshine in Bengaluru; the company has changed the way customers move things, how they shop, and much more. The platform enables customers with quick access to the city like never before. The company has achieved tremendous success and raised funding from different investors throughout their success journey, have a quick look over Dunzo funding history to have deep insight into it.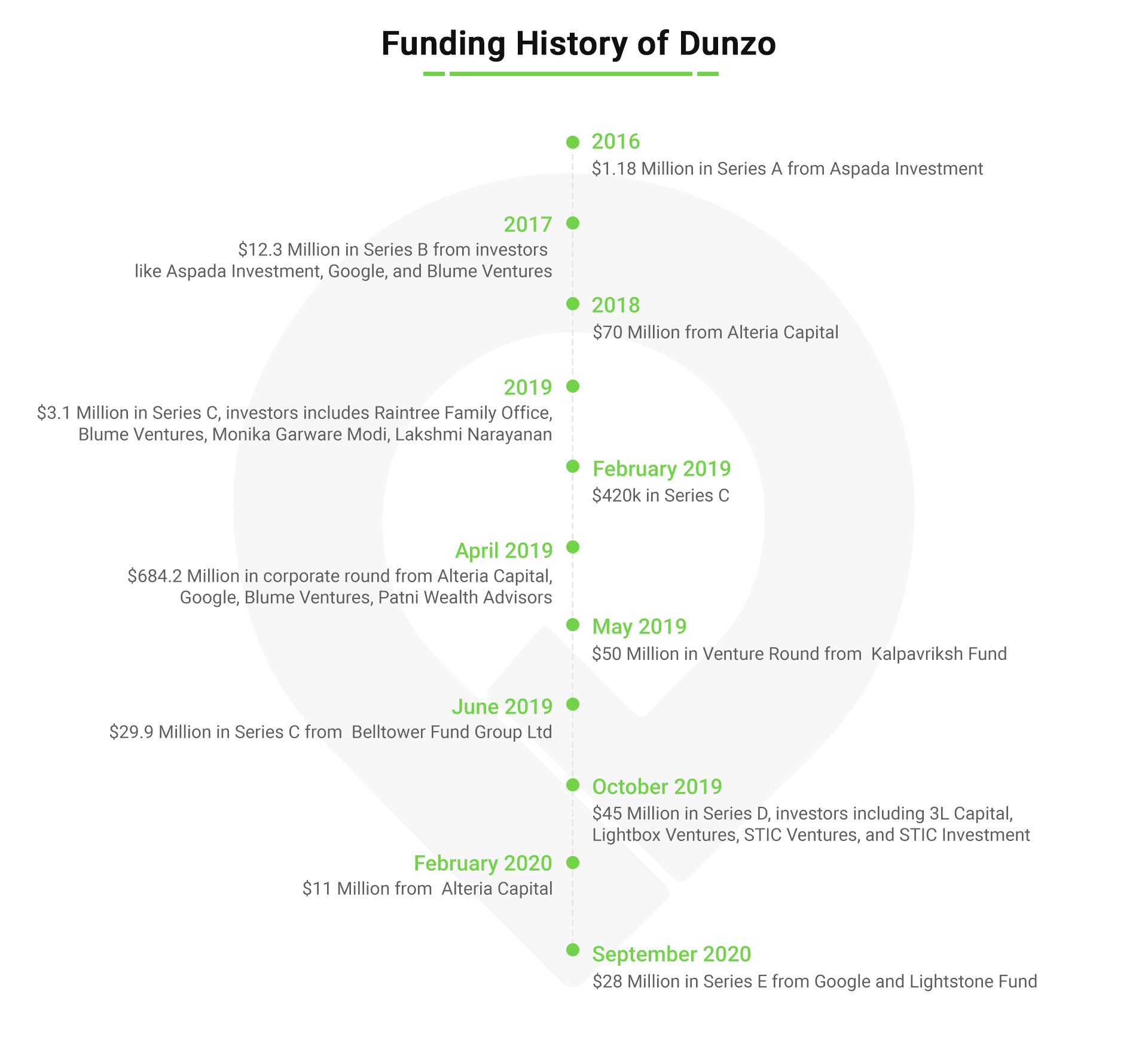 Some Interesting Things to Know About Dunzo
Type of business: Private
Platform Available in Language: English
Founded: July 2014
Headquarters: Indiranagar, Bengaluru, Karnataka, India
Area served: 9 cities: Bengaluru, Pune, Delhi, Hyderabad, Gurugram, Jaipur, Chennai, Mumbai, and Noida
Founder(s): Ankur Agarwal, Kabeer Biswas, Dalvir Suri, and Mukund Jha
Chairman: Abhishek Venkateshwara
Industry: Consumer Services
Services Offering: Online restaurant discovery, Packages, Online Ordering, Pick up and drop, Bike Taxi, Grocery Delivery, Medicine Delivery, Laundry Delivery, and Local Couriers
Users: 10 lakh orders monthly
Current status: Online
Parent Organization: Dunzo Digital Private Limited
Native client(s): Windows, Android, and iOS
Dunzo Parentship History
During May 2020, FMCG major PepsiCo partnered with Dunzo to deliver its snacks and other brands products like Kurkure, Lay's, and many more to customers right at customers' place in Bengaluru amid the COVID 19 pandemic in India. It helped Pepsico to offer 'Direct-to-Customer' service, ensuring its business survival and expansion during the lockdown.
In the same month, Google Pay also partnered with Dunzo to provide medicine and grocery delivery to customers on-demand. The feature offers numerous services like bike pool, pick and drop facilities, and many more to customers on demand. According to a report, Dunzo is currently fulfilling over 1 lakh orders per day as the need for primary goods home delivery has grown at a massive interest. The latest integration with GooglePay has provided Dunzo access to a broader set of users.
The COVID-19 pandemic and the nationwide lockdown has undoubtedly increased the demand for doorstep delivery of essential groceries and products. There is a clutch of startups like BharatPe, Flipkart, Swiggy, Meesho, Amazon, and Zomato, among others who have either started offering or extended their delivery services to meet the growing demand of customers. You can also launch an private label delivery solution for your delivery business, ensuring to improve your business reach in a short period.
Dunzo Business Model: Learn to Know Everything Right Here!
Dunzo ensures to answer all the requirements of customers in the city with its significant business model. It offers access to customers to have their favorite things right at their place. It ensures to provide incredible luxury to customers; whether it's adult beverages, emergency shacks, dinner, or any other service, the delivery platform satisfies all the requirements efficiently. Using advanced E-Delivery apps, now customers spend a minimum of time from their hectic schedule to get things done.
It follows a hyperlocal delivery business model, ensuring platform success and survival for a longer time. If you find a way to stay on the couch, then Elluminati Inc is here to help you with it. Our team ensures to craft an excellent solution similar to Dunzo, allowing you to launch a unique delivery service in today's competitive business market.
Dunzo operates its business through a mobile app and website. The platform offers an on-demand concierge service in the hyper-local market. The company operates through the data-driven solution, which connects delivery providers with the nearest users.

The users can even chat with the service provider through the chatbox; they send relevant images of the product and communicate accordingly.

The platform also provides Dunzo cash and many other digital payment options. Dunzo uses Artificial Intelligence at its best for the users helping them to offer a satisfied and smoother experience whenever customers demand.
Customer Segment
Dunzo, due to its Hyper Local Delivery (HLD), is leveraging a vast segment. Customers aiming to get everything delivered at their place are considered as ideal shoppers for Dunzo. Customers can get their medicines, food, and many other things delivered whenever they want.
How Dunzo Works to Cater to Growing Demand
The Dunzo is a hyperlocal delivery platform that delivers everything at any time users want to get delivered at their on-demand with minimum delivery charges. If you forget any presentation or any important things at your place, then Dunzo can help you to get it delivered right in the area you are.
Besides this, the delivery platform tie-ups with some clothing stores, restaurants, and some general stores. Presently the company is operating in more than nine cities. It's helpful for people who don't want to go out to buy something or get the task done quickly.
Dunzo Revenue Model: Have Insight into Its Money Make Strategy!
The delivery platform reported around 3.5 Crore revenue in FY19. Out of which, around 76 lakh was from "revenue from operations" and 2.7 crores from "other income." Dunzo experienced an increase of 67% in business sales during the previous year. Dunzo has divided its revenue stream into fice streams; check out to understand each of them appropriately.
Commission Rate
Like other delivery platforms, Dunzo charges some percentage as a commission from the partner store per order. The commission rate ranges from 15 to 30%. Local stores have to pay the amount when they complete the order request through the platform.
Delivery Charge
Dunzo delivery charge lies between Rs 10 to 60. The delivery charge mostly depends on the distance of the customer's location and local shop.
Surge Pricing
Dunzo adds surge pricing/ demand pricing when the demand increases drastically in specific areas. The platform admin set the surge pricing for particular locations as per their requirement.
Service
Customers can request different services such as home services, repairs, etc. through the Dunzo platform in exchange for some amount.
Miscellaneous Category
In simple words, it is called Biswas, which is also known as #kuchbhi request by the founder of Dunzo. The charge of such a request is decided on the task type.
What is the Future of Dunzo: Learn to Make Your Delivery Business Future Proof!
Dunzo has achieved massive success in cities where it offers its business service. Dunzo's business model and way of its working have helped the platform to build a strong presence and grow its customer base to a great extent. The platform has literally made people's lives more convenient and accessible than ever before.
The company is thinking of partnering with different vendors and merchants to strengthen its product searches capabilities. Besides this, the company is also trying to expand its outreach to multiple cities. You can also launch an app similar to Dunzo, get in touch to know the further process right away.