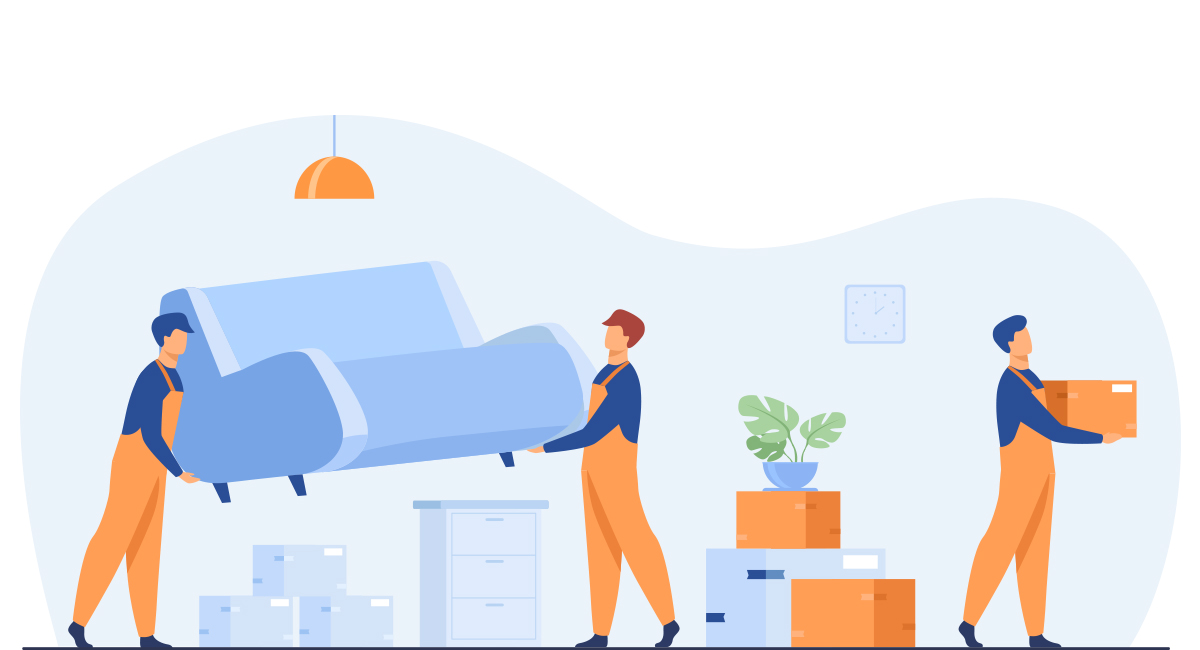 An online marketplace business has gained immense popularity globally; it connects service providers with seekers right away on the platform. UrbanClap is considered one of the leading startups that helps people get instant solutions to their daily problems. Whether an individual wants to appoint a plumber, lawyer, technician, or any other professional to get their work done, UrbanClap helps them get all their job done without any hassle. Check how does UrbanClap works to address growing demand, and learn everything about the UrbanClap business model and revenue insights the right way.
UrbanClap is one stand platform for professional and service seekers to find a quick solution to get their daily chores done. The on-demand service business during COVID-19 has experienced a tremendous rise; it has fueled up the idea and transformed how local service providers are paid and employed.
Marketplace services platform, UrbanClap has observed an operating revenue of INR 116 Cr in 2019, which is around a 150% rise in comparison to the previous year. In contrast, the company has reported a 225% jump in revenue in FY18 and FY 17. Moreover, the operating loss of Gurugram based companies has increased by around 26% to reach INR 72 Cr in the fiscal. The company has also witnessed the loss of INR 57 Cr in 2018; it was 14% less than FY 17.Source : ( Inc42)
Urbanclap has aligned itself as the most successful startup; it facilitates finding professionals for a variety of works. The company provides services ranging from a plumber to an architect, yoga teacher, etc. The platforms' exponential success depends on service effectiveness, which has been provided by trusted and background-checked professionals.
The exponential success of UrbanClap depicts the effectiveness of the services provided by trusted professionals. When UrbanClap was stepping into its career, it faced multiple competitors in the market. But after its first investment from SAIF and ACCEL partners, the service provider never looked back. Before going through its business model, learn what Urbanclap is and some interesting facts.
What is UrbanClap/ Urban Company?
Urban Company, formally known as UrbanClap, was launched in November 2014. It is one of the leading home service platforms in Asia, with a presence in the UAE, India, Australia, and Singapore. The platform helps customers to appoint reliable home services like massage therapy, plumbing, beauty services, plumbing, appliance repair, painting, etc.
The primary company goal is to empower millions of service professionals globally to deliver services right at home like ever before. The company has partnered with tens of thousands of professionals and helped them with multiple processes like credit, training, product procurement, technology, etc.
Success Timeline of Urbanclap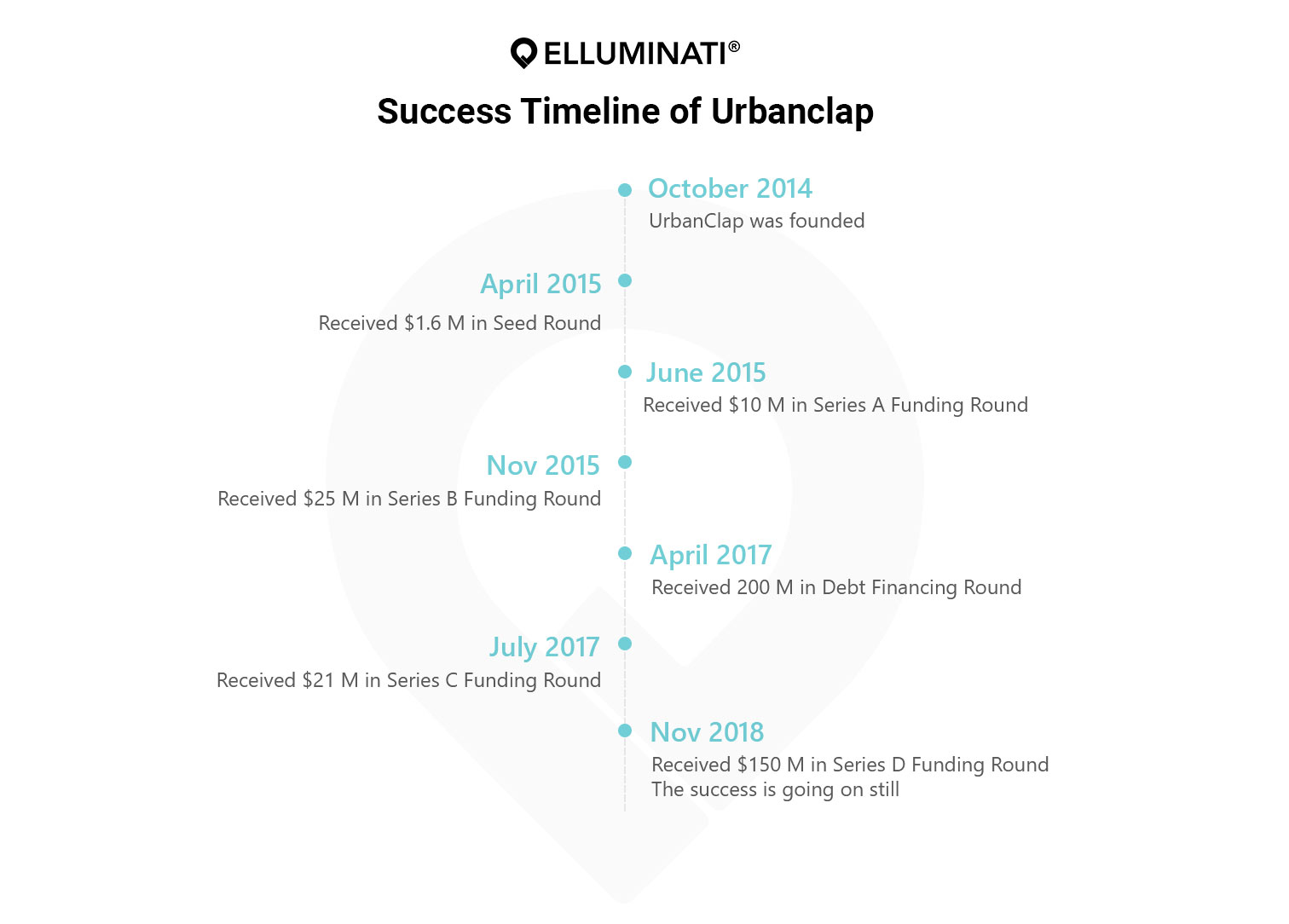 Some Interesting Facts About UrbanClap
Launched Year: 2014
Founders: Varun Khaitan, Abhiraj Bhal, and Raghav Chandra.
Headquarters: Delhi, India
Live services on UrbanClap:107 services
The number of people use UrbanClap: 3 million.
The average number of transactions each month: 450,000
Average rating: 4.2
The number of service providers: 200,000 service providers
An average number of daily customer requests: 5,000 customer requests
Service categories in number: 75
Percentage of monthly UrbanClap returning users: 40%
Amount UrbanClap has raised in funding: $445.9M.
How Urbanclap Works: Explore the Whole Process Right Here!
UrbanClap is known for delivering professional services at their home. It provides all types of services, starting from photoshoots to photographers to massages and many more. Job Seekers can appoint skilled professionals quickly through the platform. Individuals can register on the platform to order their services from the platform; they can explore services and service providers' lists to find skilled professionals. Urbanclap service platform ensures to provide an excellent workflow that also without searching here and there for providers.
Take your service business online with Elluminati; we ensure to offer a dedicated platform that addresses all your business and customers' needs efficiently. Check the process of the on-demand service platform to know how it provides impressive service offerings to customers.
UrbanClap works for service seekers and professionals who are ready to offer services to customers on demand.

It eases the task of searching for skilled professionals without any hassle.

Service providers who register on the platform can earn more and expand their business smoothly.

The users can check the list and appoint the service provider as per their requirements.

If idle, servicemen will accept the request and reach the customer's place to complete their chores.

Customers make payments and provide feedback as per experience gained.
Urbanclap Business Model: How it Ensures Effective Experience Offering
UrbanClap started its business with the basic idea of providing hiring opportunities to service providers and professional services to customers looking for it. You can invest in the E-Service platform to build a community of professionals and skilled providers who provide their service to whomever its concerned.
The business model of UrbanClap has changed the way professionals of the armed forces get employment and paid quickly. The platform easily connects the specialist with the users, ensuring to overcome various hurdles that they face throughout. The platform follows an automated matchmaking algorithm to find a perfect and instant solution without massive investment.
UrbanClap ensures safety by ensuring that all the service providers are police verified and background checked. UrbanClap follows two main models as follows:
1. Fixed Charged Services
For any service type like home cleaning, electrician, plumbing, or any other, the company collects money from the customers and pays due to the hired one. The platform charges a specific commission from the paid amount received.
2. Services Without Fixed Charges
The company charges the professionals for sponsored listings and lead generations. The users don't have to pay immediately for the service. The professional can pay fees to accept the service request. If the professional successfully convinces the users to buy their service from them, monetizing gets completed successfully.
The users are mainly provided with five options to choose from; they can choose any as per their convenience. If the customers don't explore the provider's profile, then they get paid credit. If the algorithm works in the best manner, users can get an immediate solution without making much effort.
Undoubtedly the business model of UrbanClap has accomplished astounding success. The platform has recently started using modern technology such as AI and ML for more effective working and enabling users to assess the platform. The platform itself understands the user's requirements from their history and allocates resources; besides, it accurately tracks the whole process.
The three founders have combined AI, and Machine Learning backed processes to systematize the way decisions are made. After implementing modern technology in the working process, the company handles all the procedures smoothly and efficiently. It guarantees that the users receive high-quality services whenever they demand.
There is nothing to doubt that the business model of UrbanClap will achieve an aspiring achievement in a short duration of time. Hence it will be profitable for you to opt for a similar platform to UrbanClap, but before investing in any check, the complete flow to identify whether the platform is capable enough to satisfy your business requirements.
Urbanclap Revenue Model: Check to Know How Business Giant Raised Money
UrbanClap follows a dual revenue generation approach. The company mainly lists two kinds of options: booking accounts and a section for the fixed pricing services and variable price service. The company follows effective ways of helping them to bring colossal capital to the table based on the approach.
1. Commission
Urban Clap generates around 85% of its total revenue from a commission-based approach. In the commission-based method, the company charges some % from service providers' total earnings. In this way, it satisfies customers' needs by enabling them with reliable and quick service whenever they require it.
Additionally, it provides wider opportunities for service providers to offer their services to earn more. The platform charges a different percentage of commission from every service provider and vendor based on their work. They get more commission from the providers if they get more work from the platform.
2. Lead generation
Lead generation is also considered as the second most effective way for revenue generation. But for UrbanClap, the primary source of revenue generation is charging commissions. In this approach, individuals specify their requirements; the platform recommends the service providers accordingly.
Customers can either contact the service providers or can ask other customers to appoint them on their behalf. In this way, the company leads to service providers' customers looking for service opportunities; the company charges from professionals for the lead generation.
3. Reverse Auction
A service provider can pay a fixed amount to promote their skills using the UrbanClap platform. The company, in exchange for capital, helps service providers to improve their conversions and lead generations.
4. Advertisements
Service providers, businesses, and manufacturers run their advertisements through the UrbanClap platform in exchange for advertising fees.
Future of UrbanClap : Why to Invest in an App Similar to it!
Undoubtedly, UrbanClap is growing very speedily. It's the most successful startup that is providing services in India. The company has also expanded its business services in other states and recently worked in Dubai to make its services available to customers accurately. The company is changing itself to provide better services to its customers.
You can also develop an app similar to UrbanClap, ensuring your service business's success in today's challenging and competitive market. Get in touch with our dedicated team members to know what we offer with the solution, how much it costs, and other things. Ensure fast business growth ahead and overcome all the milestones with impressive tech support.