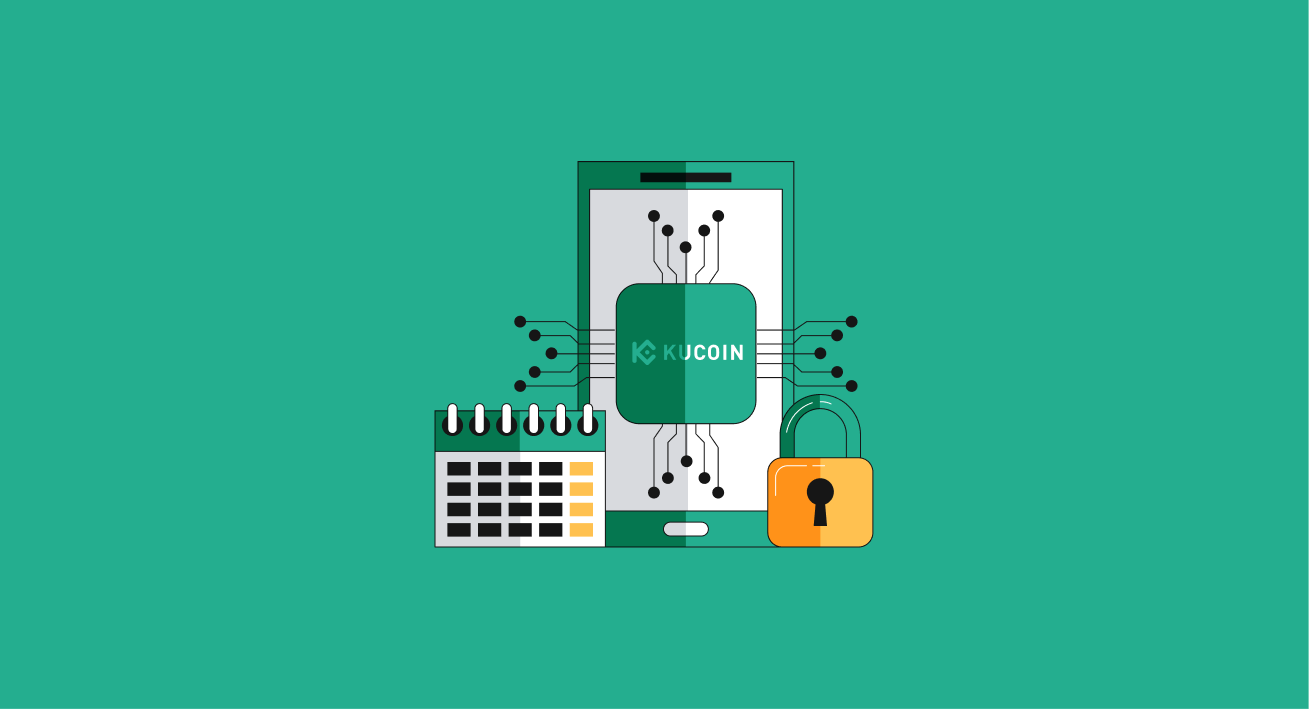 Today, there are several
crypto exchange platforms
, some of which are recent and others of which are historical. The appropriate one can be challenging for a beginner investor to select. We describe Kucoin here as an example of a well-known exchange that tries to make things simple for the average person. Find out what KuCoin is, how to use it, and its characteristics.
The cryptocurrency exchange is a trading platform where users can securely exchange, buy, and sell all prominent cryptocurrencies. Three types of exchanges, such as centralized exchange, decentralized exchange, and hybrid crypto exchange, are common in the crypto sector when it comes to exchanging digital currencies.
Recently, a lot of people have expressed interest in cryptocurrency trading strategies for financial gain. In exchange, the exchange administrator will collect a tiny commission fee, which is a key source of income for this business model.
The best revenue-generating business concept currently in use is a cryptocurrency exchange. Due to the prevalence of numerous well-known crypto exchanges, KuCoin attracted the interest of numerous investors and businesses. Due to KuCoin's success and revenue streams, cryptocurrency startups and business owners are expressing interest in starting their own bitcoin exchange like KuCoin.
If you're not familiar with KuCoin, then this article is for you. In this post, we'll talk about the KuCoin exchange, including how it operates, its background, and much more. Let's begin with.
Overview of KuCoin: History, Meaning, and More
CoinMarketCap estimates that KuCoin has 503 traded coins and is a centralized cryptocurrency exchange. Through Simplex, Banxa, and OTC, the exchange supports fiat currencies including EUR, CZK, NZD, HUF, CAD, etc.
More than eight million individuals are currently using it in 207 different nations.
KuCoin has its own cryptocurrency, formerly known as KuCoin Shares or KCS but currently known as KuCoin Token.
Spot trading, margin trading, contract (futures), pool-X, loan, and trading bot services are all offered by the platform.
Hong Kong is the home of Kucoin. The cryptocurrency exchange had to relocate after the government's crackdown on cryptocurrencies; it was originally from China.
The main component of Kucoin's business strategy is the availability of a wide range of crypto assets. It is a wonderful choice if you're looking for a crypto exchange to use because of its strong safety record and reasonable fee structure.
Brand Name: KuCoin
Headquarter: Seychelles
Year Founded: 2017
Regulation: Legally Operates as a digital asset Under Seychelles Law
Currency Listed: 700+
Native Token: KCS
History of KuCoin
A cryptocurrency exchange called KuCoin calls itself a hybrid exchange that combines elements of both controlled and decentralized exchanges. The team's long-term objective is to switch to a completely decentralized exchange model.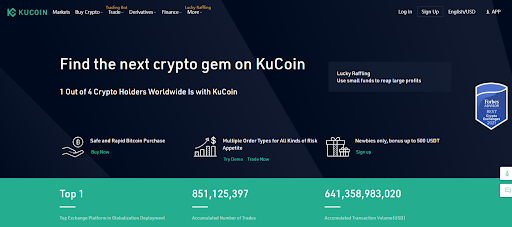 Source: KuCoin
At the moment, the exchange employs a more centralized form of operation and attempts to mimic the best practices of established asset exchanges, such as the use of specialized risk and compliance teams. These teams are in charge of conducting cross-departmental reviews and internal controls to lessen fraudulent activity on the platform.
KuCoin Shares (KCS) are a cryptocurrency that the exchange uses to reward users and draw in new users.
Trading fees are reduced for users who have a certain number of KCS in their accounts. Additionally, KCS owners get a daily reward known as a KuCoin bonus that is equal to 50% of the exchange's trading costs.
The exchange keeps the remaining 10% of costs and offers a 40% referral bonus to users who connect new users to the site.
Whatever token had the highest trading activity during the day will be used to pay dividends.
One of the First Platforms That Owns Mobile Application
One of the first cryptocurrency exchanges to provide a fully functional mobile application was KuCoin. Mobile devices running iOS and Android can download the KuCoin app.
The web version of the exchange defaults to a light mode, whereas the mobile app version defaults to a dark mode. This difference in default UX (user experience) is immediately noticeable.
For iOS users, the options for Home, Markets, Trade, Futures, and Assets are located at the bottom of the screen. On the desktop version, the menu will look different.
The KuCoin mobile app is packed with information, which some people may find overwhelming. Beginners in cryptocurrency might want to start with the desktop version.
What is KuCoin Token (KCS)?
Many well-liked exchange tokens are seeing their prices rise, including KCS, the native coin of KuCoin. The token's price has increased by nearly 700% since August 21, 2020, catching the eye of cryptocurrency and blockchain investors.
With 80,118,638 KCS in circulation, the exchange gives KCS holders incentives every day. At the time of writing, the burning technique had reduced the initial total supply of this token from 200 million to approximately 170 million.
How Does The KuCoin Work?
There are many crypto exchange platforms but KuCoin has gained immense popularity, especially in the Chinese market. Just like other platforms, KuCoin follows the same working pattern. Let's have a look at certain steps that demonstrate how KuCoin Works and make it easy for beginners to sell and buy.
The user must first form an account by entering their Gmail username and password. To the registered Gmail, a link will be sent for verification purposes.
An account can be quickly activated by the user by clicking the verification link.
After creating an account, the user must submit all pertinent information, including a license, official documents, and other data for KYC verification. (Note: The KYC can only be checked and verified by the exchange's administrator.)
The user must supply the bank information to deposit fiat currency after KYC verification. They can begin purchasing crypto assets only after connecting with their bank account.
The user must select the cryptocurrency and submit the order.
The trading order will be carried out immediately after being placed. Additionally, the crypto coin will be instantly transferred to the user's crypto wallet.
You are allowed to charge your users a specific amount as a trading fee for each successful cryptocurrency transaction. By doing this, you can benefit greatly from the cryptocurrency market in a short period of time.
Some Terms Related to KuCoin
Indeed, KuCoin is a novice in the crypto exchange world but it has gained huge attention from users in no time. Today, the platform boasts a massive user base. Consequently, KuCoin comes with innovative services and a few terms we are going to explain in our next section.
KuCoin Trading Bot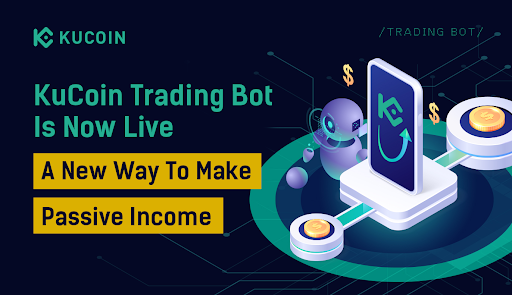 Source: KuCoin
KuCoin provides users with the Trading Bot feature, which makes trading simpler. Users can enter particular trading criteria and let the bot do the rest after registering an account and depositing money.
Its Trading Bot analyses prices and forecasts using other tools as well as market data and analytics. The bot then uses this data set, along with the user choices, to place buy and sell orders when the price fluctuates.
And presto! By recovering invested funds and generating pure profit, Trading Bot enables cryptocurrency traders to earn money while they are sleeping.
Additionally, KuCoin Trading Bot provides long-term trading approaches. Users can direct the Trading Bot to make incremental investments over time at predetermined intervals rather than making a large one-time investment of several thousand dollars in any cryptocurrency.
According to Johnny Lyu, the CEO of KuCoin Global, "Unlike traditional financial markets, cryptocurrency trading is open every day of the year, 24/7. The constant change is too much for human dealers to handle.
The need for sleep and trading based on emotions are issues that KuCoin acknowledges will be resolved by its Trading Bot tool. It is a passive strategy for bitcoin trading that maximizes possible gains. With the knowledge that their cryptocurrency trading portfolio is working for them, traders will have more time to enjoy life and pursue their interests."
KuCoin Pool
A mining pool that accepts proof-of-work assets is the KuCoin pool. It only offers a 2% mining fee. Even the exchange's improved algorithm ensures excellent mining productivity.
Log in to the KuCoin pool after entering your KuCoin account. Make a miner account, then finish configuring your miner in the general settings. The platform uses an FPPS-based settlement mode for BCH mining and an FPPS-based settlement mode for BTC mining as part of its revenue model.
KuCoin Features that Make Crypto Trading Hassle-free
In addition to having minimal fees, KuCoin has been attempting to establish a strong reputation. The Chinese cryptocurrency exchange uses a tried-and-true combination of features to set its service apart from rivals.
The platform offers the most cutting-edge API on the market, first-rate client support, scalability, safety, and an extraordinary group of bitcoin specialists among these.
API
The platform's API interface is robust. REST APIs (with four types of private and public data) and WebSocket feeds are the two categories of KuCoin APIs (which mostly provide public market data).
Customer Service
The exchange offers email, a helpline, and on-site service twenty-four hours a day. You should be aware that since customer service is based in Hong Kong, you can encounter cultural difficulties when dealing with a consultant.
Scalability
The software says it can accommodate an endless number of trade pairings and keeps adding more cryptocurrencies. It was the first to implement pairs that other platforms had not yet mentioned.
Financial Safety
According to their storage scale, wallets on the network have selected storage solutions with various security levels. The private network architecture they established on the Amazon Web Services Cloud, which has a multi-layer firewall as the foundation for security isolation, is where we kept the micro-withdrawal wallets.
The wallet document itself has been encrypted using a multi-layer, industry-standard approach whose cipher code is always preserved by a specific individual and is regularly changed.
Educational Resources
For those who are interested in learning more about cryptocurrencies or blockchain technology, KuCoin does not currently provide any educational resources like videos, online courses, or tutorials.
However, it offers a comprehensive repository that answers every query users might have about using the exchange's services. There is a blog as well, however, it is once again primarily concerned with KuCoin's activities and updates.
How Does KuCoin Make Money?
The majority of KuCoin's revenue comes from trading fees. They charge a 0.1% spot trading fee and a 0.5% buy/sell cryptocurrency fee.
Any cryptocurrency investments will be subtracted from this total if you have Tokens in your trading account.
Due to the presence of coins in their accounts, traders who utilize this option pay a cost that is 25% lower.
Trading commissions for both individual traders and institutions will change depending on the trading volume over a 30-day period. With lower trading volumes, fees should be lower; with bigger trading volumes, fees should be higher.
Additionally, the platform receives revenue from the trading commissions levied by other cryptocurrency exchanges using the KuCoin Broker Program.
KuCoin Like App Development
The use of smartphones has spread, and it is increasing daily. Therefore, you must develop a mobile app for trading cryptocurrencies, like KuCoin. The KuCoin similar app enters the picture at this point.
The mobile trading app for KuCoin is a copy of the KuCoin. The KuCoin app's trading capabilities are entirely present in this clone app.
With extensive functionality and security components, Elluminati offers a top-notch KuCoin clone app consisting of all the required features and functionalities that makes it simple and secure cryptocurrency trading for your users.
The Takeaway
KuCoin isn't simply another cryptocurrency exchange, at least not at first appearance. The team has a long-term strategy, a vision for developing a workable service, and a goal of promoting global crypto usage.
The website continues to attract users despite not accepting any fiat money since it is eager to split revenues and enhance services.
KuCoin Earn can be a little overwhelming for new users. However, anyone can eventually learn how to use the platform to their advantage. As an entrepreneur or investor, if you want to know more about KuCoin or develop a similar platform, Elluminati Inc helps you design an advanced version of your business with emerging technologies.