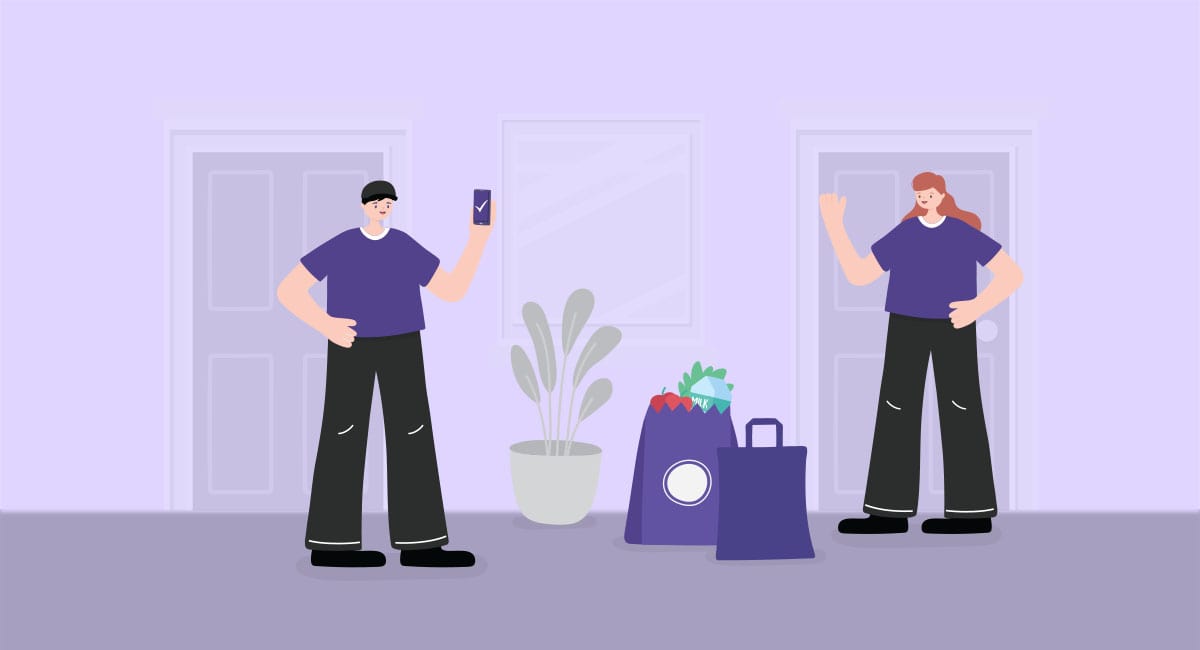 Nowadays, the dining experience is no more limited to visiting cafes or restaurants. Most food lovers are positively opting for the online ordering approach to have a fantastic experience right in their homes' comfort. Food delivery through Wolt clone has now been proven as a simple idea that can be converted into high-profit margins in no time.
For thousands of food ordering and delivery entrepreneurs, mobile app development offering a user-engaging experience has become a promising investment that ensures their business growth.Statista report shows that in 2019 food ordering and delivery platforms are estimated to generate $53,786 million. The revenue is estimated to increase with a yearly CAGR rate of 11.2%.
The successful and innovative idea of an online food ordering platform has encouraged young startups to build their app. If you aim to join the success chain, you need a fascinating food delivery service solution. Explore our E-Delivery to find the best and user-friendly solution for your business at a pocket-friendly price.
What is Wolt Clone?
Wolt clone is a robust and user-friendly online platform that comes with modern features and allows entrepreneurs to kickstart their delivery business instantly. An app like Wolt comes with all the essential components to satiate the rising needs of customers and optimize business efficiency.
Success Story of Wolt to Explore
Wolt is a meal delivery platform that connects food lovers with their favorite and couriers. The company ensures its growth by helping thousands of people to find nearby restaurants by making it easier for them to place their orders as per their preference.
Wolt was founded in 2014; it's one of the best online takeaways ordering and delivery systems that successfully operates in more than 50 cities and has about 2.5 million registered users. The company enables users to order food, discover the menu, and get the meal delivered in their personal space. The annual revenue of the meal delivery and ordering app has amounted to $23.8 million.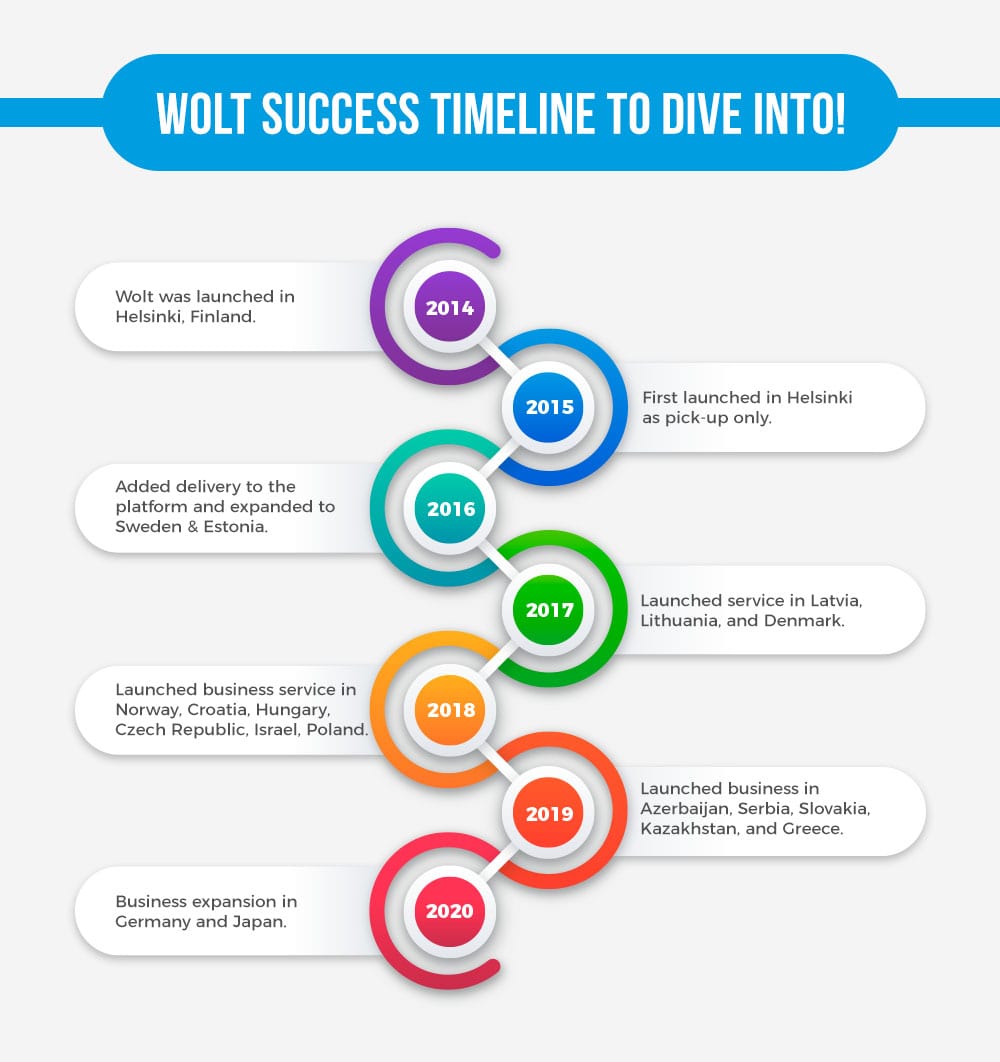 The delivery businessexperiences drastic growth during the COVID 19 outbreak. Additionally, millennials have also seen a high growth curve with the delivery apps; hence it's the right time to invest in the meal delivery industry. It would help if you focused on boosting your business presence online as it can help you grow your meal delivery business to the next level of success in no time.
You can leverage numerous advantages by deciding to invest in an app similar to Wolt. The platform will connect you with end users and help you earn higher profits. Besides this, it allows you to secure a competitive position in the meal delivery market. Still, before stepping into the development process, you need to perform extensive research in the nocturnal marketing standards. It helps you find a reliable partner and enables you to stand out among competitors in the market by delivering the best takeaway for your delivery business.
Wolt Business Model: How it Streamline Your Business Operations
The Finnish technology company, Wolt, is popular with its food-delivery platform. Customers can download the app from Google or Apple app store to order food from the platform's restaurant partners. They can even use a web and pick it up and get it delivered by the courier partners who have registered on the system. restaurant partners. They can even use a web browser and pick it up and get it delivered by the courier partners who have registered on the system.
The foremost thing about Wolt is that it doesn't list restaurants on its platform and generates delivery partners who deliver the meal within a limited period. Wolt's business model is based upon hyperlocal on-demand meal delivery business operations. Wolt consider using innovative technology the concept to bridge the gap between food lovers and restaurants. The platform operates on a dual model, and it's responsible for restaurant benefits.
Wolt operates through its mobile app and websites; the platform is used by foodies to order a meal online from nearby restaurants. Along with listing restaurants, Wolt shows menus of restaurants on the app; hence food lovers can choose from a variety to choose from.
Customer Segment
Customers who want to order meals from their favorite eateries and restaurants.
Food lovers who want to get their food delivered to their space.
Customers who are aiming to shop for groceries, nutrition, etc.
Customer Relationships
Wolt offers 24*7 service to its customers. It mainly interacts with customers using an app, websites, and social media. The platform has successfully maintained a fantastic relationship with end-users so far.
Key Activities
Developing partnership with eateries, retail shops, and restaurants
Mange delivery providers
Order management
Technical operations and payment process management
Customer concerns handling
Are you planning to launch a food ordering and delivery platform such as Wolt? Make sure to keep the flow as simple as possible? Explore the e-delivery app graphical flow to know how you can ensure unique experience offerings to customers on their demand.
Wolt Revenue Model: Know Effective Way to Generate Money
CEO Slush Miki founded Wolt in 2014; the company is headquartered in Helsinki, Finland. In 2018, the Finnish meal delivery app Wolt raised $30 million in funding. As of 2019, the company successfully operates in more than 60 cities, including Turku, Tampere, Tallinn, Vilnius, Stockholm, Copenhagen, Berlin, Belgrade, Oslo, Baku, Prague, Tbilisi, Brno, Zagreb, and Athens. The meal delivery company has partnered with more than 6000 restaurants 12 000 courier partners, and has about 3 million registered users.
Helsinki based Wolt raised 160 million to fuel its international growth. The investors include 83North, ICONIQ Capital, EQT Ventures, Highland Europe, Supercell founder Ilkka Paananen, Inventure, Lifeline Ventures, Nokia Chairman Risto Siilasmaa, and many others. Wolt has more than 530 employees and has started hiring about 1,000 by the end of 2020.
The food ordering and delivery platform gained the second position in the 2020 edition of the FT. Besides attracting investors, the food delivery platform generates revenue in various ways. If you want to launch the delivery platform, then you can consider the following revenue generation approach.
Delivery charges
Advertising
Commission
Wolt access and super
Affiliate
The unique features and fantastic customer service offering features have made the platform the best choice for food lovers. If you aim to achieve success similar to Wolt, then you can invest in an e-delivery platform that ensures business expansion and success in no time. The system will help you to address all the growing needs of the market, resulting in increasing your customer base to a great extent.
How Much it Cost to Craft Wolt Clone?
Due to the technological boom, the mobile app has become a significant part of eCommerce. Be it a banking app, food delivery app, or any other app, it's crucial for you to get your business online. And when it comes to app development, numerous factors determine the cost:
App size
App platform
Data collection
UI/UX design
App testing
maintenance
The money invested in the features mentioned above and functionality varies from the business. Moreover, there are mobile app developing companies that enable services as per their budget. Keeping in mind the present scenario of app development, you need to build the app for both Android and iPhone as well; hence the price of the development differs
Benefits of Developing Wolt Clone
The importance of tech stack has increased in the present era; it has completely changed business. The user friendly has made it easier for customers to get business information with lightning speed and remain connected with their favorite brand.
Food ordering and delivery apps are the primary means of marketing for your restaurant, helping you expand your business reach while delivering relevant and massive exposure to the brand. If you build an app like Wolt, then you can leverage various benefits, including:
Strengthen customer engagement
Increase accessibility
Provide value for customers
Transforming the retail experience
Build brand recognition and awareness
Stand out from the competition
Cultivate customer loyalty
Unique services and payment
Why Invest in Wolt Clone?
Investing in Wolt clone helps you to address all the business needs. Feature-rich and user-friendly apps enable you to cater to food lovers' varying requirements. It offers you attractive opportunities ensuring your business expansion in no time. Get in touch to build an advanced solution for your business that helps you to take your company to newer heights.
Food Market Expansion: Learn What Wolt Plan to Meet the Demand!
For business expansion, Wolt is focusing on reducing the administration needed for payments. The company doesn't enable its users to make payments using the TransferWise batch payment system; the process has large transfer volumes in the shortest possible time. Wolt has already expanded its business services in more than 11 countries. And the company is planning to expand its business service in more countries by the end of 2020. The company is working efficiently to make sure they are capturing the new market.