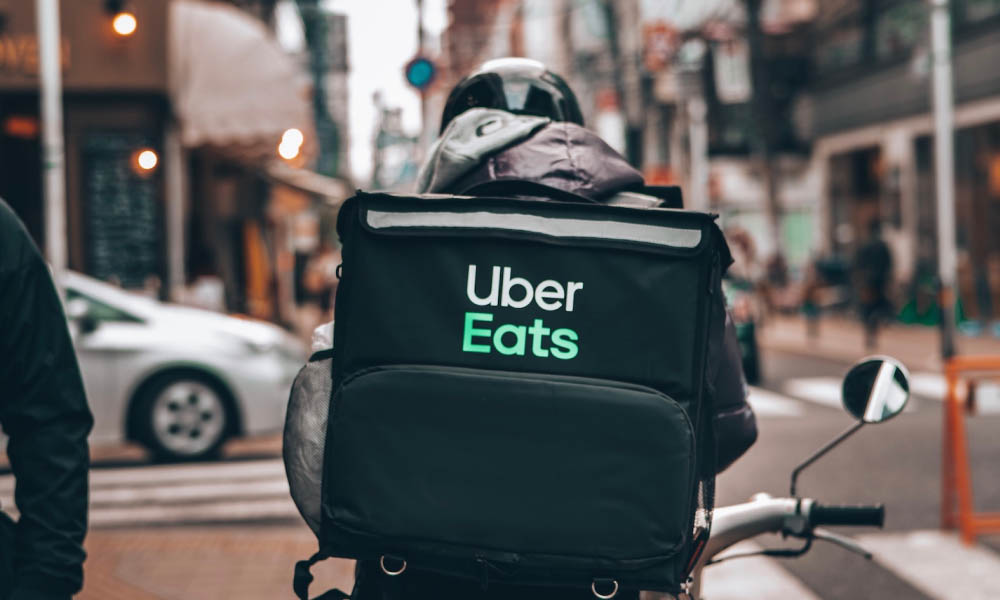 Uber launched its food delivery business in August 2014, initially named it Uber Fresh. Then it was renamed as UberEats in 2015 and started delivering food across the countries. UberEats is developed to serve meals to users' doorstep, leveraging business strategies that teach the right way to achieve success in this on-demand economy. We will study the UberEats business model throughout this blog, including how UberEats works, revenue resources, and some important facts.
UberEats is currently operating successfully in several parts of the world. In Q3 2021, Uber announced that their gross delivery bookings rose by 50% yet is expected to grow higher. UberEats has a huge force of delivery men, as its parent company, Uber, was already widespread, which led them to complete the orders faster.
Moreover, the basic business model is versatile and fits any business sector or business dimension. UberEats business model is one of the examples that adapted its strategies, successfully outshining markets worldwide.
What is UberEats?
UberEats is a food delivery organization launched in 2014 by Uber Technologies Inc. It has released a separate application for Android and iOS and enabled a website allowing consumers to order food from any of these platforms. It aims to make food ordering easier and offer home delivery services. The platform is making it easier for food lovers to order their favorite meals from local restaurants, browse their menus, refer to their ratings and reviews, and allow them to pay online for food and delivery with the desired method.
Subsequently, it expanded its services in various countries and cities like London and Paris in 2016 and became one of its largest aggregators. In 2018, it commenced tripling its working team in the European markets. Later, it reported its existence in 20 countries, including 200 cities. In the meantime, Uberetas has updated delivery chargers afterward, which then have been calculated determined by distances in several countries. Today, the number has risen to more than 6000 cities in 45 countries.
Amazing Facts & Figures About UberEats
Founders: Garrett Camp and Travis Kalanick
Founding Year: In 2014
Headquarters: San Francisco, California, U.S.
Area Served: 45 countries, 6000+ cities.
Revenue Increase: 31%
Current Valuation: $20 Billion
How Does UberEats Work?
UberEats operates on a business model that covers three segments, acting as a bridge between restaurants and food lovers. Let us look at how UberEats works by combining three marketplace segments.
As the customer registers in the app, they browse stores and their menus, add items in the cart for ordering, and finalize them by checking out.

Once a customer places the order, that particular store gets notified with the order details. And they prepare the order as per the customization and special instructions given by customers.

And later, the store places a request to delivery providers. The one who accepts the requests gets the order details and delivery details.

As the provider picks up the order from the store, a pickup confirmation gets sent to a customer.

Using efficient navigation support, the provider reaches the customer's location and delivers the order.

UberEats Business Model - Watch Out Its Segments in Details
UberEats is a three-sided marketplace connecting restaurants, customers, and drivers with the Uber Eats platform at the center. The business model allows restaurants to tap into a bigger market where many customers place orders online. The business enables customers to order food from local restaurants. It is relatively easier for customers to deliver their favorite food right to their doorsteps. The aggregator follows a hyperlocal on-demand business model enabling the company to perform all tasks efficiently and systematically.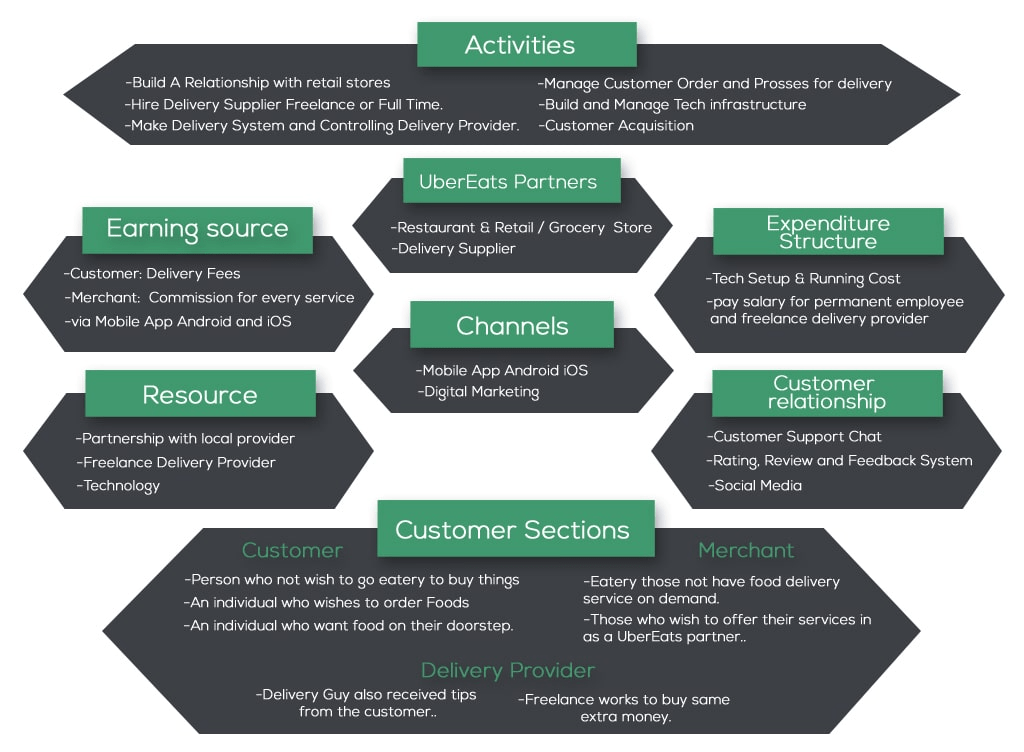 UberEats Value Proposition
UberEats promises to deliver orders within 30 minutes from a local restaurant in most cities.

UberEats mainly works on the principle, "We do not want your food traveling halfway across town."

Customers can easily order their favorite meal by paying standard delivery charges, ensuring orders are satisfied irrespective of the requested value.

UberEats has millions of active users worldwide as the platform offers a fantastic delivery experience to them on their demand.
How UberEats Benefits Food Lovers?
Food lovers who wish to receive their food immediately

People who don't have time to cook

Customers who aim to get their food delivered to their place
How UberEats Benefits Restaurants?
Restaurants who want to increase their business reach

Food stores aim to improve their customer base

Restaurant owners who want to increase their brand visibility and loyalty
How UberEats Benefits Service Providers?
Freelancers and service providers who want to earn extra money

Unemployed persons
Customer Segments of UberEats Delivery System
Stakeholders of the system are the prime benefactors who receive excellent services and benefits by using the app solution. And these stakeholders are:
Customers
Users who download and register the app can benefit from the online ordering facility. Moreover, they can track their order and delivery progress in real time with the embedded functions of real-time tracking on the map.
Delivery Providers
Delivery providers who register for delivering orders also earn from the deliveries. They can make deliveries and fulfill the delivery requirements as well. Introducing an integrated map in the dedicated solution helps them deliver on time.
Food Chains/Restaurants
Restaurants can benefit from the online visibility they gain with the app solution. Also, they can earn profits from the online orders placed by the customers. Using the dedicated store application and panel, they can manage their business operations efficiently.
How UberEats Pay to its Delivery Partners or Drivers?
UberEats devices delivery partner fees into three segments:
Pickup fee
Delivery fee
Per mile fee/ mileage fee
The figure of charge varies from one region to another. If any of the customers offer a tip to the delivery partners, then the delivery man owns the total tip.
Give Your Conventional Business a TRY. Instantly.
Want to Know How? Let's Take You There
Explore Uber Eats' Cost-Saving Factors
You might have heard, "Every Money Saved is Every Money Earned". UberEats, with its unique business model, makes more money than its competitors. Explore some cost-saving factors UberEats that UberEats follows:
Lesser Customer Acquisition Cost & Shared Marketing Expenses
The marketing and advertising cost of UberEats is ultimately less as it grabs the attention and benefits of cross-promotion on the Uber App.
Shared Network of Drivers
The drivers of Uber double up the work of the delivery platform. UberEats don't have to face the issues of setting up a delivery network from scratch. Uber riders get numerous benefits as they deliver the food for the delivery fleet when ideal.
Save on Logistics Costs
Well-defined unit economics helps UberEats save an immense amount, which has to be invested in logistics costs. The company believed in completing multiple food orders in a single delivery run on the same route.
Primary Source of Income For UberEats
UberEats shares profit from the registered restaurants and the delivery providers. It helps them earn more and keep their apps updated with the latest feature updates.
Profit Shares From Registered Stores
Admin sets the absolute value or profit percentage that stores have to pay. It helps the admin earn more while the stores make money from the online ordering and delivery services.
Delivery Charges
Providers delivering the ordered parcels to customers also earn a dedicated amount from their completed deliveries. Commissions earned as the delivery service charge from customers get shared between delivery providers and the system admin.
Charges of Ads from Restaurant Partners
Ubereats provides a platform for restaurants to reach more customers through advertisements, marketing campaigns, social sharing, and other mediums. In return, it charges an amount that goes to UberEats revenues.
Surge Pricing
UberEats follows the same surge pricing algorithm as Uber. In peak hours, an extra amount is charged over demand based on the number of drivers and number of orders in an area at the time of ordering.
Conclusion
As the food tech sector is booming, it is predicted to become unstoppable in the next few years, and many new startups have made their debut in this industry. However, an experienced player like UberEats has entered this market with the UberEats business model, due to which the competition is quite stiff. The company has made a huge contribution to its parent company, reaching various milestones yet offering more to offer.
This success strategy has triggered many entrepreneurs' minds. Consequently, they are willing to have an app like UberEats for their restaurant business as it saves time, money, and other resources. UberEats' business model is cost-effective and efficient; explore the whole model below. Also, analyze the business model of UberEats to stand tall and give fierce competition with your food delivery model to increase business reach.