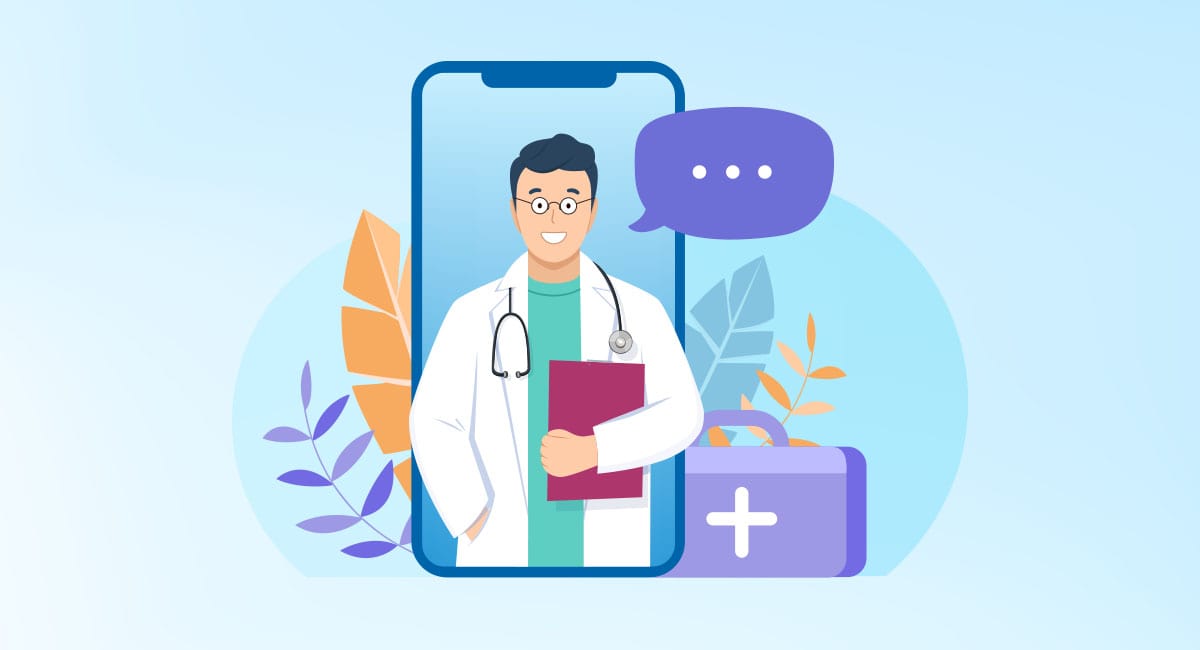 The medical sector is skyrocketing since patients have started using online apps for consultation. Slowly and steadily, the medical sector is becoming digital and transformed the way it was. More and more business owners are investing in healthcare startups as it ensures profitability within a short time. Here we will discuss how one can get started with an on-demand medical consultation business and earn huge profits.
With the increasing usage of the Internet, everything is happening virtually right from business consultation to doctor consultation. Irrespective of business type and size, consultation services have been in a huge spike, and most of the services have extended their services globally.
On-demand medical consultation business is in huge demand as it reduces traveling cost and offers quick services to patients without any geographical boundary. A business owner who wants to give online consultation needs various tools such as:
Video calling software or app
Messenger or email service for communication
Google calendar for managing appointments
Smooth and secure payment system
This post will give you an in-depth look at starting an on-demand medical consultation business and how it will give you an attractive yield in no time.
Digital Health Market Size
On-demand medical consultation services are growing and highly in demand as it offers benefits to users and patients. Thus more and more entrepreneurs see the potential in services like this as it fills the gap between patients and doctors efficiently.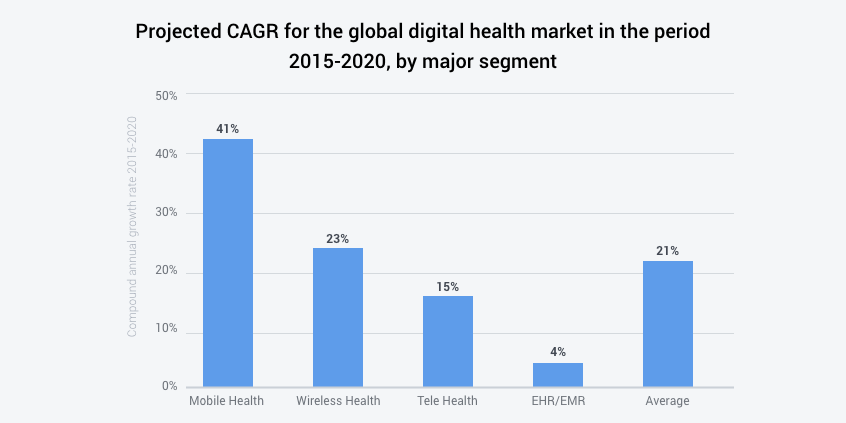 The above graph from Statista reveals that the digital health market has recorded massive growth between the years 2015-2020, and it will continue to grow in the coming years. (source)
Furthermore, the mobile health solutions market is expected to hit $90.50 billion by 2022.
Most importantly, the online medical consultation share was around 26 billion dollars in 2017, with a 15% annual growth.
The above figures and facts clearly show that there is a huge potential in the healthcare industry if you offer online solutions. If you want to grow your traditional consultation business and get more clients, you need to invest in an on-demand medical consultation app that enables you to take your business digital and offer an attractive return.
How To Start On-demand Medical Consultation Business
Living in a techno driven world, it has become easier to start an online medical business with the help of advanced technology and digital tools. Here are a few steps that will help you set up an online medical consultation service quickly.
Acknowledge your expertise
Start with who you know
Build app/web for online presence
Above are the simple steps you need to follow while jumping into the on-demand medical consultation business. Let's explain each attribute in detail.
Acknowledge Your Expertise
Once you have decided to start an on-demand medical consultation service, the very first step you need to take is to acknowledge your area of expertise. If you are already in the medical field, you should have enough idea about how it works. After all, consultation is all about recognizing your own areas of expertise and how those can be applied in the local marketplace.
Or else are there any niches or areas that you have always been excited about and explored? Take a pen and paper. For instance, if you have vast knowledge about skincare problems, utilize it to offer consultation services. Based on this, you will come to know about your target audience and the rest of the core objectives.
Start With Who You Know
Consultation service is all about making contacts that will turn into permanent contacts. Once you define yourself in the area, you are an expert; the second step is to start getting involved with who you know. If you belong to the medical fraternity, you will be already recognized by peers, hospitals, and professionals.
You can get indulge and share interesting stuff about your medical consultation service. It will grab their attention and also opens many doors of opportunities.
Build Web/App For Online Presence
These days, creating a strong digital presence has become important as you can not expand your medical consultation business globally without having an app or web.
As we said earlier, you should integrate modern features such as video-calling and message facilities within the app for online medical consultation service. It will help you connect with patients in a more personalized way.
Right now, building an on-demand medical consultation service application is the best way to get clients for your consulting business. With a scalable app, you can target and promote your business even with a small budget.
Moreover, patients also can book appointments and stay connected with your business. In today's digital world, your online footprint is often your patient's first interaction with you. Hence, you need to build an app and create profiles on social media pages that will help you attract potential clients and expand your business reach.
How Does an All-in-one On-demand Medical Consultation Service Work
We have just mentioned the most important process of an on-demand medical consultation business, but it is also important to know how it works, so let's go over the steps,
Check the Consultant's Schedule
Using a website or application, patients can check the consultant's schedule in order to pick an available time and date. Based on their availability, they can pick dates and book appointments.
Appointment Booking
After the selection of date and time, patients can book an appointment choosing the right payment method. Once the appointment gets booked, users will get a notification through SMS and email.
Holding Consultation
The next step is to hold a consultation. Patients can attend consultations from their desktop, mobile app, or laptops through video calling or by live chat.
Providing Feedback
Once the online medical consultation gets over, patients can share reviews and give ratings based on their experience. After getting reviews, consultants can analyze it and improve their service in order to get more clients.
How Much Does It Cost In Developing A On Demand Medical Consultation App
Now on-demand medical consultation apps are in the surge to help patients to connect with thousands of doctors and wellness consultants on-the-go. The medical consultation cost mainly depends on several factors, such as:
Complexity of app
Hourly rates
Business requirements
Number of platforms
Technology stack
Unlike other apps, an on-demand medical consultation service app also should have modern features that attract customers and allow them to book appointments seamlessly.
Talking about cost, your medical consultation service app needs to include all the essential features and functionalities that streamline your business operations and enable your clients to book appointments from anywhere and at any time.
Furthermore, if you want to know the exact figure, hire a trusted and experienced on-demand app development company that will help you whether you should go with ready made or custom solutions.
Ready To Boost Your Traditional Consultation Business?
This article has covered all key aspects of how to get started with an on-demand medical consultation service business. Just like any other sector, the medical industry also needs the mids touch of technology as on-demand medical consultation service apps enable the consultant to leverage the benefits of digital advancements.
Would you like to transform your conventional medical consultation business with an online platform? If yes, get in touch; our team can help you develop, launch, and maintain a top-notch on-demand medical consulting service app without any hassle.