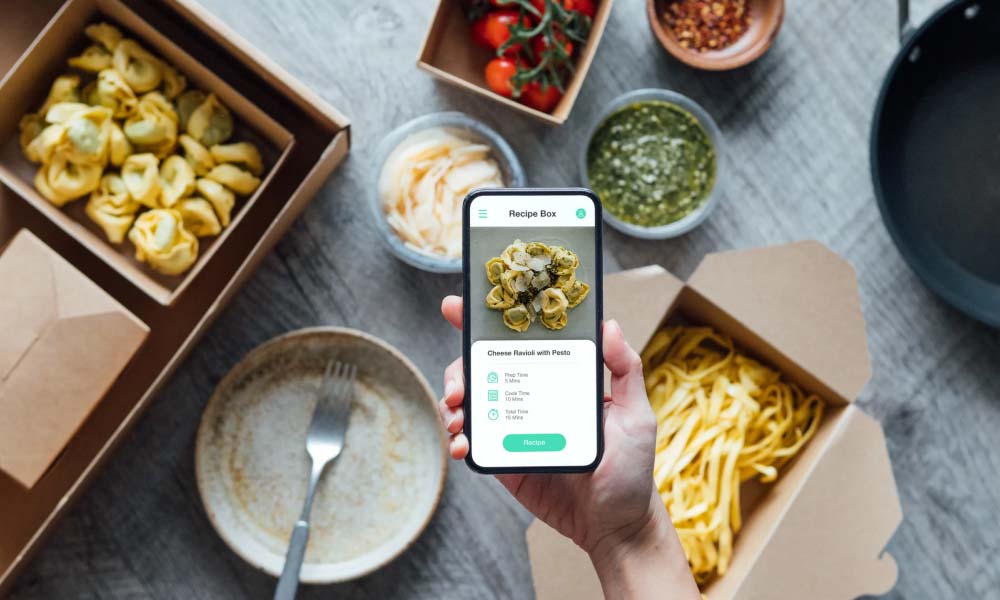 The online meal delivery market is continually changing. Once pizza, fast food, and cushions domain is also offering coffee, breakfast, and desserts. Most third-party food delivery apps such as JustEat, Deliveroo, and many more have capitalized on the market. However, the story doesn't end here; there is a food delivery platform such as Box8 that has gained massive popularity in a short time. Explore the whole article to know how Box8 works, its revenue, and business model to have identified why it is best to invest in a Box8 clone.
The global food delivery market is projected to increase from $107.44 billion to $111.32 billion between 2019 and 2020 at a 3.61% growth rate. The growth rate has undoubtedly slowed down in 2020 due to economic slowdown globally owing to the COVID-19 pandemic and the measures to restrain it. The delivery service market is suddenly expected to grow and reach about $154.34 billion in 2023 at a CAGR of 11.51%. ( Source)
However, India's online food delivery market is valued at around US$ 3.6 Billion in 2019. Online delivery assists individuals in receiving and ordering the desired meal at the doorstep. Most cafes, hotels, and restaurateur owners wonder how to start an online ordering and delivery business. How much does it cost to build a delivery app helping restaurant businesses to make it a profitable endeavor?
Most delivery startups invest in on-demand apps for startups and SMEs to boost their business to the next level of success. The app solution makes it easier for them to manage and handle all the orders efficiently. However, delivery businesses can invest in an app similar to Box8, helping them to operate their business efficiently.
What is a Box8 Clone? Meet Demands of Modern Patrons Right Away
Box8 Clone is a remarkable solution to upscale your restaurant business. Its exceptional apps, panels, and modules ensure seamless workflow and allow your customers to browse, order, pay, and get their delicious meal delivered to their doorsteps in no time. The online food delivery market has been experiencing huge growth and having a Box8 like app solution ensures business profitability and addresses all the challenges faced in this sector.
What is Box8?
Founded by Amit Raj and Anshul Gupta in 2012, Box8 started as a small outlet in a cafeteria. The goal of the company was to serve Irresistible Desi Meals in an easy-to-carry and convenient box. Today, the company operates above 22,000+ meals every day over 100+ outlets in Bangalore, Gurgaon, Mumbai, and Pune.
India's fastest-growing online delivery company Box8 operates on three pillars of tech, logistics, and taste, which define the company to ensure a delightful end-to-end experience. Founded by IIT graduates, the on-demand ordering and delivery platform has revolutionized the way Indian food is consumed.
The full-stack approach provides complete control over all aspects of delivery, from food taste, quality, technology to last-mile meal deliveries. The on-demand platform enables eateries to provide customers with the best ordering experience on their demand. Customers are allowed to choose from unique Desi Box, Paratha Wraps, All-In-1 Meals, Biryanis, Desserts, Desi Openers, & more. The ordering and delivery platform have a wide range of chef-crafted and hand-picked options with a desi mix at any time, and anything customers pick.
Box8 ensures to offer superfast delivery within 38 mins from the order placed with no delivery charges. The platform assures to provide all-time deliveries to customers on-demand. If you are "hungry," then remember that desi meals are just a few clicks away.
Explore the Success Story of Box8
Box8 is full-stack food tech platform thriving in India along with market incumbents FreshMenu and Rebel Foods. While its core business has taken a hit due to the COVID-19 crisis, the company recently launched "InstaFresh" on its platform, offering grocery essentials.
To beef up with a new offering, Box8 has successfully raised funds of 30 crores from Menlo park based Mayfield Fund and IIFL Seed Ventures Fund in a mixed round of equity and debt; the funding increased the revenue by over 63% in FY 19. The Mumbai-based company has issued convertible debentures worth ten crores in Series C3 CCPs funding that seems to be a bridge round.
The company has innovated the All-in-One meal box to fulfill a new-age Indian meal, making it easier for customers to eat anytime, anywhere. Box8 has also introduced an Indian twist to Wraps & Sandwiches and retained the core flavors in Curries. With an equal emphasis on modern technology, the company offers its customers the best class experience whenever they demand. They can order their favorite meal through an advanced platform that guarantee piping hot food time after time.
The company raised $15 Mn in a Series C round organized by the Chinese fund eWTP Ecosystem and the existing investors IIFL and Mayfield in March 2019. Box8 is the second full-stack meal delivery platform to raise capital in recent times. In contrast, Rebel Foods had grown to $50 million from Coatue PE Asia; the round was exclusively reported by Entrackr recently.
Earlier, the meal delivery giant, Box8, introduced a new feature under the "Instafresh" tab making it easier for customers to order dairy, grocery, and self-branded bakery products. The platform also introduced the "Tenderly" tab on the app to deliver eggs, various meats, chicken, etc within 30 minutes. These days, most of the meal delivery platforms are fighting for a share in the $16.6 Billion app market, and Box8 is one of them.
If you own delivery business and want to boost your presence online, the Elluminati is here to help you with complete development support. Invest in our all-in-one solution, e-delivery, to start your meal delivery business online. The tech stack enables you to operate your business efficiently, ensuring your business success and expansion in no time.
Box8 Business Model: Dive into to Know How Food Giants Meets Growing Demand
Online meal delivery startup, Box8 offers popular food items on its menu and plans to expand its business services in five different cities. The company efficiently controls all its business operations through an advanced solution. It presently runs its business successfully in Mumbai and plans to expand its business branch in Bengaluru, Pune, and other countries quickly.
Mayfield invested 21 crores in meal tech startup Box8 during its first strategic round of investment. Customers can get the app solution from Apple App Store and Google Play store or browse on the website to place their choice hassle-free order. They can select from a variety of cuisines available and make the same payment using multiple payment options.
Customers can get all the information about the food they order; they can also know about the expected duration of meal preparation and delivery right through the platform. Advanced and engaging features, in confluence among attributes such as precision of delivery, ease, and speed are increasing the demand for meal delivery service platforms in India. The meal delivery platform is quite similar to Ubereats business model,ensuring great value to customers, delivery providers, and restaurants registered themself on the platform.
Box8 Revenue Model: Learn the Money Making Strategy of Meal Delivery Platform
On the business front, Box8 clocks around 79 jump in FY 18; the operational revenue climbed to 81.47 crores from 45.53 crores, which were measured during 2016-17. Later the company generated revenue of 133.02 crores during FY19 measuring its revenue jump by 63%. The total expenditure raised to 69% due to 156.1 crore revenue; the financials reflect efficient utilization, which the company has increased during the last years.
The delivery giant mainly generates revenue from the commission and delivery fees it charges to customers on each order delivery. It collects some % as commission from partners once they complete the order successfully through the platform; it allows businesses to advertise their products and services on its platform in exchange for some money.
How Much it Cost to Build a Box8 Clone App?
The Box8 clone app development cost estimates depend on numerous factors, but the evidence can be platform choice, design cost, APK selection, and many more. Even the technology which you choose affects the development cost to a great extent.
The process of fixing the design after the UX research process and Design system ultimately depends on the platform complexities. This type of design element includes an increase and lower the cost of the meal delivery platform. The more innovative and detailed design is, the more it will cost for app development like Box8.
Remember that the app development cost for Box8 clone development increases or decreases mainly on the designing front and platform choice; hence make your choice smartly. Elluminati Inc offers completely customized solutions guaranteeing to cater to all your business needs efficiently. The app consists of all modules and features making it easier for you to effectively manage and control all the business activities.
Inflation of Meal Delivery Business: How You Can Meet it with Box8 Like App
Box8 Like App is a dedicated app solution that helps your restaurant business reach the tongue tantalizers through the fastest accelerated route. The delivery app makes it relatively more accessible for customers to order their favorite meal anytime as per their preference to get the delivery at their doorstep.
The solution stack makes it easier for you to offer personalized service to customers, along with eye-grabbing discounts. It provides to elongate the stay of ideal customers on the platform right through the platform. Check the app's visual flow to know how it works to ensure a seamless experience offering to customers on their demand.
Full-stack Food Tech Startup Box8 Has Long Way to Go: Explore How?
Box8 has elevated capital from investors with the anticipation involved by the investors. The platform can endure in the e-food market efficiently. The delivery platform has established its full-mass cloud Kitchen, which means that it possesses the whole food value chain, from the attainment of premium quality ingredients to feed preparation to the last mile delivery.
The company has its outlets in Gurugram, Mumbai, Bangalore, Delhi, Pune, and other cities. The delivery platform is planning to expand its service in more number of countries. If you plan to launch a platform similar to Box8, contact our team today to know everything, starting from development cost to platform launch and much more.