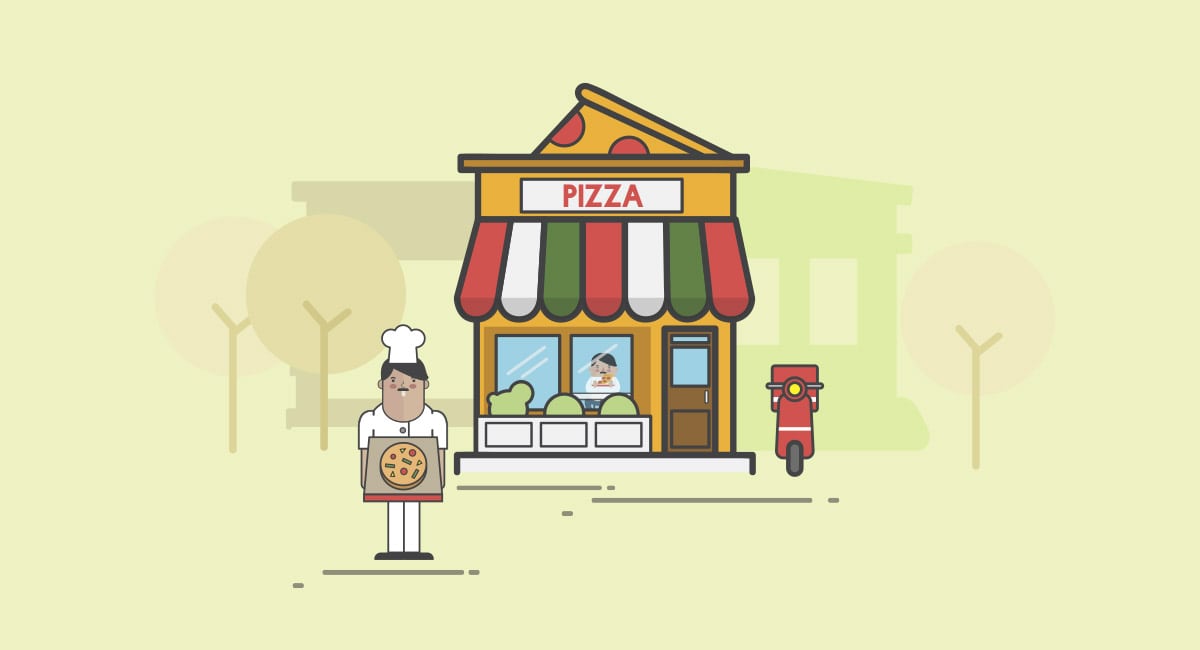 When it comes to tossing around pizza, no one can beat Pizza Hut, the world's popular and biggest pizza chain. The legacy of Pizza Hut started in 1958; for more than 60 years, Pizza Hut has been selling the yummiest pizza and satisfying hungry pangs of customers across the globe. Today, Pizza Hut operates more than 16000 locations with an extensive range of pizzas; whether you are a meat-lover or veggie, Pizza Hut has it all to change your taste buds. Now you must be curious to know why it is successful globally; let's uncover interesting facts and go through its business and revenue model.
Pizza Hut makes it so special and successful that it keeps evolving with customers' preferences and technological advancements. Whether you talk about its marketing strategies, or pizza recipes, or user-friendly apps and websites, Pizza Hut keeps working on innovative concepts that attract customers to its brand.
From bringing the concept of Pan pizza to run marketing campaigns on Facebook and Twitter to offering mobile ordering, Pizza Hut is leaving no stone untouched and has become a staple of the brand across food business giants. These days mobile ordering is increasing, and Pizza Hut has introduced user-friendly mobile apps and GPS-enabled websites so users can easily find the nearby pizza hut store and place orders.
Started with $600 in Kansas, let's go through how it has become the world's largest and most successful eatery establishment.
What is a Pizza Hut Clone? Offer Digital Experience to Customers
PizzaHut Clone is the perfect solution that allows entrepreneurs to digitize their pizzeria without spending much money and resources. From creating a digital menu to managing online orders, an app like PizzaHut is well-designed that makes your pizza business digital and paves your footprints successfully in this competitive delivery world.
Pizza Hut Facts, History, and Funding Details
Industry: Restaurant
Founded in: 1958
Founders: Dan Carney, Frank Carney (two brothers)
Headquarter: Kansas, Texas
Products: Pizza (Italian Cuisine Products)
Parent Organization: Yum! Brands
Number of Locations: 18,703 globally
A number of employees: 1,40,000
Serves: Daily 2 million pizzas
Customer-base: 4 million customers globally
Website: http://pizzahut.com/
Pizza Hut Timeline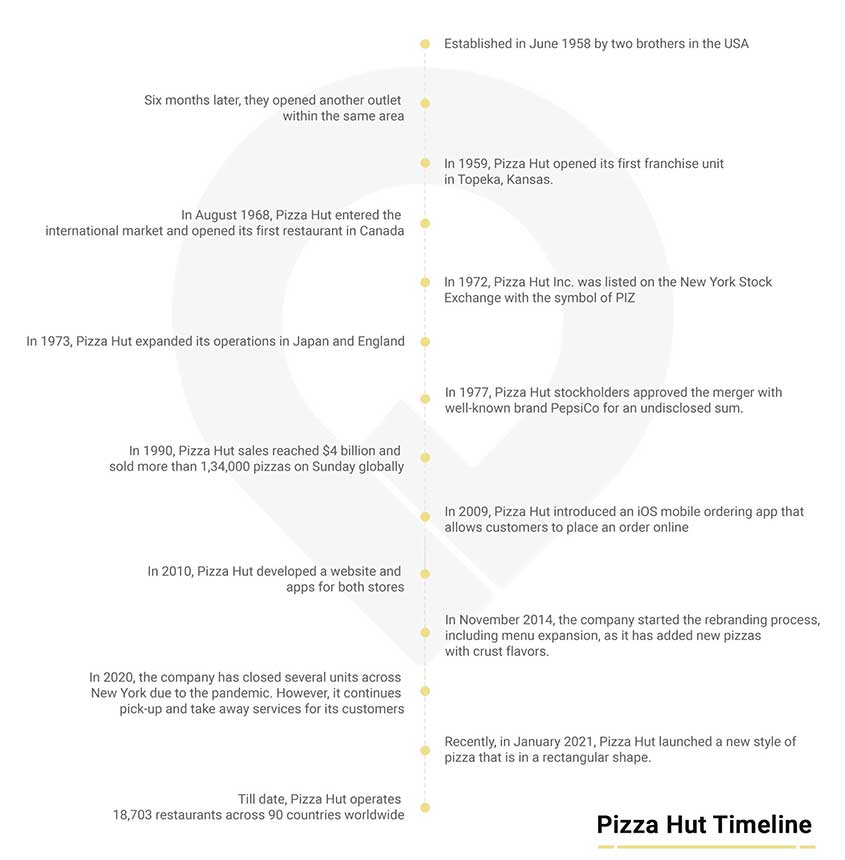 Pizza Hut Business Model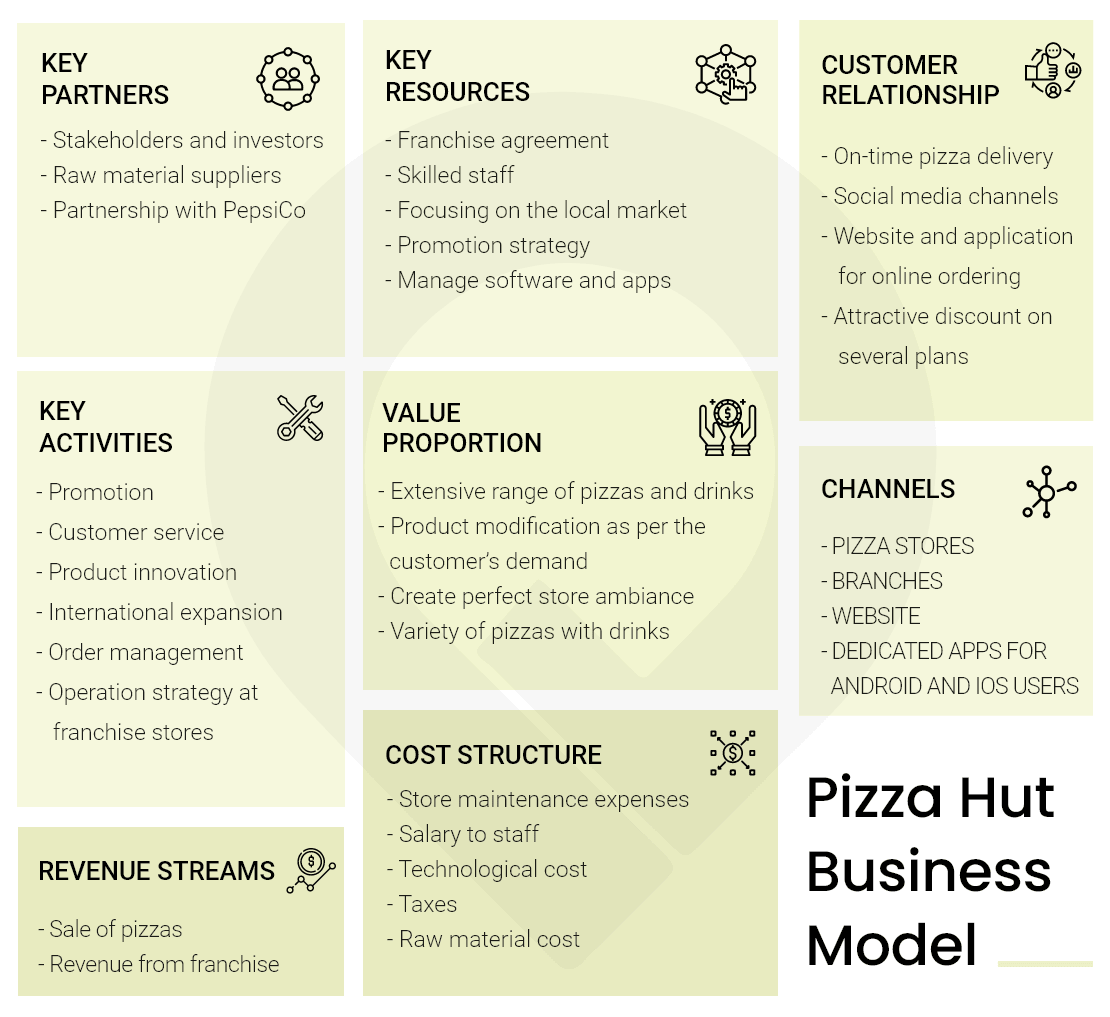 Pizza Hut's business model is easy to understand as it majorly focuses on selling unique pizzas to customers. Let's go through its value proposition and customer segments, ket activities, and much more.
Customer Segments
Pizza Hut enjoys a large customer base across the globe; the brand's major customers comprises:
Individual consumers
Family gatherings
And events
Pizza Hut's headquarter is located in the US but serves mouth-watering flavors across the globe. The company runs restaurants and mobile ordering services in more than 100 markets across the USA, Europe, Asia Pacific, Middle East, and Africa.
Value Proposition
Pizza Hut provides value to its customers in numerous ways:
Serves quality pizza
Innovative toppings
Affordability
Convenience and accessibility
Sales and marketing reach
Pizza Hut serves its consumers quickly and efficiently and offers doorstep delivery services to its customers through mobile ordering services.
Key Partners
Pizza Hut works with an extensive range of vendors and organizations across the globe to ensure that it has the ability to serve customers without any trouble. These partners can be distributed into the following categories:
Suppliers and vendors
Delivery partners
Marketing and sponsorship partners
Recently, Pizza Hut has also partnered with delivery giant FedEx and sponsorship partnerships with the National Football League and World Hunger.
Pizza Hut Revenue Streams
Pizza Hut generates a major portion of its revenue through the selling of pizzas and drinks. The company also generates a huge amount of revenue from selling pizza to customers at the point of sale, including sales at restaurants and via its online ordering platforms.
Another major revenue stream is in the form of franchises generated under franchise agreements with third parties.
Online Pizza Ordering Is Imperative for Pizzeria
In this busy and hectic life, people prefer digital ordering rather than visiting restaurants or pizza parlors. You can see how food delivery apps have gained momentum these days because it saves people's money and time. If you are running a traditional pizzeria or want to step into the pizza selling business, then a pizza ordering system is important for your business.
The way the online food delivery market is exploding, it seems like the future of the food delivery business lies squarely with digital ordering. With a new pizza app popping up each year, entrepreneurs are going to have to jump on the bandwagon. Offering digital ordering and takeaway puts your business in front of a whole new customer base than just foot traffic, which will eventually increase your revenue and add value to your existing business.
According to Statista, more than 760 million users have ordered their meals online, which means the online ordering market has been growing 300% faster and has become a major savior from many food businesses amid pandemics.
Now you must be wondering you can list out your pizza parlor on popular delivery apps, but according to Hospitality Technology, near 70% of consumers prefer to order directly from the app; they don't use third-party delivery apps. Here are several profound reasons why your pizzeria needs an in-house pizza hut like app system.
Drives more sales
Gather valuable customer data
Increase order volume
It makes the ordering process easier
Stay ahead of the competition
Grow your bottom line
If you have been thinking about remodeling your conventional pizza selling business, do it right now. Implementing digital solutions will give you flexibility, grow revenue, and increase customer reach than ever.
Cost to Build Custom Pizza Hut Clone App
The app development industry keeps evolving, and emerging technologies such as machine learning, cross-platform app development, IoT integration, etc., pose challenges and opportunities for brands. Various components can be added to know the clear estimation of the pizza hut clone app. Usually, the cost of building an app like Pizza Hut depends on the features and functionalities you want to include in it. Depending on your budget and features, you also need to hire an experienced team of developers, which includes:
UI/UX designer
3-4 experienced developers
Quality assistance engineer
Back end developer
Front end developer
Team manager/ project manager
In short, all you need to get in touch with a renowned technology partner who can help you develop and deploy a custom pizza ordering app that could meet your business standards.
Facilitate Optimal Productivity with Online Pizza Hut Clone Script
Having your own pizza hut clone script delivers a personalized experience to your customers and reinforces your brand image in no time. The demand for takeout and delivery is growing. To say relevant and competitive, you need to embrace digital solutions; it will automate your business and help you grasp the market growth as soon as possible.