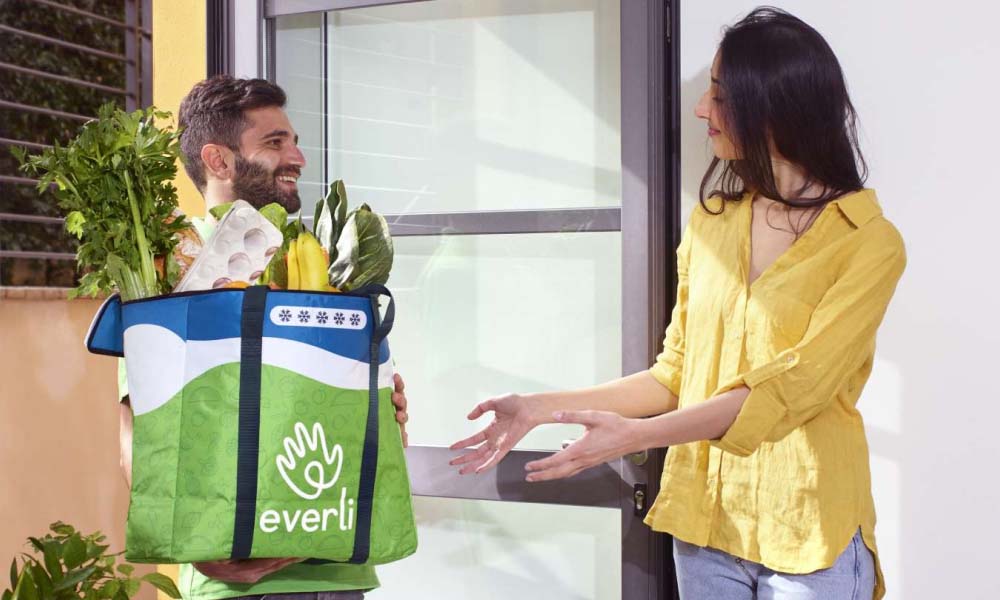 The delivery segment has flourished significantly in the market by gaining an entirely new form. Especially the grocery market has reached considerable heights within a shorter timescale. Besides this, there are many other sectors that have advanced prolifically in the market. Everli is a grocery delivery business that delivers groceries to its customers in a minimal time.
As per the research, the grocery delivery market is expected to have a bright future in the coming years. Due to the widespread pandemic, people began preferring to perform every task online through apps, and this is how the grocery delivery sector took a rise in the market. Since then, the usage of these applications continued among the people because of exciting offers and deals provided through them and also to prevent themselves from getting infected.
Everli satisfies its customers through its grocery delivery services with an attractive pricing plan in entire Europe. So, let's know about Everli in detail. In this article, we will explore Everli's history, revenue sources, business model, and how everli works?
What is Everli?
It is an application providing its customers with the delivery of a wide range of grocery items at doorsteps in a few minutes. Everli is a European company based in Milan in Lombardia, founded by Enrico Pandian in Verona, Italy, in September 2014. Previously, the company was named Supermercato24. However, to introduce their business in an international market, they underwent the naming convention and rebranded as 'Everli' in 2020.
Later, with further advancements, they are currently operating in 135+ metropolitan areas of Italy, the Czech Republic, Poland, and France by offering around 300,000 varieties of grocery products, partnering with head grocery retailers, and having a vast connection with 3,000 shoppers for making deliveries across entire Europe. In addition, Everli also announced the acquisition of Szopi, Polish grocery delivery business, to enlarge its business in Poland in 2019.
Everli History:
Launched in: 2014
Founders: Enrico Pandian
Headquarters: Milan, Lombardia, Italy
Total Funding Rounds: 9
| | | | | |
| --- | --- | --- | --- | --- |
| September 1, 2014 | Angel Round – Everli | 3 | €155K | Not Disclosed Yet |
| February 1, 2015 | Seed Round – Everli | 3 | €300K | 360 Capital |
| May 1, 2015 | Seed Round – Everli | 4 | €600K | Not Disclosed Yet |
| July 18, 2016 | Series A – Everli | 4 | €3 Million | Innogest Capital |
| January 30, 2017 | Series A – Everli | 2 | €300K | Not Disclosed Yet |
| June 20, 2018 | Series B – Everli | 5 | €13 Million | FITEC |
| January 31, 2020 | Venture Round – Everli | 4 | €11 Million | Not Disclosed Yet |
| March 29, 2021 | Series C – Everli | 11 | €85.2 Million | Verlinvest |
| March 31, 2022 | Series C – Everli | 1 | €22 Million | United Ventures |
Total Funding Amount: $135.6 Million (Source: Crunchbase)
Industry: Grocery Delivery
How Does Everli Make Money?
In terms of making money, Everli generates its income from different revenue streams, which sums up to about $42 million roughly. So now, how does it earn money? Each of its revenue stream is mentioned below:
Registration Fees From Supermarket:
Stores willing to be a part of Everli's ecosystem, need to register themselves into an app by paying a nominal amount required for the particular procedure. Therefore, the company earns a sufficient revenue through these fees as a part of their income source.
Commission From Each Order:
A firm deducts its commission on every order the store receives in a fixed proportion. Hence, it is one of the major components of Everli's revenue stream.
By Charging Delivery Fees Customer:
Customers need to pay some delivery charges for receiving every ordered item at their doorsteps. This amount varies in proportion as per the distance from the stores . Hence, the company generates revenue from its customers by charging delivery fees from them.
Advertising:
It can be considered the most significant revenue stream for a company. They take some amount from the business organizations or brands as an advertising charge if the particular brand is willing to advertise its product or offers on an app.
The brand's advertisement is displayed as its corresponding product category shown in the application to the customers. As a result, it proves to be a profitable move for a specific business organization because numerous people visit the application daily.
Everli Business Model: Go Through Its Various Strategies Applied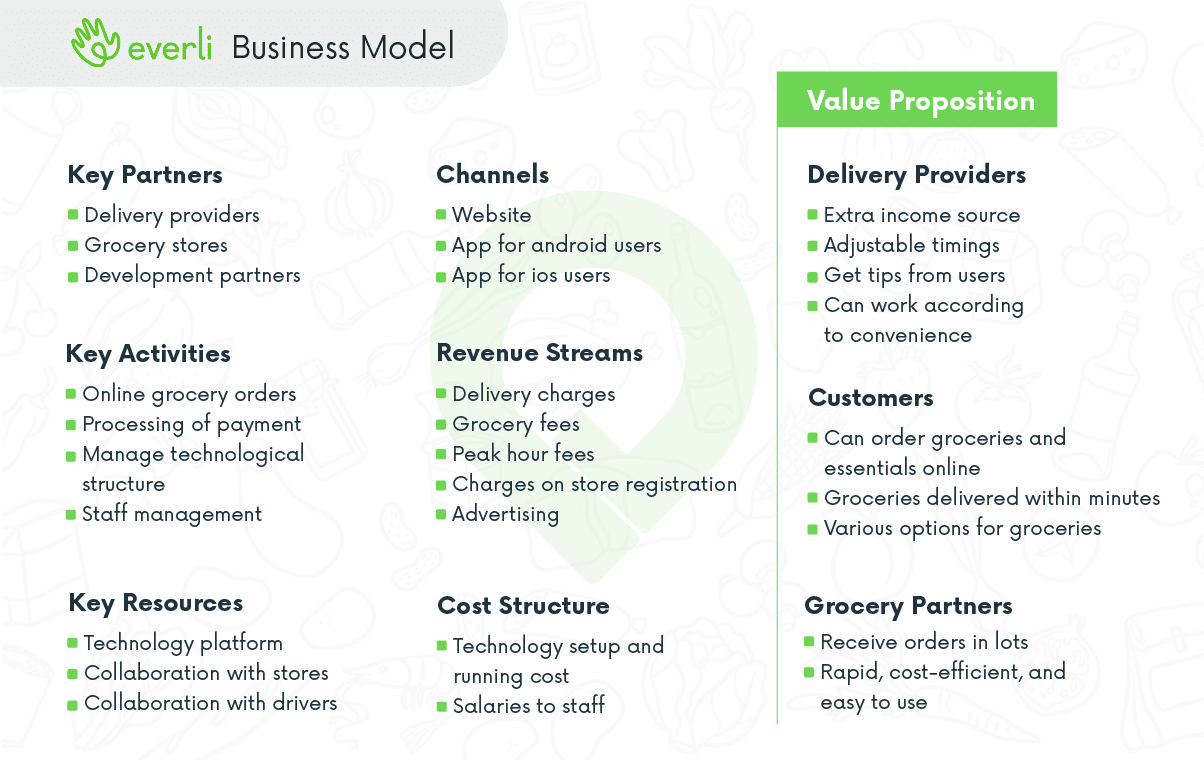 Everli gives a commitment to its customers regarding delivering the groceries on time. If they can't, they make a particular delivery free. The company utilizes Gig styled economy. First, the nearby shoppers registered into an app receive a notification about the order. They visit stores, collect an item and deliver a particular product at a customer's set location on application.
Now, consider the following strategies which Everli applied.
Value Propositions:
Everli's business model consists of value propositions for its 3 stakeholders: customer, delivery provider, and merchant. The customers order the groceries by selecting various items available from different vendors. The merchant prepares the received order and forwards an order one step ahead to the delivery provider to provide the ordered items to the customers at their doorsteps within a few minutes.
Customers:
Can order by searching from a vast range of grocery options available

Get them at doorsteps within a minimal time

Referrals to receive discounts or offers on orders
Delivery Provider:
Can work according to their schedules

Flexible working durations

Receives tips given by customers

Earning on delivering every order
Merchants:
Can get a robust online presence

Business reachability increases

Manageability and scalability improvement

Enhances the customer services
How does Everli Works?
Everli works by cooperating with various grocery marketplace elements. The company plays the role of intermediary between grocery stores and customers, and it follows the procedure as follows:
The customer logs into an application by finishing the registering process and entering the necessary credentials required.

The customers browse the items available on the menu, add them to the cart, and place an order.

Once the order is placed, the stores are notified about the order, and they prepare the order based on the customer's requirements.

After that, the grocery stores place a request to delivery professionals. On accepting the request, they get the details about the order and delivery immediately.

Once the provider picks up the order from the store, the order status is updated accordingly.

The provider delivers the order within a few minutes by utilizing the navigation provided to them.

If the customers have selected COD, then the provider takes the payment on delivery or if it is done through a card or any other online payment gateway, then they receive the ordered items and need to give feedback about the service quality.
Final Words:
Due to modernization being adopted in every business sector, the only way to stay afloat in the grocery delivery market is by getting a mobility platform developed for your venture to beat the already existing competitors of the market. We offer practical solutions for your business needs by implementing an appropriate tech stack in the application. Contact us to know more.