How Careem Works? Also Learn Careem Business Model and Intriguing Revenue Channels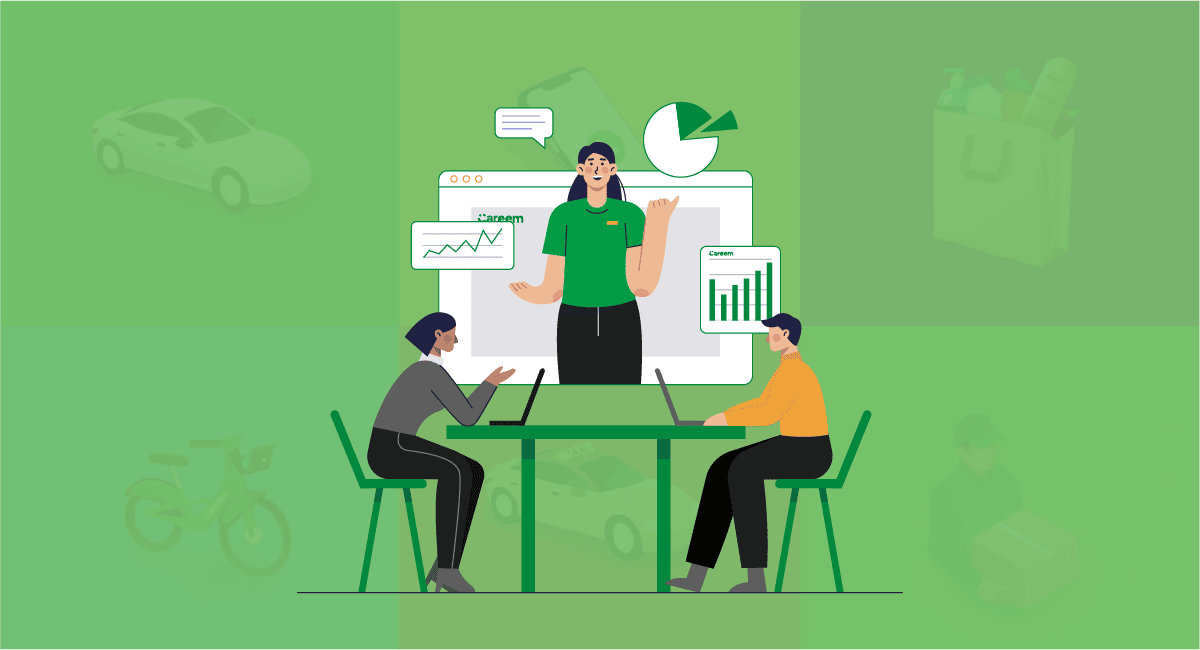 From a ridesharing company to a super app, Careem evolved as the customer's demands molded. Ever since mobile phone usage has been increasing and businesses are taking shape, super apps are one the latest technological concerns that have gained huge popularity among businesses. Careem is one of the businesses that are reaching the most complex customers' expectations. It has proved how Careem works, and its business model is making it most convenient to manage the multi-services business within an online platform.
The proof of that statement is its popularity and huge customer base. Careem has about 48 million registered users on a single platform and offers multiple services such as taxi booking, meal, and grocery delivery, payments, two-wheeler sharing, and intercity travel. In 2021, Careem recorded 4.3 million rides in the first 10 months itself. Well, it has been possible with its omnichannel business model and many revenue channels. There is a lot more to know about how Careem works.
Here in the blog, we will be thoroughly exploring Careem's business model and revenue channel and, in addition, some good-to-know facts. Let's start with what Careem actually is.
What is Careem?
Careem is a super app fulfilling the customer's demands like ridesharing, meal delivery, and digital payments within one platform in around 12 countries across the Middle East, Africa, and South Asia regions. It is a Dubai-based company launched earlier as just a website-based service for corporate car bookings and grew to become ridesharing then. It also then grew to add more services, lately acquiring a Saudi-based home services company.
Then in 2018, the company added one more vertical as restaurant listing and food ordering, acquiring RoundMenu operating across the Arab region. Following this, they acquired the bike-sharing startup based in UAE in the next year. Then came the next year when it launched the payment vertical. This shows that Careem's business model is versatile and has merged diverse verticals making the life of the people easier.
Here is the socioeconomic impact of Careem in the region. It is stated that Careem has created lots of opportunities for the people in that region, changing the livelihood of people in a lot better ways.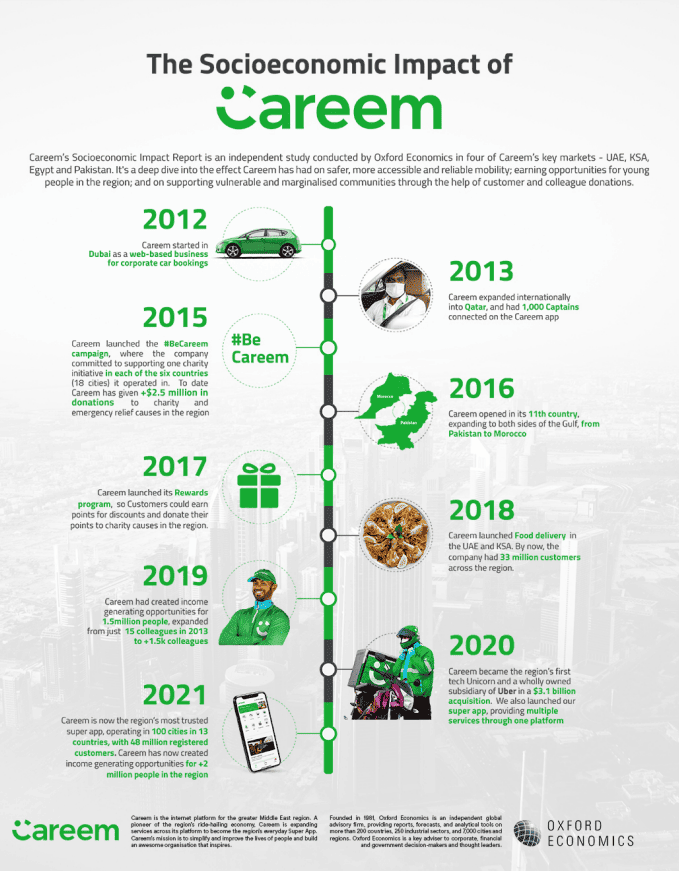 Some Facts About Careem
| | |
| --- | --- |
| Parent Company | Careem Networks FZ-LLC (before acquisition) |
| Industry | Transportation, Logistics, Delivery, Payments |
| Headquarters | Dubai, UAE |
| Founded in | 2012 |
| Founders | Mudassir Sheikha, Magnus Olsson, Abdulla Elyas |
| Area Served | 100+ cities in 13 countries in the Middle East, Africa, and South Asia |
| Total Funding | $771.7M |
| Acquired By | Uber Technologies (23rd March 2019) |
Acquisition of Careem:
Careem, since launched in 2012, has formed a single service app into a super app. And Uber, seeing this as a chance to expand in those regions and give it more opportunity to scale and improve, decided to acquire Careem. In March 2019, Uber closed a deal of $3.1 billion acquiring Careem's delivery, payment, and ride-hailing verticals across the Middle East regions.
Uber's CEO, after the deal, commented that the company is looking forward to innovating with Careem as they continue to grow independently under their current leadership. They will be working to benefit drivers and riders and the cities we serve across the greater Middle East.
Careem, Co-founder and CEO, also stated that after almost a decade of serving the people of the Middle East, we embark upon a new journey accelerating our growth, taking it to new heights alongside Uber, supporting the values and culture of the people and believing in the purpose that drives enhancement in the lives of people.
Also, here is the comment from the ex-CFO of Careem
How Does Careem Work?
Careem gives an individual app to the users, drivers, and merchants to connect with each other with a personalized experience. Overall it has a good user experience and straightforward working as described below:
Customers register themselves in the Careem app or website, then select the vertical they want. Place the order for it, pay with desired method choosing from those available.
Merchants will already be registered in their respective app with the properly set up menu, and they will receive the order request from the customers; the merchants accept the requests, and then it is assigned to the respective partners.
Partners, again, are also registered within the app and, with the approval from the admin, will be assigned the tasks which they get notified in the app and can fulfill using the features given in the app.
Besides, Careem also allows its customers to book services through the call center using. Next, we are moving forward with the business model of Careem, exploring its various important strategies.
Services Offered by Careem
Car sharing
Bike Sharing
Taxi Booking
Food Ordering
Logistics for companies
E-commerce shopping
Parcel Delivery
Recharge
Send Credits
Careem Business Model: Perspicuity For The Finest Strategies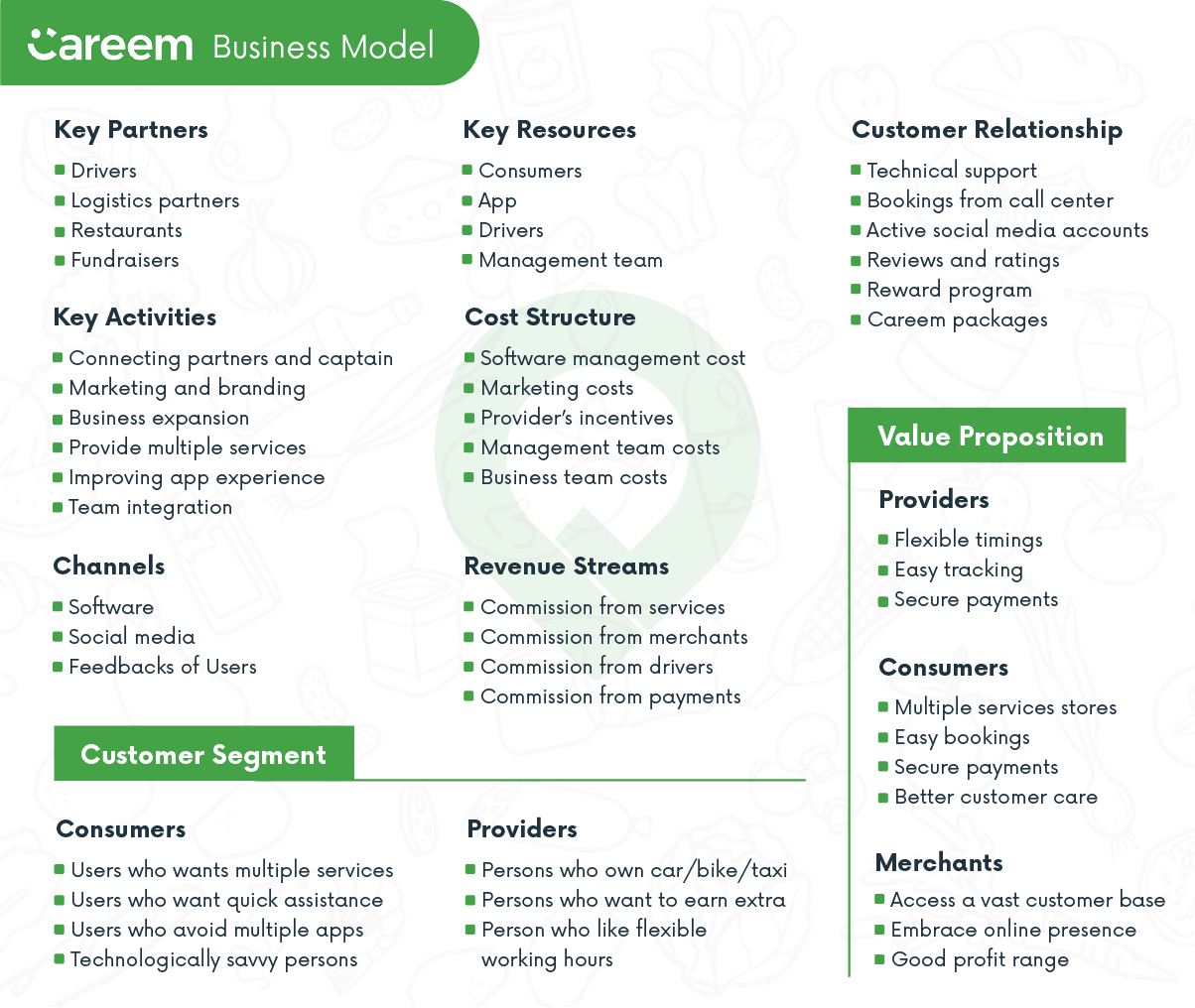 From its success, it is justified that Careem's business model is the most versatile. Its most important stakeholder is Captain, users who register as the driver as they ensure efficient services for the customers. Careem deals with a different group of clients, those which are the key stakeholders like enterprises of small or medium levels. Besides, there are also some other important businesses.
Value Propositions
Careem serves diverse customers' needs within a single app. It aims to make people's lives easier, fulfilling their day-to-day lives easier. It focuses on the well-being of all users, like customers, partners, and merchants.
Customers
Allows multiple services to customers accessed online through the app.
Secure and reliable payments.
A hassle-free experience that makes your life easier.
Captain
Flexibility in working hours and satisfactory earnings.
Takes its employees through rigorous training to equip them with requisite skills.
Employees benefit from Careem in the form of remuneration and career growth.
Merchants
Merchants of small or medium scale can register on the platform for exposure to more customers.
Can increase the profit margins.
Merchants can advertise the store and items on the customer's side of the app.
Customer Relationship
Careem, since they have a diverse range of services, therefore, it is expected from them to have multiple facilities for the users to get connected and stay in touch. Here are some of the relationships mentioned that Careem has leveraged with its users.
Technical Support
Customers are given the app and panel the users with dedicated and personalized functionings. It has separate modules for customers, merchant partners, and captains.
Call Center
Besides the app, Careem's clients can do it through a call center. The company gives a unique contact number to the users from which they can book the car, with all the necessary details.
Social Media
Careem engages its user base through social media, keeping them updated about their scheme and actively participating in the trends going on social media; thus is an impressive mode of engagement nowadays.
Reviews and Ratings
For the services, Careem allows its users to rate the services they assessed and also can give honest comments, which gives a loyalty check to Careem for its services.
Reward Program
Careem allows multiple and periodic reward programs to its users so as to impress them with the benefits they offer customers.
Careem Plus
Careem gives its customers a subscription plan, where users have to pay AED 19/month and seek instant 10% credit back on 10 rides + Hala, no delivery fees, unlimited bike rides, and priority support.
Careem Packages
Besides, Careem gives a Package to the users, which is defined as bundled rides, or it can be kilometers that are offered at a discount from the original summed-up price. It is the best offer for the users who use daily transportation and save a huge amount.
Careem's Location Database
Careem can create its own map as Google maps sometimes create issues in tracking the routes; the personnel location database ensures the efficiency for the chauffeur to track the location. It also has its pick-up points.
Here is not the end. As shown in the Careem business model image, it has a lot many brilliant strategies to look upon. One of which is also its revenue strategies.
Revenue Channels of Careem
Careem has bookmarked the commissions from all the types of delivery it offers to the customers.
Commissions:
From Delivery
Careem gets a fixed portion from each order or request that is completed, whether it is food delivery, medicines, grocery, etc.
From E-commerce
In the e-commerce module, the company has it shared reserved besides what the delivery provider is supposed to get.
From Logistics Service for Company
The company has to pay Careem for transfer services of its logistics from one place to another.
From Digital Payment
For all the payments conducted, Careem has its percentage reserved that they get when a user pays through it.
Share From Partners
Careem has its share of the restaurants that are registered on the platform allowing its users to order items from it.
Share From Captains
The captains conducting any type of delivery or transfer services Careem gets their profit percentage.
Future of Careem
Careem has a long way to go in the future. It is looking forward to starting the subtle services in India by acquiring Commut, which has its local operation driven by Shuttl. The list doesn't end here; it does have a lot more planning to expand its services, making the lives of the users as easy as they can make it. Careem's business model and revenue channels, as mentioned in the blogs, has a lot to learn from.
Take A Note!
In this world where technology is leading the businesses, and customers' choices are evolving, it becomes very important for businesses to take that path too. If you are an entrepreneur, or a business tracking down the path of Careem, to want exposure to that industry, you definitely would need to have Careem like app development, which will make it easier to implement those strategies and services within.