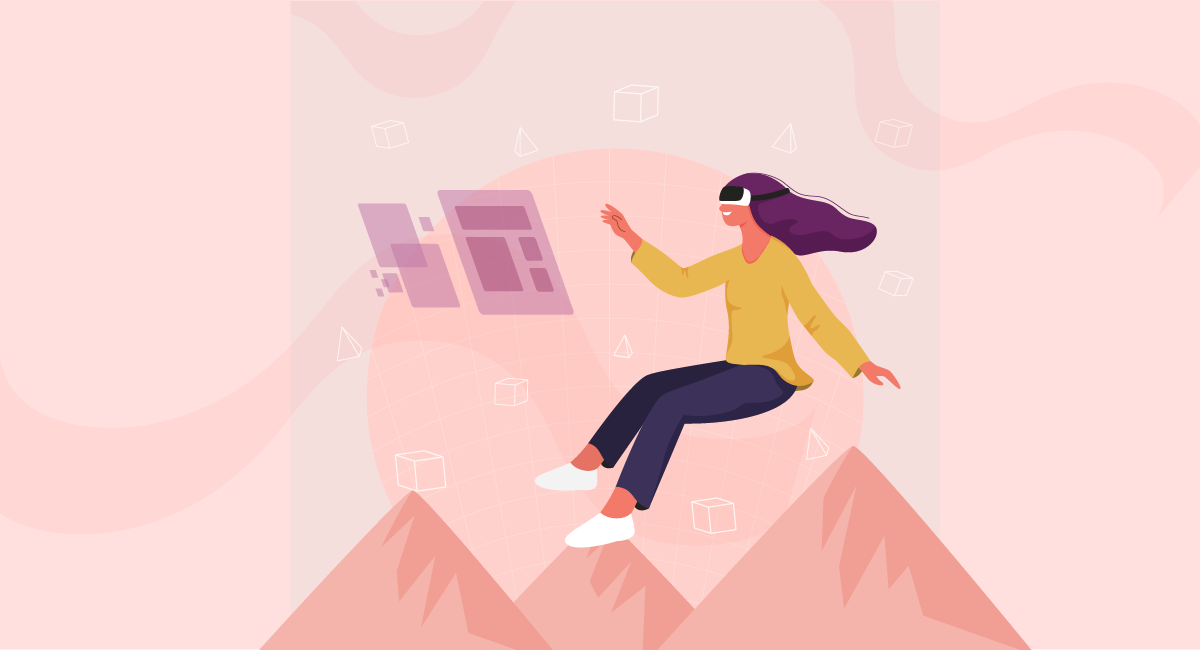 Facebook made a startling statement in October 2021. Meta Platforms would replace Facebook Inc. as the parent company's name. This rebranding is a component of the business' transition to a new online business model. Although Meta Platforms is a step ahead of the competition in terms of names, no one firm owns the Metaverse. One question that is frequently asked as more businesses enter is
Cost to Develop Metaverse
. In this post, we'll examine some of the anticipated cost of joining and taking part in the Metaverse. Let's begin straight away.
The next big thing in technology is going to be the Metaverse. In the current environment, internet users concentrate on developing their virtual identities through social media and think it is more important than their real identities.
According to experts, it has a new definition for connecting with people online and can potentially displace its analog in the actual world. While the world disputes whether or not lavish virtual realities have a place in society, one should consider what Metaverse has to offer (other than holograms and pixelated street graffiti that move). In addition, blockchains and NFTs now have renewed hope thanks to Web 3.0, the new internet version.
By 2022, the global metaverse market will generate USD 47.48 billion, according to data. There is a lot of room for expansion in the metaverse commercial sector. When combined with NFT, Metaverse has the potential to become the upcoming technological giant.
To create an environment where individuals and businesses may engage, work, socialize, entertain, and transact, businesses and technologies from all fields must cooperate. Additionally, they will have to deal with concerns like data privacy, individual identity, user safety, network and platform security, ethics, financial fraud, and other similar issues.
The metaverse ecosystem is expanding quickly, and businesses from all sectors are competing for market share by offering cutting-edge experiences through various exploratory projects. However, it is still in its infancy, and the development of clearly defined economies will occur in due course when the various stakeholders' various approaches begin to converge.
Defining the Metaverse
A continually existing, online, three-dimensional environment made up of various virtual areas is known as the Metaverse. Using Metaverse, businesses can carry out routine activities online and provide remote sessions, performances, and entertainment. Although the whole Metaverse has not yet been developed, other platforms have released elements that are similar to it.
Key Points to Consider
People use the Internet to access a shared virtual world known as the Metaverse.
The Metaverse includes aspects like cryptocurrency.
The Metaverse combines technologies like virtual reality (VR) and augmented reality (AR) to produce a feeling of "virtual presence."
Mark Zuckerberg, CEO of Meta (previously Facebook), thinks cell phones will soon be as common as augmented reality glasses.
In order to contribute to the development of the Metaverse, Meta announced intentions to create 10,000 new high-skilled jobs in the European Union (EU) in October 2021.
The internet is a global network of billions of computers, devices, and servers connected online, as opposed to the Metaverse.
The Metaverse is a virtual realm that may be accessed via the internet, not a rival to it. Once there, users can purchase real estate, play games, and connect with users on other online platforms as digital avatars in a very immersive reality.
Indeed, this new technology has created a lot of buzz in the technology sector, but where does it stand in the market? Are businesses taking a keen interest in it? Check out the latest statistics.
Metaverse Statistics That Will Blow Your Mind
You've undoubtedly already heard about the Metaverse because everyone seems to be talking about it at the moment. The market is expected to reach $800 billion by 2024, making it the newest development in technology.
Knowing more about the Metaverse will help you be more prepared, and it can't harm from a marketing perspective too. So let's look at the key Metaverse figures, market size information, and facts for 2022.

Source: Headphones Addict
The estimated size of the worldwide metaverse market in 2021 was $38.85 billion, and it is anticipated to reach $47.48 billion in 2022.
The Web 3.0 ecosystem has a far lower market value than the existing Internet, at roughly $27.5 billion (Web 2.0). Although the ecosystem for Web 3.0 is quickly developing, it still has a ways to go before it can rival the existing Internet.
According to a 2021 study by Grayscale cryptocurrency management experts, the Metaverse will soon generate $1 trillion in revenue.
NFTs increased by $2.5 billion at the height of the pandemic. NFTs have always been a fascinating idea to people, but since the pandemic made everyone stay at home, interest has peaked, making it worth billions of dollars
These metaverse numbers demonstrate how successful businesses like Decentraland have become, and it is quite astounding that they have been able to generate so much capital before even launching.
North America dominates the Metaverse market. North America holds the largest proportion of the Metaverse business despite the fact that not many Americans are now interested in it.
These Metaverse numbers make sense because the focus of the Metaverse is technology, and they demonstrate the unparalleled opportunity for tech enterprises worldwide to expand their customer base.
Ways to Enter the Metaverse Business
There are many methods to get started in the Metaverse industry. For different company ideas, there are many platforms, including Sandbox, Bloktopia, and Deventraland. Here are a few ways to profit from metaverse business,
Virtual games
Live concerts
Online shopping
NFTs and much more
Investing in Real Estate
Virtual stores
These are a few of the means by which you can make money in the Metaverse. But, first, examine the step of developing a metaverse.
Steps to Create Your Metaverse. Check Out the Development Process
The creation of the Metaverse and its related applications begins with a concept, just like any other IT project. It doesn't need to involve VR or AR. Instead, it suffices if your concept enhances a component of the Metaverse or offers the intended audience real benefits. For instance, you may launch a cryptocurrency project to transport avatars and items across several meta universes or develop a new VR controller.
Anyways, let's find out and understand clearly what is required and what steps need to be followed.
Choose a Metaverse Platform
The most crucial step you must do is choosing the right metaverse platform if you want to develop a powerful metaverse app or space. You must either choose from the previously available metaverse platforms, such as Facebook Meta. Another option is to start from scratch and design your own metaverse platform.
Research and Analysis
Before you hire the required specialists, you must conduct extensive market research, competition analysis, and end-user analysis. The data gathered is then examined by project managers and the core team to determine the technology required for project implementation.
Design the Metaspace
The next step is designing the Metaspace after choosing the necessary metaverse platform. An app, a virtual conference room, a virtual home theatre, or a virtual meeting room are all examples of metaspaces. A VR headset will be required to access the virtual environment known as Metaspace.
Users can communicate with both the surrounding environment and other users inside the Metaspace. As a result, constructing a virtual metaspace that can be readily added to the Metaverse may be necessary if you want to create a virtual meeting space for your company.
Write the Metaverse Application Code
Your development team now begins work on the code for your Metaverse application. First, the front-end and back-end elements of the prospective project are implemented, and external services like payment gateways or liquidity pools are integrated. Depending on the project's complexity, creating the code is typically broken up into backs and takes several months.
Test and Release the Developed Product
Experts in QA carry out this. First, they examine the finished product for flaws, functionality, usability, load, and conformance with the technical task's standards.
The product is deployed to local or cloud servers after it has been developed and extensively tested. If this is a mobile application, it needs to be added to the App Store, Google Play, Microsoft Store, Amazon App Store, and other marketplaces for mobile apps.
Top Companies Investing in Metaverse
Through the internet, the phrase "metaverse" has gained popularity and become a hot topic, just like AI, ML, and IoT. Undoubtedly intriguing, the idea of a vast, virtual internet universe has led many businesses to recognize the Metaverse's apparent promise. But which major tech firms are making significant investments in the Metaverse, and why?
Meta (Formerly Facebook)
After allocating funds to hire 10,000 new "Metamates" to construct its virtual reality, Meta (formerly Facebook) has great plans for the Metaverse it will create in the future.
Google
When Google unveiled its wearable augmented reality (AR) glasses in 2014, they were ahead of the curve. They were designed to help the average person go about their daily lives.
Unity Software
Weta Digital, a provider of digital visual effects, was purchased by Unity Software in November 2021 for more than $1.6 billion. The reason behind Unity's largest deal to date—the acquisition of a VFX developer—has long been a source of controversy, but the company's emphasis on the Metaverse appears to be the solution.
Shopify
Well-known eCommerce giant Shopify's new AR/3D shopping functionality allows company owners to develop 3D AR versions of their products. In order to offer the service for $49 per month, the company has teamed with the UK-based AR platform Poplar Studio.
Nike
After acquiring the 2020-founded digital sneaker design studio RTFKT, Nike started to expand into the Metaverse. Nike leaped at the chance to join the Metaverse hype train since the studio essentially creates virtual sneakers.
Indeed, the above brands are making big investments in Metaverse and surely encouraging other companies to join the bandwagon. Perhaps, this is the reason why Metaverse has a promising future.
What Factors Affect The Cost of Developing the Metaverse?
Regardless of their business, every industry should know the metaverse space's aspects. It is vital to understand how it connects our digital and physical universes, its main focus in the business of biological systems, and its effect on potential clients.
The price of creating a metaverse is not constant because it might vary depending on user requirements and platform characteristics. As they differ in value and usefulness, many metaverse development platforms, such as Axie Infinity, STARL, Decentraland, and Metaversal, have fluctuating development costs.
Several elements are influencing the cost of developing the Metaverse, according to a compiled review of the process:
3D Modellers
Decentralized Database
Skilled developers
UI/UX Designers
Features implementation
Tech stack and other elements
These are the main aspects that influence the price of creating Metaverse applications. The success of an application depends critically on each of the factors mentioned above; therefore, include them according to your company's needs and budget.
How Much Does It Cost to Develop the Metaverse?
Metaverse development is a complex and emerging concept that many industries are trying to enter into and explore. It demands a skilled team who has to be proficient in utilizing the technology, tools, and emerging concepts while developing the Metaverse. Further, when the cost is concerned, there is a significant contribution of the industry for which the Metaverse is developed in determining the overall cost. Here the cost estimation of Metaverse for different industries is mentioned.
Majorly there are three industries that are acquiring the concept of Metaverse: Gaming, social media, and Real Estate.
Gaming
Gaming is one of the largest industries that is taking steps for the metaverse industry. For this, metaverse development. In the gaming industry, the cost of developing a metaverse for gaming industry depends on the complexity of the game, which further is a dependable factor for features, map packs, levels, and multiplayer functionality. However, we can draw a conclusion that how much a gaming metaverse costs can range from $25000 – $ 400000.
Social Media
Social media hold the maximum audience for almost all industries and so moving these industries toward the Metaverse demands a lot of effort. An immersive user experience, security, and an overall metaverse that could stand out from the competition. The cost factors, as considered earlier, are all the same. So the cost range of Metaverse social media is from $3000 to $400000.
Real Estate
Metaverse allows real estate property to view virtually. Like the deals of a real piece of land, space in the virtual world is also purchased. This industry is also growing as increasingly widespread the concept of the Metaverse, and people are looking forward to being part of the world purchasing this land in the virtual world with the help of virtual currencies, NFT, etc., so the average cost of real estate metaverse ranges from $13000 to $300000.
| Industry | Cost |
| --- | --- |
| Gaming | $25000 – $ 400000 |
| Social Media | $3000 to $300000 |
| Real Estate | $13000 to $300000 |
Are You Ready to Sail into the Metaverse Boat?
It's not yet possible for the Metaverse to go as far as it can. So tech specialists examine various techniques and technology to develop concepts for more engaging and practical metaverse campaigns.
The virtual world that you may access without connecting to a cryptocurrency wallet is what we find most fascinating. As you can see, Metaverse is setting a standard with multiple business chances for everyone to become business magnets in the next few days. Want to enter the world of web 3.0? Hire developers from us, as we can help you craft all kinds of products for all business domains.