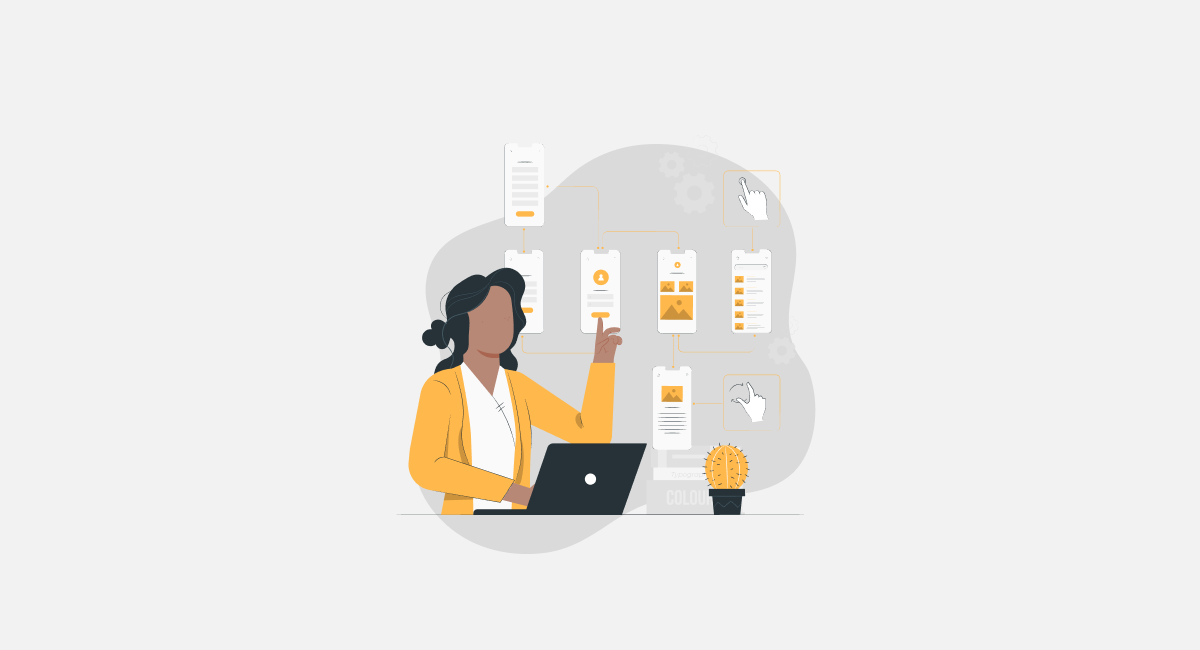 Many business owners tend to underestimate the cost to design an app because they typically only see the finished product—an app that looks good and functions well—and is unaware of the extensive, painstaking process that goes into every beautifully designed app. We'll do our best to cover every stage and process of mobile app design so you can calculate the budget for your upcoming program.
Did you know that 25% of apps are removed shortly after being released? What is the cause of these discouraging statistics? Poor user experience comes first. 88% of online customers abandon the store, and 70% of enterprises fail.
You should start off strong to prevent such a scenario. Care must be taken to ensure that the UI/UX design is ideal for that. We must first comprehend what mobile app design is to respond to the question of about the cost to design an app. App design is sometimes described as a pleasing fusion of colors and shapes.
Future app success is greatly influenced by the design of the application. It involves more than just how your application appears. Usability, interaction, convenience, and engagement are all combined in it. Because of this, numerous variables affect the final app design cost. Professional designers must also do some tasks to select the finest option for your specific app.
More is needed to create something that looks excellent when it comes to app user interface design. Making an interface that is simple to use and enjoyable to interact with is also important. The most popular apps are aesthetically pleasing and thoughtfully and intuitively created with the user in mind.
Keep reading this blog to know what is the cost to design an app in 2023, what factors play an important role in deciding the price, and much more.
What Does App Design Stand For?
What you see in the app and how you use it, both have an impact on how the app is designed.
User interface (UI) design
and User Experience (UX) design
are two components of this.
The user interface (UI) is the software part that users can see. It has a variety of elements, such as buttons, sliders, input fields, colors, and motion.
Design for the user experience (UX): This acronym stands for functionality and relates to how users interact with and move around an app.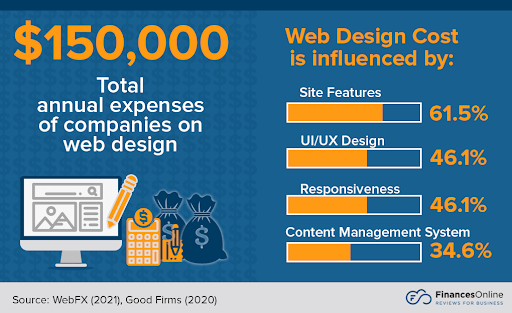 Source: FinancesOnline
Hence, design is the first thing that a user sees while opening the app for the first time. In fact, PWC's research report has found that more than 32% of customers would leave a brand they loved after one poor experience.
The fact is that mobile app development is a multifaceted process that isn't constrained by the efforts of a single expert. Instead, it involves several stages of development, from market analysis to A/B testing of the ultimate design. Each stage has a different timeline depending on how difficult the individual software is. Because of this, the price of designing a mobile app varies greatly from project to project.
Before jumping to the costing section, we will explain the significance of appealing app design. Here we go.
Essentials of Appealing App Design
Startups must understand the value of user interface design for their mobile or online applications. Nowadays, businesses must build websites and mobile applications since customers only tend to trust organizations with a respectable online presence.
Additionally, in the digital age, clients want instant connection; if they can't get in touch with you, they can't rely on you. Therefore, even if you have a website, it's necessary to understand the user while building interactive elements. In short, your app should entice customers to download and engage.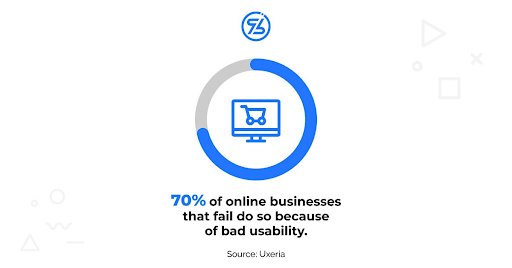 Source: Uxeria
Businesses only require "Customers" at the end of the day. Good UI draws the user's attention and ensures that they stay; in the words of Charles Eames, "The task of the designer is that of a good, attentive host anticipating the demands of his guests."
However, users can only stay or download the application if the user interface is easy to use. Users should therefore be hooked as soon as they access your application for them to return as often as they like. Therefore, the app design is an integral part of your app's look, and the below pointers reflect its importance of it,
Understand the needs of your customers
Enhance customer satisfaction
Keeps users hooked
Improves business ROI
Boost brand awareness
There is much more to do, from researching market trends to consulting the best graphic design company. Future app success is greatly influenced by the design of the application. It involves more than just how your application appears. Usability, interaction, convenience, and engagement are all combined in it. Because of this, numerous variables affect how much an app design costs.
Now, look at factors that play an important role in deciding the app's design.
What Factors Affect the Cost of App Design?
Now that you are aware of how the app design process works, it is time to determine how much it will cost to design an app. The following variables could affect the price of an app's design:
Location
Each IT company evaluates the processes in its own unique method, although most companies employ the following standards. The hourly rate multiplied by the number of hours spent designing equals the application's overall cost. There are many options available to you, and rates vary between nations.
The value of the hourly rates varies depending on the country as well as the level of skill of the design team.
United States and Canada – Average hourly rate – is $50 – $150
Australia – Average hourly rate – $50 – $150
UK & Western Europe – Average hourly rate – $50 – $100
Ukraine & Eastern Europe – Average hourly rate – $25 – $50
Asia Pacific– Average hourly rate – $20 – $49
Technical Complexity
When building an application that needs to be complex, you might need to add features such as
Push notification
Social media integration
Multiple secure and swift payment options
Tracking orders in real-time
These features are important for eCommerce and delivery management software, where they have to manage multiple partners. However, keep in mind that technological intricacy demands more time during development, which will increase the app design cost.
A Number of Mobile Platforms
A universal design that works for both Android and iOS cannot be made. Every platform needs to be adjusted differently for the user to experience a natural app interaction. Therefore, simply twice the price if you require a solution that will work with two different operating systems. That is simple math.
Custom Design
As we all know that customized app design costs more than ready made solutions. If the clients develop an app idea that is already available on the market, they are more likely to try differentiating themselves by employing an exquisite interface design that includes the following:
Illustration
Animation
And branding,
However, keep in mind that the cost of designing an app will increase the more complicated the design you require. For example, it takes longer to design a custom user interface. As a result, creating such an app requires more resources and costs more money. Depending on the business plan, the expenses may or may not be justifiable.
How Much Does It Cost to Design an App in 2023?
You now have a thorough understanding of an app design and the variables that can affect it. Like any other process, the price of developing an app is influenced by its complexity, amount of features, mobile platform, and other vital factors. The choice of whether to create an app for the iPad, Apple TV, or Apple Watch also relies on the type of device.
Sometimes, simpler iOS and Android apps don't need sophisticated design solutions. If so, you can save money and time if your product doesn't need animation, slow motion, or after-effects. However, a few other elements might have an impact on the final cost.
The following table helps you decide the average cost of app design based on its complexity and number of hours. (the total cost is calculated based on the average rate of $40 per hour).
| Complexity | Hours Required | Included Screens | Appx. Costing |
| --- | --- | --- | --- |
| Simple app | 100-180 | Several screens, single platform, etc. | $4000-$7200 |
| Medium app | 200-300 | 2 platforms, multiple screens | $8000-$12000 |
| Complex app | 300+ | Multiple features, unique and complex design elements | From $12000 |
The type of team you employ will also affect the price of the app design. For example, using an independent freelance designer might be a fantastic idea whenever you want to make a small financial saving. On the other hand, some people favor selecting full-scale studios to avoid unsuitable codes, approaches, and procedures that could be detrimental to the subsequent stages of development and programming.
Summary
Today, we made an effort to discuss the key aspects of design pricing. Of course, there are other aspects as well, like the company's location, the number of experts working on the project, and the development method. However, the main cost guiding parameters for app design—man-hour value and time—remain constant. So, how much does it cost to design an app?
If you still have any questions regarding app design prices, Elluminati Inc is here to help you. We are a graphic design company here to help you design unique and appealing apps.