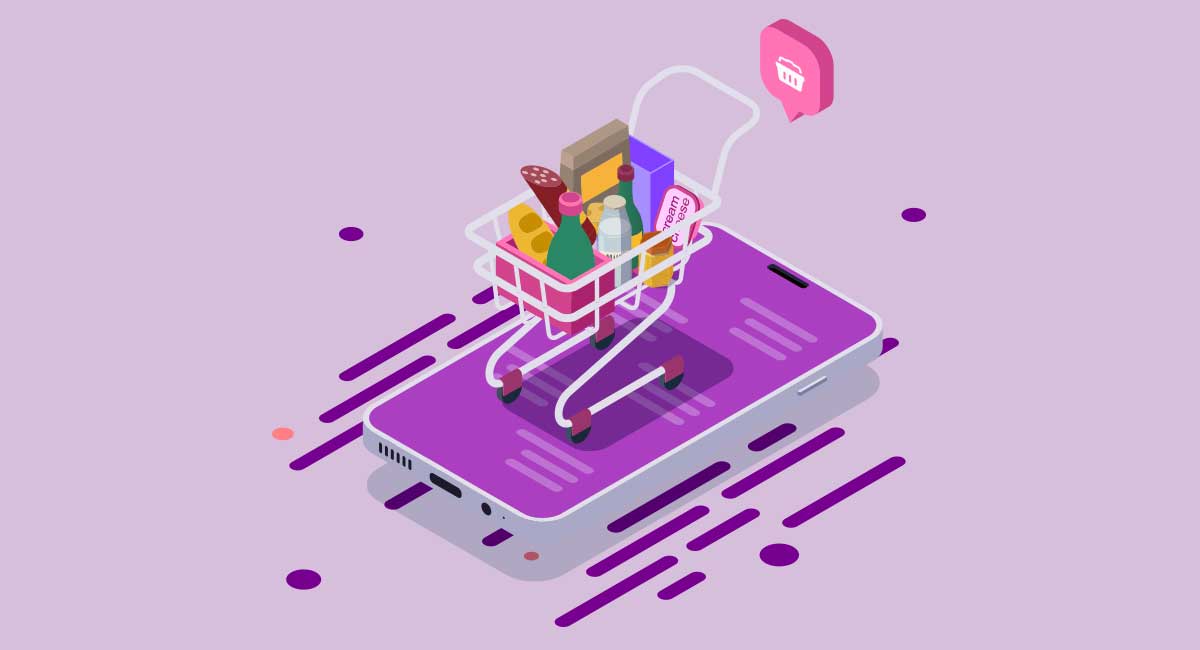 Italian consumers are assuredly attracted by online grocery shopping than consumers in different EU countries. In 2019, less than 10% of Italian market consumers bought food or groceries online, compared to 25% in Germany, and 36% in the Netherlands brought groceries to stores online. Discover everything about the top Italian grocery stores operating online and learn how it helps customers find the best ingredients without any hassle.
The Italian grocery niche is gradually growing; in 2019, the online food and grocery market in Italy were around €1.6 billion, achieving a growth rate of 39%, according to esmmagazine. However, this niche remains marginal compared to the Italian B2C eCommerce market, which was valued at €31.5 billion and 15% growth last year. The best portion of the online market is its lower price, which has encouraged Italian consumers to fill their online baskets. Simultaneously, nearly one in five shoppers stated they were driven by the broadest range of food products being available online.
Explore the Growing Potenting on Italian Grocery Store
An increasing number of customers regularly use grocery deliveries and online retail apps. This number increased more due to the lockdown imposed during the COVID-19 pandemic. At the time, the traditional shopper was exploring the guide to boost their grocery delivery business online. The supermarket chains Conad and Esselunga in April 2020 reported a significant increase in their user base. Undoubtedly, online grocery sales have increased drastically; the click and collect services are loved by most of the people in Italy are growing speedily.
Today most customers avoid visiting the store's aisles; instead, they love to order their needed things with a few clicks on their smartphone. Grocery delivery businesses can invest in an e-delivery solution to cater to all the needs of the customers. Feature loaded tech stack possesses all the modules essential for any delivery business to run its business systematically. More than 50% of the Italian population consumes wine regularly; it's a relevant segment in the online grocery delivery market.
The leading online marketplace saw a significant revenue increase in 2019; it shows growth between 20 to 80%, respectively. The report showed that one in ten consumers purchase goods through eCommerce channels, while the other 8% prefer to visit a website or app of the supermarkets. Check the list of top Italian grocery stores operating online to look over the visual flow of the on-demand delivery app; it's working, and much more.
1. Eataly
Eataly is a large format Italian marketplace comprising various retail items, restaurants, cooking school, food and beverage counters, and bakery. The company was founded by Oscar Farinetti in a collaboration with Slow Food. Eataly has developed good relations with distributors; the company is successfully operating in more than 40 locations worldwide, including Milano, Dubai, New York, Germany, etc.The New York Times has identified Eataly as a "megastore", the platform that combines elements of a top European open market, a high-end food court, a New Age learning center, Whole-Foods-style supermarket, and many more. Today very few Italian products of the company are available online. Eataly has a fantastic pasta collection such as Linguini, rigatoni, spaghetti, penne, etc. The platform makes it easier for customers to learn and shop unique Italian cuisines.
2. Bella Italia
Formerly known as Bella Pasta, Bella Italia is a chain of more than 90 restaurants offering mouth-watering meals inspired by Italian cuisine in the UK and Ireland. The company is part of the Casual Dining Group, owned by Las iguanas and Cafe Rouge. In 2002, the Bella Pasta was rebranded as Bella Italia and a fully branded restaurant opened in Leeds. Later in 2012, Bella Italia, as a redemption partner, joined the Nectar loyalty card reward scheme.In 2013, Bella Italia partnered with the Gourmet Society, offering discounts to its members on various products. The company developed an effective solution ensuring tremendous success; now, customers from all over Europe can place their orders online and can get their needed things right at their place. In 2014, the Italian grocery store expanded its business to America, making it easier for people to get unique Italian delicacies.
3. iGourmet
iGourmet was found in 1997, is one of the leading gift retailers and gourmet food distributors. Customers get the chance to choose from more than 800 specialty cheeses, exquisite gift baskets, unique and mouth-watering foods. Each product available on the platform is accompanied by detailed information; customers get useful suggestions to make the perfect decision.If you are looking for a useful platform to shop connoisseurs, then iGourmet is the best platform for you. The platform is famous for its distinctive gifts where individuals can choose from a selection of international gifts filled with mouth-watering foods from France, Italy, Britain, and many other countries and cities.
4. Gustiamo
Gustiamo imports real Italian food for customers; they can choose from the high quality of Italian food without any hassle. Launched in 1999, Gustiamo is located in the Bronx. The company is a small importer of authentic Italian food and farmer products to customers on-demand. The platform delivers quality products to customers' doorsteps that also without any compromise. Gustiamo ensures honesty and trust for the platform users with Italian extra virgin olive oils widely used by chefs for cooking vinaigrettes.
5. Italian Food Online Store
Italian Food Online Store is an all-in-one Italian grocery store offering genuine Italian products at retail prices. Customers are allowed to buy pastry, pasta sauces, gluten-free products, etc. Alessandro, the founder, launched an Italian Food Online Store to get their needed things delivered right at their place. It satisfies Italian food passion, meeting the need for customers for Italian products from the supermarkets.Suppose you are thinking of trying hands in the grocery delivery market; in that case, you have to invest in a powerful and feature-rich grocery delivery script to satisfy the customer's needs efficiently. Customers are allowed to choose from various products as per their requirements to get it delivered at your place.
6. Mercato
Founded by Bobby Brannigan, Mercato has deep roots in food craftsmanship. The platform owner launched the on-demand channel after realizing modern grocers face a consistent online experience to match in stores efficiently. The grocery delivery channel was developed with small details in mind; it empowers grocers with eCommerce, service, and easy-to-use tools that results in seamless experience offerings.Instead of third-party shoppers, Mercato allows its customers to handpick the orders directly from the store. The merchants who have partnered with the platform have the best locally sourced ingredients, making it easier for customers to experience the same. The venue was launched to offer fresh and best quality ingredients to customers on their demand.
7. Italian market
Italian market covers a large South Philadelphia area featuring grocery shops, cafes, curb carts, cheese shops, restaurants, butchers, etc along with the Italian influence. The term Italian Market is mainly used to generally describe the surrounding neighborhood between North and Wharton Street and South Street to the South, running a few blocks to the west and east.The Italian market is considered the Philadelphia Italian community's commercial and social heart; the Ninth Street Market also contained Jewish businesses. During recent years, an influx of immigrants from Mexico and Latin America has contributed to the platform, helping people get everything right from one place.
8. Amazon Prime Now
Amazon offers Prime Now service in parts of Germany, Italy, the United States, India, the United Kingdom, Japan, Spain, and France. In 2014, Prime was now launched by Stephenie Landry in some parts of New York; they also head up with AmazonFresh and the now-defunct Amazon Restaurants.The Prime Now service enables customers or their prime members to place orders and get their products delivered at their homes. The platform ensures providing the product within one hour or two hours of order request for a fee of $7.99. Around 25,000 daily needed products were available on the Amazon Prime Now platform, making it easier for customers to get any of the required products right at their place.
9. Esselunga
Founded by Bernardo, Guido & Claudio Caprotti, Nelson Rockefeller, the Crespi family, Marco Brunelli, and other Italian associates in 1957, Esselunga is an Italian retail store chain. The Caprotti family now owns the company through Supermarkets Italiani. It's the first supermarket chain to introduce online shopping and self-produced organic products in Italy.In 2012, the company worked with more than 20,000 employees and had €6.8 billion turnovers. Esselunga now controls and manages around 9% of the Italian grocery distribution market. The company ranks on the top as the fourth most profitable group in the European retail sector, and it's the 23rd largest company. Esselunga owned about 50% of the Italian branch of Penny Market until 1998; the company operates and is located in Northern Italy.
10. Raja WholeSale
Raja WholeSale is the best online grocery shopping market place. The uniqueness lies in the operational process; the platform helps customers get everything on a one-stop solution; they can order veggies, baked goods, fruits, baby care, pet care, and other grocery items.Customers are allowed to choose any of the products right from the platform without any hassle. The grocery delivery channel enables customers to select and schedule delivery stores and get the order's real-time update. It's very well known for its high quality of goods and products.
What is the Future of Online Italian Grocery Store: Check to Know Everything!
The online grocery delivery business is unavoidable and profitable. Make the grocery ordering process seamless and easier for your customers by offering them with an advanced platform.Get a quote to know how you can efficiently launch a feature-rich solution that caters to all customers' needs. Explore how a dedicated platform helps eliminate the tedious task of making purchases of groceries from local stores. Help your customers save their time, money, and energy, offer them a click and collect or delivered options on your online ordering platform, guaranteeing to grow your business accurately.