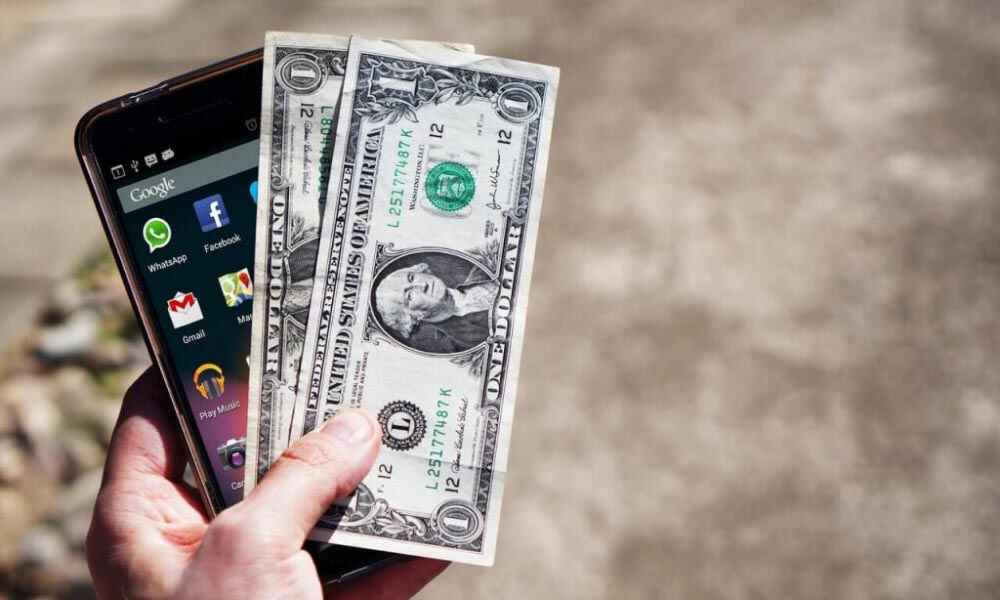 You perhaps have heard of it – Apps can make a lot of money. Like a lot! Abundant examples are in front of us that justify it. But I have been going deeper into that subject to know what's making this much money. You can also start to think about it now! Read down the blog to know how much money can app earn. Also, how you as a developer can earn money via making an app.
But before, do you want to know how much money an app makes on average? If an app falls in the list of the top apps, it would have an average earning of about $82500. This varies drastically when the top 800-900 app's average earnings are $3500. We are discussing an average here because it is a variable that depends on numerous factors. The app platform, the motive of the app, earning model, app structure are a few of them.
When you make an app or just have a revolutionary idea of an app, one significant thought process on how they save for the pocket in the entire process. We will discuss some of them in the blog to get a clear idea about how apps make money.
How An App Can Make Money – Important Concern For Developers
In 2019, the global app market was $154 billion in size. Moreover, it is anticipated to grow with 11.5 CAGR from 2020 to 2027. So the market is definitely huge for the one who will consider an app in their business model and depends on it for significant revenues. Besides, the unprecedented rise in the use of the internet, smartphone proliferation, and a few of the booming innovative fields like Artificial Intelligence and Machine Learning are some of the driving attributes for the world app market.
From idea to execution, guidelines to make an app are necessary. We can not go with everything in one article. So, on dividing it into parts, let's focus on one. One portion is deciding the monetization model. Without delay, let's dive into the topic of understanding different revenue models and strategies for an app.
Revenues or Monetization Models to Earn from an App – Consider Their Pros and Cons
In-app Purchase Model
In this model, an app is free to download from the respective app stores but allows purchases of goods, services, better performance, premium level, etc., from the app. Access to a high level of user interaction is what a consumer pays for. In all, if everything is considered, the app could gather consumers who use a free portion of, who pays for the betterment, and who continues to pay for it.
One more strategy is used in this. Many businesses make money by providing products that the app can only operate. For example, we consider how game apps make money with this model. The restricted stages of a game, lifelines, game currency are some of the tactics which a gamer will have to buy or earn. In this way of monetizing a strategy, consumers are regulated to utilize those services within an app and convince them to make purchases subsequently. They adopt this strategy widely, making huge profits.
According to Statista, mobile app consumers will spend 34 billion dollars on the mobile app globally in the fourth quarter of 2021. So it is a potential market. However, the challenging part is to convince an app user to switch to the payable versions, that too decently and not reducing your number of free users.
Freemium Model
Freemium is a name derived from free apps and premium apps, which describes a combination of both. In the freemium model, the apps are free to install and utilize. But some of the exclusive content or upgrades are paid. Like, in paid version, better performance, attributes, or ad-free usage of content is offered. The in-app purchase model is a subset of the freemium model. In an in-app purchase model, consumers have to pay for several levels, whereas the Freemium model restricts to the one-level payment.
Comparatively, the freemium model is easier to acquire consumers from in-app models as a benefit of a one-time payment. This type of app planning will help retain consumers and also generate revenues. One can offer a good purpose and service to use the app and then charge them to get the best of them. You get users, and you get the money from the app. A win-win situation!
It is a free app to acquire more consumers, but the model can also face revenue fluctuations; when the app is free of cost, one convincing factor or utilizing the app at most is not present, the app is easy to abandon.
Subscription Model
The subscription model is the preferable way to apply in an app. Offering consumers quality content for a limited time interval, until which they get used to it, and then charging them to continue using the app. Subscriptions are monthly, quarterly, half-yearly, or yearly. The app subscription model is the most suitable for the apps that offer cloud-based services like music, video, and news apps from a financial perspective.
For quickly monetizing the app is the best model though it can cause problems in development. First, the apps and their cause have to be very effective. Secondly, the consumer retention rate for prolonged periods is quite tricky. This would need the freshest content, constant maintenance, relevancy towards the subject.
In-app Advertisements Model
In the model, app owners target to gain a huge consumer base. Therefore, offering relevant content and ads that have the same target audience could be a huge earning channel. For example, if you are a music streaming app, and you advertise a brand for headphones. Irrelevant ads, like showing washing brands in the music app, make no sense.
Different types of ads can be used as banner ads, full-screen video ads, native ads, rewards ads; depending on the factors like content, relevancy and most importantly, opt for the highest revenue generation strategy from any or many of them, choose your income from ads smartly. Also, an app can make the ads optional, or compulsory like one can skip the ad in a few seconds, Or app users have to watch the entire advertisement for the next move.
The cost of these ads is decided based on either cost per impression or cost per click. Besides, you can promote the app on their platform. However, you should also know that the ads are time-consuming, irritating, which can make a user quit the platform.
Data Collection and Purchase Model
User practices, user choices, and all this data about the users, which an app can collect in mass, are the most essential resource. Even if an app is free, the data gathered can itself generate abundant money. Besides, that data can be useful to other companies, researchers, analysts, who are ready to give any amount for the data.
The data can also be consumed for enhancing your own app experience or fulfilling any purposes within the app. Using the latest technologies, the user data can give a personalized, relevant experience, which is the preferred behavior of the users. One example that can substantiate this statement is presented here. In a marketplace app, you are looking for smart wearables. You explore for a few mins and then exit the app.
Later on, you will get suggestions for the same category and will get a notification for the offers and deals for the same category. But consumers are protected about their data so it is one significant hurdle for such apps.
Where Can You Make Money Through an App? Various Platforms For Apps to Make Money
Since you now know that the app could make profits in several ways, you can choose the one that converts for you. But the cost factor also affects where your application will be laid on. I meant platform. In this section, you will get aware of the medium on which you can make the mobile application.
Application Stores
For mobiles, the most famous platforms are Google Play Store and App Store, which allow Android and iOS apps featured in them, respectively. Android apps dominate in number and offer a huge market to the developers to acquire mass audiences. iOS, on the other side, has a few restrictions, though it is also a bigger market to target. Google Play is the biggest app store, where consumers can choose from 3.48 million apps, as per the first quarter of 2021. The market is vast to dive in though quite competitive.
Smart TVs
Apps are not just conserved to smartphones. Using the app on the larger screen that is your television is a convenient way widely embraced. Video apps, music apps, gaming apps, etc., are the most popular ones that users prefer to use. The app market for smart televisions is also not a topic to ignore. In the coming years, advancements and innovation will surely bring something revolutionary. So, it is better to target that gap with your app idea.
Smart Wearables
Apps have also thrived in smart wearables. While making an app, one can also check the compatibility to work in smartwatches, smart glasses, bands, headsets, shoes, apparel, fitness trackers, etc. These wearables are structured for their easy adaptability, and an app can target that audience to make it more consistent. Your app will have a variety of exposure streams, and also comes with huge profits. It would offer a competitive
Voice Assistance Based App
Voice assistance is also of the adoptable user convenient mode to seek services through. It can make a personalized experience, improve the product offering, build a brand, and in a way, offers an omnipresence. The devices with this technology will have a greater market in the future. So getting an app that is congenial to this technology is a better scope to earn from an app.
How Much Money Can App Earn? Let Your Business Boom in the Digital Market
With so many models for how much money can app earn, choose the one with proper conception. Consider the good and bad of each method, and then choose the one with an appropriate prediction that the app will make money for you. When you decide to go with the best mobile app development company investing a considerable amount, you should also rightly decide you can get the best outcomes from it. This blog is to give you an idea about the revenue-generating models and platforms your app can outstand on.