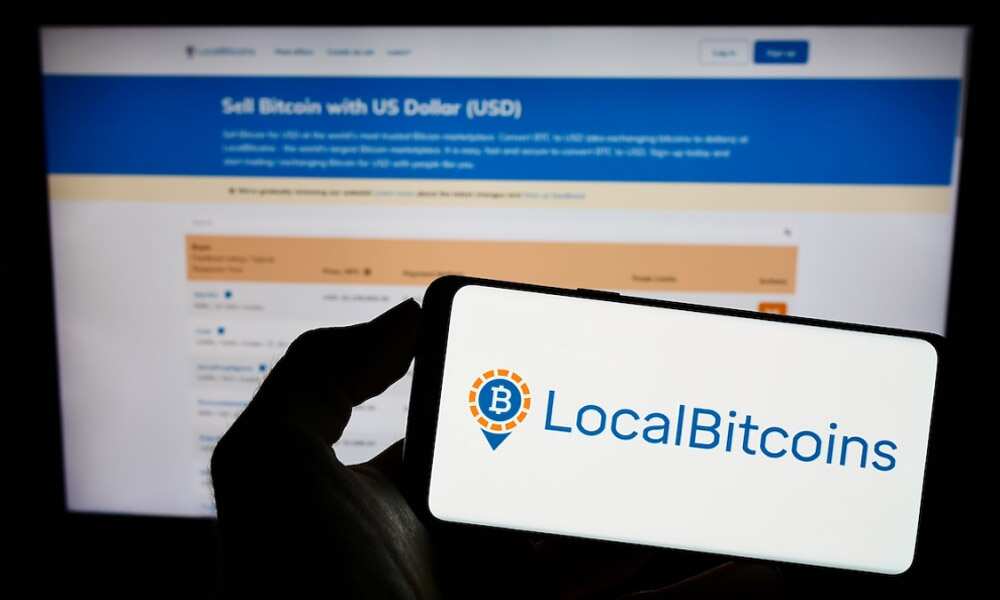 Thanks to decentralised markets, cryptocurrency trading has expanded beyond traditional crypto exchanges to peer-to-peer (P2P) trade. On these platforms, you can now buy bitcoin directly from a seller using fiat money and sell bitcoin straight to a buyer for fiat money. Here, we will talk about LocalBitcoins, one of the most popular decentralized bitcoin trading platforms, and its economic structure.
Without question, interest in virtual currencies is expanding globally. The daily trading volume of cryptocurrencies is currently around $56.80 billion. One platform helps investors buy and sell digital assets directly from one another without using middlemen. It is LocalBitcoins, of course. The platform, situated in Finland, enables over-the-counter (OTC) trading of Bitcoin.
The term "cryptocurrency exchange" refers to a website-based service platform that connects different counterparties and enables trading between these parties using fiat and digital currencies. The three primary types of cryptocurrency exchanges are centralized, decentralised, and peer-to-peer. P2P cryptocurrency exchanges are the ones that are most popular among all of these since they make trading simple and rapid.
In this post, we will understand what LocalBitcoins is, its business and revenue model, and how this platform helps traders produce long-term earnings.
Overview of LocalBitcoins
When it comes to peer-to-peer bitcoin trading, LocalBitcoins is a well-known brand. It is a decentralized exchange where buyers and sellers from all over the world can transact with one another directly without utilizing a centralized exchange.
In contrast to centralized exchanges, decentralized marketplaces do not have a single institution overseeing trades; rather, users are governed almost entirely by the rules established by buyers and sellers. To utilize LocalBitcoins, in contrast to a conventional decentralized exchange, you must register and be verified.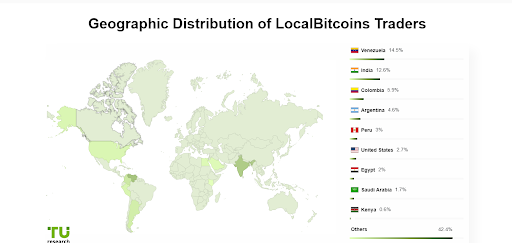 Source: Traders Union
A well-known peer-to-peer bitcoin market called LocalBitcoins enables users to purchase and sell bitcoins more quickly and easily. In the previous year, this LocalBitcoins trading platform had 1.46 million users and a 10% increase in income, or $29.6 million.
The peer-to-peer system offered by LocalBitcoins is entirely escrow-powered and offers consumers the fastest and safest option to purchase and sell bitcoins. Recent days have shown a significant ROI for LocalBitcoins thanks to their large user base.
Brand Name: LocalBitcoins
Founded date: June 2012
Headquarters: Helsinki, Southern Finland
Website: https://localbitcoins.com/
Supported Countries
LocalBitcoins offers services to more than 200 nations and territories on its platforms. Due to either international funding limitations or regulatory bans, the countries that are not served are excluded. The US, China, Indonesia, Syria, and North Korea are among the nations that are not covered.
How Does LocalBitcoins Works?
On a peer-to-peer exchange like LocalBitcoins, users must register. They must provide details like their name and email address, set a password, and provide identification.
Both buyers and sellers can post advertising on the P2P trading network.
An investor then obtains information about a quote from another seller. They can view information on the exchange rate, the mode of payment, the minimum and maximum trading limits, and the transaction turnaround time.
Later, they can select the buy option, complete the transaction, and complete the trading contract.
Do you have any other choices? Yes. Significantly, a trading system like LocalBitcoins provides a speedy purchasing and selling option.
As a result, customers can select the best deals based on the value, fiat currency, location, and payment options (Immediate Payment Service (IMPS), net banking, Unified Payments Interface (UPI), digital wallets, cryptocurrency, altcoins, and stablecoins).
Analysing the Business and Revenue Model of LocalBitcoins
A business model describes a company's revenue or product profit. It outlines how our product gets to the customer and generates the right amount of money.
Similar to Localbitcoins, which also has a successful business concept, More than 200 countries and 14,000 cities worldwide are home to them.
LocalBitcoins is a well-known bitcoin exchange platform that makes buying and selling bitcoins in a market easier. In addition to offering buyers protection, the Localbitcoins network also offers a number of payment choices. Additionally, it makes over-the-counter trading in fiat or local currencies easier (OTC).
The following are some advantages of using LocalBitcoins p2p exchange:
One of the quickest methods available today for exchanging bitcoins with individuals, it improves service stability for risk-free trading between buyers and sellers.
It is applicable in all countries and has the potential to produce minimal transfer fees.
Possessing more than 300 different payment choices.
Here are the following revenue sources that enable LocalBitcoins to earn a decent amount of revenue,
Trade commission fees
Withdraw commission fees
User rating fees
Temp status
Max and min check
It's interesting how LocalBitcoins has distinguished itself from other cryptocurrency exchange platforms in the market. This is due to the fact that there are no fees associated with registration, buying and selling Bitcoin, or receiving transactions. A minimum deposit cap is also in effect. Trades below the particular cap are, therefore, not processed.
Closing Thoughts
LocalBitcoins is an excellent option if you're seeking a dependable site to buy and sell bitcoin directly using your currency. It is also relatively reasonable because there aren't many costs.
It is much more convenient because you can utilize payment methods not available on centralized exchanges. Therefore, if you are okay with the price of the bitcoin, you should use LocalBitcoins as a platform for P2P bitcoin trading.
As an entrepreneur, if you want to develop a platform like Local Bitcoin, Elluminati Inc is one of the best companies that help you develop a product with high-security features that eventually help you manage transactions more effectively.