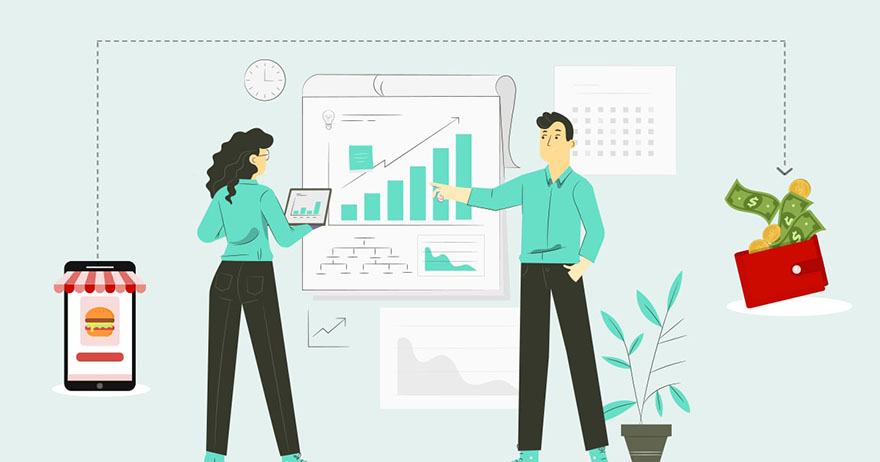 The on-demand industry is growing dramatically due to technological advancement. The persistent attraction shows that the domain is witnessing massive growth in recent years; the food ordering and delivery market are forecasted to reach $16.61 billion by 2023. Explore the blog to know how does food ordering & delivery business giant GrubHub works, have complete insight into its business model to understand how it makes money, and efficiently cater to end-user needs.
Undoubtedly the food delivery market has transformed the way of living. It has affected our shopping habits, way of doing business, and much more. The online food delivery market revenue amounted to around U.S. $95,413 m in 2019. The market volume of the online food market segment was $74,451 m in 2019 alone. And when it comes to online delivery, then The Grubhub comes into the picture. The on-demand delivery platform holds a 32.7% market share in the food delivery industry, and it is flourishing rapidly with each passing day.
What is GrubHub?
GrubHub is an online food ordering platform; it connects local restaurants with diners helping them get their favorite food get delivered right at their place. The Chicago based GrubHub was founded in 2004, and with its most extensive network of restaurant partners, it has become a food ordering and a delivery giant. GrubHub has partnered with more than 300,000 restaurants in over 4,000 U.S. cities.GrubHub has transformed the food industry; the on-demand servicing platform delivers foods from the nearby restaurants as per customers' demand. GrubHub's business model has been framed to service customers via modern technology solutions helping users order food online from a range of on-demand service providers. The company takes a big lead in the online food delivery market by being an impressive and instant solution for the restaurants to serve a vast customer base.
Amazing Facts About GrubHub
Founders: Mike Evans, Matt Maloney, and Roman Gaskill. Founded Year: 2004. Headquarters: Chicago, Illinois. IPO Date of GrubHub: 7 April 2014.
GrubHub Users:
More than 22.62 million people were active diners on GrubHub in 2019, which is quite more than 17.69 million that was measured in the previous year. Source : (Statista)
Average Order Placed on GrubHub Platform:
Approximately 23, 400 food orders are placed regularly using the GrubHub platform. Presently GrubHub has successfully expanded its branch in more than 900 locations across the USA and has partnered with 35,000 restaurants to ensure fast and successful deliveries.GrubHub owns and handles different brands, including Seamless, AllMenus, and MenuPages operating in the same industry. Source :(Wikipedia)
How GrubHub Standout From Other Delivery Platforms
GrubHub has successfully achieved a special place in users' hearts due to the excellent working and features of the online food ordering and delivery platform. The competition for the delivery giant increased much higher when big names like Uber and Amazon entered the delivery market. Still, GrubHub has maintained its top position even after the fierce competition.Grubhub and its subsidiaries covered 21% of U.S. meal delivery consumers in July 2020. This shows that the purchase made by food lovers from the platform is quite up from 2018. The delivery solution provides an excellent app solution to its food lovers, one of the vital factors for its success. GrubHub's advanced features and functionality has made the process glitch-free for its uses, making it different from other delivery platforms.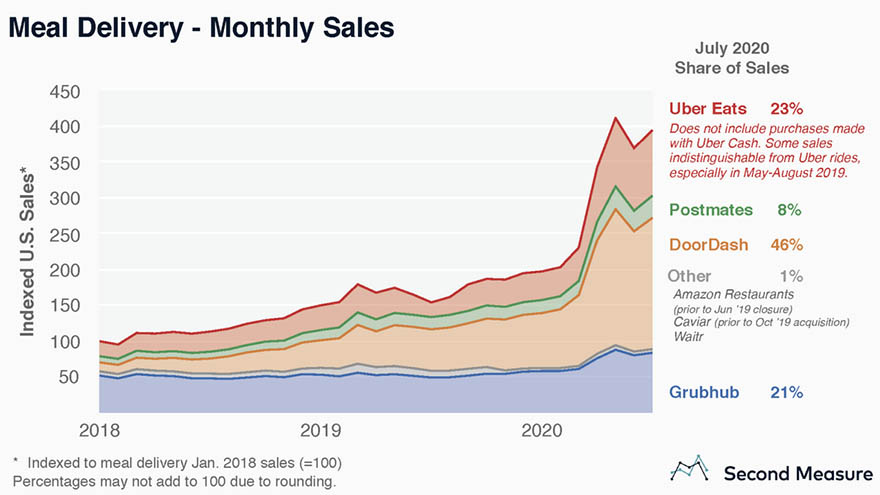 Portfolio of Brands Engaged with GrubHub
The company comprises a portfolio of brands including Grubhub, AllMenus, Seamless, Tapingo, LevelUp, MenuPages, and Eat24. Recent news also shows that GrubHub merges with Just Eat with a 73 billion deals. The platform has experienced drastic growth with its merger with Seamless and acquisition of other brands.
GrubHub Business Model: Learn Everything About Modules Included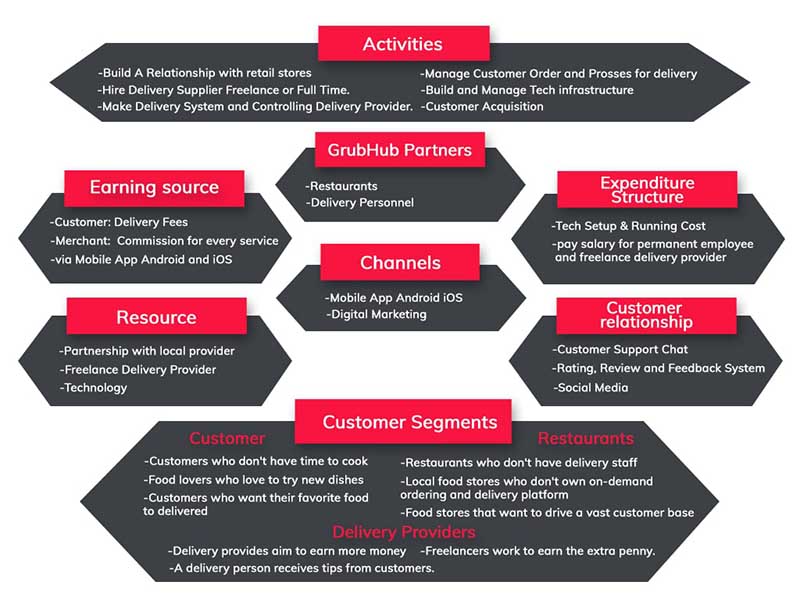 The primary goal of the Grubhub is to make the food ordering and delivery process easier for customers and restaurants. It follows a simple business model that connects food giants with customers to offer customers with online food ordering options. All the things are handled successfully with the help of the latest technology.
Key Partners of GrubHub
Grubhub follows a two-sided marketplace process, which is beneficial for all the parties using the platform. The key partners of GrubHub include:
It offers excellent value to its users and possesses the ability to grow business highly. It provides a compelling value proposition to all its key partners.
Value Proposition
GrubHub's value proposition explains its clear what the company does to offer excellent service to its users. Check to know how GrubHub benefits both the segments- customers and restaurants. The following are the value proposition which the platform offers to each of the key partners.
Value Propositions for Customers:
Offer an easy and effective way for customers to order their favorite meals online.
Saves customers time and money.
Provides round the clock service to customers.
Facilitates customers to order their food from any of restaurant
Allows customers to track their order in real-time.
Value Propositions for Restaurants:
Provides restaurants with a large customer base.
Allows restaurants to manage and complete deliveries efficiently.
Customer Segments
Grubhub follows a simple business model, hence mainly deals with two segments. GrubHub might change its plan based on how it works, but presently it focuses on collecting food orders from the restaurants and delivering it on customers' locations. These two segments include a restaurant and a customer. The customer segment in the business model includes:
Users:
Users who love to taste new dishes but don't have time to visit eaters.
Users having a busy schedule.
Corporates who plan to have their lunch outside.
People who don't like to cook food.
Restaurants:
Restaurants who don't have delivery providers to satisfy doorstep deliveries.
Eateries who want to serve customers at the doorstep.
Restaurants who wish to increase their customer brand.
Eateries who don't have any marketing strategies.
Want to Become a Next GrubHub? Strategize Your Business
Let's Start, We Have Something for YOU
Know-How the Grubhub Raise Money
GrubHub is operating on a compelling business model, helping the company to make money. Customers have limited choice to the menu before the launch of a grubhub like delivery app, but now they don't have to go to restaurants and wait till the food is served to their table, they can just explore an extensive menu available online and can enjoy their favorite meal right at a place within short periods. GrubHub successfully connects customers with restaurants making the process digital. It is proven to be an excellent way to market for eateries, helping them expand their business reach and ensure growth. The app has a cohesive U.I. and UX design that ensures to solve users' pain points and provide them with a seamless experience, which they aim to have from any of the brands. Statista's report shows that in 2019 alone, Grubhub generated around 1.3 billion U.S. dollars in revenue, up from 300 million the previous year.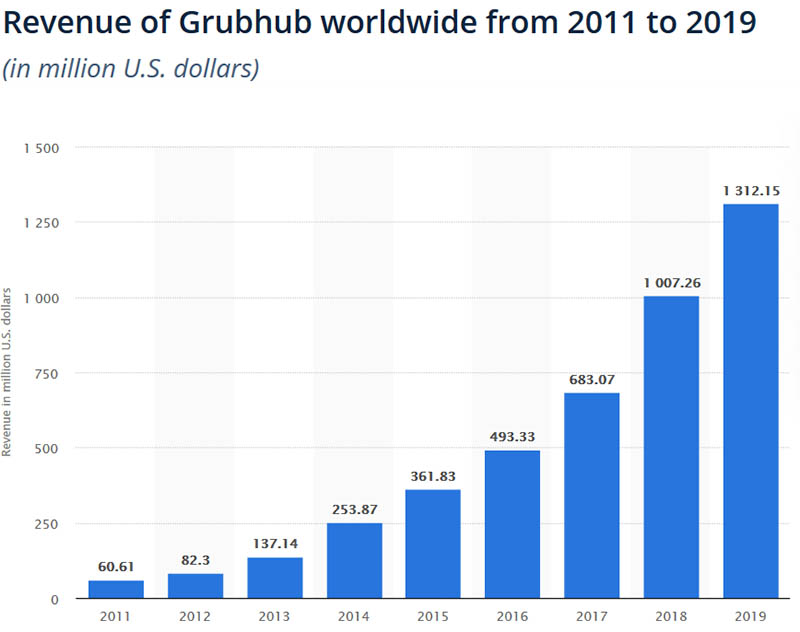 Grubhub's Revenue Model
While there are many food ordering and delivery businesses around, generating revenue becomes one of the most challenging tasks. However, GrubHub has created a unique place in the online food ordering and delivery market, it has a large customer base that trusts the food ordering and delivery service. In July 2020, it has raised 53% of the sales in the market compared to other food ordering and delivery competitors in New York.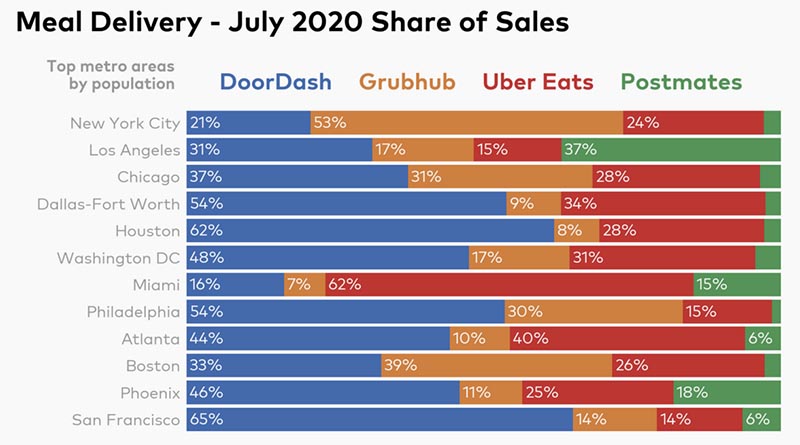 Grubhub Key Business Metrics
Various financial metrics include key business metrics. This includes:
Active diners
Daily average grubs
Gross food sales

Based on information till February 5, 2020, the company has provided financial guidance for a whole year in the report, explore below to have a quick glimpse to the guideline:

Showcasing the market presence in 2004, GrubHub has become a giant master. Its novel approach has helped the delivery giant set its headway on the business prototype, guaranteeing massive revenue generation in a short time. It uses a restaurant to list the aggregators and helps them to market their business online quickly and efficiently. It started making money by offering restaurants with promotion options for their business promotion. Grubhub has experienced drastic growth in recent years, mainly due to increased products and awareness by diners. They have helped the company to enhance its sales with word of mouth referrals.GrubHub is an on-demand delivery platform based on the ownership model. However, it is loved by thousands of customers regularly. The two significant sources of revenue for GrubHub are as follows:
Commission from Each Order
GrubHub makes it easier for customers to order their favorite food from local restaurants and deliver it to their doorsteps. The platform charges a commission on every placed order. The amount of commission ranges between 5% to 15%, GrubHub, and seamless take 13.5 cuts on every delivery order.
Restaurant Advertising on the Delivery platform
Besides the commission structure, GrubHub also offers marketing facilities to restaurants and charges some amount from them. The advertising plan helps restaurants to get their business listed top on the platform.
Various Issues that GrubHub Faced
GrubHub is undoubtedly a market leader, but new names are added with each passing day to the delivery market. There are numerous challenges that GrubHub faced due to growing competition in the market, explore which challenges GrubHub needs to address.
Retain and attract new restaurants in the best effective manner.
Maintain and safeguard the brand image in a competitive business market.
Generate a cash flow and maintain profitability level.
Update business with a changing technology market.
Future of GrubHub: Check to Know its Growth Chart!
Grubhub offers a frictionless and seamless food delivery service to its platform users. There are numerous challenges which the organization has overcome smartly and efficiently. GrubHub team is focusing on improving its business model to provide its customers with the best service on their demand. You can develop an app like GrubHub to boost your business growth and enhance your customers' service. Well, you can not copy anyone else's idea to start your venture, brainstorm, and come up with a fresh approach, if you want to know the basics about the online delivery business, check eDelivery and other relevant features that would drift your thinking to a different direction. Want to know: Consider including advanced features and functionalities to your app, helping you manage and handle all the work efficiently.