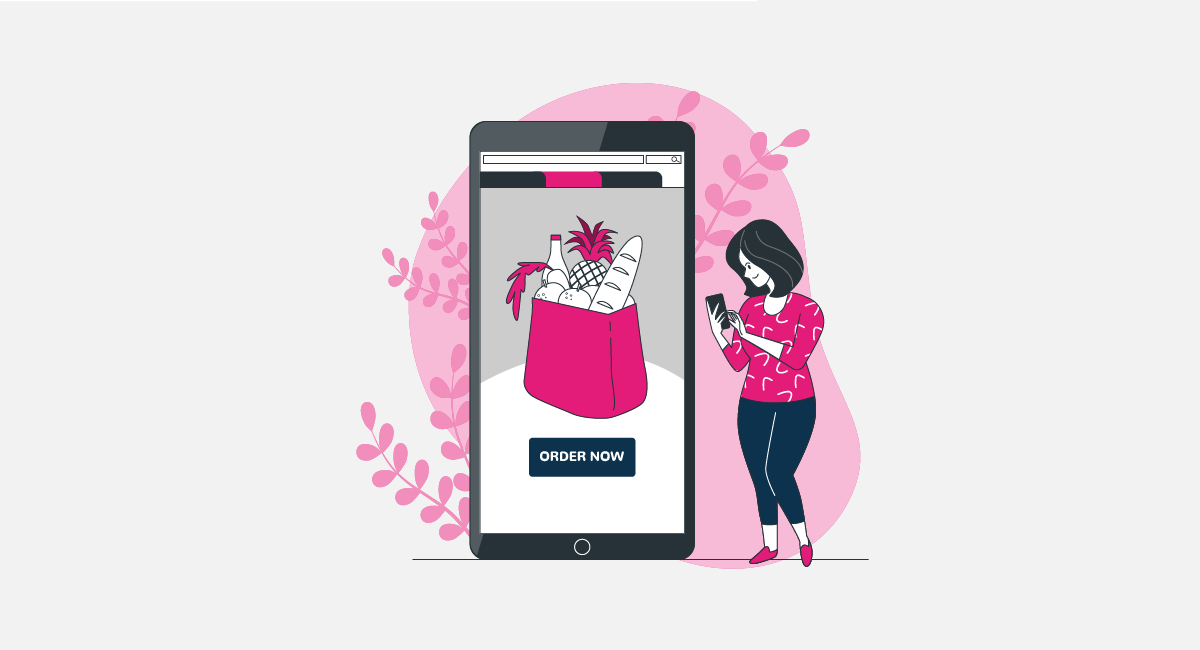 Groceries are the most important part of day-to-day life for every one of us. But for gen z, the more important thing is their time and convenience. That is where Flink has got a midway for the people of Berlin and later for countries in Europe. The grocery business already has massive scope for businesses to get something unique, swift process, automation, and comfort in everything. Folks of Flink had thought of that and bam! They launched Flink! They managed to design an outstanding Flink business model and carved great revenue resources.
Few-minute home delivery of groceries. It might seem exciting and vague at the same time, to some at least. But that is how Flink works. There have been a lot of facts and figures about the grocery delivery industry being one of the fastest-growing and evolving with technology. We are looking towards the Flink business model so let's continue that here. We will be diving deeper into its pro-business strategies and more in this article.
What is Flink?
Flink is a startup offering to buy delicatessen to the consumers through an app getting deliveries within the least time interval (in about 10-15 minutes). It proffered a wide range of selections for convenience items like herbs, fruits, dairies, bread, and free more categories for home supplies brought to the customer's address. It has dark stores in various locations from where it fulfills the grocery essentials of the consumers within as little time as possible and thus the consumers. They have then allocated delivery men who pick up the prepared packages from those storehouses and supply them to the buyer's address.
In 2020, Flink was initiated by Oliver Merkel, Julian Dames, and Christoph Cordes, located in Berlin, Germany. Saad Saeed and Nikolas Bullwinkel have entered as the director and were the creators of Pickery – an identical business in Hamburg. It first originated in the regions of Germany, and then it spread to nearby countries like France and the Netherlands.
How does Flink Work?
Identical to different delivery giants, Flink strives to supply kitchen necessities to buyers in the least conceivable period interval. It facilitates buyers to purchase within the app for multiple items and delivered at home, all by a deliveryman. Flink first buys different categories of delicatessens in high proportions and delicatessens suppliers stock in its storehouses. Then the requests from the buyers will be supplied to the requested address. Here e gonna study how Flink works:
Customers download the app, sign up, enter their location, then choose the items.
Then confirm the items, opting to pay with the desired method, and then wait until the entities are rested at the desired address.
Flink gathers the entities and then assigns them to their full-time supply partners to convey the package within the least span of delivery.
Flink's Funding and Acquisition Details
Flink had a sum of 4 levels of funding until the date when it was initiated. In those rounds, it managed to get 1.1B dollars. The last funding was in Dec 2021 from a series B round. There were a total of 7 lead investors among the total 10.
| | | | |
| --- | --- | --- | --- |
| Dec 10, 2021 | Series B | 9 | $750M |
| Jun 3, 2021 | Series A | 4 | $240M |
| Mar 2, 2021 | Seed Round | 5 | $52M |
| Jan 10, 2021 | Seed Round | 2 | €10M |
The seed level of funding was utilized to rev the liftoff procedure. They had then the acquisition of Pickery, about which there is no mention of the price. The originators of Pickery entered Flink as the director. It was then only they were renamed from Pickery into Flink and were just serving in Hamburgs. After launching and strengthening its procedure in various cities, Flink organized to seek more investments, and then with that investment, they extended to nearby countries in the Netherlands and France.
In May 2021, Flink acquired Cajoo on May 16, 2022. They acquired Cajoo for $93 million. Cajoo was a Q-commerce offering grocery supply in Paris, France.
Flink Business Model : Refer to Every Brilliant Business Strategies
Flink is an online delivery business that fulfills customers' demands through an app. It aims to deliver their parcel in 10 minutes. In the least time following its launch, the firm has been manipulated to inflate to several cities and then countries. They build advanced technology, a strong team who manages the delicatessens stockpiles, and the individuals who supply on time avail them to manage orders within minimum time. The Flink Business model canvas mentioned its deal proposition, key activities, key resources, and many more.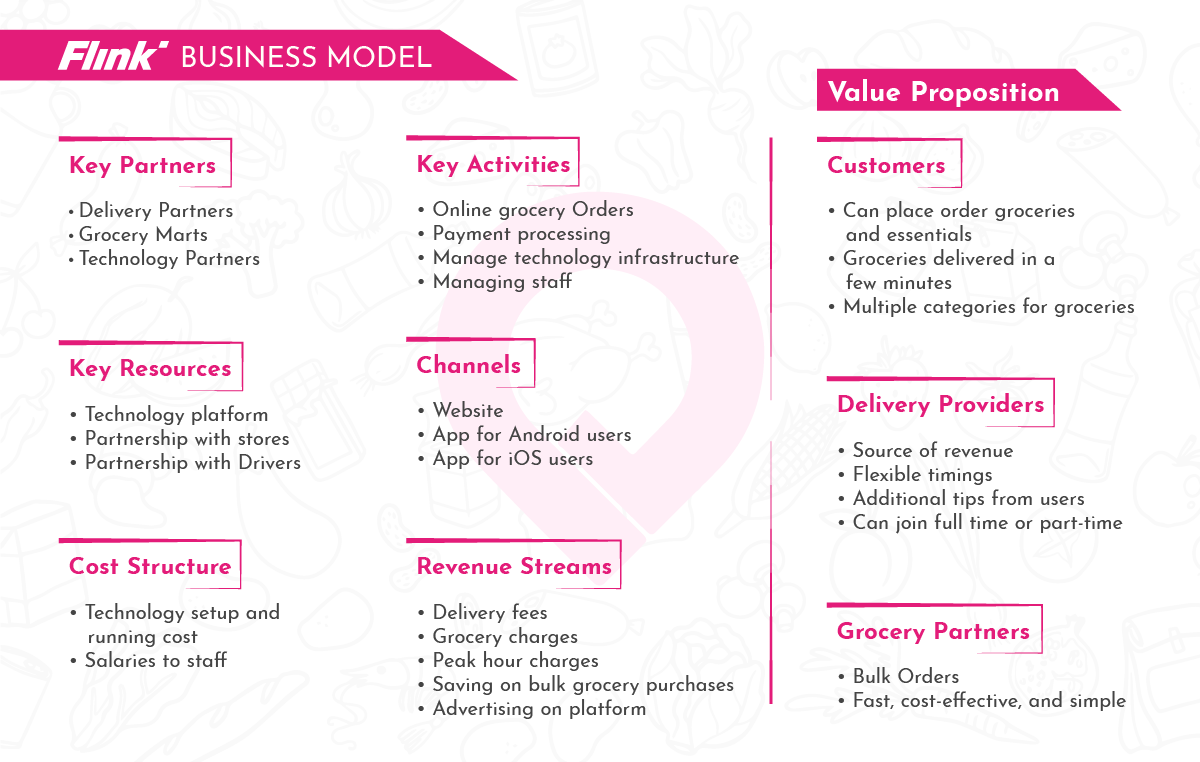 Revenue Resources of Flink
Here arrives the major concern for many of us. How does Flink induce revenues? It has multiple channels looped in its business model. Let's explore each of them one by one.
Delivery Charge
Buyers have to pay delivery expenses for ordering from the app and requesting delivery services. The price is fixed for them, independent of the total price of the order, different in different locations, perhaps. Further, relying on the span of the delivery, charges vary.
Grocery Sales
Flink buys delicatessens in higher proportions at a lower price, and that surges prices for the buyers from the app. It is one of the major revenue origins. Also, they locate their delicatessens stockroom in the places where they are available at lower prices.
Peak Hour Prices
Customers who order during peak duration have to spend a bit extra. This origin stimulates the normal revenues for the firm. And also, it allows them to fulfill the requests of that time and earn higher than normal.
Advertising Charges
It is one of the associate earnings for Flink. Just like any other corporation that utilizes its e-commerce platform for the advertising product, other companies, offers for stores, etc. They are charged to utilize that space for a particular time interval.
Conclusion
Flink is one of the sprightly-rising on-demand companies serving minimum-time deliveries of delicatessen, and yes, that is due to Flink's business model. The way Flink functions and its numerous earnings channels are also a trend that moves on everywhere around the globe. That is a delicatessen delivery in minutes. Entrepreneurs are encouraged by the higher demands with this method, and therefore it would be a better start now or getting late launching your flink clone app for an unprecedented provider for the customers.