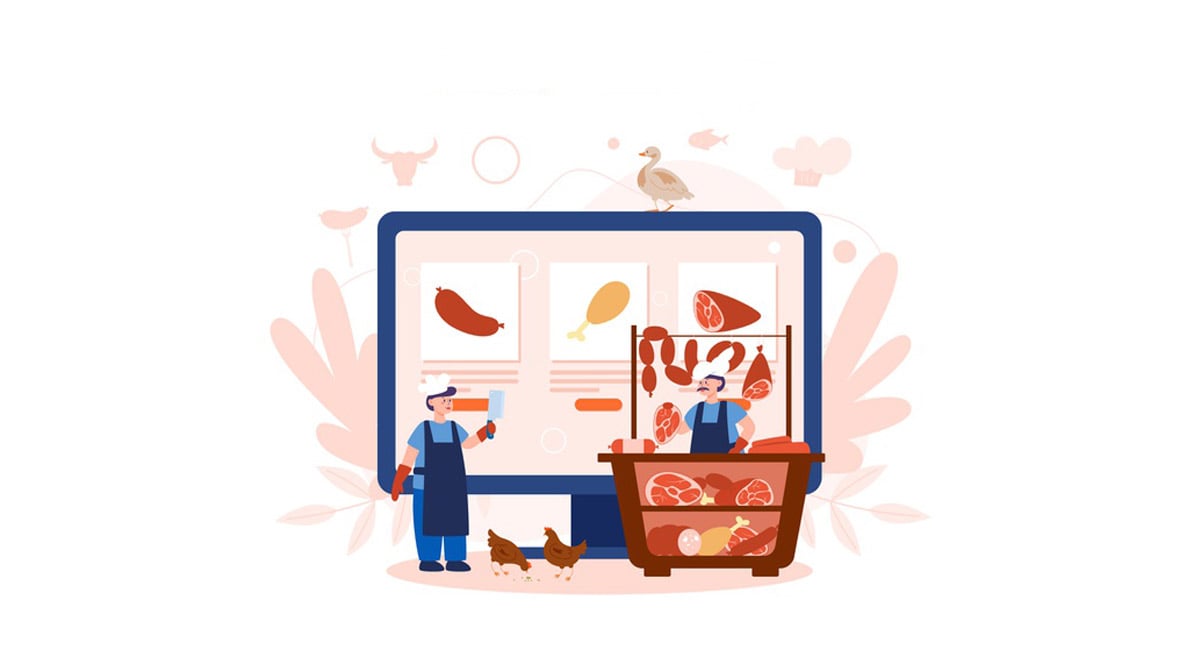 Taking care of multiple household issues could be stressful and seems daunting; thus, people's reliance on modern technology solutions keeps growing exponentially. Whether you want to buy medicines, get laundry done, or order food, doorstep delivery has become a new norm, especially after the pandemic. Besides, entrepreneurs are continually trying their best to bring innovations to their businesses to please customers. Along with food and grocery, the meat delivery business is also making its mark worldwide, and an app like TenderCuts allows customers to order meat products online. Now you must be thinking about TenderCuts, how it has gained popularity within a short time, and what intrigues entrepreneurs to invest in a TenderCuts clone to upscale their existing meat business. Dive into this blog and get all your questions resolved.
Recently Statista said that consumption of meat in daily lives is growing across the nation. As we know, the penetration of smartphones and innovation in technology has drastically changed business standards. The same thing happened in this organic meat delivery business, conventional meat businesses bringing innovations to satisfy the rising needs of modern customers, and hence they inclined towards modern tech solutions.
The only wish of busy people is to get fresh and tender meat delivered at their doorsteps. With the wide scope of the Internet, we have entered a world that runs on applications, hence business owners turn to the adoption of E-Delivery or apps similar to TenderCuts as it allows meat lovers to order farm-fresh, healthy, and processed meat in just a few clicks. .
Before we continue discussing the TenderCuts business model, let's understand what it is and how it works.
What is a Tendercuts Clone? Facilitate Online Meat Delivery to Customers?
Tendercuts clone is a multi-featured and customizable script that allows entrepreneurs to commence meat delivery business in no time. Enable customers to order meat products online with real-time tracking features, an app like Tendercuts streamlines your meat delivery business and its powerful modules come with essential features that ensure smooth order processing and business profitability.
Facts and Funding Details of TenderCuts
TenderCuts is an online meat marketplace that allows customers to order fresh meat products and deliver them within 120 minutes of the first cut. Whether customers want to order chicken, mutton, prawns, seafood, pickles, or even eggs, etc.TenderCuts is the one-stop solution.
Brand Name: TenderCuts
Industry: Online Delivery
Owner: Nishanth Chandran
Founded date: 2016
Headquarter: Chennai, Tamilnadu
Total funding: $15.8 million
Company status: Private
Area Served: Chennai, Hyderabad
Website: https://tendercuts.in/
TenderCuts, an online meat delivery marketplace, has recently raised $15 million
( approx.Rs.110 crores) from Paragon Partners.
Founders told in a recent press conference that they would utilize this fund for company expansion. And their dream is to reach 100 stores across India within a couple of years.
Now let's see how TenderCuts makes it easy for meat lovers to get doorstep delivery of meat within two hours.
How TenderCuts Work?
TenderCuts allows customers to shop at local meat stores using its dedicated web and app solutions. It has created a virtual meat shopping cart that is later fulfilled by "delivery providers" within 120 minutes. Now let's see how TenderCuts works.
Using the dedicated app or website, customers can browse multiple meat stores and add items to the cart.
Before confirming the order, customers can customize the order quantity and make payment from the options given. From here, customers can track the entire process in real-time.
The particular store owner will receive the new order notification and start preparing for it.
The delivery provider collects the package and arrives at the customer's location.
Customers need to make a payment if they have opted for cash and later rate and review the service based on the overall experience.
With these easy steps, you can enjoy fresh, healthy, and processed meat right to your doorsteps.
TenderCuts Business Model – Game Changer in Indian Meat Business Sphere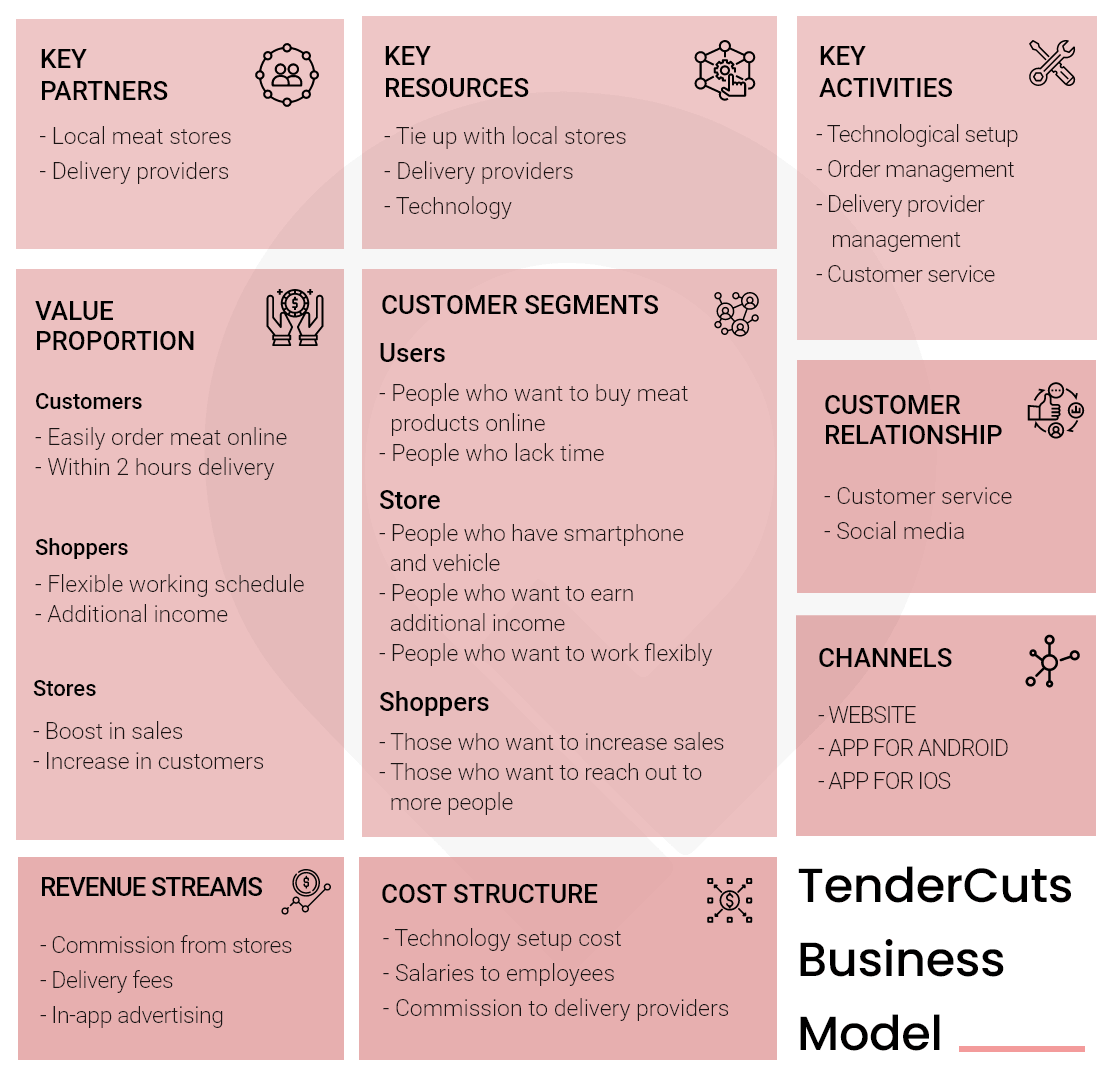 TenderCuts is an online meat delivery platform that facilitates home deliveries of chicken and other meat products across Chennai and Hyderabad. From its inception in 2016, the company has worked as a hyperlocal delivery startup.
So let's understand how TenderCuts delivers a successful business model by offering quick services to all associated customer segments, i.e., customers, meat stores, and delivery providers.
Users
Users can browse the extensive range of stores and products within the app, through which they can directly place orders either from a single store or multiple stores
Customers are offered multiple payment options
Users can pre-order or schedule the order within a specific time frame
Customers can track the entire meat delivery process in real-time.
Meat Stores
TenderCuts is popular in the south region; store owners can partner with them to boost order volume
Local store owners get an online platform to sell their products and generate decent revenue
Delivery Providers
People who own a smartphone and vehicle can get started with delivering orders
People who want to earn additional income by working flexibly
Revenue Model of TenderCuts – How It Makes Money
TenderCuts generates revenue in multiple ways. Let's discuss those ways in detail.
Meat Store Partners
TenderCuts charge a certain amount of commission from meat stores when any product is sold through its platform.
Delivery Fees
TenderCuts charges a delivery fee from its users. Delivery charge depends on factors such as high demand, distance, or any external condition.
In-app Advertising
When you open the TenderCuts application, you might have observed some stores always appear on top of the list. This is because these stores pay a certain amount to TenderCuts to increase order volume and reach more people.
How TenderCuts Clone App Can Empower Your Traditional Meat Business
Smartphones and technology have transformed every aspect of modern lives. From online banking to ordering food to order essentials and now order meat products. Yes, you heard the right, an app like TenderCuts is getting popular as they allow customers to order healthy and processed meat products online. Visiting local meat stores and standing in a long queue is so old school.
Instead, an app similar to TenderCuts is faster, convenient and its popularity keeps growing every day. Besides, conventional meat store owners also automate their business operations and expand their reach without any geolocation barrier.
Today, digital transformation is at the peak, and in order to survive, meat store entrepreneurs have to invest in the TenderCuts clone app to reap exclusive benefits. From streamlining manual operations to increase order volume to improved customer experiences, here we have highlighted some benefits of having an app like TenderCuts,
Smooth customer experience
Build a brand image
Real-time insights
Boost customer retention
Better promotions
Online meat delivery apps like TenderCuts have become almost an integral part of our daily lives with many positive implications. If you decide to develop one but are unaware of how an online delivery app works, you can check the demo here.
How Much Does It Cost to Build an App Like TenderCuts?
In order to build an app like TenderCuts, you should keep in mind all the customer segments that play a crucial role in the whole delivery process. Customers, meat store owners, and delivery providers. Hence, you need to build a separate app and panel for smooth delivery.
Along with that, there are some crucial factors that can impact the entire app development cost includes:
Features and functions
Platform
App size
Development team location
Product design
Take into consideration the above factors and come up with new ideas that help you stay ahead in the competitive market. Ensure you have integrated all modern features that entice customers to use your product and deliver a fantastic customer experience.
If you want to know the concise cost to build an app like TenderCuts and get a detailed quotation, drop us your words, we will help you launch your dream project.
Thrive with Revenue and Reputation by Deploying TenderCuts Clone Script
The increasing penetration of smartphones and wide access to the Internet has pushed conventional businesses to adopt digital solutions, and the meat delivery business is not left by it. Automate your business, capture the largest share of the meat delivery business with TenderCuts clone script, and "level up" your business in this sector.