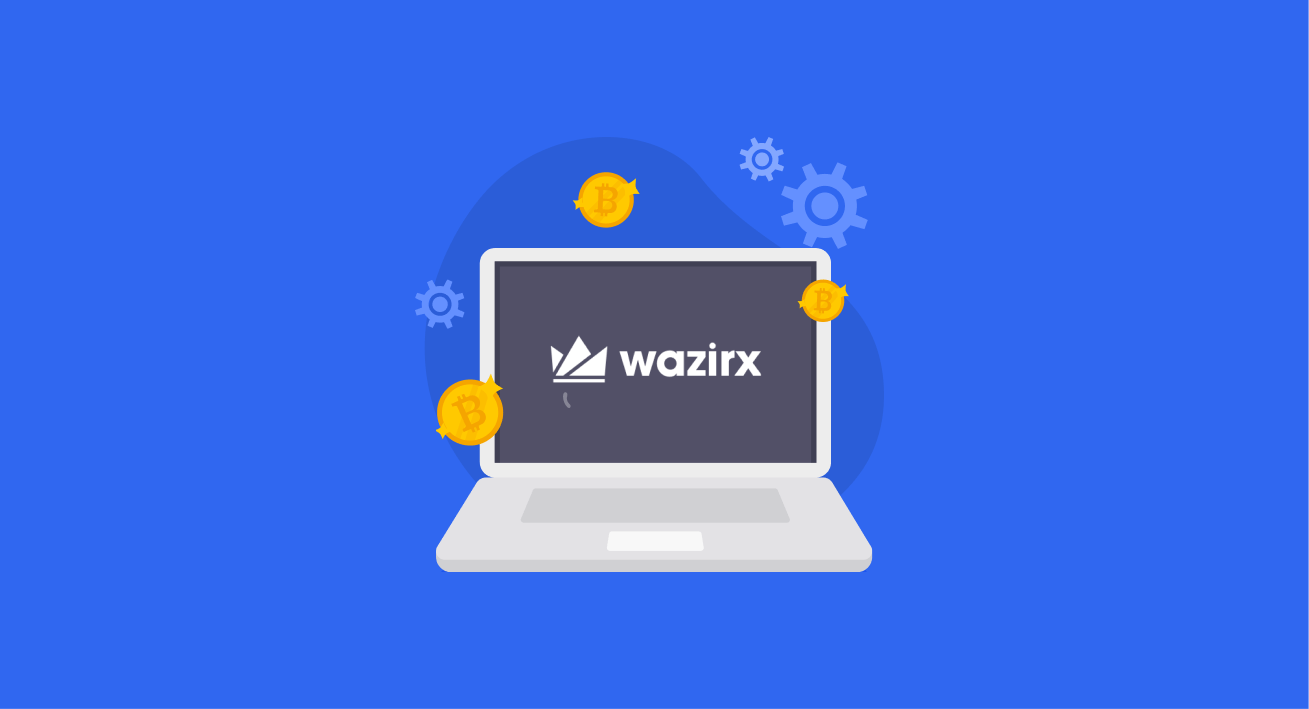 One of the Indian cryptocurrency trading platforms bringing about a revolution in India is WazirX. The blog explains how does WazirX works and its business model, covering its revenue insights, funding, and anything else you need to know.
The fastest-growing cryptocurrency exchange in India, WazirX, is owned by Binance and has more than 28,00,000 users. Since Satoshi Nakamoto created Bitcoin in 2009, its trading history has been erratic. From then on, it didn't take long to reach the Indian market. In 2012, cryptocurrency quietly entered the Indian market, but it wasn't until 2013 that bitcoin started to gain some notoriety.
However, given the enormous development in the cryptocurrency exchange platforms' respective businesses, 2021 will be a significant year for the market. India is gradually embracing bitcoin, blockchain technology, and cryptocurrencies in general because it recognizes the potential of the expanding market.
It is the most reliable and safe site for exchanging cryptocurrencies. Recently, the platform has reached 3 million users, with a total exchange volume of $2.4 billion. Additionally, the company hopes to hire many new employees before the current year is through.
Let's talk about the WazirX business model in this article, covering their revenue insights, funding, and anything else you need to know.
Overview of WazirX
It's the top cryptocurrency exchange software, and its platform enables users to purchase and trade over 100 different cryptocurrencies.
The Indian-origin app Wazirx was consolidated by Binance Holdings, and the latter began experiencing brighter times. It now has a large customer and continues to work with iOS and Android devices. The Wazirx app includes strong security safeguards to protect your transactions and is secure to use.
India's Most Reliable Bitcoin & Cryptocurrency Exchange is WazirX. In India, WazirX offers a platform for buying, selling, and trading cryptocurrencies like Bitcoin, Ethereum, Ripple, Litecoin, and more. WazirX primarily encourages users to trade and invest in the market's most speculative cryptocurrencies.
2019 saw Binance buy WazirX. (Global Cryptocurrencies exchange).
Economic Times said the trades were worth between 5 and 10 million dollars. On the Binance Fiat Gateway, Binance will begin allowing customers to purchase and sell cryptocurrency using Indian rupees (INR).
In one interview, Nischal Shetty said that acquiring an Indian cryptocurrency firm by a major worldwide exchange marked a turning point for the country's cryptocurrency business. More resources will be produced as a result.
WazirX General Information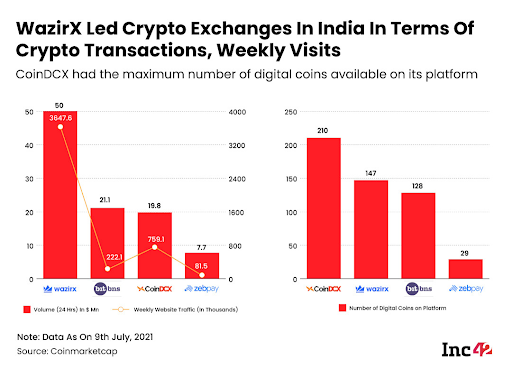 Source: Inc42
Company Name: Wazir X
Founded Date: 1st December 2017
Founder: Nischal Shetty
Legal Name: Zanmai Labs Private Limited
Parent Company: Binance Holdings Limited
Sector: Blockchain, Cryptocurrency Market
Headquarter: APAC
Official Website: https://wazirx.com/
The word "Wazir," which is the Urdu name for the Queen piece in chess and one of the game's most potent pieces, is whence the name WazirX originates. Ironically, WazirX was born in the same nation that produced the brilliant chess game.
Nischal founded WazirX, intending to give customers access to India's most robust cryptocurrency trading interface, which has remained a constant.
Right now, WazirX is India's biggest and most reliable cryptocurrency exchange. It also enjoys the trust of foreign investors. Since the Supreme Court of India overturned restrictions on cryptocurrency trading in 2020, which increased cryptocurrency usage in India, the Exchange had a record-breaking year.
WazirX Funding Details
2019 saw Binance buy WazirX. (Global Cryptocurrencies exchange). It is currently the #1 cryptocurrency trading exchange worldwide. It mostly operates with different cryptocurrency coins.
Economic Times said the trades were worth between 5 and 10 million dollars. On the Binance Fiat Gateway, Binance will begin allowing customers to purchase and sell cryptocurrency using Indian rupees (INR).
They were initially self-funded, and after operating for over 1.5 years, the trading exchange Binance purchased them.
WazirX Growth Timeline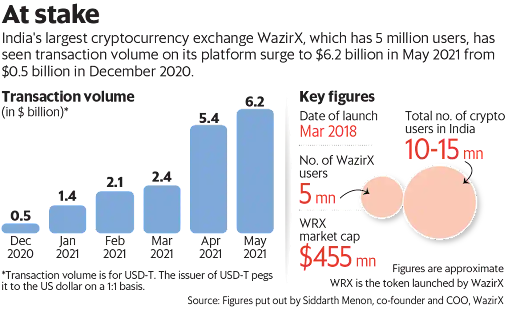 Source: Mint
WazirX handled crypto transactions of $500 million in December 2020, suggesting that it has virtually doubled its growth pace in just five months.
Other crucial development metrics exist as well.
For instance, in April, the number of active users more than doubled to 3 Million, and the month saw transactions totaling more than $380 million on its platform in a single day.
In the midst of the pandemic, the cryptographic money market has been flooded, and the market value of all cryptocurrencies has increased by a factor of 10 from more than $200 billion in March of last year to more than $1.8 trillion today.
But there is a fear that these digital resources are just focused on the idea and have no real value.
Insight into WazirX Business and Revenue
The only P2P cryptocurrency exchange that uses an automated, lightning-fast trade matching engine for end-to-end trading is called Wazirx. This Exchange serves as a platform where users may buy or sell cryptocurrency via bank transfers.
The Escrow wallet is essential in P2P cryptocurrency exchanges. WazirX serves as the Escrow account in this scenario between the transaction.
To understand how Wazirx functions, we must divide it into two sectors: buyers and sellers.
Buyer – looking to convert funds to cryptocurrencies.
Anyone who wants to purchase Bitcoin through the Exchange has to placed a buy order. The targeted sell order is matched with the deal via the trade matching engine.
The seller will pay Bitcoin to the WazirX Escrow wallet, and the buyer will transfer the necessary funds to the seller's bank account. Following then, the seller will confirm the Exchange's payment.
The bitcoin is released to the buyer's wallet using Wazirx Escrow Wallet.
This is how they operate, and each transaction involves a modest fee that serves as a source of money for them.
The larger customers on their site are what support them the most; thus, this modest price helps them more.
WazirX Revenue Insights
WazirX, an Indian cryptocurrency exchange owned by Binance, has daily trading volumes exceeding $100 million and has already surpassed $500 million since its start in December 2020.
In the Indian market, this is the greatest trade volume recorded by any cryptocurrency exchange. WazirX makes money by charging users minor trading commissions that range from 0.15 to 0.2%. (taker and maker fees).
Parting Thoughts
A secure, quick, and practical cryptocurrency platform, WazirX is accessible on smartphones, Windows, and Mac. The platform offers P2P, STF, and Exchange access to more than 100 global cryptocurrencies.
WazirX is constantly striving to provide investors and traders with improved services. These efforts to improve the user experience will undoubtedly advance them in their dominance of the cryptocurrency sector. WazirX is crucial to the lives of Indian newcomers to the cryptocurrency market.
Want to take advantage of this lucrative market to reach great heights quickly? Get a prebuilt WazirX clone script developed by Elluminati that has all the factors to support your business and helps you enter the fascinating crypto exchange world.